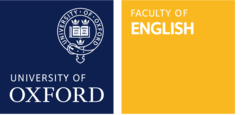 Creative Writing
There are plenty of opportunities to get involved in creative writing whilst a student within the Faculty and a number of our academics are also published authors. Oxford's English Faculty also has some of the country's leading poets among its lecturers. Our academics, the Professor of Poetry and other invited guests give regular lectures and workshops at the Faculty. Browse recent events below.
Creative Writing Workshops & Lectures
Jeanette Winterson workshop
"Generous and candid, Jeanette had the room enraptured for two hours, as she discussed everything from stalking your characters home, to writing with your whole body."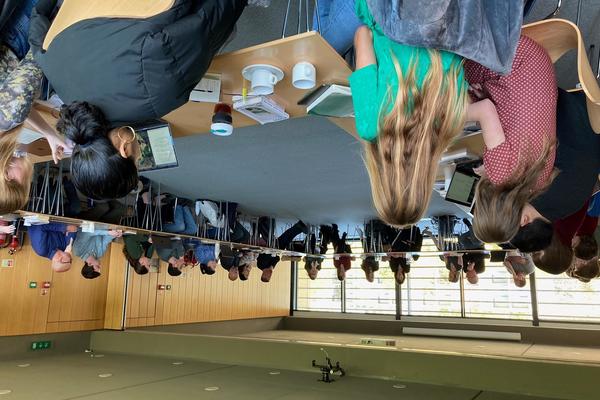 Rachel Cusk workshop
"Rachel's candour and eloquence – and sometimes astounding capacity for truth-telling – sent everyone spiralling into almost palpable coils of thought."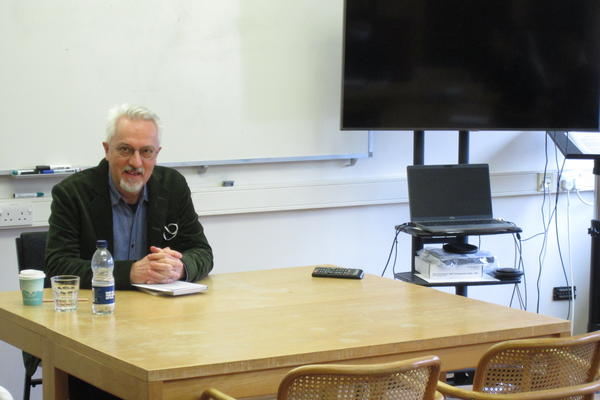 Alan Hollinghurst workshop
"For those of us who had a first encounter with a creative writing 'class', we could not have chosen a more amicable and supportive environment."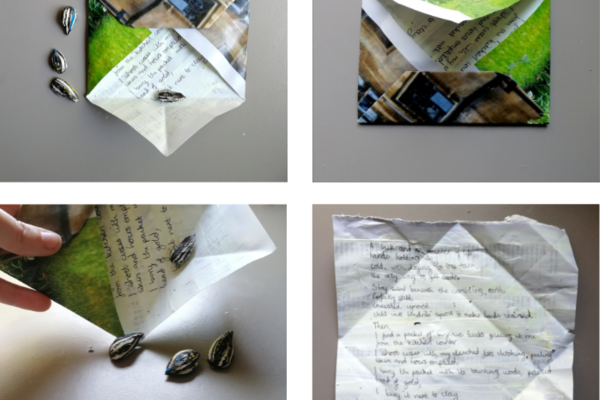 Alice Oswald postal poetry workshop
Prof Oswald invited participants to anonymously write and send a poem to another workshop participant.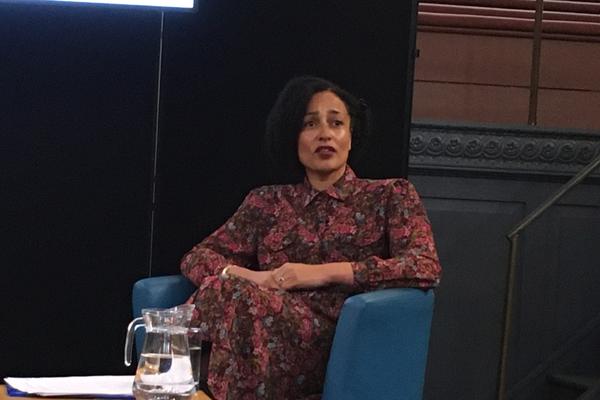 Zadie Smith lecture on 'Conscience and Consciousness' at the Oxford Literary Festival
Following a talk at the Oxford Literary Festival, Zadie Smith joined English Faculty students at a formal dinner.
Professor of Poetry lectures
The current Professor of Poetry is Professor Alice Oswald. She will be giving one lecture each term for the four years of her tenure. Watch and/or listen to her previous talks by clicking on the links below.
A Lament for the Earth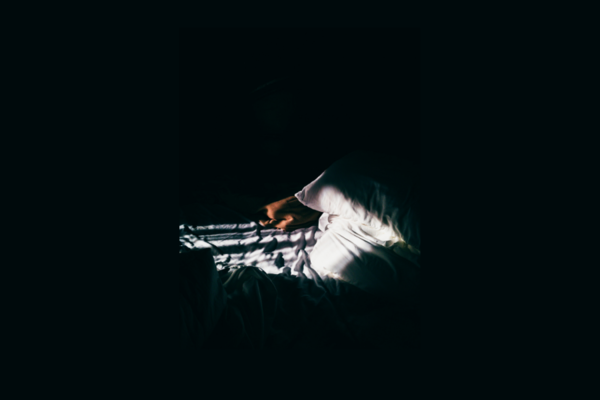 In Sleep A King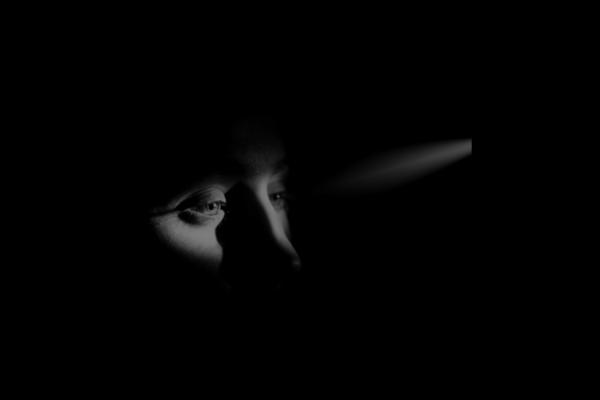 Sidelong Glances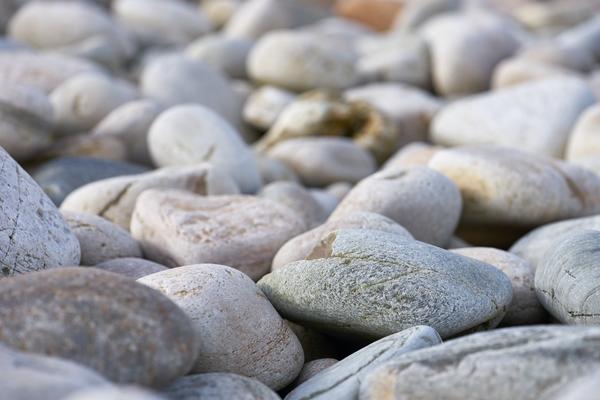 On Behalf of a Pebble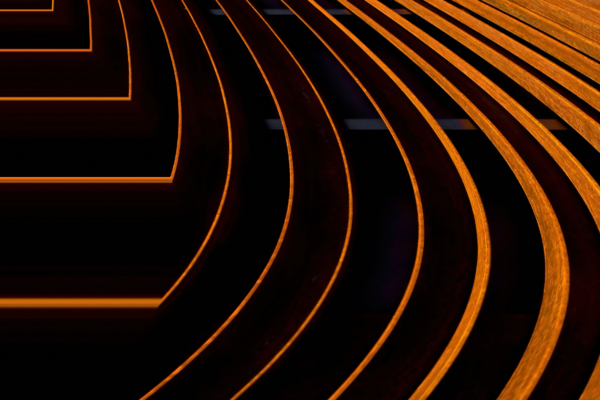 Interview with Water
Useful links.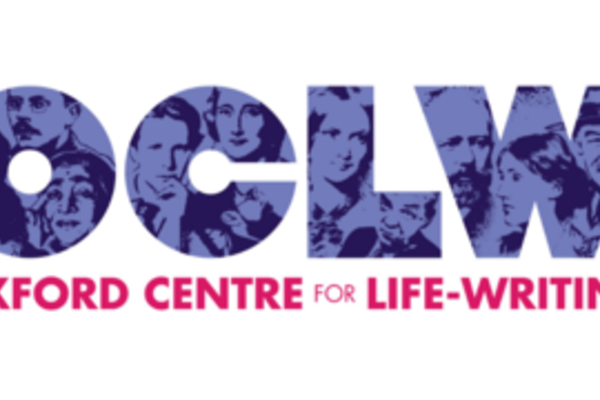 The Oxford Centre for Life-Writing
The Oxford Centre for Life-Writing is committed to outreach, collaboration, and fostering research into life-writing. It promotes a lively, cross-disciplinary dialogue on the full range of life-writing, including biography, memoir and social media forms.
Authors at the Faculty
Hermione lee.
Elleke Boehmer

Bart van Es

Hannah Sullivan
Sally Bayley

Matthew Reynolds

We value your privacy
We use cookies to allow this site to work for you, improve your user experience, and to serve you advertising tailored to your interests. Let us know if you agree to all cookies. You can manage your preferences at any time
Your Privacy
We use cookies, which are small text files placed on your computer, to allow the site to work for you, improve your user experience, to provide us with information about how our site is used, and to deliver personalised ads which help fund our work and deliver our service to you for free.
The information does not usually directly identify you, but it can give you a more personalised web experience.
You can accept all, or else manage cookies individually. However, blocking some types of cookies may affect your experience of the site and the services we are able to offer.
You can change your cookies preference at any time by visiting our Cookies Notice page. Please remember to clear your browsing data and cookies when you change your cookies preferences. This will remove all cookies previously placed on your browser.
For more detailed information about the cookies we use, or how to clear your browser cookies data see our Cookies Notice
Manage consent preferences
These cookies are necessary for the website to function and cannot be switched off in our systems.
They are essential for you to browse the website and use its features.
You can set your browser to block or alert you about these cookies, but some parts of the site will not then work. We can't identify you from these cookies.
These help us personalise our sites for you by remembering your preferences and settings. They may be set by us or by third party providers, whose services we have added to our pages. If you do not allow these cookies, then these services may not function properly.
These cookies allow us to count visits and see where our traffic comes from, so we can measure and improve the performance of our site. They help us to know which pages are popular and see how visitors move around the site. The cookies cannot directly identify any individual users.
If you do not allow these cookies we will not know when you have visited our site and will not be able to improve its performance for you.
These cookies may be set through our site by social media services or our advertising partners. Social media cookies enable you to share our content with your friends and networks. They can track your browser across other sites and build up a profile of your interests. If you do not allow these cookies you may not be able to see or use the content sharing tools.
Advertising cookies may be used to build a profile of your interests and show you relevant adverts on other sites. They do not store directly personal information, but work by uniquely identifying your browser and internet device. If you do not allow these cookies, you will still see ads, but they won't be tailored to your interests.
Personalise what you see on this page.
LOOKING FOR
Undergraduate courses
Clearing courses
Postgraduate courses
CHOOSE ONE OR MORE
Popular universities
University of Kent
University of East Anglia UEA
University of Chester
Coventry University
University of Aberdeen
University of Portmouth
Nottingham Trent University
University of Sunderland
London Metropolitan University
London South Bank University
University of East London
BROWSE ALL UNIVERSITIES
Course search
Popular undergraduate courses.
Earth Sciences
Life Science
Materials Science
Agricultural Science
Animal Husbandry
Fisheries Management
Veterinary Medicine
Land Based Studies
Built Environment
Architecture
Construction
Construction Management
Open days search
Upcoming open days.
University of Strathclyde
University of Bolton
Middlesex University
Cranfield University
Liverpool John Moores University
Article search
Popular articles.
Guide to UCAS Clearing
Clearing FAQs
UK university league tables – hidden gems 2024
How university rankings can help you through Clearing
How Uniselect can help you through Clearing
BROWSE ALL ARTICLES
Popular topics
Clearing Success Stories
Clearing advice for students
Clearing advice for parents
Clearing advice for teachers
Making the final choice
MSt in Creative Writing University of Oxford
Course options
Qualification.
MSt - Master of Studies
University of Oxford
TUITION FEES
ENTRY REQUIREMENT
UNIVERSITY INFO
Course summary
About the course
The MSt in Creative Writing is a two-year, part-time master's degree course offering a unique combination of high contact hours, genre specialisation, and critical and creative breadth.
The emphasis of the course is cross-cultural and cross-genre, pointing up the needs and challenges of the contemporary writer who produces their creative work in the context of a global writerly and critical community.
The MSt offers a clustered learning format of five residences, two guided retreats and one research placement over two years. The research placement, a distinguishing feature of the course, provides between one and two weeks' in-house experience of writing in the real world.
The first year concentrates equally on prose fiction, poetry, dramatic writing and narrative non-fiction. There is a significant critical reading and analysis component, which is linked to the writerly considerations explored in each of the genres. In your second year you will specialise in one of the following.
short fiction
radio drama
screenwriting
stage drama
narrative non-fiction.
The residences in particular offer an intensive workshop- and seminar-based forum for ideas exchange and for the opening up of creative and critical frameworks within which to develop writerly and analytical skills. There is a strong element of one-to-one tutorial teaching. Tutorials take place within residences and retreats, and relate to the on-going work produced for the course.
You will be assigned a supervisor who will work closely with you throughout the development of the year two final project and extended essay. All assessed work throughout the two years of the course is subject to one-to-one feedback and discussion with a tutor. This intensive, one-to-one input, combined with the highly interactive workshop and seminar sessions, is a distinguishing feature of the course.
The MSt is assessed by coursework. In the first year, four assignments (two creative, two critical), one creative writing portfolio and one critical essay are submitted. Work is set during each residence and handed in for assessment before the next meeting. Feedback on work submitted is given during tutorials within the residence or retreat. In the second year, submissions comprise one research placement report, one extended critical essay, and a final project – a substantial body of creative work in the genre of choice.
You will be set specific creative and critical work to be completed between residences and handed in to set deadlines. Creative submissions in the first year must be in more than one genre. In the second year, submitted work focuses around the genre of your choice.
Graduate destinations
Graduate destinations have included doctoral programmes in creative writing
Tuition fees
Afghanistan
Antigua & Barbuda
Bosnia and Herzegovina
Burkina Faso
Central African Republic
Congo (Democratic Republic)
Czech Republic
Dominican Republic
El Salvador
Equatorial Guinea
Guinea-Bissau
Ivory Coast
Korea DPR (North Korea)
Liechtenstein
Marshall Islands
Netherlands
New Zealand
Northern Ireland
Palestinian Authority
Papua New Guinea
Philippines
Puerto Rico
Republic of Ireland
Sao Tome and Principe
Saudi Arabia
Sierra Leone
Solomon Islands
South Africa
South Korea
South Sudan
St. Kitts & Nevis
Switzerland
Trinidad & Tobago
Turkmenistan
United Kingdom
Vatican City
Western Samoa
£ 12,880 per year
Tuition fees shown are for indicative purposes and may vary. Please check with the institution for most up to date details.
University information
University league table, campus address.
University of Oxford, University Offices, Wellington Square, Oxford, Oxfordshire, OX1 2JD, England
Suggested courses
Creative Writing MA or PGDip or PGCert
Oxford Brookes University
University league table
MA Creative Writing
Leeds Trinity University
Is this page useful?
Sorry about that..., how can we improve it, thanks for your feedback.
Creative Writing
MA or PGDip or PGCert
Find out more by joining a live webinar
Start dates: September 2023
Full time: PGCert: 4 months, PGDip: 8 months, MA: 12 months
Part time: PGCert: 2 semesters, PGDip: 3 semesters, MA: 24 months
Location: Headington
Department(s): School of Education, Humanities and Languages
Find a course
Whether words come easily to you, or you work tirelessly at every sentence, we want to help you bring your writing craft to a professional level. We're looking for passion, no matter your background or level of experience. Every writer might be different - but every writer can benefit from the insight of our published experts.
Our Creative Writing MA is a well-established course taught by acclaimed professional writers published around the world. You'll benefit from the input of creative writing fellows and visiting lecturers such as Patience Agbabi, Sally Bayley, and Steven Hall. And you'll be studying in one of the world's great literary cities.
You'll gain a better understanding of your craft and how to apply it to different literary genres and forms. You'll also meet and pitch your work to top literary agents Felicity Bryan Associates and publisher Philip Gwyn Jones. Whether or not you aspire to get published, we'll support and encourage you all the way to achieving your full writing potential.
Attend an open day or webinar Ask a question Order a prospectus
Why Oxford Brookes University?
Our teaching staff are prize-winning writers who will pass on their experience through seminars and workshops.
We'll assess your portfolio of work to see how we can best support you to grow as a writer.
Small groups help to build trust among peers and tutors.
Pitch your work to literary agents. Any graduating student who achieves a distinction is guaranteed to have their work read by a publisher.
You'll learn a lot about yourself and you may find that the full MA isn't right for you. You can choose to finish with a PGDip or PGCert.
Course details
Course structure, learning and teaching.
You might be considering this course because you want to become better at your craft. Or you may simply want to complete a writing project in a structured environment. Whatever your creative writing aims, we want to help you.
The Writing Studio core module will take you out of your comfort zone and get you thinking critically about your work and your practice. In your optional modules, you'll learn about the techniques successful writers use to achieve their aims. You'll also learn about poetry and voice, explore different narratives forms, and sharpen your life-writing skills.
For your final project, you'll complete an extended piece of your own creative writing, accompanied by a self-evaluating critical commentary.
You'll join a supportive community and benefit from insightful masterclasses run by our group of creative writing fellows. They'll also critique your work, helping you increase your chances of getting published if that's your aim.
You'll learn creative writing skills through reading, writing and discussing. You'll learn to create, and to adapt.
You'll experience a variety of teaching and learning methods that include:
Collaborative seminars
Presentations and shared readings
Group workshops
Visiting notable speakers
1-1 supervision
Writing and rewriting.
You'll also work with our Creative Writing Fellows and guest speakers who each lead a class every semester:
Patience Agbabi FRSL, award-winning poet, international performance poet, and children's author, most recently The Infinite and The Time-Thief
Sally Bayley, fiction and nonfiction author, most recently Girl With Dove and No Boys Play Here
Steven Hall, a Granta Best Young British Novelist 2013, author of internationally-acclaimed The Raw Shark Texts , and Maxwell's Demon
Simon Mason, author of Moon Pie (Guardian Children's Fiction Prize - shortlisted) and YA series Garvie Smith , and leading children's fiction editor
You'll constantly share and discuss your work with your tutors and your peers. This regular feedback will strengthen your self-assessment skills - helping you develop your craft as a writer.
You'll be formally assessed via:
Portfolios of your creative writing, with accompanying critical essays
A final Writing Project in your chosen form and genre
Study modules
The modules listed below are for the master's award.
All students take the core compulsory module The Writing Studio. In addition:
MA students choose two elective modules and complete the The Writing Project.
PGDip students choose two elective modules.
PGCert students choose one elective module.
Taught modules
Final project, compulsory modules, the writing studio.
This is the core module taken by all our students at the beginning of the MA. Through workshops led by our staff and Creative Writing Fellows, it's designed to lead you out of your comfort zone and get you writing in ways you might never have contemplated. In our virtual space – the studio – you are free to think, write and depart in new directions. It demands a readiness to go out of the "comfort zone" and ask real questions of your own writing.
Optional modules
Bringing a story to life.
You'll learn about the techniques – the "tricks of the trade", in a completely positive sense – which highly successful authors use to achieve their aims. You'll explore how narratives and stories are constructed through elements like plotting, pace, perspective and structure. You'll be aiming to identify these writerly techniques, to describe them and - most importantly of all – to incorporate them in your own writing.
We'll look at:
characterisation through dialogue
unspoken stories
the unreliable narrator
omniscient narrators
the slow reveal.
Writing Poetry Now
What is poetry? What is it for, and what can it do that prose can't? You'll focus on contemporary poetry in terms of its functions, as well as its form. While the emphasis will be on your own writing, we'll also study the poetry of both contemporary and traditional writers from Britain and further afield, who work or have worked in a variety of forms and using a range of techniques.
You'll also look at topics like:
poetry and place
narrative poetry
experiments in form.
Writing the Lives of Others
If you've ever wanted to write about your own life, or the lives of others, this module is for you. We'll look at autobiography, biography, hagiography, diaries, fictional recreations of real lives, and fictions taking in individual or family lives. Using the set texts as a basis, each session will consist of a short, tutor-led discussion, focusing on the technical issues. You'll follow these with intensive attempts to apply these techniques to your own writing.
Topics on this module include:
Autobiography
Hagiography
Fictionalising Lives.
Writing Voice
You'll explore methods for writing creatively in relation to voice. We'll discuss and analyse works by contemporary authors in a range of forms (poems, novels, short stories), to inspire you to explore different voices in your own writing.
We'll investigate:
how writers create distinctive voices to control and modulate tone and register in a text
the interplay of multiple voices (author, narrators, characters)
interrelated notions of identity, authenticity, social construction, style and aesthetics.
Topics will include:
Monologue and Dialogue
Unreliable Voices
Children's Voices
Historicised voices.
Independent Study
This is a great chance to design your own course of study, allowing you to explore an area of writing that fascinates you. You'll start by producing a detailed project plan, to be agreed with your supervisor and module leader. You'll develop high-level research skills, manage your own schedule and produce well-structured, articulate work at master's level. Examples of independent studies have included: an extended poem developed from the literature and art of ancient Persia, and a pacy novel for young adults set in a militaristic dystopia.
The Writing Project
You'll complete an extended piece of your own creative writing, in any genre, accompanied by a self-evaluating critical commentary. You'll develop your work in group sessions, through one-to-one tutorials, and in workshops with Creative Writing Fellows.
Your writing project will be a maximum of 20,000 words in length, but the minimum word length may vary according to the genre and format. You'll decide all these factors – genre, format and length – in consultation with your module leader and supervisor.
Please note: As our courses are reviewed regularly as part of our quality assurance framework, the modules you can choose from may vary from those shown here. The structure of the course may also mean some modules are not available to you.
Our commitment to research-led teaching means that all our teaching staff are recognised experts in their field. They contribute to the canon of published work in their specialist fields influencing debate and discussion. And they value the opportunity to share their ideas with students through their teaching.
We are home to the Oxford Brookes Poetry Centre, which:
creates a space for discussion and research
promotes connections between poets, academics, and readers of poetry in the local community
sponsors readings by poets, such as Simon Armitage, and a regular seminar series.
Research supervision is offered in the following areas:
English 20th-century poetry – particularly Eliot and Heaney
Irish writing
Modernist drama
Witchcraft in the 19th century
John Clare and eco-criticism
Sir Walter Scott
Shakespeare
Theatre and science
Contemporary literature
Thomas More
Modernist poetry
Franz Kafka
Victorian religion
Literature and war.
On the MA Creative Writing course, we've had a lot of success in producing brilliant writers. However, we're not a factory for producing writers. That's why many of our graduates take their newly acquired skills to companies and organisations such as the UK Civil Service, Ralph Trustees Ltd, Hestia Charity and the National Trust. Whether it's critical thinking, creative problem-solving, or research, you'll be highly prized in sectors such as:
PR, marketing and communications
NGOs and charities
higher education
media and journalism.
Student profiles
Sarah Stretton
"I was attracted to the course by the literary fellows and the focus on workshopping and developing as a writer"
Dr Mary Jean Chan
Dr Mary Jean Chan is the author of the poetry collection Flèche (Faber & Faber, 2019), which won the 2019 Costa Poetry Award and was shortlisted for the 2020 International Dylan Thomas Prize. She is a Ledbury Poetry Critic and reviews for The Guardian.
Dr Morag Joss
Morag Joss is the award-winning author of the Sara Selkirk novels, Half Broken Things, Puccini's Ghosts, The Night Following, Among the Missing (Across the Bridge) and Our Picnics in the Sun. She has also written for television, and writes short stories for print and broadcast. Her prizes and shortlistings include the CWA Silver Dagger, the USA Edgar Award for best novel, and a Heinrich Böll residency on the island of Achill, Ireland.
I was attracted to the course by the literary fellows and the focus on workshopping and developing as a writer
Entry requirements
Specific entry requirements.
Applicants should normally hold a good honours degree (2.2 or above), or equivalent, in an appropriate discipline and must be able to demonstrate ability in creative writing.
A portfolio of recent creative work must be submitted consisting of 2000 words prose, or 5 poems, or a proportionate mixture of the two. Applicants may also be interviewed. If it is some time since you completed your undergraduate education and you do not meet the standard requirement, it may be possible to consider your application based on evidence of other relevant personal and professional experience, the support of your referees and your portfolio of written work.
Please also see the University's general entry requirements .
English language requirements
Applicants whose first language is not English should hold one of the following qualifications:
British Council (IELTS) Test: band 7 overall with at least 6 in each band
Cambridge Certificate of Proficiency: grade C or above
NEAB University Test in English for Speakers of Other Languages: Pass
JMB Test in English for Overseas Students: grade 1, 2 or 3.
Please also see the University's standard English language requirements .
Pathways courses for international and EU students
We offer a range of courses to help you meet the entry requirements for your postgraduate course and also familiarise you with university life in the UK.
Take a Pre-Master's course to develop your subject knowledge, study skills and academic language level in preparation for your master's course.
If you need to improve your English language, we offer pre-sessional English language courses to help you meet the English language requirements of your chosen master's course.
English requirements for visas
If you need a student visa to enter the UK you will need to meet the UK Visas and Immigration minimum language requirements as well as the University's requirements. Find out more about English language requirements .
Terms and Conditions of Enrolment
When you accept our offer, you agree to the Terms and Conditions of Enrolment . You should therefore read those conditions before accepting the offer.
International qualifications and equivalences
How to apply, application process.
All applications for the MA in Creative Writing must be accompanied by a portfolio of recent creative work.
This must consist of 2000 words prose, or 5 poems, or a proportionate mixture of the two.
Tuition fees
Questions about fees.
Contact Student Finance on:
+44 (0)1865 483088
Fees quoted are for the first year only. If you are studying a course that lasts longer than one year, your fees will increase each year.
The following factors will be taken into account by the University when it is setting the annual fees: inflationary measures such as the retail price indices, projected increases in University costs, changes in the level of funding received from Government sources, admissions statistics and access considerations including the availability of student support.
How and when to pay
Tuition fee instalments for the semester are due by the Monday of week 1 of each semester. Students are not liable for full fees for that semester if they leave before week 4. If the leaving date is after week 4, full fees for the semester are payable.
For information on payment methods please see our Make a Payment page.
For information about refunds please visit our Refund policy page
Additional costs
Please be aware that some courses will involve some additional costs that are not covered by your fees. Specific additional costs for this course are detailed below.
Optional costs
Funding your studies, financial support and scholarships.
Featured funding opportunities available for this course.
The Faculty of Humanities and Social Sciences believes strongly in the importance of making a difference to the world of our students, and in the ability and potential of our students to make a difference in the world. The Dean's Scholarship is one small way in which we make that belief tangible.
International students can apply for our International Students Scholarship . Please click on the link below to find out more.
All financial support and scholarships
View all funding opportunities for this course
Programme changes : On rare occasions we may need to make changes to our course programmes after they have been published on the website. For more information, please visit our changes to programmes page.
Back to top
Cookie statement
Creative Writing MSt University of Oxford
Key course facts, course description.
The information provided on this page was correct at the time of publication (October/November 2021). For complete and up-to-date information about this course, please visit the relevant University of Oxford course page via www.graduate.ox.ac.uk/ucas
The MSt in Creative Writing is a two-year, part-time master's degree course offering a unique combination of high contact hours, genre specialisation, and critical and creative breadth.
The emphasis of the course is cross-cultural and cross-genre, pointing up the needs and challenges of the contemporary writer who produces their creative work in the context of a global writerly and critical community.
The MSt offers a clustered learning format of five residences, two guided retreats and one research placement over two years. The research placement, a distinguishing feature of the course, provides between one and two weeks' in-house experience of writing in the real world.
The first year concentrates equally on prose fiction, poetry, dramatic writing and narrative non-fiction. There is a significant critical reading and analysis component, which is linked to the writerly considerations explored in each of the genres. In your second year you will specialise in one of the following:
short fiction
radio drama
screenwriting
stage drama
narrative non-fiction.
The residences in particular offer an intensive workshop- and seminar-based forum for ideas exchange and for the opening up of creative and critical frameworks within which to develop writerly and analytical skills. There is a strong element of one-to-one tutorial teaching. Tutorials take place within residences and retreats, and relate to the on-going work produced for the course.
You will be assigned a supervisor who will work closely with you throughout the development of the year two final project and extended essay. All assessed work throughout the two years of the course is subject to one-to-one feedback and discussion with a tutor. This intensive, one-to-one input, combined with the highly interactive workshop and seminar sessions, is a distinguishing feature of the course.
Entry Requirements / Admissions
Requirements for international students / english requirements.
IELTS academic test score (similar tests may be accepted as well)
Graduate Degrees
Undergraduate Degrees
(no subscore less than 6.0)
For complete and up-to-date information about this course, please visit the relevant University of Oxford course page via www.graduate.ox.ac.uk/ucas
Average student cost of living in the UK
London costs approx 34% more than average, mainly due to rent being 67% higher than average of other cities. For students staying in student halls, costs of water, gas, electricity, wifi are generally included in the rental. Students in smaller cities where accommodation is in walking/biking distance transport costs tend to be significantly smaller.
University Rankings
Positions of university of oxford in top uk and global rankings., about university of oxford.
The University of Oxford is a prestigious research university located in Oxford, England, and is the oldest English language university in the world. It is made up of 39 partly autonomous constituent colleges, six private halls, and a variety of academic departments which are split into four divisions: Humanities, Mathematical, Physical & Life Sciences, Medical Sciences, and Social Sciences.
Student composition of University of Oxford
Where is this programme taught.

Similar courses

Duration: 2 years part-time
Applications for October 2023 entry are now closed.
Applications for 2024 entry will open in September 2023.
To be notified when applications open, please register your interest .
Please read the application guidance notes before applying.
Course Director: Dr John Ballam ​
Application status
Undergraduate Diploma in Creative Writing
Course details, with expert tuition and small class sizes, this course gives keen writers the opportunity to explore and develop their craft..
Our two-year, part-time Diploma allows you to strengthen your ability in four major areas of literary activity — prose, poetry, drama and analytical reading — as well as the chance to specialise in the genre of your choice.
There are two ways to study. The in-person pathway ( Option 1 ) takes place on weekends in Oxford and offers a rich combination of seminars, one-to-one tutorials and group discussions. The online pathway ( Option 2 ) with a summer school in Oxford, replicates the in-person structure exactly, using a variety of media to offer a stimulating and challenging learning environment.
For both study options, the chance to have your work read and analysed by a supportive, suitably skilled peer group is one of the great benefits of the course, offering fresh perspectives and insights on your writing. At the same time, we emphasise the importance of individual voice and vision, and there will be ample time for one-to-one, in-depth discussion of your work.
Many of our former students have had work accepted for publication during or after their time with us. A significant number have progressed to Creative Writing MAs and MFA programmes at a range of universities, including Oxford University's Master's in Creative Writing.
Online open event
An online open event was held on Tuesday 4 April 2023. If you missed this event but have questions about the course, please email us at: [email protected]
Quick links
Who is this course for, how you will study.
Course content and assessmemt
IT requirements and study skills
Teaching staff and contact information
Application details – how to apply, fees, award and credit transfer
English language requirements
Pathways and other levels of study
We are looking for enthusiastic writers with a strong commitment to improving their craft, an awareness of literary areas and a degree of articulacy in discussing them, and the capacity for intellectual and imaginative development. This is an intensive and challenging course, and you will need to consider carefully whether you can offer the high level of commitment required. You will want to devote at least 12 hours a week to your writing outside of timetabled classes.
You don't need formal qualifications. You must already be active as a writer, but it is not essential to have been published. Our students come from many backgrounds, and typically range in age from their 20s to their 70s. Some have previous experience of literary study, but again, this is not essential.
If you apply, we will ask you to submit a small portfolio of your work. Admission is selective and would be based on your portfolio and an interview.
There are two study options for the Diploma in Creative Writing.
Option 1:
Most terms you will attend four Saturday day schools, four per term in terms 1-5, two in term 6, which usually run from 9.00 am - 5.00 pm at Ewert House in Summertown, Oxford. Should circumstances dictate, the teaching can be moved online (either fully or partly).
In the day schools you will take part in:
seminars, involving practical writing activities and lively group discussions;
group discussions of each other's work. This is because the value of group activity as a catalyst for the creative imagination is a central tenet of the course.
You will also attend one Sunday day school each term, which is paired with one of the Saturday schools. At the Sunday sessions, visiting writers, speakers and tutors provide a wide range of voices to counterpoint and amplify the insights and opinions of the Diploma's regular teaching team. You can hear readings by well-known writers from all genres, and engage in discussions with them, as well as enjoying related workshop sessions.
There is a seven-day summer school (residence possible) at the end of the first year of study, in June, which provides an unparalleled opportunity to concentrate on living and working your craft. The summer school is a vibrant culmination to your first year, allowing dedicated time and space for your writing. Sessions for the whole group are balanced by individual sessions which allow you to focus on areas of your choice. There is time set aside for uninterrupted writing, and guidance will be given, as a group and individually, about how best to focus your efforts during the summer vacation so that you can get the most out of your second year.
The summer school is an integral part of the course and included in the course fee. It usually starts at lunchtime on a Saturday in June and finishes at lunchtime on the Friday. From Sunday, each day begins at 9.30 am and continues to 7.00 pm, with breaks for tea/coffee and lunch.
Accommodation, should you require it for the summer school, is not included in your tuition fee but it may be possible to book accommodation for that period subject to availability.
Non-EU students
Option 1 is not suitable for non-EU students who do not already live in the UK before the course begins. For information, refer to: www.gov.uk/browse/visas-immigration
Option 2:
The online study option repeats the course structure exactly as outlined above, but instead of in-person day schools in Oxford, nearly all of the work you do will be through online media and resources. Each of the first five terms is comprised of ten weekly units focusing on individual aspects of the writer's craft. Term 6 has five units instead of ten, mirroring the in-person option above. Each weekly unit has:
experiments and exercises in reading, critiquing and practical writing activities as well as lively group discussions in focussed study forums wherein your tutor is an active participant;
group discussions in forums centred on each other's work. This is because the value of group activity as a catalyst for the creative imagination is a central tenet of the course.
There is a two-week residential summer school at the end of the first year of study, which provides an unparalleled opportunity to concentrate on living and working your craft. This is an integral part of the course. Please note accommodation is not included in the course fee.
The summer school is a vibrant culmination to your first year, allowing dedicated time and space for your writing. Sessions for the whole group are balanced by individual sessions which allow you to focus on areas of your choice. There is time set aside for uninterrupted writing, and guidance will be given, as a group and individually, about how best to focus your efforts during the summer vacation so that you can get the most out of your second year. Every day begins with a plenary lecture by a visiting speaker – most often these are professional writers in various media. There are eight two-hour in-person classes with your tutors one week, and seven on the other week. As well as your classes, you can spend your free time getting to know the world's most famous university city, visit Oxford's outstanding museums and art galleries, gardens and enjoy tours of 'literary/historical' sites, concerts and theatre trips and so on in the evenings.
Throughout the course, whichever study option you take, you will be producing your own work (see below for more details). For each assignment, there is usually a one-to-one tutorial with a specialist in this type of writing, making an unrivalled opportunity for focused, developmental discussion of your own work in progress. Remember that you will need to devote a considerable amount of time to your writing outside the timetabled sessions — you should plan for at least 12 hours each week.
Course content
Year 1 teaching.
The first term provides an introduction to the three main genres: prose, poetry and drama. From the outset you will be able to engage in practical activity and wide-ranging group discussions of aims, techniques and issues.
All good writers must first be skilled readers. Developing your strengths as a critical, intelligent reader allows you to consider and articulate the ways in which various kinds of writing work. In the second term, you can refine and develop your analytical skills with three weeks of Reading for Writers, followed by seven weeks of close attention to the structures and approaches of prose fiction.
The third term concentrates on how to address the challenges of writing poetry and stage drama.
Year 2 teaching
Year 2 allows you to consolidate and broaden the advances in skill, confidence and analytical ability you will have made in Year 1.
Term 4 provides in-depth concentration on short and long fiction, while Term 5 focuses on advanced Reading for Writers (three weeks) and further high-level consideration of the craft of poetry. Term 6 gives students up-to-the-minute experience of how to write broadcast drama.
Each term you will have two tutorials of around 45 minutes each. These one-to-one sessions allow time for concentrated appraisal of your work in progress, giving you feedback on the strengths of your work as well as those areas which may need improvement. The tutorials focus on work you have produced in relation to the genres studied during that term. This means that as early as Term 1 you have considerable freedom of choice to engage with prose, poetry or drama (though you should expect to engage with more than one category in that term). For those students pursuing Option 1 (in person) tutorials can be arranged in person or online; for those pursing Option 2 (online) all tutorials are online except for those at the summer school.
Space for specialisation
At the end of both years you will be able to work more extensively in your own area of interest, producing a portfolio of around 6,000 words in the case of prose and drama, or around 200 lines of poetry. Your second-year portfolio is allocated four term weeks for concentrated attention, guided by a preliminary tutorial discussion of the content you are proposing, and a review tutorial on completion of the project.
You will be assessed on:
Two pieces of writing submitted each term. These are tied to that term's seminar activities and are each expected to be about 2,000 words of prose, 15 pages of drama, or about 100 lines of poetry.
The end-of-year portfolio submission, which will be around three times this length.
If you have not recently been involved in assessment of this kind, do not regard it as a barrier. Tutors and other specialist staff will be happy to offer advice and guidance at any time during the course.
IT requirements
To study at this level you are expected to have some IT skills, access to a computer and the internet. Your course requires you to engage with the Virtual Learning Environment for course materials and uses the Department's online assignment submission system. Students need to have regular access to a computer and the internet, and some level of experience and skill including the use of Microsoft Word or similar word-processing package, email and internet browser such as Firefox or Google Chrome .
The computer you use should meet our recommended minimum computer specification .
Study skills
The course team will provide both academic and pastoral support, including guidance on the development of effective study skills for students returning to study after a break. Additional support is available at a Departmental level by the Widening Access Assistant, who can be contacted on +44 (0)1865 280355 or via email at [email protected] .
Before the start of the Michaelmas (autumn) term, we offer an Award-Bearing Course Preparation Study Day focusing on Academic Reading and Writing, which is free for students enrolled on our award-bearing courses. This can help students gain the confidence to read and follow academic assignment instructions and to respond to essay questions; and it discusses how to manage your time effectively, and how to locate and cite sources.
The Department also runs a programme of Study Skills workshops and weekly classes (available at a reduced rate to current students), designed to enable you to develop and improve the skills needed for effective study. If you have any questions about 'Award-Bearing Course Preparation Study Day' or any Study Skills course, please email unde[email protected] or telephone +44 (0)1865 270286.
Teaching staff
John Ballam is the author of two collections of poems, six stage plays, four screenplays, two novels and numerous reviews, articles and academic works. His best-known title is his memoir The Road to Harmony (1999; newest edn. 2013). He has been a script consultant/screenwriter for several major film producers in Hollywood, London and Mumbai. His latest work is a novel entitled The Mary House, published in NYC in 2019.
Edward Clarke's new collection of poems is called A Book of Psalms (Paraclete Press 2020). He presented Clarke's Psalter , a documentary about writing these poems, broadcast on BBC Radio 4 in September 2018. His poems and translations, nominated for the Pushcart Prize, have appeared in numerous journals and his pamphlet, Eighteen Psalms , was published by Periplum Poetry in 2018. He is also the author of two books of criticism, The Later Affluence of W.B. Yeats and Wallace Stevens (Palgrave Macmillan 2012) and The Vagabond Spirit of Poetry (Iff Books 2014). His teaching experience began almost twenty years ago at Trinity College, Dublin. Now he teaches creative writing and English literature to undergraduates and mature students at various colleges and in the Department for Continuing Education, Oxford University. He is also poetry editor of the magazine Cassandra Voices.
Frank Egerton studied English at Keble College, Oxford, and from 1995 to 2008 reviewed fiction for publications that included The Times, TLS and The Financial Times. He is interested in both the close examination of fiction and how technologies such as ebooks and print-on-demand are changing the publishing industry and offering fresh opportunities to writers. He is a member of the Society of Authors and AWP, and is a former editor of the Oxford Writer. He was chair of Writers in Oxford from 2008 to 2010. His first novel The Lock was published in paperback in 2003, the ebook version having been an Independent e-Book Awards finalist in Santa Barbara in 2002. His second novel Invisible was published in 2010. Also in 2010, he founded the micropublishing imprint StreetBooks. In 2016 he was co-investigator on a digital project looking at narrative shapes and is now in the process of completing a memoir entitled Trust: A family story. He is a member of Common Room at Kellogg College. As well as teaching creative writing, he is a librarian and subject consultant with the Bodleian Libraries.
Beatrice Hitchman read English and French at Edinburgh University and then completed an MA in Comparative Literature. After a stint in France, she returned to the UK to work as a film editor, also writing and directing short films which have been screened at festivals worldwide. In 2009 she graduated from the Bath Spa MA in Creative Writing, winning the Greene & Heaton Prize for Best Novel. Her debut novel, Petite Mort, was published by Serpent's Tail in 2013. It was longlisted for the Desmond Elliott Prize and the Authors' Club First Novel Prize, and adapted on Radio 4 Woman's Hour as a ten-part serial starring Honor Blackman. She has a special interest in the short form and its development in the current era of publishing: her short fiction has appeared in journals and magazines including Stylist and Chroma Literary Journal.
Victoria Condie has taught for the Oxford University Department for Continuing Education since 2000 on its award-bearing courses, public programmes and summer schools. Her involvement with the Undergraduate Diploma in Creative Writing began in 2012 when she taught the day school, Reading for Writers . As a medievalist by training, whose doctoral thesis looked at the way language is used in certain Old English prose sermons and verse, she is particularly aware of how writers craft language to their own persuasive ends. Currently she is a Bye-fellow of Fitzwilliam College, University of Cambridge where she teaches English Literature and its Contexts 1300-1550, a paper which involves close linguistic analysis. She also teaches Practical Criticism and Critical Practice for the Cambridge English Tripos. Her current areas of research similarly concentrate on the way writers use language, especially in prose. Her most recent paper, which she is currently working on as a contribution to a publication on recreating Old English after 1500, investigates the rhythms and cadences of Old English as it is used to achieve a specific effect. In this instance, she is exploring the deliberate contrast in prose effected by Kenneth Grahame in the non-narrative chapters of The Wind in the Willows
Jeremy Hughes has published two novels – Wingspan (2013) and Dovetail (2011). He was awarded first prize in the Poetry Wales competition and was short-listed for an Eric Gregory Award. He also publishes short fiction, life writing and reviews. He studied for the Master's in Creative Writing at Oxford.
Helen Jukes has published fiction and nonfiction in a range of print and online journals, including Caught by the River, BBC Wildlife, Resurgence, The Junket, and LITRO. In 2015 she was awarded the Skaftfell Artists Residency in Iceland, and in 2016 and 2017 the Alde Valley Festival Writing Residency. As a writing tutor Helen has worked with writers at every stage of their career, offering one-to-one manuscript advice and feedback and also delivering group workshops for the IDLER Academy, the University of Oxford, Crisis and Freedom from Torture. Her first book, A Honeybee Heart Has Five Openings, was published in the UK and Australia in July 2018 and will be published across Europe and the US in autumn 2018 and spring 2019. www.helenjukes.com
Shaun McCarthy has had a dozen stage plays professionally produced. He has written book and lyrics for two musicals, and has written single dramas and series for BBC Radio 4. He teaches a range of writing for performance courses at the Department and also teaches at the University of the West of England, and guest lectures at various universities in Europe. He runs his own production company, Hooligan Theatre Productions, to develop new works for stage with co-producing companies. He is currently writing a version of Strindberg's 'Miss Julie' reset to Oxford 1963, and developing a social drama/ghost story set on the Oxford canal.
Lucy Ayrton has an MA in Creative Writing from Warwick University, and is a novelist and performance poet. Her debut novel, One More Chance, the story of a young mother battling imprisonment and addiction, was published in 2018 with Dialogue Books and was a finalist in the Exeter Novel Award. Her next two novels will be published with Dialogue in 2021 and 2022. She wrote and performed two full-length spoken word shows at the Edinburgh Festival, which were respectively turned into a poetry pamphlet and a radio play. She also competed as a national finalist at the UK Poetry Slam. Lucy has taught creative writing at all levels up to undergraduate, and is currently a module leader at the London College of Creative Media.
Elisabeth McKetta has taught writing for Harvard Extension School for ten years and received their highest teaching award in 2018. She advises master's theses; teaches courses on creative writing, business writing, the essay, and fairy tales; and has received numerous Dean's Commendations for Distinguished Teaching Performance, based on student evaluations. She is a leader at Harvard in creating community in the online classroom, offering mentorship to her colleagues. She serves as a guest speaker and workshop leader for organizations and schools across the United States. Her PhD (Univ. Texas 2009) focused on the uses of myth and fairy tales to structure life writing, an idea that informs her work. She has published eight books including a biography, a writing guide, several books of poetry, a children's book, and her debut novel is due in March 2021. Her writing has won awards, been adapted to film, and been featured in over fifty journals. Elisabeth lived for three years in a tiny house with her family, an adventure she discusses in her TEDx talk, "Edit your life like a poem."
Nicholas McInerny has been a professional and award-winning dramatist for thirty years with over 80 credits in TV, Stage, Radio, and now Film. For eight years he was one of the main writers on The Bill (Freemantle) and has also worked on Holby and Casualty (BBC). He has written over 30 radio plays and 15 stage plays. In 2018, he had a production of Belle Fontaine as part of the VAULTS FESTIVAL at Waterloo East Theatre , Project Managed the 4th UK International Radio Drama Festival at Herne Bay, and saw the premiere of his Webseries Pilot – Yourdadsgay – , adapted from his highly successful BBCR4 Series, How to Have a Perfect Marriage. Nicholas has taught at over 20 Universities throughout the UK, moderated for UEA, and written the online course for the Department – Writing Drama. He is Chair of the Radio Committee of the Writers Guild of Great Britain.
Contact information
Course Director, Dr John Ballam +44 (0)1865 280885 [email protected]
For queries on applications and admissions: +44 (0)1865 270286 [email protected]
For general guidance and advice, credit transfer, special needs provision and sources of funding: +44 (0)1865 280355 [email protected]
For information about Study Skills courses: +44 (0)1865 280892 [email protected]
How to apply
Please click on the 'Apply' button which will automatically notify us that you want a link to the online application form. We will email you that link together with a code to waive the application fee, and guidance on completing and submitting your application.
You will need to upload the following documents as part of your application:
a sample of your work: approximately 2000 words of prose fiction or dramatic dialogue, or about half a dozen poems
a statement of between 300 and 400 words explaining why you wish to enrol on the course, and stating which pathway you are applying for.
proof of English language ability if a non-native English speaker. Further information on English language requirements can be found here . Please note that candidates are required to have the higher-level score.
contact details for one referee
If possible, your referee should be someone who can comment on your academic ability and background, but where this is not appropriate, please choose a referee who can vouch for your motivation, commitment and potential. A reference from a family member is not acceptable.
Admissions decisions will be based on an assessment of knowledge, relevant experience, academic ability, potential and suitability for a course of study. We welcome applicants without traditional qualifications, including those with relevant career or life skills.
Selection criteria
Even if a course has no specific academic entry requirements then: (a) assessment of an applicant's academic ability and suitability for the course of study will still take place and (b) since applications for many courses often significantly exceed places available, each application will be judged against the gathered field of applicants for each course each year.
The University is committed to promoting diversity, equality, inclusion, and widening access, including during the admissions process. We fully endorse the Equality Policy and our admissions procedures are kept under regular review to ensure compliance with this policy.
Short-listed applicants will be invited for interview.
The final decision on admission to the course rests with the Department.
Award and credit transfer
An Undergraduate Diploma will be awarded on completion of the course. You will be invited to receive your Diploma at the annual Awards Ceremony of the Department for Continuing Education, held at Oxford's Sheldonian Theatre.
Students who successfully complete this two-year course will be awarded an Oxford University Undergraduate Diploma in Creative Writing. The Diploma carries a Credit Accumulation and Transfer Scheme (CATS) rating of 120 points at FHEQ Level 5. Outstanding performance will qualify for a Distinction. These credit points are widely recognised in terms of credit for transfer to other higher education institutions, including the Open University and modular universities such as Oxford Brookes University.
Opportunities vary for the transfer of credit, so students who are considering taking this course in order to transfer credit are advised to discuss the possibilities with the Course Administrator on [email protected] or [email protected] .
Learn more about the Credit Accumulation and Transfer Scheme (CATS points) .
The fee for Option 1 in 2023-24 is £3,295 (Home, Islands, and Republic of Ireland students) or £5,650 (Overseas students). An option to pay the fee in instalments may be available.
The fee for Option 2 in 2023-24 is £3,295 (Home, Islands, and Republic of Ireland students) or £5,650 (Overseas students). An option to pay the fee in instalments may be available.
Please be aware that fees will usually increase annually.
Information for applicants from the EU, EEA and Switzerland
If you are an EU national and do not live in the UK then you are likely to be charged Overseas fees. Students with settled and pre-settled status granted under the EU Settlement Scheme and some other categories of students who work in the UK can qualify for Home fee status as long as they meet the residence criteria. For more information about fee status criteria please visit the UK Council for International Students' (UKCISA) website as well as the Oxford and the EU webpage .
Information for applicants from the Republic of Ireland
Irish nationals who have been living in the Republic of Ireland or the UK can qualify for Home fees as long as they meet the residence requirements which can be found on the UK Council for International Students' (UKCISA) website .
UK nationals who have been living in the EEA, Switzerland or Gibraltar and are returning to England to study
UK nationals living in the EEA, Switzerland or Gibraltar from December 2020 until the first day of their course and for the three years before the first day of their course will also be charged Home fees subject to the requirements on the UK Council for International Students' (UKCISA) website . Children of UK nationals will also be eligible on the same terms, even if they are not themselves UK nationals, as long as both they and their parent meet the above criteria.
Information on financial support can be found on our website here .
Please check the information on the specific English language requirements for this course. Applicants are required to have the Higher level scores.
The Department for Continuing Education offers day and weekend courses, weekly learning programmes and summer schools in English literature, creative writing and film studies.
In the undergraduate programme, as well as the Diploma in Creative Writing, we offer the Foundation Certificate in English Literature and the Certificate of Higher Education . At postgraduate level we offer an MSt in Creative Writing and MSt in Literature and Arts , along with the DPhil in Literature and Arts .
If you are planning on embarking on a new career as a result of your studies, or hope to progress in your current field, you can access help and advice through the University Careers Service .
Return to top
Terms & conditions for applicants and students
Information on financial support

Stay in touch with the Diploma in Creative Writing
Tahmina maula, daisy mcnally, literature, creative writing and film studies, mst in creative writing.
Master of Fine Art (MFA)
Entry requirements
Funding and Costs
College preference
About this course
The Ruskin Master of Fine Art (MFA) degree is an intensive one year studio-based programme in the practice of contemporary art. You will be part of a small cohort on a course designed to direct and develop your artistic practice and theoretical knowledge in a supportive environment. The MFA provides an outstanding artistic environment for developing your practice in the context of a postgraduate, arts research culture. 
The tutorial system is at the heart of teaching on the MFA and you will be supported by tutors of the highest calibre, with a student-to-staff ratio and contact time that are exceptional in UK art schools. The light and spacious MFA studios are located on the first floor of Ruskin's Bullingdon Road building, with easy access to workshops and media facilities downstairs.
The programme encompasses a diversity of disciplines including painting, sculpture, printmaking, photography, writing, installation, video, sound, performance, and other expanded forms in contemporary art. It aims to encourage experimentation and nurture a critical focus for your work.
Your artistic interests and those of your peers will be embedded in tutorials, seminars, and presentations, determining the direction of your creative development. You will engage with what it means to work as an artist today, considering how an artist's work and ideas register in different social, artistic, historical, and theoretical contexts. You will be guided and supported by tutors in regular one-to-one tutorials and weekly seminars, focused on your making, key concerns, ideas, and their interdependent development.
Studio-based learning is facilitated through regular group reflection, which is characterised by collective participation in generous and robust discussion. A programme of dedicated masterclasses and skills workshops is designed specifically for the MFA. Facilities, such as the media lab and editing suites, printmaking workshop, casting, metal, and wood workshops, are on site in the Bullingdon Road building (https://www.rsa.ox.ac.uk/study/resources).
Ruskin students benefit from being part of a large University, with access to lectures and seminars in other departments and colleges and to specialist libraries and collections. The city's varied cultural organisations include the Ashmolean Museum, Pitt Rivers Museum, and Modern Art Oxford, and students can freely access the Botanical Gardens and many other green spaces in and around Oxford.
The MFA is built around three compact eight-week terms, with students expected to continue working through the winter and spring breaks. A typical week on the MFA during the first two terms (Michaelmas and Hilary) includes: a half day research or practice seminar, an individual tutorial, and a skills workshop or masterclass.
The rest of your time on the course is dedicated to independent study: artistic practice and research in the studio, utilising Ruskin's workshops and facilities and using the libraries. At the end of second term (Hilary), you will submit an Extended Text in support of the studio project. The last term (Trinity) is focused on the preparation of artwork for the final exhibition and a digital portfolio of studio practice for examination. MFA students and staff work together to curate and install the degree show in the MFA space at Bullingdon Road, which opens at the end of term.
Supervision
The allocation of graduate supervision for this course is the responsibility of the Ruskin School of Art and it is not always possible to accommodate the preferences of incoming graduate students to work with a particular member of staff.
MFA students see their allocated Studio Practice tutor and their allocated Extended Text tutor regularly for individual and group tutorials throughout the year. Meetings with tutors happen three times a term at the minimum.
The MFA has three main modes of assessment:
Final Exhibition
A presentation of fully realised artwork, or body of works, made during the MFA programme. This requires students to develop, create and present a coherent, thoughtful installation of work within a group exhibition.
Portfolio of Studio Practice
A digital portfolio of studio practice documented by photographic or other means. Throughout the programme, students are encouraged to construct approaches to documentation appropriate to their practice and research.
Extended Text
A written text of 4-6,000 words in support of the studio project. Students are encouraged to take an experimental approach to writing as they develop an account of the methodology used in the final project, an exposition of its theoretical framework, or an essay on a topic of direct relevance to their practice.
Graduate destinations
Many alumni from the Ruskin have pursued careers as practising artists, teachers, curators and gallery professionals in both public and private galleries. Others have gone on to pursue careers in diverse areas such as education, architecture and the film industry.
Changes to this course and your supervision
The University will seek to deliver this course in accordance with the description set out in this course page. However, there may be situations in which it is desirable or necessary for the University to make changes in course provision, either before or after registration. The safety of students, staff and visitors is paramount and major changes to delivery or services may have to be made in circumstances of a pandemic, epidemic or local health emergency. In addition, in certain circumstances, for example due to visa difficulties or because the health needs of students cannot be met, it may be necessary to make adjustments to course requirements for international study.
Where possible your academic supervisor will not change for the duration of your course. However, it may be necessary to assign a new academic supervisor during the course of study or before registration for reasons which might include illness, sabbatical leave, parental leave or change in employment.
For further information please see our page on changes to courses and the provisions of the student contract regarding changes to courses.
Entry requirements for entry in 2024-25
Proven and potential academic excellence, degree-level qualifications.
As a minimum, applicants should hold or be predicted to achieve the following UK qualifications or their equivalent:
a first-class or strong upper second-class undergraduate degree with honours in fine art or a related subject. 
For applicants with a degree from the USA, the minimum GPA generally sought is 3.75 out of 4.0.
If your degree is not from the UK or another country specified above, visit our International Qualifications page for guidance on the qualifications and grades that would usually be considered to meet the University's minimum entry requirements.
GRE General Test scores
No Graduate Record Examination (GRE) or GMAT scores are sought.
Other qualifications, evidence of excellence and relevant experience 
Details of any exhibitions, publications, awards, or residencies you have held that would be of interest to the assessors should be included in the application.
English language proficiency
This course requires proficiency in English at the University's higher level . If your first language is not English, you may need to provide evidence that you meet this requirement. The minimum scores required to meet the University's higher level are detailed in the table below.
*Previously known as the Cambridge Certificate of Advanced English or Cambridge English: Advanced (CAE) † Previously known as the Cambridge Certificate of Proficiency in English or Cambridge English: Proficiency (CPE)
Your test must have been taken no more than two years before the start date of your course. Our Application Guide provides further information about the English language test requirement .
Declaring extenuating circumstances
If your ability to meet the entry requirements has been affected by the COVID-19 pandemic (eg you were awarded an unclassified/ungraded degree) or any other exceptional personal circumstance (eg other illness or bereavement), please refer to the guidance on extenuating circumstances in the Application Guide for information about how to declare this so that your application can be considered appropriately.
You will need to register three referees who can give an informed view of your academic ability and suitability for the course. The  How to apply  section of this page provides details of the types of reference that are required in support of your application for this course and how these will be assessed.
Supporting documents
You will be required to supply supporting documents with your application, including an official transcript and a CV/résumé. The  How to apply  section of this page provides details of the supporting documents that are required as part of your application for this course and how these will be assessed.
Performance at interview
Shortlisted candidates are invited to a fifteen-minute interview, conducted by a panel of Academic staff and MFA tutors. Interviews are held online on Microsoft Teams as part of the admissions process.
At the interview candidates will initially be asked to speak about work from the portfolio they have already submitted and then respond to questions from the panel. We strongly suggest that candidates do not read prepared notes during the interview so that they can engage freely and responsively in discussion. 
How your application is assessed
Your application will be assessed purely on your proven and potential academic excellence and other entry requirements published under that heading.
References and supporting documents submitted as part of your application, and your performance at interview (if interviews are held) will be considered as part of the assessment process. Whether or not you have secured funding will not be taken into consideration when your application is assessed.
An overview of the shortlisting and selection process is provided below. Our ' After you apply ' pages provide more information about how applications are assessed .
Shortlisting and selection
Students are considered for shortlisting and selected for admission without regard to age, disability, gender reassignment, marital or civil partnership status, pregnancy and maternity, race (including colour, nationality and ethnic or national origins), religion or belief (including lack of belief), sex, sexual orientation, as well as other relevant circumstances including parental or caring responsibilities or social background. However, please note the following:
socio-economic information may be taken into account in the selection of applicants and award of scholarships for courses that are part of the University's pilot selection procedure and for scholarships aimed at under-represented groups ;
country of ordinary residence may be taken into account in the awarding of certain scholarships; and
protected characteristics may be taken into account during shortlisting for interview or the award of scholarships where the University has approved a positive action case under the Equality Act 2010.
Processing your data for shortlisting and selection
Information about processing special category data for the purposes of positive action and using your data to assess your eligibility for funding , can be found in our Postgraduate Applicant Privacy Policy.
Admissions panels and assessors
All recommendations to admit a student involve the judgement of at least two members of the academic staff with relevant experience and expertise, and must also be approved by the Director of Graduate Studies or Admissions Committee (or equivalent within the department).
Admissions panels or committees will always include at least one member of academic staff who has undertaken appropriate training.
Other factors governing whether places can be offered
The following factors will also govern whether candidates can be offered places:
the ability of the University to provide the appropriate supervision for your studies, as outlined under the 'Supervision' heading in the About section of this page;
the ability of the University to provide appropriate support for your studies (eg through the provision of facilities, resources, teaching and/or research opportunities); and
minimum and maximum limits to the numbers of students who may be admitted to the University's taught and research programmes.
Offer conditions for successful applications
If you receive an offer of a place at Oxford, your offer will outline any conditions that you need to satisfy and any actions you need to take, together with any associated deadlines. These may include academic conditions, such as achieving a specific final grade in your current degree course. These conditions will usually depend on your individual academic circumstances and may vary between applicants. Our ' After you apply ' pages provide more information about offers and conditions .
In addition to any academic conditions which are set, you will also be required to meet the following requirements:
Financial Declaration
If you are offered a place, you will be required to complete a Financial Declaration in order to meet your financial condition of admission.
Disclosure of criminal convictions
In accordance with the University's obligations towards students and staff, we will ask you to declare any relevant, unspent criminal convictions before you can take up a place at Oxford.
Intellectual life and community
The Ruskin School of Art is home to a closely-integrated creative and intellectual culture between graduate and undergraduate programmes, students and staff. Its intimate scale fosters highly productive, informal collaborations across all parts of the school, allowing you to work closely with some of the UK's leading contemporary artists, writers and art historians.
Studio and technical resources
The Ruskin has dedicated studio space for all students to work together or individually, as well as workshops for specialist training in digital, 2D and 3D media. The project space at the Ruskin's Bullingdon Road site is equipped for contemporary art practices, from performance and digital installations to painting and sculptural work. There is also a communal kitchen, shared by all Ruskin programmes, which has facilities for some food preparation. More information about the Ruskin's facilities is available on the department's website. 
Museums and galleries
The Ashmolean, Pitt Rivers Museum and Museum of Natural History are important centres for the research and display of artefacts and artworks, Modern Art Oxford has a national and international reputation for the quality of its exhibitions of contemporary art, and for its accompanying community and education programmes. Ruskin students and staff have participated in exhibitions and public presentations at Modern Art Oxford.
Libraries and archives
The University of Oxford's libraries, centred on the Bodleian , are the UK's largest academic collection. The University's integrated library service comprises nearly 40 libraries, many offering borrowing rights. The Ruskin has its own specialised library of more than 7,000 volumes, including lending and reference collections focused on art history, art theory, art techniques, exhibition catalogues and artists' monographs. The Ruskin holds around 20 sets of art journals and more than 2,000 art-related pamphlets.
TORCH , The Oxford Centre for Research in the Humanities, offers a stimulating range of interdisciplinary activities.
Ruskin School of Art
Oxford's Ruskin School of Art provides an exceptional teaching and research environment that enables contemporary artists, art historians and art theorists to work closely together in a world-leading, research-intensive university.
The Ruskin offers a one-year (three terms) Masters in Fine Art (MFA) and a graduate research programme, the DPhil in Fine Art, with a cohort of both practice-led and theory-based doctoral researchers. It also supports a wide-ranging portfolio of art making and research activities by its students, staff and visiting scholars in which fine art is prized as a vital component of contemporary culture with a broad range of practical, historical and theoretical references.
View all courses View taught courses View research courses
The University expects to be able to offer around 1,000 full or partial graduate scholarships across the collegiate University in 2024-25. You will be automatically considered for the majority of Oxford scholarships , if you fulfil the eligibility criteria and submit your graduate application by the relevant December or January deadline. Most scholarships are awarded on the basis of academic merit and/or potential.
For further details about searching for funding as a graduate student visit our dedicated Funding pages, which contain information about how to apply for Oxford scholarships requiring an additional application, details of external funding, loan schemes and other funding sources.
Please ensure that you visit individual college websites for details of any college-specific funding opportunities using the links provided on our college pages or below:
Please note that not all the colleges listed above may accept students on this course. For details of those which do, please refer to the College preference section of this page.
Further information about funding opportunities for this course can be found on the school's website.
Annual fees for entry in 2024-25
Further details about fee status eligibility can be found on the fee status webpage.
Information about course fees
Course fees are payable each year, for the duration of your fee liability (your fee liability is the length of time for which you are required to pay course fees). For courses lasting longer than one year, please be aware that fees will usually increase annually. For details, please see our guidance on changes to fees and charges .
Course fees cover your teaching as well as other academic services and facilities provided to support your studies. Unless specified in the additional information section below, course fees do not cover your accommodation, residential costs or other living costs. They also don't cover any additional costs and charges that are outlined in the additional information below.
Where can I find further information about fees?
The Fees and Funding section of this website provides further information about course fees , including information about fee status and eligibility and your length of fee liability .
Additional information
The fees do not include the costs of materials that you may use as part of your course. Each MFA student receives a materials grant of £500 from the Ruskin School of Art, shortly after arrival. On application to the Ruskin School of Art Graduate Studies Committee up to a further £150 is available for preparing and installing work for the final show. The school stocks a wide range of materials, which you can purchase at cost, and students are able to borrow an extensive selection of equipment on a sign-up basis. There is no expectation for students to arrive with any additional equipment or materials beyond those they may already possess. Some basic materials with very low unit costs - eg basic ironware for fixtures and fittings, glue, etc. - are available without charge. You will need to meet any course-related costs incurred in excess of the £500 plus £150 grants. In the first week of the first term, all students pay an equipment deposit of £100. The deposit system is to secure against the borrowing of departmental equipment and the deposit is returned to the student, less any costs incurred by the School for loss or damage, at the end of the course. MFA students stage a public exhibition of their work following the final examination and they collectively raise funds for this through sponsorship, drawing sales, and other activities.
Living costs
In addition to your course fees, you will need to ensure that you have adequate funds to support your living costs for the duration of your course.
For the 2024-25 academic year, the range of likely living costs for full-time study is between c. £1,345 and £1,955 for each month spent in Oxford. Full information, including a breakdown of likely living costs in Oxford for items such as food, accommodation and study costs, is available on our living costs page. The current economic climate and high national rate of inflation make it very hard to estimate potential changes to the cost of living over the next few years. When planning your finances for any future years of study in Oxford beyond 2024-25, it is suggested that you allow for potential increases in living expenses of around 5% each year – although this rate may vary depending on the national economic situation. UK inflationary increases will be kept under review and this page updated.
All graduate students at Oxford belong to a department or faculty and a college or hall (except those taking non-matriculated courses). If you apply for a place on this course you will have the option to express a preference for one of the colleges listed below, or you can ask us to find a college for you. The Colleges section of this website provides information about the college system at Oxford , as well as factors you may wish to consider when deciding whether to express a college preference . Please note that 'college' and 'colleges' refers to all 45 of the University's colleges, including those designated as Permanent Private Halls (PPHs).
For some courses, the department or faculty may have provided some additional advice below to help you to decide. Whatever you decide, it won't affect how the academic department assesses your application and whether they decide to make you an offer. If your department makes you an offer of a place, you're guaranteed a place at one of our colleges.
The following colleges accept students for the Master of Fine Art:
Blackfriars
Brasenose College
Campion Hall
Christ Church
Exeter College
Kellogg College
Lady Margaret Hall
Linacre College
The Queen's College
Regent's Park College
Reuben College
St Anne's College
St Catherine's College
St Cross College
St Edmund Hall
St Hugh's College
St John's College
St Peter's College
Wadham College
Wolfson College
Wycliffe Hall
Before you apply
Our guide to getting started provides general advice on how to prepare for and start your application. Check the deadlines on this page and the information about deadlines in our Application Guide. If it's important for you to have your application considered under a particular deadline – eg under a December or January deadline in order to be considered for Oxford scholarships – we recommend that you aim to complete and submit your application at least two weeks in advance .
Application fee waivers
An application fee of £75 is payable per course application. Application fee waivers are available for the following applicants who meet the eligibility criteria:
applicants from low-income countries;
refugees and displaced persons;
UK applicants from low-income backgrounds; and
applicants who applied for our Graduate Access Programmes in the past two years and met the eligibility criteria.
You are encouraged to check whether you're eligible for an application fee waiver before you apply.
Do I need to contact anyone before I apply?
You do not need to make contact with the department before you apply but you are encouraged to visit the relevant departmental webpages to read any further information about your chosen course.
Queries about the course can be directed to the Ruskin's Graduate Administrator .
Completing your application
You should refer to the information below when completing the application form, paying attention to the specific requirements for the supporting documents .
If any document does not meet the specification, including the stipulated word count, your application may be considered incomplete and not assessed by the academic department. Expand each section to show further details.
Referees Three overall, of which at least two must be academic
Whilst you must register three referees, the department may start the assessment of your application if two of the three references are submitted by the course deadline and your application is otherwise complete. Please note that you may still be required to ensure your third referee supplies a reference for consideration.
Ideally, you should provide at least two academic references. If you have been out of education for a substantial period of time, you may use up to two professional references relevant to the course.
Your references will support artistic achievement and creativity, intellectual ability, academic achievement, motivation and your ability to work individually and in a group.
Official transcript(s)
Your transcripts should give detailed information of the individual grades received in your university-level qualifications to date. You should only upload official documents issued by your institution and any transcript not in English should be accompanied by a certified translation.
More information about the transcript requirement is available in the Application Guide.
A CV/résumé is compulsory for all applications. Most applicants choose to submit a document of one to two pages highlighting their academic achievements and any relevant professional experience.
Statement of purpose/personal statement: A maximum of 1,000 words
Your statement should be written in English and describe your art practice and its relationship to other artists' work and relevant discourses within contemporary art. You should explain your motivation for applying for the MFA course at Ruskin and indicate specific interests you might want to pursue in the development of your art practice.
If possible, please ensure that the word count is clearly displayed on the document.
In the application process, you will be prompted to upload an example of 'written work': you should upload a single page PDF with just one URL to an online portfolio of your work. Please note, you should not upload a PDF of the portfolio itself or your application could be invalidated. Please do not use the University's large file upload portal for your portfolio.
Your digital portfolio should consist of recently-completed studio work. You can submit up to 15 still images and/or 12 minutes in total of moving image (film/video), time-based (eg performance documentation), or sound work. Within the portfolio, you should include title, medium, size, and date of individual works and avoid all other textual annotations.
Portfolios should be accessible online via a working link, and it is the applicant's responsibility to ensure the link is operative throughout the admissions and interview period. Dedicated section(s) of a website or platforms such as Vimeo or Google Drive (without password protection) are recommended. Password-protected sites, ad-heavy platforms (eg Flickr), and those requiring individual access permissions (eg Dropbox) should be avoided.
The department will not accept portfolios submitted via email. If you cannot provide a web-based portfolio, please email [email protected] to discuss alternative arrangements.
Start or continue your application
You can start or return to an application using the relevant link below. As you complete the form, please refer to the requirements above and consult our Application Guide for advice . You'll find the answers to most common queries in our FAQs.
Application Guide Apply
ADMISSION STATUS
Open to applications for entry in 2024-25
12:00 midday UK time on:
Friday 5 January 2024 Latest deadline for most Oxford scholarships Final application deadline for entry in 2024-25
*Three-year average (applications for entry in 2020-21 to 2022-23)
Further information and enquiries
This course is offered by the Ruskin School of Art
Course page on the school's website
Funding information from the school
Academic and research staff
Ruskin School of Art research
Humanities Division
Residence requirements for full-time courses
Postgraduate applicant privacy policy
Course-related enquiries
Advice about contacting the department can be found in the How to apply section of this page
✉ [email protected] ☎ +44 (0)1865 276941
Application-process enquiries
See the application guide
Other courses to consider
You may also wish to consider applying to other courses that are similar or related to this course:
View related courses
Announcing the winners of the Oxford-BNU Creative Writing Award 2023
Date: 10/02/2023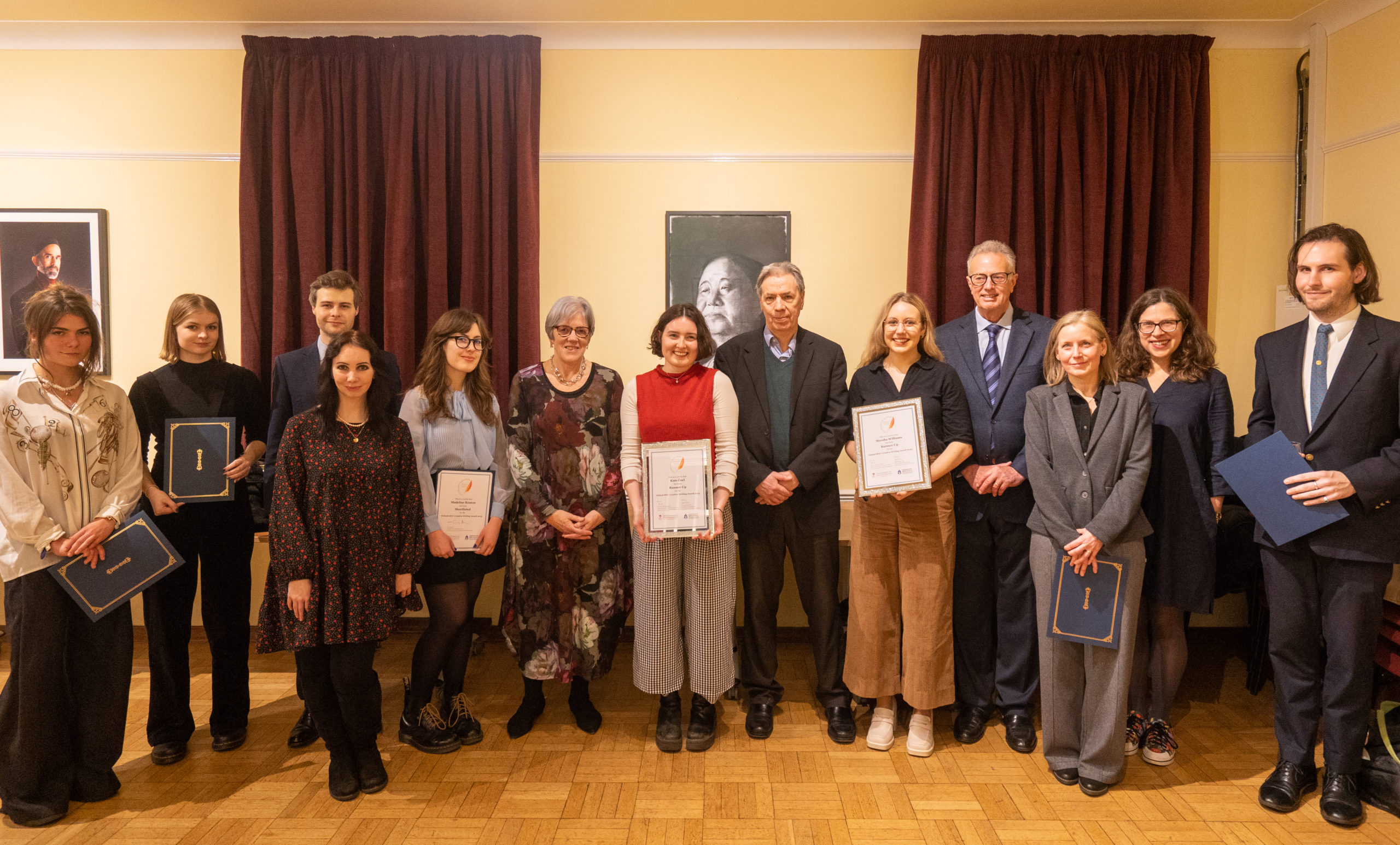 On Friday the 3rd of February we hosted the Awarding Ceremony for the Oxford-BNU Creative Writing Prize, which crowned its second winner after many months of shortlisting and preparation. Organised by the Oxford Prospects and Global Development Institute (OPGDI) and Regent's Park College, this years entrants ranged widely from university students to staff, covering a broad array of themes and literary styles.
Present at the ceremony were the esteemed judges of two shortlisting panels, comprised partially of Boyd Tonkin (FRSL, former Literary Editor of the Independent, and Chair of the Judging Panel of the Man Booker International Prize 2016), Davis Bunn (Regent's Park Writer-in-residence), Dr Lynn Robson, Dr Anna Beer, and alumna and author Hazel Barkworth, as well as competition entrants, friends, and supporters. Regent's Park Principal, Professor Sir Malcolm Evans, paid special mention to the considerable commitment of time and energy of the competitors. Sir Malcolm expressed his welcome and delight at seeing the Oxford-BNU Award cement itself as an innovative feature of the literary calendar both at Regent's Park and within the wider creative community of the university.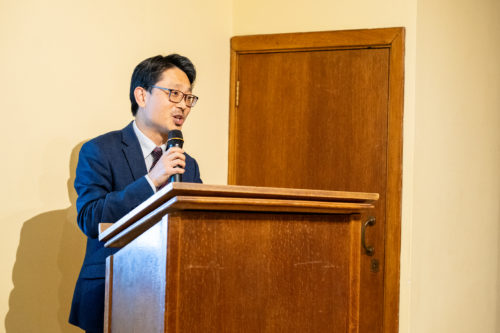 Dr Shidong Wang, Director of the Oxford Prospects and Global Development Institute at Regent's
Dr Shidong Wang, Director of the Oxford Prospects and Global Development Institute at Regents, reminded the audience of the background of the award and its patron, Nobel Prize Winner and Honorary Fellow of Regent's Park , Mo Yan. Following his visit to Regent's in 2019, when he officially inaugurated the eponymous International Writing Centre, Mo Yan founded the award to encourage intercultural exchange. Run in parallel with its co-organiser, Beijing Normal University, the award promotes an inclusive and accessible opportunity for writers of varied academic backgrounds. This year's cohort attracted writers based in Physics, Music, Fine Art, Philosophy, Environmental Governance, History and Politics.
In a speech read by Dr Lynn Robson, Mo Yan reflected on the limitations and challenges posed by recent years, but asserted how social reality makes literature deeper and richer, and how literature also promotes social progress and human self-improvement.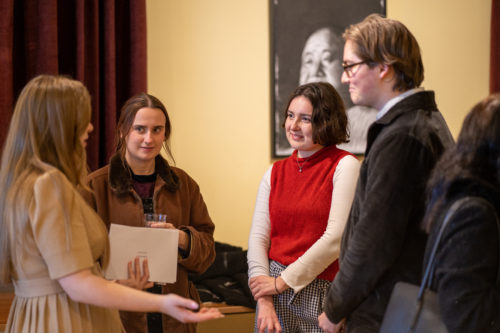 Prize Winners
The ceremony then turned to the announcement of the prize winners by Dr Anna Beer on behalf of the first shortlisting judge panel. Seven writers and their pieces were recognised for their achievement in reaching the final shortlisting stage: Ewan Jeffrey Miller, Phoebe Jowett Smith, Lucy Thynne, Lisa Blackwell, Roland Fischer-Vousden , and Ines Alexandra Heyworth . Two runners-up were selected from the final shortlisting by Boyd Tonkin, Davis Bunn, Dr Lynn Robson and Liz Trubridge (Executive Producer of Downton Abbey). Davis Bunn, emphasising the final cohort's 'astonishing breadth and quality,' made the following comments on these near-winners:
Rodney's Room , written by Meesha Williams: "This hugely entertaining story invites us to join in a vividly fractured home life. We settle into what is both a beautiful and remarkably uncomfortable situation. The characters are drawn with terse and confident brush strokes; we come to know them intimately in a very short period of time, and yet all the while the individual in the title remains absent. Is Rodney a ghost? Or, does he simply represent a better and simpler time? Readers are left to make this choice for themselves."
Learning to Swim , written by Kate Özel: "For myself and the other judges, this author told a remarkably powerful story that introduced us to a new pattern of thought, one that suggested the writer actually translated into English in the process of shaping the tale. Learning to Swim is an emotive, intelligent, and perceptive examination of several life transitions. The flow of words was very much like swimming, which magnified the power of these remarkable descriptions."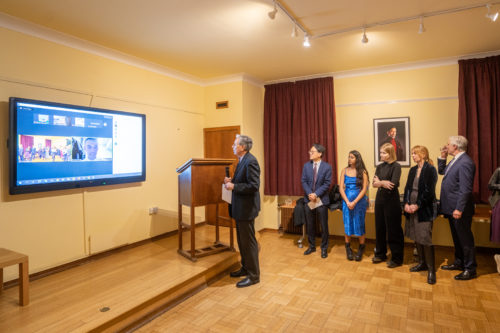 Chair of the final judging panel, Boyd Tonkin, addressing winner Rowan James Curtis – live from Tokyo
Chair Judge Boyd Tonkin noted the distinction and achievement of entrants. Particularly, he stated, due to the challenging task of asserting a clear and gripping narrative voice within an anonymously-judged competition, for which he commended the competitors. As anticipation mounted, announced the award's winner, Rowan James Curtis, for his short story On the Road to Nagorno-Karabakh .
Boyd Tonkin: "It's a story with an intriguing and maybe unexpected premise, a story that took us to surprising places, and encouraged us to see them from fresh and revealing angles. It's a story about the search for roots, but not in any simplistic or sentimental way. This is a quest for a personal and profoundly past, but a past divided, as they often are, between memory, history and myth."
Curtis – previously a DPhil candidate (Trinity), and then a postdoctoral researcher at Department of Physics – writes alongside his scientific day-job, amongst other talents. Presently in Tokyo, he accepted the award virtually, explaining how the story came as part of a collaboration with Trinity porter, Kirk: "He went to Nagorno-Karabakh and took a series of really amazing images in 2018, which, when the invasion of 2020 happened, took on a lot more power, because he captured this world which is no longer there."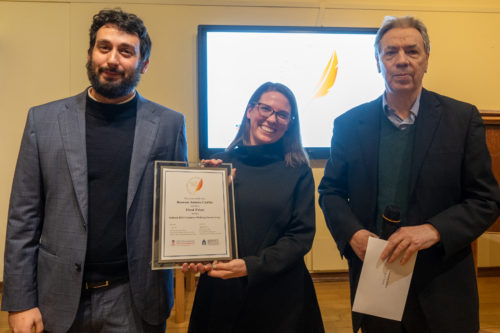 First Prize Award Winner Certificate for Rowan James Curtis
The winning short stories will be published by The Oxford Prospects and Global Development Institute.
About Regent's
Principal's Welcome
College library
Angus Library and Archive
David Nicholls Memorial Collection
Student support during COVID-19
Student Documents
Coronavirus Staff Information
Data Protection
Oxford Writing Courses
Creative Writing Courses for young people based in Oxford, UK.
FREE virtual creative writing one-to-one's and group workshops for young people aged 13-19. Learn about creativity and storytelling from a team of talented writers.
Novel Writing
Our most popular course; learn how to write a book over a time period of your choosing. This one-to-one support means students can work with our tutors to develop their ideas and complete a full manuscript.
Group Workshops
Join a group of your peers for virtual weekly workshops to discuss your project and receive feedback. Groups are always tutor-led, and students are grouped by their writing abilities.
Poetry and Short Stories
Interested in shorter pieces of creative writing? Learn about poetry and flash fiction in a one-to-one or group environment. Our tutors are hot on the latest competitions and awards for you to send your finished work!
You can make anything by writing. C. S. Lewis
Oxford Writing Courses offer bespoke creative writing workshops for young people. We are based in Oxford, England.
More About Us
Get In Touch
Already have a WordPress.com account? Log in now.
Follow Following
Copy shortlink
Report this content
View post in Reader
Manage subscriptions
Collapse this bar
ADVANCEMENT
ACADEMICS | PROGRAMS /
LIBERAL ARTS AND SCIENCE /
Creative Writing
Parking & Transportation
OFFICE OF THE PROVOST
GRADUATE AND ADULT ADMISSION
DEPARTMENT OF PUBLIC SAFETY
OFFICE OF FINANCIAL ASSISTANCE
RESEARCH AND SCHOLARSHIP
COMMENCEMENT 2020
COVID-19 CAMPUS INFORMATION
GOVERNMENT RELATIONS & EXTERNAL AFFAIRS
UNIVERSITY INFORMATION TECHNOLOGIES
CHRISTMAS AT VILLANOVA
STAFF COUNCIL
Sexual Misconduct Prevention and Response
FINANCIAL AFFAIRS
Center for Graduate Research and Education
VILLANOVA SCHOOL OF BUSINESS
COLLEGE OF PROFESSIONAL STUDIES
COLLEGE OF ENGINEERING
College of Liberal Arts and Sciences
Fitzpatrick College of Nursing
OFFICE OF THE PRESIDENT
VILLANOVA'S TEACHER-SCHOLARS
CHARLES WIDGER SCHOOL OF LAW
ACADEMICS | INSTITUTES & CENTERS
Theology and Religious Studies
Classical Studies
Communication
Computer Science
Health Informatics
Software Engineering
Environmental Science
Gender and Women's Studies
Human Resource Development
Liberal Studies
Mathematics
Applied Statistics and Data Science
Peace and Justice
Political Science
Public Administration
Africana Studies
Arab and Islamic Studies
Asian Studies
Art History
Astronomy and Astrophysics
Biochemistry
Cognitive and Behavioral Neuroscience
Cognitive Science
Comprehensive Science
Criminology
Cultural Studies
French & Francophone Studies
Global Interdisciplinary Studies
Irish Studies
Latin American Studies
Liberal Arts
Russian Area Studies
Spanish Studies
Sustainability Studies
Writing and Rhetoric
Dental Medicine
Osteopathic Medicine
Economics (BA)
Individually Designed Major
Environmental Studies
Laboratory Sciences
Chinese Studies
Japanese Studies
Disability and Deaf Studies
ENGINEERING
PROFESSIONAL STUDIES
ACADEMIC ENTERPRISE
UNDERGRADUATE ADMISSION
Diversity, Equity and Inclusion
Visit Villanova
UNIVERSITY ADVANCEMENT
WHAT IS A VILLANOVAN?
COMMENCEMENT
APPLY TO VILLANOVA
STUDENT LIFE
STRATEGIC PLAN
Media Expert Center
GIVE TO VILLANOVA
UNDERGRADUATE CAREER OUTCOMES
The John and Joan Mullen Center for the Performing Arts
CAREER AND PROFESSIONAL DEVELOPMENT
Test College Page
Villanova's Creative Writing program offers an interdisciplinary minor to students across the University. The goal of the program is to support students in their creative writing endeavors and encourage a space of creativity.
DID YOU KNOW?
The Creative Writing program brings award-winning novelists, poets and playwrights to campus for the Annual Literary Festival.
Explore minor in Creative Writing.