Resources you can trust
The Boy in the Striped Pyjamas
A selection of thoughtful resources to support your teaching of this impactful Holocaust novel by John Boyne. Choose from a character exploration activity, get students to consider who is to blame for the deaths of Bruno and Shmuel or take an in-depth look at parallels in the text and their deeper meanings.
Classroom resources
(-) Show all (5)
English (5)
(-) All key stages (5)
Resource type
Student activity (5)
Role play/debate/discussion (2)
All global tags (15)
John Boyne (5)
(-) The Boy in the Striped Pyjamas (5)
Search results
International
Schools directory
Resources Jobs Schools directory News Search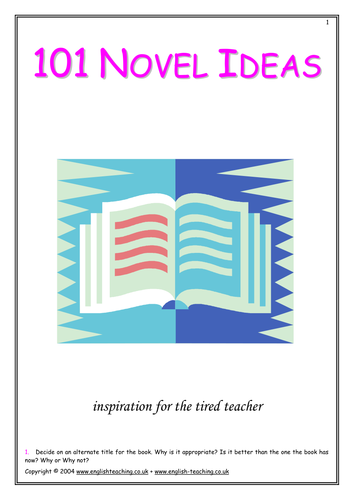 101 Novel Ideas: Inspiration for the tired teacher
Subject: English
Age range: 11-14
Resource type: Worksheet/Activity
Last updated
16 August 2021
Share through email
Share through twitter
Share through linkedin
Share through facebook
Share through pinterest
Creative Commons "Sharealike"
Your rating is required to reflect your happiness.
It's good to leave some feedback.
Something went wrong, please try again later.
NibResources
So helpful. I always come back to this resource.
Empty reply does not make any sense for the end user
Really helpful. Thanks
OMG Yes! Thank you!
charlyfunke
Thank you for sharing!
Report this resource to let us know if it violates our terms and conditions. Our customer service team will review your report and will be in touch.
Not quite what you were looking for? Search by keyword to find the right resource:
My dashboard
upload a resource
resources i have uploaded
Add blog post
Offer webinar
webinar status
MY/OFFER ADVERISTMENT
Change password
Reading (286)
Writing (285)
SPAG, SPELLING, PUNCTUATION & GRAMMAR (87)
Vocabulary (80)
Speaking & Listening (56)
Plays (108)
Poetry (129)
Novels (159)
19TH CENTURY LITERATURE (95)
Homework (84)
Whole school literacy (82)
Reading (208)
Spelling (6)
Vocabulary (52)
SPAG, SPELLING, PUNCTUATION & GRAMMAR (35)
Spoken English (17)
Wall Display (24)
Schemes of work (50)
Examplar Material (63)
ASSESSMENT MATERIAL (157)
Paper 1 (592)
Paper 2 (394)
19TH CENTURY LITERATURE (278)
Set exam notes (novels) (125)
Unseen Poetry (83)
Poetry Anthologies (303)
Shakespeare (324)
Schemes of work (39)
Exemplar Material (36)
ASSESSMENT MATERIAL (76)
Paper 1 (169)
Paper 2 (235)
Wall Displays (24)
AS/A-LEVEL LANG
AS LEVEL (130)
A LEVEL (130)
AS/A-LEVEL LIT (A)
AS LEVEL (142)
A LEVEL (142)
AS/A LEVEL LIT (B)
AS LEVEL (19)
A LEVEL (19)
AS/A-LEVEL LANG & LIT
AS LEVEL (15)
A LEVEL (15)
Jobs Listing
Key Stage 3 (127)
Key Stage 4 (0)
Key Stage 5 (0)
GCSE Language (1)
GCSE Literature (2)
Functional Skills (0)
AS level Lang (0)
Step up to English (0)
A level lang (0)
AS level Lit (A) (0)
A level lit (A) (0)
AS level lit (B) (0)
A level Lit (B) (0)
AS Level Lang & Lit (0)
A Level Lang & Lit (0)
Paper 1: Language & the individual (0)
Paper 1: Literary genres (0)
Paper 1: Love through the ages (0)
Paper 1: Literary genres - drama (0)
Paper 1 - views and voices (0)
Paper 1: Language, the individual and society (0)
Paper 2: Love through the ages (0)
Paper 2 - people and places (0)
Paper 2: Language varieties (0)
Paper 2: Texts and genres (0)
Paper 2: Texts in shared contexts (0)
Paper 2: Literary genres - prose & poetry (0)
Independent Critical Study (NEA) (0)
Paper 2: Language diversity and change (0)
Language in action (NEA) (0)
Exam practice & revision (0)
Additional resources (0)
Theory and Independence (NEA) (0)
Paper 1 - telling stories (0)
Paper 2 - exploring conflict (0)
Shakespeare (0)
Poetry anthology post- 1900 (0)
Writing (0)
Reading (0)
Writing (21)
Reading (37)
19th Century Literature (0)
Set Exam Texts (Novels) (0)
Spelling (0)
Unseen Poetry (0)
SPAG Spelling, Punctuation & Grammar (12)
Vocabulary (0)
SPAG, Spelling, Punctuation & Grammar (0)
Poetry Anthologies (0)
Vocabulary (16)
Speaking and Listening (7)
Spoken English (0)
Wall Displays (0)
Schemes of Work (0)
Poetry (15)
Exemplar Material (0)
Assessment Materials (0)
Novels (127)
Paper 1 (0)
19th Century Literature (17)
Homework (16)
Paper 2 (0)
Whole School Literacy (9)
Dramatic Encounters (0)
Writing about Society (0)
Remembered Places (0)
Imagined Worlds (0)
Poetic Voices (0)
Re-creative writing (0)
Option 2A: Elements of crime writing (0)
Option 2B: Elements of political & social protest writing (0)
Option 2B: Aspects of comedy (0)
Option 1A: Aspects of tragedy (0)
Option 2A: Aspects of tragedy (0)
Option 1B: Aspects of comedy (0)
Option A: WW1 and its aftermath (0)
Option 2: Modern times lit from 1945-present (0)
Unseen poetry (0)
Prose text (0)
Poetry anthology pre -1900 (0)
Unseen prose (0)
Method of Lang analysis (0)
Poetry anthology post - 1900 (0)
Language diversity and change (0)
Language discourses (0)
Writing skills (0)
Textual variations (0)
Children's language development (0)
Textual variations & representations (0)
Teaching Resource (106)
Presentation (12)
Video Link (0)
Revision (6)
Share an idea (2)
Remote Teaching (1)
EDEXCEL (3)
City and Guilds (0)
Boy's Don't Cry- Year 9 SOL
Written with help from teachers from several schools including The Priory. Full SOL including:PP (empty slides for Do Nows)Week by week lesson MT planKOSeveral texts Copy of an "interesting"... VIEW
Level: Key Stage 3
Unit: Novels
The Giver Homework Tasks for creative writing practice
Please find lessons and sow posted separately. I designed these to be completed alongside the reading of The Giver, starting a few weeks in. The success criteria is the same each week because the stud... VIEW
The Giver Scheme of Work
Please find the series of lessons to go alongside this posted as a separate resource. VIEW
The Giver series of lessons
The Giver by Lois Lowry. A great book to read with Y7. Here we have a series of lesson ppts created on Google slides, so formatting may be lost in converting to ppt. The entire novel is on the lesson... VIEW
I have put my own time and effort into creating this resource; if you have appreciated using this resource, or has saved you time, then please do consider buying me a coffee!
A Song for Ella Grey Reading Comprehension PowerPoint
'A Song for Ella Grey' written by David Almond reading comprehension questions.There are also additional resources linked Greek Myths to support students wider understanding of the novel. Aside f... VIEW
Tribes - Catherine Macphail
Detailed Powerpoint scheme working through the KS3 novel Tribes VIEW
Exam/Board: AQA
Once - Morris Gleitzman
A basic scheme of work aimed at Year 7 students on the novel 'Once'. Feel free to use and adapt! VIEW
Unit: Novels, Reading
The Boy who Harnessed the Wind
This is scheme of work for KS3 for non fiction autobiographical writing. We also used it for cross curriculum links with Science and Humanities. VIEW
Book Look Mark Sheets
There is a blank Book Look sheet and a completed one in the folder. Before starting marking have the blank Book Look sheet in front of you and the work, if this is in book form, then ask students to l... VIEW
Unit: 19th Century Literature, Novels, Poetry, Reading, SPAG Spelling, Punctuation & Grammar, Writing
Beowulf Knowledge Organiser
A knowledge organiser for our new yr 7 scheme exploring the evolution of the hero from Beowulf to Captain Marvel. Includes a Beowulf plot summary, Freytag's pyramid; characterisation terminology inclu... VIEW
Unit: Novels, Reading, Speaking and Listening, Writing
Dracula Knowledge Organiser
A KO for our new Dracula scheme for year 9 including: plot summary, key characterisation terminology, a list of explicitly taught Tier 2 and 3 vocabulary, a definition of Gothic Literature and guide t... VIEW
Unit: 19th Century Literature, Novels, Reading, Writing
Y8 Conflict SOW
A Full 7 week SOW made from lots of resources I have found/made. Comes with a complete homework module. VIEW
Unit: Homework, Novels, Reading
Writing through Time 7: Victorian
Four lessons from a longer scheme. VIEW
Unit: Novels, Poetry, Reading, Vocabulary
Writing through Time 6: Romanticism (and Regency)
Writing through time 5: restoration.
Unit: Novels, Plays, Poetry, Reading, Vocabulary
Animal Farm (Year 9)
A scheme we used with Year 9 this year - some bits will definitely need tweaking, and I feel like I've lost a couple of slides along the way - sorry! VIEW
Write a Speech as Squealer Scaffold
Students mark animal farm peach paragraphs, napoleon and tyranny - animal farm, animal farm or napoleon's farm, animal farm recap chapters 1-6, sawbones – full sow.
A full SOW for a Y7 unit around Catherine Johnson's Sawbones. Each lesson is planned and there are retrieval activities at the start of each lesson. Some of these resources are adapted from others I h... VIEW
Where the World Ends SOW
Powerpoint SOW for Where The World Ends - Y7/8. Needs to be tinkered with but there's lots on there to get you started. VIEW
Trash by Andy Muligan
A range of resources for the novel Trash by Any Mulligan. All resources were used with a high ability year 7 group. VIEW
Animal Farm -structure lesson
This is a structure lesson which was based on year 8 pupils (ignore the title I was having a funny five) who were reading Animal Farm but would work for pupils that haven't been reading it as it is ba... VIEW
'Trash' by Andy Mulligan KS3 Student Workbook
A workbook I created for students who are absent from school and need further support. It follows our Scheme of learning. VIEW
A Monster Calls - Scheme of Learning
A scheme of learning for A Monster Calls completed this half term. A Monster Calls is a stunning text that beautifully describes the emotional trauma of Conor O'Malley. I hope you find the r... VIEW
Terror Kid Opening Chapters
This is the first lesson on the opening chapters of Terror Kid, focusing on characterisation. I used this with Y8 students. VIEW
Of Mice and Men Knowledge Organiser
Animal farm knowledge organiser, exit tickets for lessons.
Exit Tickets allow pupils to reflect on their learning at the end of the lesson, thereby removing the need for a teacher-led plenary. Promotes independent and personal thinking skills, and provides fo... VIEW
Unit: 19th Century Literature, Novels, Plays, Poetry, SPAG Spelling, Punctuation & Grammar, Vocabulary
Knowledge Organiser - 'A Little Piece of Ground' by Elizabeth Laird
Knowledge Organiser for KS3 Novel 'A Little Piece of Ground' by Elizabeth Laird, a resource to support students' study of the text. VIEW
This is an excellent and timely novel.These resources have been created with thanks to inspiration from the freely available Reading with Relevance Guide found online.The SOW takes students through th... VIEW
To kill a Mockingbird SoL Part2
This is the second part of the SoL: it has the resources to accompany lessons and an end of unit assessment. VIEW
To kill a Mockingbird SoL Part1
This is Part 1 of the upload; it has the lesson ppts. The end of unit assessment and resources are in Part 2 VIEW
The Infinite - Full SoW for Year 7
A six-week resourced scheme of work for Year 7. Aims of the unit include class reading of a book for pleasure, considering structure and character development and exploring genre. Best tau... VIEW
A Christmas Carol 50 Questions
I have cobbled together this list of 50 questions for A Christmas Carol from various other resources. There are assessment objective specific questions (although they are not labelled explicitly as th... VIEW
Unit: 19th Century Literature, Novels
This is a whole unit of work based around the novel Hatchet.There are reading and writing activities, homework tasks and key vocab lessons are integrated.Instead of LOs I have used 'The Big Question'... VIEW
Unit: Homework, Novels, Reading, Vocabulary, Writing
King of Shadows - Pupil Booklet
I put this booklet together to support Year 6 pupils last year during lockdown. It could easily be adapted for Year 7 pupils. I hope you find it useful. VIEW
A short series of lessons based on the The Woman in Black
This is a series of lessons based around The Woman in Black. It covers some techniques and mostly analytical writing focussing on atmosphere. I have adapted some of this to use as a creative writing f... VIEW
Of Mice and Men - Hierarchy on the ranch and Chapter 6
Mortal engines worksheets.
A number of worksheets on the characters in Mortal Engines and the traction cities within the novel. Used with mixed ability Y9s VIEW
Exam/Board: AQA, EDEXCEL, OCR, IGCSE, WJEC, Eduqas
Of Mice and Men - Crooks symbolism lesson
A PPT and Word document (just the opening to OMAM chapter 4), looking at concrete vs abstract nouns, plus an extended writing opportunity at the end using 'literally, metaphorically, symbolically'. In... VIEW
Refugee boy Y7 assessment
A Language Paper 1 style assessment. It covers Q1, Q2 and Q5.I will upload the finished mark scheme soon. VIEW
Year 8 A Monster Calls exam paper and Mark scheme
A Language P1 style exam paper for Year 8. The exam paper is not my own but the mark scheme is one we created in the department. Covers Q1, Q2, Q5 only VIEW
Of Mice and Men symbolism beginning and end
Looks at comparing the differences and exploring symbols and how this might be an allegory for something bigger. For Yr9 VIEW
Treasure Island Famous Pirates
Lord of the flies - id, ego & superego, of mice and men sow including modern contextual debates.
An updated SOW for OMAM. May need tweaking for use as it's currently being used in lessons that are 2.5 hours long. Links to "Me Too" movement and debate lesson (last lesson) on BLM / relevance of OMA... VIEW
Woman in Black for Low Ability students
This is a SOW to support the teaching of the Woman in Black by Susan Hill. This makes reference to the easy reader version of the text published by Macmillan. VIEW
Lord Of The Flies Scheme of work
New scheme of work written for year eight, with link lessons included. Not all the resources are mine originally. This is enough for a full term. VIEW
Knowledge Organiser Of Mice and Men
Unit: Homework, Novels
Knowledge Organiser Alice in Wonderland
Knowledge organiser the boy in the striped pyjamas, animal farm.
I initially put this together for remote learning over lock-down but we chose not to do Animal Farm in the end - it covers the whole novel, has model examples and instructions throughout. VIEW
Lots of activities from a number of different sources, aimed at Year 7 VIEW
Of Mice and Men Scheme of Work
Unit: Novels, Reading, Writing
Exodus by Julie Bertagna
This SoW was developed after reading the book which I thought would be great to explore post Lockdown. This is a dystopian novel for year 7's and it has such a range of ideas and concepts that it will... VIEW
My Family and Other Animals - Scheme of Work
Scheme of work for Gerald Durrell's 'My Family and Other Animals'. Suitable for Year 7 or 8.A term of lessons with a linked language focus looking at writing to argue and persuade. VIEW
Support for introducing/teaching Hamlet
This extended short story is intended to engage reluctant readers who are studying Hamlet, while hopefully being an entertaining and engaging read in its own right VIEW
Unit: Novels, Plays, Reading
Animal Farm Y7 full SOW and all lessons
Full resourced with lesson map, all powerpoints and resources. Created for HA year 7 so could work across KS3 depending on your groups. VIEW
Refugee Boy
Six week scheme for Year 7 on Refugee Boy. As with all schemes, some of this is my own work from scratch, but some is adapted from what is already freely available. The unit ends with a newspaper writ... VIEW
Sequencing doc for students for yr 7 to 10
An example of the sequencing doc for Yr 7 to 10 for students. VIEW
Course: GCSE Literature
Unit: Novels, Reading, SPAG Spelling, Punctuation & Grammar, Speaking and Listening, Vocabulary, Writing
Roll of Thunder Extract
Extract to go with Q1 & Q2 VIEW
Course: GCSE Language
The Boy at the Back of the Class YR7
A SOW for Yr7 VIEW
The Breadwinner
Full scheme of work for The Breadwinner, aimed at year 7 VIEW
Roll of Thunder Language
A series of slides to support AO1 and AO2 skills using the extract from Chapter 3 of Roll of Thunder Hear My Cry. It was created as a Year 9 remote learning pack. VIEW
animal farm
The hate u give structure.
This PowerPoint uses the extract provided by Teri T on this website, and uses some of the questions from their resources. What I have created is a series of activities based on the structure of the ex... VIEW
The Speckled Band SoW Year 7
Basic scheme of work (written many moons ago) for 'The Speckled Band' including worksheets and differentiated resources. Aimed at mixed ability Year 7 but can be easily adapted to suit. VIEW
Cirque Du Freak SOW
Lord of the flies - home learning.
After reading the text , these are activities incorporating the skills from the language papers. Includes activities and resources. VIEW
Cirque du Freak - Scheme of Work
This is a Scheme of Work that I have taken from the Internet (where it was shared) and adapted for a low - middle ability group. There is still work to do on it, but it may be a useful starting... VIEW
Northern Lights SoL
Full scheme aimed at AQA P1 skills with resources. VIEW
Unit: Homework, Novels, Poetry, Reading, SPAG Spelling, Punctuation & Grammar, Speaking and Listening, Vocabulary, Whole School Literacy, Writing
Butterfly Lion SoW
Full SoL for lower ability Y7 VIEW
Unit: Homework, Novels, Reading, SPAG Spelling, Punctuation & Grammar, Speaking and Listening, Vocabulary, Whole School Literacy, Writing
A Christmas Carol Full SoL
A full scheme, complete with resources for a half term unit to teach ACC to Yr9/low ability Y10 VIEW
Unit: 19th Century Literature, Homework, Novels, Reading, SPAG Spelling, Punctuation & Grammar, Speaking and Listening, Vocabulary, Whole School Literacy, Writing
Full Scheme - suitable for low ability KS3. VIEW
Unit: 19th Century Literature, Homework, Novels, Poetry, Reading, SPAG Spelling, Punctuation & Grammar, Vocabulary, Whole School Literacy, Writing
Tiered Starter/Settler blank slides
A series of tiered or differentiated blank slides for starter or settler tasks. VIEW
Unit: 19th Century Literature, Homework, Novels, Plays, Poetry, Reading, SPAG Spelling, Punctuation & Grammar, Speaking and Listening, Vocabulary, Whole School Literacy, Writing
Feedback Sheet
A sheet I use to help prompt meaningful feedback and peer-marking. I laminate and place on desks, 1 between 2. VIEW
Noughts and Crosses full sow and resources
A full scheme of work on Noughts and Crosses. A detailed PowerPoint presentation, with Stretch and Challenge Activities sprinkled throughout. Resources and Homework included. Keen to hear if there are... VIEW
The Boy in the Striped Pyjamas Reuploaded - Full SOW (30 lessons)
Independent reading project for ks3.
This is something I have put together for our whole department to cover first half term of Summer. We are going to send it out in one week tasks. hope this is helpful. Be good to hear how your student... VIEW
Unit: Homework, Novels, Whole School Literacy
The Boy in the Striped Pyjamas Updated - Full SOW (30 lessons)
Eduqas KS3 BISP sow with 30 lessons and 2 assessment points. VIEW
Exam/Board: Eduqas
Boy in the Striped Pyjamas
SOW for The Boy in the Striped Pyjamas. VIEW
The Boy in the Striped Pyjamas full SOW and all lessons
Full unit of work with all lessons and assessments. Suitable for mid-high ability KS3 group VIEW
The Woman in Black - isolation and language
Word level work to look at vocabulary and impact. Exploring Gothic settings. Following on from a lesson looking at The Graveyard Book. VIEW
Fiction Knowledge Organiser
Hacking a text- text analysis, animals in literature - ks3 unit.
3 week SOW for Y8 students on Animals in Literature covering anthropomorphism and extracts from a range of 19th and 20th Century Literature.Slideshow, Resource Booklet and Planning Overview. VIEW
Unit: 19th Century Literature, Novels, Reading, Vocabulary
Response Writing Ladder
A writing support frame to help students properly analyse language techniques. VIEW
Unit: 19th Century Literature, Novels, Plays, Poetry, Reading, Writing
Of Mice and Men Escape Room
Escape room lesson for OMAM VIEW
Exam/Board: AQA, OCR
Coraline Knowledge Organiser
Coraline knowledge organiser created for a Y7 group. VIEW
Alice in Wonderland-teaching explicit and implicit understanding within a text
Treasure island observation lesson year 7 ha.
A02-Language/use of synesthesia VIEW
Icarus observation lesson HA Year 7
Animal Farm scheme taught to Y8 students. VIEW
Ruby in the Smoke SoW
Ruby in Smoke Scheme for use with year 7 or 8. VIEW
Creative Writing: The Trench
These lessons are being taught alongside a reading of War Horse but may be of some use to others. Slides 1-6 have used some activities from Pobble 365 (The Trench) - one or two activities have been ad... VIEW
Unit: Novels, Poetry, Vocabulary, Writing
A full scheme of work on wonder. VIEW
Darkside extracts
Extracts from the novel 'Darkside' VIEW
Unit: Novels, Reading, Vocabulary
Half termly planning sheet
A sheet I use at the start of a half term to organise my planning of a topic. VIEW
Unit: 19th Century Literature, Novels, Plays, Poetry, Reading, Vocabulary, Writing
The Graveyard by Neil Gaiman
Please note, I did not finish teaching the whole of the novel but there are a number of lessons to get started. VIEW
Of Mice and Men knowledge organiser
Of mice and men, boy in the striped pyjamas sow, private peaceful homework booklet.
A homework booklert encouraging independent research designed to accompany the complete SOW. It follows the events in each chapter. VIEW
Wonder FULL SOW
Full SOW for Y7 studying Wonder by R.J. Palacio. Focus on reading and transformational writing. VIEW
Unit: Novels, Reading, SPAG Spelling, Punctuation & Grammar, Writing
Coraline Homework Booklet
Selection of activities in a booklet. VIEW
My Sister Lives on the Mantelpiece SoW
This is a full scheme of work, fully-resourced, for My Sister Lives on the Mantelpiece.We have taught it to Y7 (all-boys cohort) and they have been absolutely enthralled by it! VIEW
Target and Task Marking Feedback WWW and EBI Sheets
Marking and feedback sheets for all skills. Printable tick sheets which can be either printed for LA or displayed for HA. VIEW
Unit: 19th Century Literature, Novels, Plays, Poetry, Reading, SPAG Spelling, Punctuation & Grammar, Writing
Ruby in the Smoke SoL
Lessons on most chapters of Ruby in the Smoke by Phillip Pullman. Some GCSE links. Designed for Y9 reading lessons. VIEW
Unit: Novels, Reading, Whole School Literacy
Northern Lights Full Scheme of Work
Scheme of Work to accompany the reading of Phillip Pullman's Northern Lights. Designed for Y9 Middle ability with plenty of GCSE skills and links. Fully resourced using booklet. VIEW
Animal Farm SOW 2
Animal farm petal lesson, animal farm sow, petal paragraph bookmark.
Print slides 2 and 3, flip on short edge for ready-made bookmark outlining steps to PETAL. VIEW
KS3 SOW on To Kill a Mockingbird
SOW for To Kill a Mockingbird aimed at Yr8 students. Mostly just bit and pieces pick pocketed from all over - hope it is of some help. VIEW
Unit: 19th Century Literature, Novels, Reading
Subject Terms Glossary -Core/KS3
A glossary of subject terms I made for use by KS3 students. VIEW
Unit: Homework, Novels, Plays, Poetry, Reading, Writing
KS3 Short Story Anthology
Collated for Yr 9 Short Story Unit.Contains:A Sound of Thunder (Ray Bradbury)The Fog Horn (Ray Bradbury)Don't Ask Jack (Neil Gaiman)The Landlady (Roald Dahl)Lamb to the Slaughter (Roald Dahl) VIEW
A Monster Calls - FULL 7+ week SOW w/Lessons
7 Weeks of lessons for A Monster Calls (Patrick Ness) originally delivered to MA Year 7 group in Autumn 2.Range of tasks and foci, including metaphors, similes, symbols and various structural features... VIEW
Oliver Twist workbook
Can be used in class or as homework. VIEW
A Midsummer Night's Dream PDF
A version I found online with the modern translation next to it. VIEW
Year 7 Oliver Twist Text + Tasks Workbook
Abridged version of the text with tasks following each chapter. Please use/edit etc. Suitable for Year 7/8. VIEW
Skip to navigation
Skip to content
English And Media Centre uses cookies to ensure we give you the best experience on our website. Find out more about cookies
Account sign in / Register
Sign in to your account to buy, book, subscribe & manage your account. No account? Register here too.
emagazine sign in
Use your emagazine username & password to access current issue, archives & video clips.
MediaMagazine sign in
Use your MediaMagazine username & password to access current issue, archives & video clips.
Recently added item(s)
A Project on Studying a Novel with Four Year 9 Classes
For 6 weeks, from September to the end of October 2018, an English department in outer London was involved in a Year 9 project for EMC's group work research, 'It's Good To Talk.' The project was designed by me and Lucy Hinchliffe, who works four days a week at the school and one day a week at EMC. The idea was to re-design a scheme of work on a Year 9 novel – Fabio Geda's In the Sea There Are Crocodiles . It started with the department's desire to build more group work and dialogic learning into their curriculum but soon became something much more all-encompassing. It led to a significant re-thinking in the department about what KS3 English should be offering to students and what kinds of experiences will best prepare them for GCSE without sacrificing a genuine and deep development of subject knowledge and capability.
The existing scheme of work
The department had already been teaching In the Sea There Are Crocodiles for four or five years and had an existing scheme of work that all the teachers followed, taught largely from PowerPoint presentations. Last year the scheme was adapted to explicitly focus on preparing the students for the demands of the new Language GCSE. (This is something that English departments are increasingly doing – slanting the experience of literary texts, both at KS3 and KS4, not only towards GCSE in general but more specifically towards addressing the specific requirements of the GCSE Language exam). The new scheme involved lots of work on close language analysis and paragraph writing, looking towards each of the sections of the Language exam and as preparation for the internal assessment that forms part of the whole school data and student performance tracking. As well as focusing heavily on the GCSE requirements, the scheme had a strong contextual element, with students doing their own research on the Hazaras and Pashtuns of Afghanistan and the political context which is the impetus for the events of the novel. The teachers provided lots of scaffolding in the form of PEETAL (Point, Evidence, Explanation, Technique, Analysis, Link) and other forms of detailed support for writing. Inference was taught explicitly, using images of Afghanistan and of migrant journeys. The general classroom pattern was varied, including reading, presentation and explanation from the front, with some open tasks and opportunities for talk. There was no creative/critical writing (such as 'writing in the style of') and it involved a significant amount of modelling of paragraph writing.
Introducing a new scheme of work, with group work… and much more
Of the 12 teachers teaching Year 9 to mixed ability classes, 6 continued to work on the novel in this way, using the existing scheme. The other 6 (4 groups with some shared teachers) agreed to change their scheme of work, to follow a completely different model. Though taken on by the teachers and developed by them in their own way, it came to be known by everyone as 'the EMC way'. In the first instance, Lucy and I were hoping to build in group work, as a way of testing what difference it might make to the learning for the students. However, from very early on in the project it became quite clear that this focus on group work was bringing with it something much more than just a new classroom methodology; it was radically and dramatically changing the whole nature of the study of a class novel.
In trials of classroom pedagogy, there is often an attempt to isolate out one intervention to prove its efficacy. At EMC we have been sceptical about the viability of doing this in such context-bound, complex, organic places as classrooms, and in our work with these Year 9 classes, this very much proved to be the case. The shifts in thinking that occurred went way beyond just 'teaching from the front versus group work', as I hope this write-up will show. Equally, in classrooms, teachers gave the scheme their own inflection, classes responded differently, and some teachers retained some elements of previous practice, whilst others 'went the whole hog' with changing the approach. Despite these caveats, it seemed that for the teachers involved a whole new set of understandings emerged about what it means to teach a class novel. For the students, as their writing and their evaluative questionnaires at the end of the unit show, the scheme also involved a significant shift in thinking – in some cases, a revelatory one – about what studying texts in English might involve.
What were the key differences in 'the EMC way'?
Here, in brief, are some aspects of what the new scheme of work did differently in comparison with the school's original Scheme of Work. Links to fuller documentation are provided along the way, if you want to see more detail about this.
At an initial meeting in advance of starting the scheme, the teachers talked with me about what key literary and linguistic understandings and ideas were of central interest in this book. In other words, they identified significant aspects of the text. These included, among other things, its genre-mixing of fact and fiction, its structure as an 'odyssey', in which the trials and tribulations of the protagonist are described, its powerful impact on readers, its raising of many themes around migration, freedom and oppression, its rich use of a developing and changing symbolism. These were going to be at the forefront of the teachers' minds while presenting the text in their lessons. They tried out a 'taster' of the first lessons that would be so vital in setting up a new way of working, to give them confidence in the approach and the kind of issues and ideas about the book that might emerge in the classroom. They ended this meeting with a shared understanding of key issues about the book itself.
The scheme of work was flexible. Each lesson was mapped out in basic terms but teachers were asked to adapt, slow down and speed up, and make choices of activity according to what they saw happening in the classroom and how well their students were coping both with the book and with their new ways of working. In other words, the scheme was a responsive framework, not a rigid schedule. ( LINK 1: the Scheme of work .)
At the heart of the work was the idea of a developing, shared 'agenda' about the novel, that anchored all the work back to a sense of what we had agreed to be most interesting and significant about it – the characteristic features of this text. The agenda was not 'presented' to the class by the teacher but came out of the class work as a form of shared thinking, being adapted as it went. Students were encouraged to add their own items and think for themselves about what was important in the text. However there was also a strong underpinning in the work the teachers had done in the planning meeting to establish a shared sense of what the students should come away with as a result of reading this text, to take forward into all future work on novels. The teachers were encouraged to feed in ideas, encourage connections to be made and prompt thinking that would get to the heart of key elements in the novel.
Here is the agenda I created to share with the English department – my own thinking about what I found most interesting about the text. ( LINK 2: Barbara's 'agenda' ) Here too are the agendas that emerged in each of the different classes by the end of their first lesson on the book, as a result of group work exploring fragments from the text (mini-quotations), and making predictions about the nature of the book they would be reading. Each group's agenda was extended and enriched across the course of the half term. ( LINK 3: agendas for different groups )
Group work formed a significant part of the work, but not necessarily in whole lessons, or all of the time – rather as a way of exploring ideas raised by the teacher, or raising new issues first in groups as a prelude to class discussion, or individual writing. Much of it happened in intense little bursts – ten or fifteen minutes with a requirement to choose something, decide something, agree something, argue through something. Some teachers did more extended group activities along the way and there was an opportunity to reflect afterwards on whether these longer activities, stretching over a whole lesson or even more than one lesson, were the most successful elements of group work or not.
Though the teachers knew that the students would be assessed on the basis of a test that would mirror the GCSE Language paper, they agreed not to put any emphasis on this through the teaching, nor to specifically prepare the students for the demands of the assessment. There was no 'now you're studying this in order to be able to answer this question at GCSE, or in your assessment'. The reading of the book, the discussion and the writing about it were all for their own sake – a good enough reason to be working hard on the text. All of the teachers agreed that they would not teach PEETAL or focus written work on 'paragraph writing'.
When the students wrote more formally about extracts from the text – drawing on their understandings of the book as a whole – the titles they were given were broad and open, along the lines of 'What, in this extract, is characteristic of the book as a whole?', encouraging them to apply their knowledge of the writer's style and the themes and experiences he is revealing to the reader. This was in stark contrast to the narrower, more specific questions that students in the 'control' group were asked to address (for example 'Write a PEETAL paragraph about a sentence from the text').
What happened? – The headlines
So much happened, of so much significance, that it is hard, in a blog, to do justice to everything. What follows is an attempt to draw out some of the most important findings.
1. The teachers' reactions – positive impact
Within a week or two of teaching, several of the 'EMC way' teachers reported that they had decided to radically re-write their schemes of work for their KS4 and KS5 classes, to adopt the 'agenda' approach and a more open dialogic way of working in introducing the texts, An Inspector Calls at KS4 and Wuthering Heights at KS5. The reasons for this? Teachers reported a greater interest from students, a surprise at how much their students could contribute, and a sense that the teachers themselves were much clearer about the rationale for focusing on one thing rather than another in the study of a novel. The scene by scene, or chapter by chapter approach was not entirely dismissed but was overlaid with big picture ideas about the texts that were debated and discussed.
The teachers, in interim feedback and then in more detailed questionnaires at the end of the scheme and in a department meeting, were positive about the impact, both for them and their classes. Some key points that emerged were:
a. Behaviour
Some had feared that behaviour would be worse with more group work. None found this to be the case, though one teacher qualified this with concerns about behaviour in more extended discussion activities.
Teacher D, who was particularly nervous of the whole approach, reported that she was pleasantly surprised at how well the group work went and that the behaviour of students was in fact better than in previous work with the class:
I think the group work element worked well for this, as did the discussion work – less chaotic than I imagined! They were interested to hear each other's ideas.
Some of the teachers who had changed the arrangement of tables and chairs in their classroom just for the half term working on this text decided to keep their classroom like this for subsequent lessons and in different classrooms.
b. Engagement and response to literary issues
The teachers reported noticing how much more engaged their students were and expressed some surprise at the level at which students were operating and how quickly they were becoming confident with concepts (and associated vocabulary) that were being lightly and easily introduced in the class, concepts like 'narrative arc', 'voice', 'rites of passage novel', 'symbolism' and so on.
c. Thinking about the text – and thinking beyond the classroom
Lucy noted, early in the project, how her students were taking their thinking out of the classroom after the lessons. One very quiet girl stopped to question her at the end of one lesson, raising an issue that hadn't been dealt with to her satisfaction in class. Lucy made this question a feature of the start of the following lesson. Students seemed to be taking the book and the ideas to heart. Quiet students were coming out of their shells. I observed the lesson in which this particular student's question was explored and saw her working in a group, initially tentatively but by the end of the group work, engaging in a focused and intense debate about an aspect of the book with another student, a boy, with whom she then went on to develop a friendship, seemingly as a result of talking together in class.
In the department meeting, Teacher A identified students having to 'think' as being the most significant shift in the new approach. Teacher B's evaluation also highlighted that students were having the opportunity to 'think about why a writer crafts their writing in the way that they do'.
d. The power of exploratory talk – and exploratory writing
Exploratory talk was coupled with exploratory writing. This was particularly evident in some of the classes. Students were encouraged to write down their thoughts, without pre-planning, sentence openers, formulae or any other explicit structure. The questions they were encouraged to think about were high level ones, by any standards – the kind of literary ideas that would not be out of place in A Level classrooms. So, for instance, in the early lesson I witnessed of Lucy's she wanted to address the issue of the book being an amalgam of fact and fiction – a true story told as fiction by a journalist, who kept reminding us, at a metanarrative level, about the way the story was being told. She gave the students 8 -10 statements about fact and fiction. Having modelled it herself by showing them what she'd written about a different statement not included in their selection, she asked them to talk about which ones they agreed with and which they found most interesting. The statements were ones like 'Non-fiction is not written to entertain. It is only written to tell.', 'Non-fiction can never be 100% fact. It's always going to have elements of forgotten memories or exaggeration' and 'Children see things differently than adults. A child's perspective can be captured in writing though'. Having talked in groups, individuals then wrote their thoughts about the statements, in an open way, followed by class discussion. ( LINK 4: the statements, the teacher's modelled writing and one student's exploratory writing .)
The teacher evaluations identified opportunities to write 'I think' and 'I like' as particularly powerful and a 'legitimate' way of getting them to be analytical. Teacher C said, 'It's funny how removing the scaffolding of PEE actually seems to make it easier for some students to express themselves and build interesting arguments.'
e. The power of creative and creative/critical writing
The EMC classes all did some creative/critical writing – writing an extra chapter, or an episode from their own lives, in the style of the novel. This produced some excellent writing, that showed a depth of understanding of Geda's style, particularly when it was set up with a clear set of 'success criteria' reminding students of key elements of the style of the original text, followed by peer assessment using this list of elements. ( LINK 5: two examples of students' creative/critical writing showing their understanding of the original text .) In their questionnaires, both teachers and pupils referred to this kind of activity as being particularly enjoyable and valuable. Teacher B talked about this 'allowing the students to…think deeper into how and why writers make certain decisions.'
2. Student writing – in what ways did the writing reflect a change in pedagogy and practice?
I did a detailed analysis of the writing in four exercise books from two classes – one an EMC group, the other not. The two teachers of the four students were both very experienced practitioners whose classes were working diligently throughout the scheme. Two high ability boys and two high ability girls were chosen in each class, so that the work of students of a similar standard was being compared. My analysis included a statistical look at full paragraphs written and amount of sustained writing. It found some key differences in the writing, outlined briefly below.
I also gave the student writing to Anne Turvey, for many years a PGCE tutor at the Institute of Education, who has a special interest in writing. She did an independent write-up of her observations on the student writing in these same 4 exercise books, without reference to my analysis. Her write-up made many similar points to mine, observing significant differences in the nature of the writing.
The relevant pages in the 4 exercise books are available to look at here, along with my analysis of the writing and that of Anne Turvey. ( Link 6: student writing & analysis .)
What follows is a brief summary of some of the most interesting aspects of the writing that we compared, and the teachers' own thoughts about it.
a. At length and in depth
In classwork, but even more so in homework, the teachers in some of the EMC classes were surprised by how much students were writing, and by the care and thoughtfulness with which they approached their writing. Lucy identified writing in homework, in particular, as qualitatively and quantitatively better – a significant shift emerging from this way of working. The writing in the exercise books reflects this. Though the 'non-EMC' books show lots of work, much of it is in the form of short notes, responses to questions, filling in charts, exploding quotations and annotating. There is less sustained writing, constructing a line of thought or argument. My statistical analysis corroborates this.
b. Big picture thinking versus small detail
What the students chose to write about was as different from the 'non-EMC' groups' writing as how they went about the process of writing, the quantity and nature of the writing. In terms of content, they were looking at big issues and large concepts about narrative, exploring their own responses and thinking more broadly about questions of reader response, focusing on whole text thematic and structural developments, overarching ideas about the impact of the writer's choices and significant aspects of the writers' style. They ranged across the text, as well as looking at specific details. This was in contrast to the 'non-EMC' group who did little of this kind of 'big picture thinking' about texts and were much more closely focused on smaller 'devices' and 'techniques'.
c. Student confidence and independence – thinking about texts
It was interesting to observe how, in their exercise books, students in the EMC groups chose their own ground, identified their own examples and evidence, and were required to make judgements about what to focus on. By contrast, in the other groups, the students all tended to do work on exactly the same quotations. Much of the work therefore focused on just a handful of sentences that the students hadn't selected for themselves – in one case, just three or four individual sentences across the whole novel. One can see the difference by looking at the annotations in Harram's exercise book (EMC) on pages 8, 9 and 13 of her book – done entirely on her own – and contrasting this with the work Sophia (non- EMC) did on exploding quotations on page 4, 5 and 6 of her exercise book, or PEETAL paragraphs on pages 12 and 13 of her book. ( Link 6: student writing & analysis .)
Teacher A, one of the 'EMC' teachers, observed in the final department meeting that the key difference was that the students were having to 'think' about the text. We agreed that this was a key change.
3. What students thought about the new way of working – enjoyment and learning
In their evaluations, the students were asked whether they had enjoyed the book more, the same or less than previous novels in Year 7- 9. They were also asked whether they had enjoyed the style of learning more, the same, or less, and a similar question was put to them about what they had learned. There was some variation in this but overall, we noted a positive response to the changed ways of working and an even more positive response about how they felt they had learned. Some students clearly felt that the removal of procedural tasks like 'PEETAL' paragraphs was harder, perhaps less contained and therefore more anxiety-provoking. However this was a minority view. The majority commented explicitly on how much they enjoyed not doing PEETAL. Some students weren't very aware of the change in approach, while others could articulate what was different in ways that corresponded closely with our own thinking about the significant changes from previous work on a novel.
What was interesting was not only the positive scores on the style of learning but also what they chose to write about on the questionnaires by way of explanation. In the most enthusiastic class, where 87% enjoyed it more, 13% about the same and 0% less, in expanding on their answers what they said itself reflected how much deep thinking they had done about the text itself. This went well beyond routine replies. For instance, many students referred to 'Geda's writing style', or identified specific (and recognisable) elements in the text that they had enjoyed learning about. ( Link 7: selection of student comments from the questionnaires .)
Of course, for some students a sudden shift to asking them to make judgements, debate ideas and think for themselves was not always easy. Interestingly, some of the few students who said they'd enjoyed the way of working less identified their reason as being associated with the group work, but then also thought that they had learned more than in previous work at KS3. Thinking is perhaps harder than following a set formula or procedure, with everything spelled out for you.
4. Boys doing better?
An unexpected outcome of the work came in the form of some of the teachers noticing a marked shift in the work of boys. The school has identified boys' achievement as a concern, so it was particularly interesting to them to discover that the boys, especially those who should be high achievers, were responding with special commitment and energy to this new way of working. This ran counter to some of the prevailing thinking in the school, that boys needed extra structure, being kept tightly on task, and given limited activities in order to pin them down. There was also a feeling that boys' behaviour and approach might cause problems in relation to the group work. What emerged was quite the opposite. In the meeting, some of the teachers commented on particularly difficult boys who had begun to engage more with the work. The boys who were capable of high achievement were most marked in their changed response. Comparing students' writing in the 'EMC' groups with the 'Non-EMC' groups highlighted this in concrete terms. In fact, when I went in to read across exercise books with Lucy, I often mistook boys' writing for that of girls, because of my own false stereotypes and preconceptions that only girls write with such expansiveness, and care. My frequent question to Lucy, 'Is this a girl?' was met with the response, 'No, a boy!' and a shared cry of delight. The boys, when given more open tasks involving explaining their ideas, or developing responses, seemed to relish the opportunity to control the process for themselves more than was usually the case.
In past research studies on boys and achievement there have been many mixed messages and contradictory ideas about boys benefitting from structure but equally being frustrated by too much rigidity, lack of choice and the loss of opportunities to put their own stamp on the work. Caroline Daly's 'Literature search on improving boys' writing' of 2002 remains a useful overview of these and other issues. Our project seems to offer some small-scale evidence of what can happen when the balance tips more towards ownership of ideas and away from tight control.
5. What's in it for students and teachers? Lucy's Top Ten Takeaways
At the end of the project, Lucy wrote a short summary of the 10 most significant things that she thought she had discovered during the project – her top 10 takeaways. This provides a succinct summary of some of insights that she, and the department, will be taking away from the project and will perhaps allow others to consider what this approach can offer. ( LINK 8: Lucy's Top Ten Takeaways )
The full blog, with all the linked material, is available to download as a single document here.
We are happy for this report to be shared widely. We would be very interested in any responses.
With thanks to all of the teachers, the head of department and members of the school leadership team who made this project possible.
Add your comment
Maintenance work is planned for Thursday 31st August 2023 from 11:00 to 12:00 (BST).
During this time the performance of our website may be affected - searches may run slowly and some pages may be temporarily unavailable. If this happens, please try refreshing your web browser or try waiting two to three minutes before trying again. We apologise for any inconvenience caused and thank you for your patience.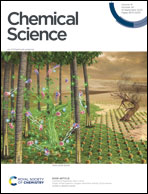 Chemical Science
Non-covalent dyes in microscale thermophoresis for studying rna ligand interactions and modifications.
Microscale Thermophoresis (MST) is a powerful biophysical technique that measures the mobility of biomolecules in response to a temperature gradient, making it useful for investigating the interactions between biological molecules. This study presents a novel methodology for studying RNA-containing samples using non-covalent nucleic acid-sensitive dyes in MST. This "mix-and-measure" protocol uses non-covalent dyes, such as those from the Syto or Sybr series, which lead to the statistical binding of one fluorophore per RNA oligo showing key advantages over traditional covalent labelling approaches. This new approach has been successfully used to study the binding of ligands to RNA molecules (e.g., SAM- and PreQ1 riboswitches) and the identification of modifications (e.g., m6A) in short RNA oligos which can be written by the RNA methyltransferase METTL3/14.
Supplementary files
Supplementary information PDF (2035K)
Article information
Download Citation
Permissions.
E. Kallert, M. Behrendt, A. Frey, C. Kersten and F. Barthels, Chem. Sci. , 2023, Accepted Manuscript , DOI: 10.1039/D3SC02993J
This article is licensed under a Creative Commons Attribution 3.0 Unported Licence . You can use material from this article in other publications without requesting further permissions from the RSC, provided that the correct acknowledgement is given.
Read more about how to correctly acknowledge RSC content .
Social activity
Search articles by author.
This article has not yet been cited.
Advertisements
Advertisement
Supported by
A Novel Therapy, Using Writing, Shows Promise for PTSD
By Ellen Barry
A comparatively quick treatment for post-traumatic stress disorder, in which a patient writes about traumatic experiences in five supervised 30-minute sessions, is as effective as the therapies most recommended by federal agencies, according to a study published on Wednesday.
The treatment, called written exposure therapy, involves asking clients to write down the thoughts and feelings that occurred during a traumatic event, and then speak with the therapist about the writing process. In later sessions, they are asked to write about how the event has affected their lives.
In the new study published in JAMA Psychiatry, 178 veterans with PTSD received either written exposure therapy or prolonged exposure therapy, which consists of eight to 15 therapy sessions that are 90 minutes long in which the patient vividly imagines the terrifying situation, and then, between sessions, confronts real-life reminders of it.
The two therapies were found to be equally effective, and only 12.5 percent of subjects dropped out of the written exposure group before completing a course of treatment, compared with 35.6 percent in the prolonged exposure group. In 2018, a study by the same team found that written exposure therapy was as effective as cognitive processing therapy, another first-line, or most highly recommended, PTSD treatment.
Writing down traumatic memories may be easier for some people, if they feel shame or embarrassment about what happened to them, said Denise Sloan, a psychologist who helped develop the treatment and is an author of the study. She said patients were asked to write by hand, which takes longer and allows them to engage with the memory.
"It's a slower process, that allows them to better think through 'what happened next, and who was there, and what did they say,' because they're writing about it," said Dr. Sloan, associate director of the Behavioral Science Division of the National Center for PTSD. "It slows everything down, versus just saying it out loud."
The therapy was inspired by the work of James Pennebaker, a Texas psychologist who, in the 1980s, began experimenting with what he called "expressive writing," and found that people who regularly wrote about negative life experiences had stronger immune systems and paid fewer visits to the doctor.
The first study of written exposure therapy as a treatment for PTSD appeared in 2012. It works, Dr. Sloan said, much the way other trauma-focused treatments do: by allowing the client to confront the traumatic memory, lessening their fear and avoidance, and allowing them to identify misconceptions like self-blame.
Why It Matters
Cognitive processing therapy and prolonged exposure therapy, the two treatments most highly recommended by the Departments of Veterans Affairs and Defense, have been in widespread use since the 1980s and are backed up by abundant research. A newer method, eye movement desensitization and reprocessing, is rapidly growing in popularity.
But all three are time-intensive, requiring sessions of 60 to 90 minutes for three months or more. A large number of patients — an average of 20 percent, and sometimes as high as 50 percent , studies have shown — drop out before completing a course of treatment.
Written exposure therapy, Dr. Sloan said, seems to achieve similar effects in fewer sessions.
"We have a lot of people that need mental health treatment, and we can't accommodate the demand," she said. "We need to revisit what we're doing and how much is necessary for a good outcome. Because most people can't go to treatment for 12 to 16 sessions."
What's Next
Data on the effectiveness of written exposure therapy is still emerging.
The studies comparing it to cognitive processing therapy and prolonged exposure therapy are non-inferiority trials — devised to demonstrate that a newer treatment is not worse than an established one — and "not as scientifically stringent" as trials devised to determine superiority, said Dr. Barbara Rothbaum, one of the developers of prolonged exposure therapy. She added that dropout rates at her clinic, at Emory University, were around 10 percent.
There is a reason, she said, that talk therapy has such a strong record of success in treating PTSD.
"There is something inherently healing about saying out loud the worse, most scary, most embarrassing, most shameful moment of your life to another human who is trying to be helpful," she said. "Does it have to be that? No."
Written exposure therapy was not endorsed as a first-line intervention by the Departments of Veterans Affairs and Defense in its most recent clinical practice guidelines, largely, Dr. Sloan said, because of the small number of published studies examining it.
That is likely to change over the next two years, she said, as a number of larger trials are completed. Clinicians, too, are going to have to get used to the idea of using writing, in addition to speech, to engage with patients on painful topics.
"Some people, they feel threatened by this, because it kind of challenges the crux of what they generally do," she said. "It flies in the face of what they think is important in treatment."
Ellen Barry covers mental health. She has served as The Times's Boston bureau chief, London-based chief international correspondent and bureau chief in Moscow and New Delhi. She was part of a team that won the 2011 Pulitzer Prize for International Reporting. More about Ellen Barry

Yale Announces 2023 Frederick Douglass Book Prize Finalists
New Haven, Conn.— Yale University's Gilder Lehrman Center for the Study of Slavery, Resistance, and Abolition today has announced the finalists for the twenty-fifth annual Frederick Douglass Book Prize, one of the most coveted awards for the study of the African American experience. Jointly sponsored by the Gilder Lehrman Institute of American History in New York City and the Gilder Lehrman Center for the Study of Slavery, Resistance, and Abolition at the MacMillan Center at Yale University, this annual prize of $25,000 recognizes the best book written in English on the topics of slavery, resistance, or abolition published in the preceding year.
The finalists for the 2023 prize are: R. Isabela Morales for "Happy Dreams of Liberty: An American Family in Slavery and Freedom" (Oxford University Press); Simon P. Newman for "Freedom Seekers: Escaping from Slavery in Restoration London" (University of London Press); and David Silkenat for "Scars on the Land: An Environmental History of Slavery in the American South" (Oxford University Press).
The winner will be announced following the Douglass Prize Review Committee meeting in the fall, and the award will be presented at a celebration at Trinity Church Wall Street in New York City on February 28, 2024.
From a total of 78 submissions, the finalists were selected by a jury of scholars that included Kerry Ward (Chair), Associate Professor of History at Rice University; Trevor Burnard, Professor and Director of the Wilberforce Institute for the Study of Slavery and Emancipation, University of Hull; and Waldo E. Martin, Alexander F. & May T. Morrison Professor of American History & Citizenship, University of California, Berkeley.
The jury's descriptions of the three finalists follow.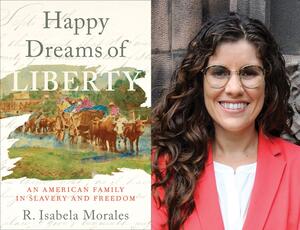 The Frederick Douglass Book Prize was established by the Gilder Lehrman Institute of American History and the Gilder Lehrman Center in 1999 to stimulate scholarship in the field by honoring outstanding accomplishments. The award is named for Frederick Douglass (1818–1895), an enslaved person who escaped bondage to emerge as one of the great American abolitionists, reformers, writers, and orators of the nineteenth century.
The mission of the Gilder Lehrman Center for the Study of Slavery, Resistance, and Abolition (GLC) is to support academic excellence in the study of slavery and its enduring legacies, make this knowledge freely available to the public, and foster work toward social justice. Launched in November, 1998 through generous contributions from philanthropists Richard Gilder and Lewis Lehrman, the GLC is affiliated with the Whitney and Betty MacMillan Center for International and Area Studies at Yale University. The Center is committed to creating and disseminating knowledge about slavery and its legacies across all borders and all time, with free public programs open to scholars, students, and the general community. The GLC supports research fellowships, the Frederick Douglass Book Prize, scholarly working groups, international conferences, publications, and educational workshops for secondary school teachers and students, domestic and international. For further information on events and programming, and to find out how you can support the continuing work of the GLC, visit https://glc.yale.edu/ or contact the Center by phone at (203) 432-3339 or e-mail gilder.lehrman.center@yale.edu .
The Gilder Lehrman Institute of American History was founded in 1994 by Richard Gilder and Lewis E. Lehrman, visionaries and lifelong supporters of American history education. The Institute is the leading nonprofit organization dedicated to K–12 history education while also serving the general public. Its mission is to promote the knowledge and understanding of American history through educational programs and resources. As a 501(c)(3) nonprofit public charity, the Gilder Lehrman Institute of American History is supported through the generosity of individuals, corporations, and foundations. The Institute's programs have been recognized by awards from the White House, the National Endowment for the Humanities, the Organization of American Historians, the Council of Independent Colleges, and the Daughters of the American Revolution. For further information, visit gilderlehrman.org or call (646) 366-9666.