How to Make a Boring Presentation Interesting
Whether presenting to colleagues at work or giving the keynote at a major conference, Microsoft PowerPoint, Google Slides and other slide presentations have become an absolutely essential way to share information.
They're easy to use, offer a great way to combine images, video, and text, and require almost no training.
So, why are so many presentations so BORING?
All the elements are there for creating effective, eye-catching, and engaging presentations, but so often we're forced to sit through slide after slide of overcrowded, hard-to-read text and fuzzy (or non-existent) images.
It doesn't have to be that way.
You don't need to be an expert at public speaking or worry about giving a Ted Talk level presentation.
You can make your presentations dazzle with just a few easy tips.
How to Make a Presentation Interesting
In order to be great, you need to combine story telling, authenticity, and visual supports.
Basically, it's all about what you say, how you say it, and giving your audience cool slides to look at while you say it.
Tell a story
Often times when we think about how to make a presentation interesting, we focus on the visuals. We add animations and transitions, hoping that will keep our audience engaged.
Cool slide designs can help, there's no doubt about that, but if most of your attention and time is spent on that portion of the presentation you are missing out on a key element that is crucial for making presentations interesting – the story.
The best presentations draw in their viewers with a relatable narrative, but the narrative also helps the presentation to gain memorability as well.
You should be spending a large portion of your preparation time on crafting your content – the actual information you will be sharing and how you will be sharing it. It deosn't matter how cool your slide designs are if they aren't supporting compelling content.
You don't have to weave an epic tale for your presentation, but if you are looking to make your presentation interesting you need to incorporate some story telling aspects, like personal connection and impact. As you sit down to write, consider these questions:
What am I sharing?
Why is it important?
What can my audience do with the information once they have it?
These questions help you get to the most important part of any communication – the purpose.
Most presentations try to accomplish one or two of these purposes:
Take Your Presentation to the Next Level with Images and Video!
Snagit makes it easy to ditch those boring presentation slides filled with text and grab your audience's attention with eye-catching images and videos.
Try Snagit for Free
Whether you want your presentation to inspire or to inform and persuade, you can build your story to achieve the goal!
You'll need an outline so that your purpose is kept at the centre of your presentation and so that you follow a familiar structure. You need to make sure that you have a clear beginning, middle, and end.
Presentations that are interesting from beginning to end take the audience on a journey. If you just recite facts and highlight data your audience won't be engaged enough to do anything with the information, but if you go on too many tangents with personal anecdotes you will lose them to confusion about what they are meant to be learning.
To create an interesting presentation, before getting to the cool slides, be sure you structure your content in a way that makes it easy to tell the story and provide your audience with a journey that is relevant and memorable.
Be authentic and engaging
A key point that often gets forgotten when preparing presentations? YOU are the presentation.
If you are putting on a show, creating a persona that you believe your audience would be more interested in or confident about, the audience will pick up on it almost immediately. The whole experience will be awkward for everyone.
Instead, lean in to the parts of your personality that best serve the presentation's purpose. Tell personal stories, speak in the same manner you normally do, and be open.
Your energy is contagious. If you want to make your presentation more interesting, you've got to bring the right energy.
High energy presenters get more engagement from their audiences, while coming in with low energy is a surefire way to destroy any hope of engagement, regardless of how good a story you have crafted with your presentation's content.
Memorize your content rather than relying on reading your slides, and be sure to use different speeds and volumes throughout the presentation in order to make it more interesting, draw attention to specific points, and present authentically.
Prepare cool presentation slides
A recent study found that poorly constructed PowerPoint decks can lead to "distraction, boredom, and impeded learning," while a well-crafted one enhances audience engagement and information retention .
Plus, let's not forget that PowerPoint is a visual medium . People didn't come to your presentation to read text off a slide. They came to listen to you present important information. And, the best way to present information is with visuals.
In fact, our research on the Value of Visuals shows that people actually absorb information faster and remember it better and for longer when it's presented visually vs. text.
And a visual presentation doesn't just help your audience, it will help you too!
So, not only will your audience enjoy your presentation and get more out of it, you'll feel like a better presenter!
It's a win-win!
Improving Your Internal Communications
A guide to how visual content can help create a more collaborative and productive work environment.
Download now!
How to Make Your Slides Look Cool
While your content is crucial to the strength of your presentation, your slide deck has the power to add to or take away from the overall effectiveness. Learning how to make a presentation more interesting requires skillful collaboration between the strength of your content and knowing how to make your slides look cool.
Less is more
Learning how to make a presentation more interesting has a lot to do with learning what not to include on your slides. Less is more when it comes to slide content.
Your slides should not be stuffed with content, especially text heavy content. Incorporating speaking points rather than fully developed ideas helps your audience follow your message without getting distracted by trying to read the slide.
It doesn't matter how cool your slide design is if you crowd in too much content.
Use cool slide designs
You don't have to start from scratch with every presentation! Chances are, you are not a graphic designer so why not use the templates that have been created by professionals?
Using these presentation templates can help you make cool Powerpoint slides, cool Google slides, or slides for other platforms as well without spending too much time trying to create a professional look.
You can easily find templates online for Google Slides and for Powerpoint. Each of these platforms offer themes within their software as well.
These templates and themes have all been created by professional designers, so while you will need to make minor adjustments you should refrain from making significant changes to the cool slide designs you are using.
Be on-brand
Using consistent branding is an easy way to build familiarity and trust with your audience. If you have an established brand in place be sure to use it when building your slides.
The colors and fonts used in your design should always adhere to your brand standards without deviation.
If you don't have a brand guide to work from, select a specific color palette, using color theory to ensure the message of your presentation is not counteracted by your color choices.
Stick with just a few colors, and go the same route with fonts. Only choose a few to use, and try to avoid overly scripty options as they are difficult to read on screen.
Use quality images
Adding images to your cool slides that are blurry, pixelated, or otherwise low in quality is an easy way to let your audience "check out" of your presentation.
If you don't have access to high quality branded photos, use sites like Unsplash and Shutterstock to access high quality images for your presentations.
Use screenshots
Adding screenshots can make your presentation more interesting than stock photos. Screenshots add a level of personalization that can't be achieved with the use of generic photos.
You can capture fantastic screenshots and even add highlights and notations with Snagit. Download your free trial here .
Use infographics
A great way to reduce the amount of text content on your slides is with the use of infographics.
Infographics are a great tool for making presentations interesting because they can successfully convey a lot of data in a visually interesting way.
You don't have to lock yourself in to the idea of charts as the primary visual for your infographics anymore.
You can display many an idea through a good infographic, like steps in a process or historical values, and they are an excellent addition to your cool presentation slides.
Add cool transitions to your slides
Adding transitions to your slides is a great way to make a presentation interesting. There is a fine balance to strike though between using enough and using too many.
Limiting transitions to one per slide is a good place to start. These additions make your presentation more interactive and appealing.
Use GIFs & memes
If you want to make a presentation more interesting, a GIF or two added to highlight some key points is a great way to go.
GIFs are a great middle ground option between static images and videos. They can be used very effectively to drive home a specific point or to highlight a specific piece of data.
GIFs are a great way to make your presentation more interesting and more memorable. Visuals always help with memorability and GIFs usually include a touch of humor and personality – both qualities that help information stick.
While you are creating your cool slide designs, you may find the perfect place for a meme. These can be an effective tool, especially if the subject matter you are covering is light hearted, but use them with caution.
They have the potential to go too far with the humor and that can detract from the focus of your presentation.
We live in a video world. A lot of the workforce is now comprised of Millennial and Gen Z workers.
Something important to note about these two generations is that they have spent a lot of time consuming video content – it is a very comfortable medium for them and can be a really effective tool for keeping them engaged.
Embedding videos directly into your slides can play a role in creating an interesting presentation.
However, using too many videos (more than 3 in a standard presentation) can take away the impact your own content has, and using videos that are too long (longer than 2 minutes) can detract from your authority as the speaker – so choose wisely.
Create a Video to Share Your Cool Slides After Your Presentation
You've now spent a lot of time and energy creating your presentation. You've done all you can to make it interesting and perfectly appealing for your audience. It would be a shame to only use it once!
You can make your presentation a reusable asset simply by turning it into a video. You have already taken the steps to make it visually appealing so it is naturally suitable to video format.
You don't need to add any new content, just a simple voiceover . You can use Snagit to screen record the presentation slides and Camtasia to add a voice over recording of you presenting the content!
Doing this means that you can send your presentation to anyone who couldn't attend in real time. You can also send it as followup material to those who did attend so that they can continue to access it as they need to.
FAQs about Successful Presentations with Cool Slides
To make a powerpoint presentation interesting you can consider the following:Tell a story Be authentic and engaging Create cool presentation slides
Google Slides and Microsoft Powerpoint both have built in capacity to add transitions on your cool slide designs.
You can find themes to make your presentation more interesting in the design settings on both Microsoft Powerpoint and Google Slides. 
Danielle Ezell
Marketing Content Specialist at TechSmith
Here's the Best Way to Quickly Take a Scrolling Screenshot
How to Remove the Background from an Image?
How to Resize an Image the Right Way
Subscribe to TechSmith's Newsletter
Join over 200,000 people who get actionable tips and expert advice every month in the TechSmith Newsletter.
Blog > 6 Tips to turn your boring slides into stunning presentations
6 Tips to turn your boring slides into stunning presentations
01.18.22 • #design #tips #powerpoint.
Recall those conferences or meetings where you were forced to sit through slide after slide of hard-to-read and overcrowded text with nebulous or no images. Didn't you feel claustrophobic or overwhelmed? Now, let's do a reality check! Even though we all abhor a distracting, boring, and cluttered presentation, when it comes to crafting our own, do we really ace it? Well, most of us fail to prepare winning slides despite putting in lots of effort and investing tons of hours. Do you know that you don't have to be an experienced and professional graphic designer to add a spark to your slideshows? Yes, you heard it right! You can make your monotonous slides dazzle with just a few easy tips. So, let's take a bit of a deeper dive into the blog!
1. Structure and Organize Your Presentation Aptly
According to research studies, the information presented in a structured format is retained 40% more accurately by the audience than unstructured information. Craft your presentation in a simple and logical way so that you can stay on topic while presenting, and your audience can easily grab the key message. The structure of your presentation depends on several factors, such as the settings where you will be delivering your speech, whether you need any visual assistance, how knowledgeable your audience is on the given subject, etc.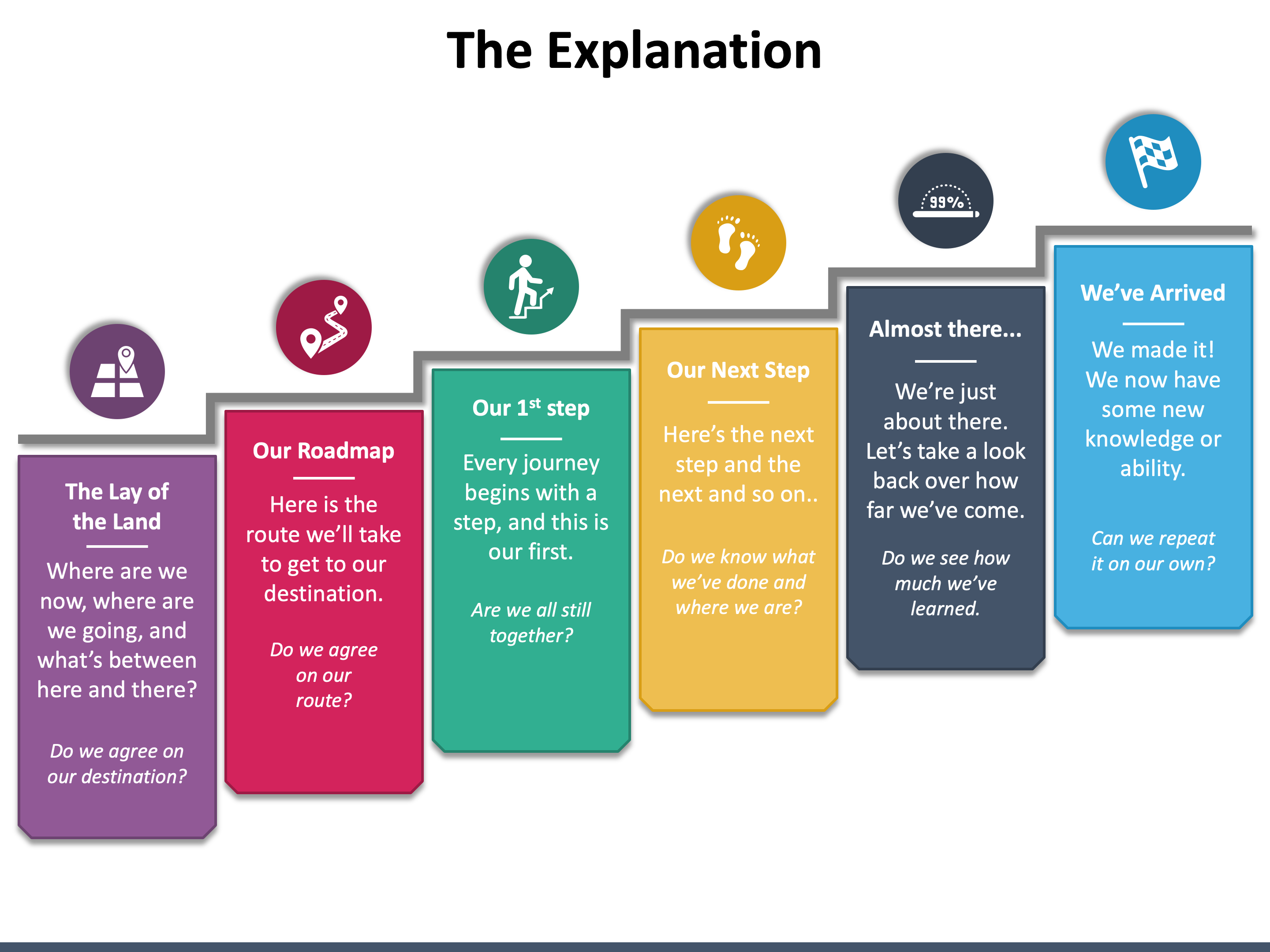 What is the objective of your presentation?
Who is your audience?
What key message do you want your audience to take home?
Pro Tip: You can choose pre-designed PowerPoint templates to give a logical flow to the information and a professional touch to the overall presentation.
2. Less is more
Many presenters put everything they know about the topic on the slides for the sake of making the presentation information-rich. But the truth is, too much information in the form of bullet points or long paragraphs will only make your slides look cluttered and difficult to comprehend, drifting off the audience in a few minutes. Keep in mind that the audience is more likely to be enlightened, engaged, and influenced if you provide them meaningful information with fewer words.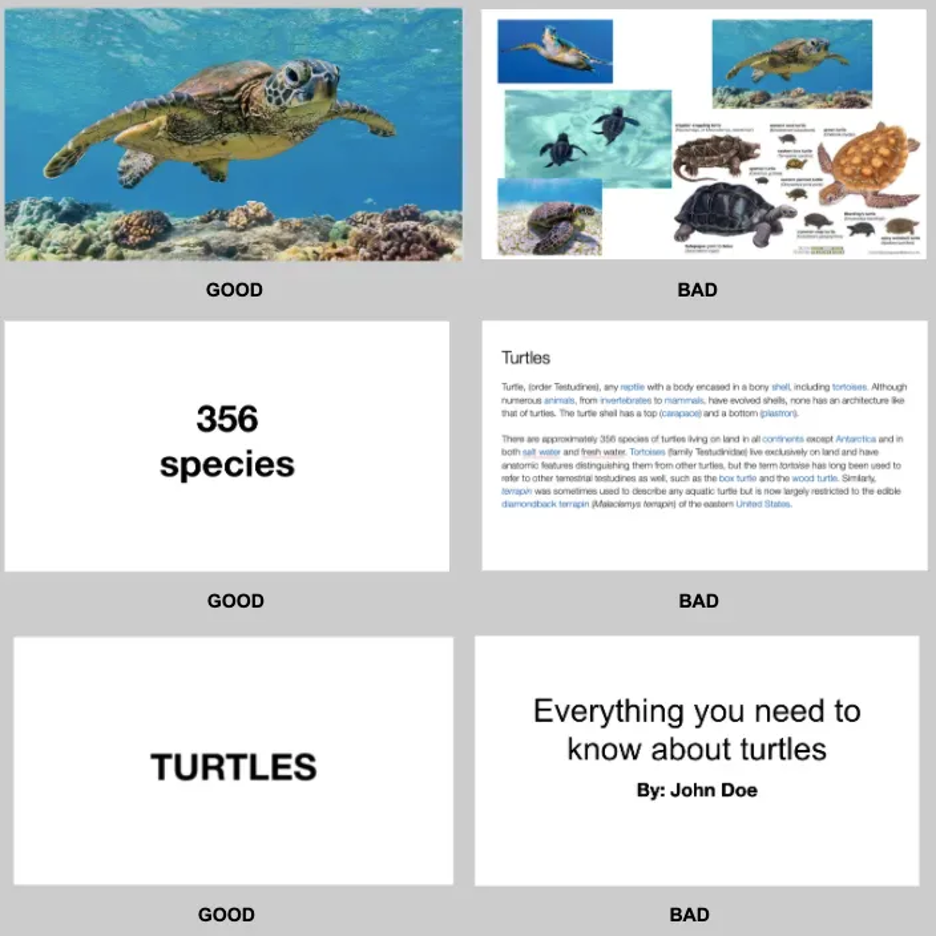 Slides stuffed with too many images do more harm than good to your presentations. If you need to include multiple images, rather than putting them all in one slide, put one on each side.
Use the fewest characters and words on slides to tell your story. Provide handouts or do follow-up emails if you want to furnish longer information.
Keep titles and subtitles short.
Pro Tip : Your slides should not be a data/information dump; instead, they must be an aid to support your key points.
3. Power Your Slides with the Right Visuals
You will be surprised to know that the average attention span of humans (8 seconds) is shorter than a goldfish's (9 seconds). So, to grab their attention really quick and keep them hooked to your slideshow without getting distracted, include the right visuals, and you are all set to deliver a gripping presentation. Moreover, adding visuals save you valuable time compared to writing out a whole bunch of text and increases your credibility as a presenter.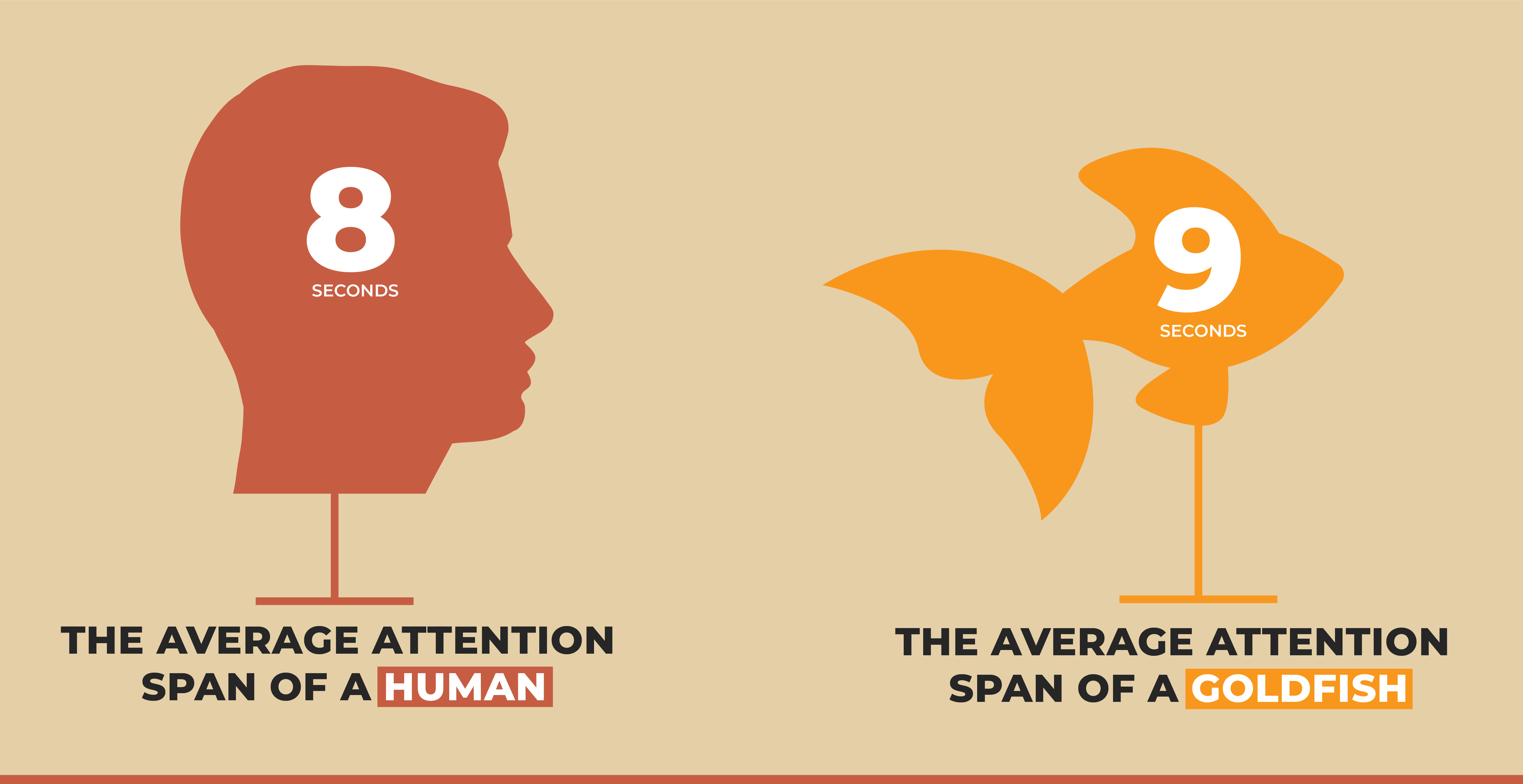 People tend to grab the information quickly and remember it for longer if it is presented in a visually appealing manner. Research also confirms that in comparison to plain text, visuals are processed 60,000 times faster. So, if you really want the linguistically diverse, neuro-diverse, and culturally diverse audience to get more out of your presentation, use high-resolution and good-quality visuals that reinforce and complement the core message. Depending on your presentation, you can include graphs, images, icons, videos, charts, infographics, screenshots, memes, or GIFs.
Pro Tip : Visuals do make a great impact if they are formatted properly, perfectly match with the slide content, and evoke the right emotion.
4. Keep the Formatting (Color and Font) Simple Yet Engaging
Your presentation acts as an ambassador of your brand. Misaligned text boxes, wrong line spacing, and other formatting mistakes may undermine your key message. In a nutshell, a poorly-formatted presentation can put your company's/brand's reputation at stake. So, take time to format your slides properly and give them a professional touch before you present them in front of the intended audience.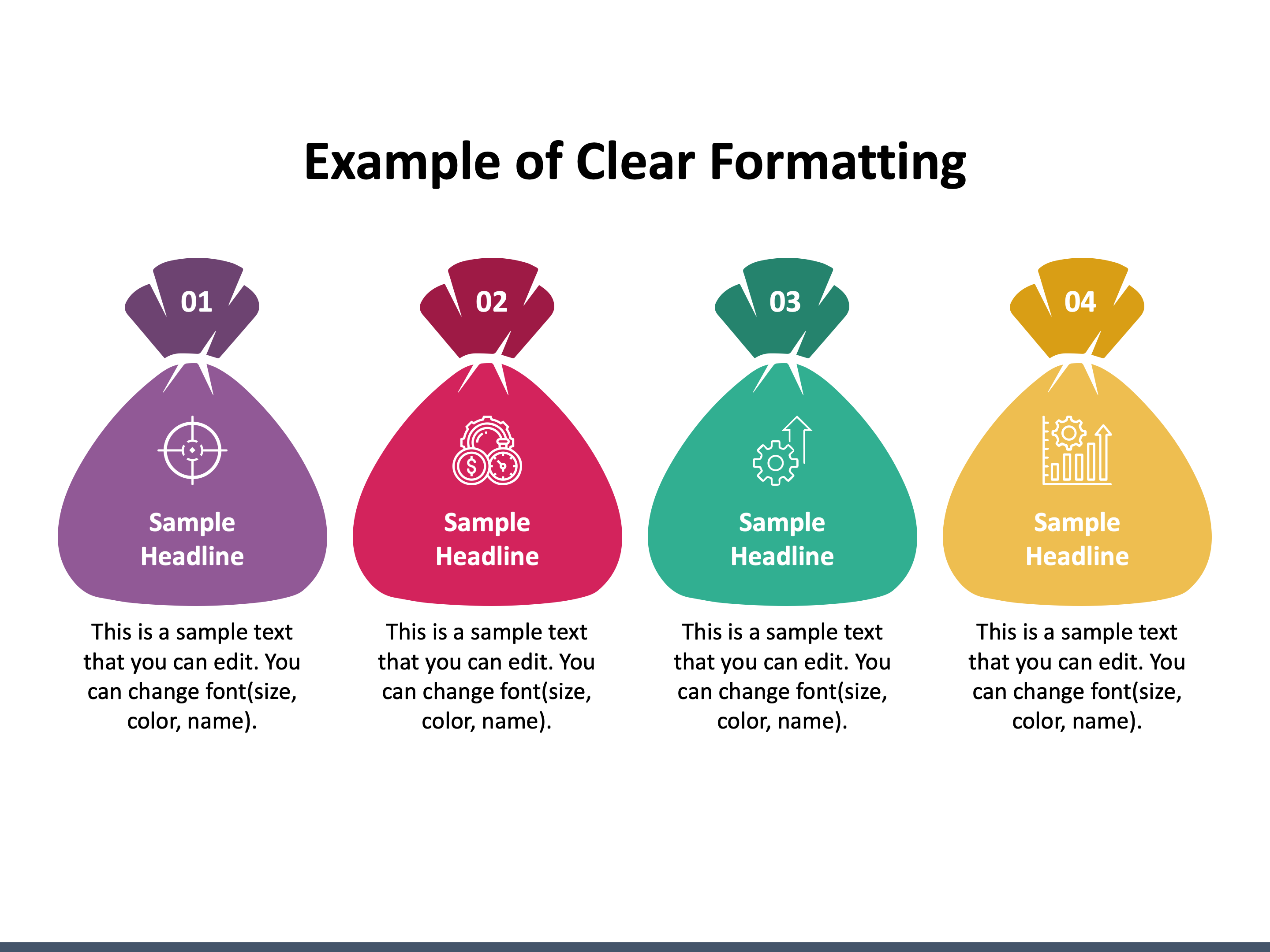 Leave adequate white space around the text to give it clarity and an uncramped look. But refrain from double spacing errors.
Use the right size and color of fonts to improve the readability of the content. Avoid using multiple font colors.
For increasing comprehension, use contrasting color palettes for text and background.
Keep the design consistent in all the slides.
5. Make it Audience-Centered and Interactive
Include only relevant and meaningful points.
Avoid using jargon or technical language.
Add a title to each slide to make your audience understand what the slide is all about.
Make your slides interactive by adding questions, polls, surprising facts, and other icebreaking elements to keep the audience active.
Allow the audience to ask questions and share their feedback to increase their participation and make your presentation a two-way communication.
6. Include a powerful Call-to-Action
End your presentation with an effective call-to-action (CTA) that guides the audience about what to do with the information you have shared and encourages them to take the right action.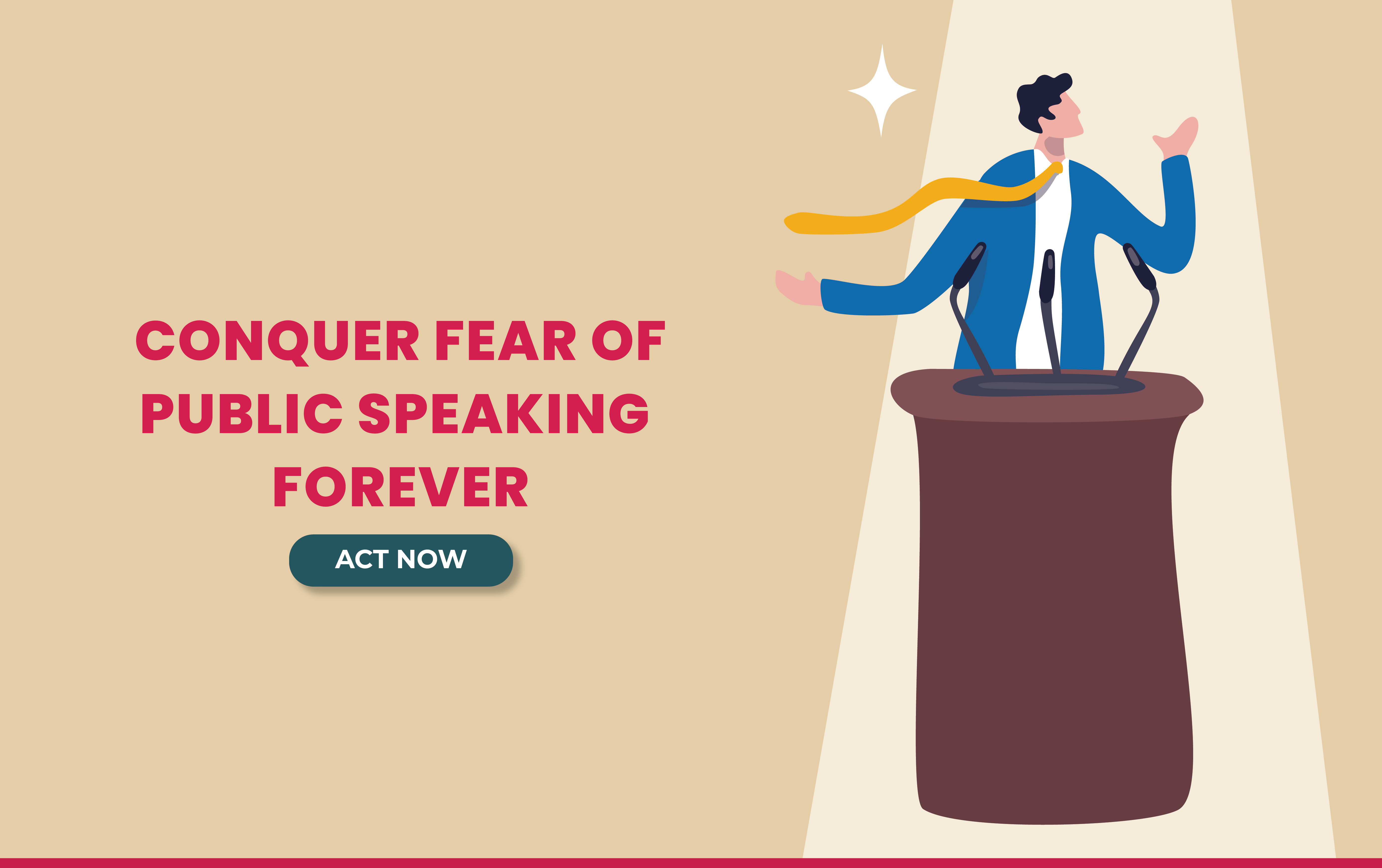 Choose the CTA that closely matches the purpose/objective of your presentation.
The CTA should not be complicated and confusing; it should be concise and clear. For example, "Download Now," "Subscribe Today," etc.
If you want to elicit a strong response from the audience, your CTA must be enthusiastic. For example, "plan your dream vacation today," "buy now and get 60% off," etc.
The bottom Line
The above tips will help you create a truly amazing presentation, but you can achieve success only if you deliver it with confidence. It is important to prepare thoroughly and practice a lot to deliver a unique experience to the audience. In addition, to avoid your slideshow from being a "snoozefest," make your narration exciting and lively. Also, make sure you speak neither too slow nor too fast/loud.
Related articles
About the author.
Ashish Arora
Ashish Arora is the Co-Founder of SketchBubble.com , a leading provider of result-driven, professionally built presentation templates. Travelling the world to gather new creative ideas, he has been working in the digital marketing space since 2007 and has a passion for designing presentations. You can also find him on Twitter or LinkedIn .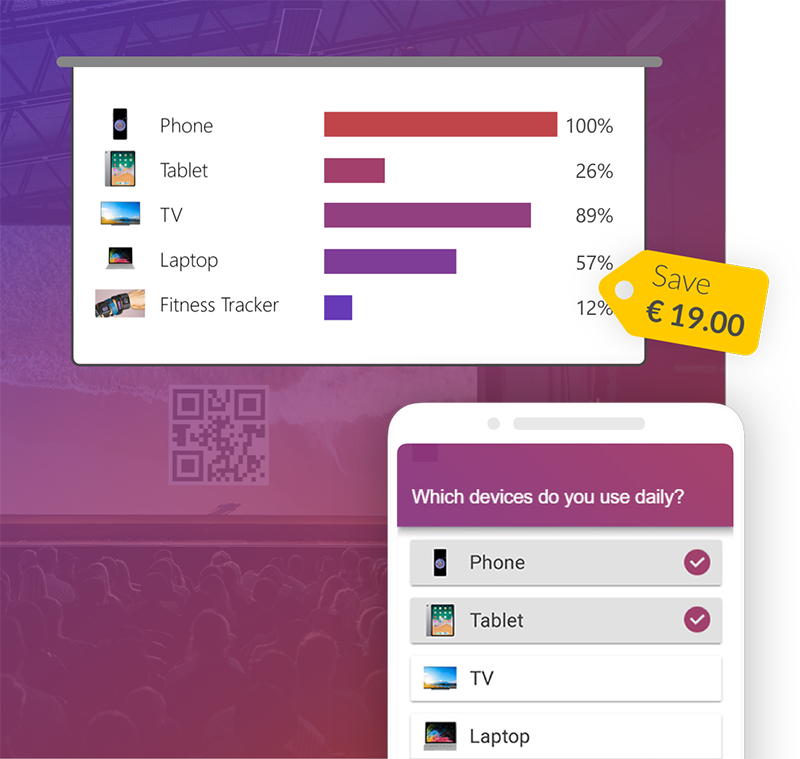 Get 1 Month for free!
Do you want to make your presentations more interactive.
With SlideLizard you can engage your audience with live polls, questions and feedback . Directly within your PowerPoint Presentation. Learn more

Top blog articles More posts

Digitization experts invest in SlideLizard to make presentations more successful

SlideLizard joins Microsoft for Startups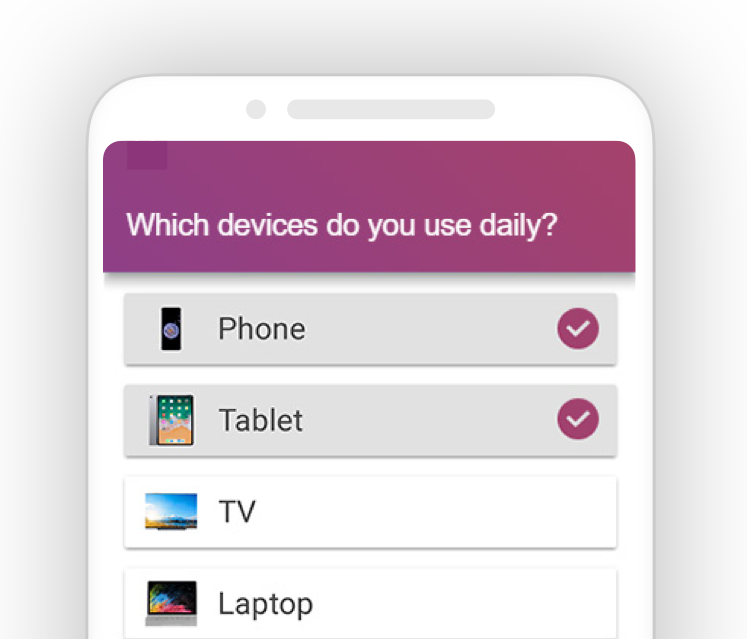 Get started with Live Polls, Q&A and slides
for your PowerPoint Presentations
The big SlideLizard presentation glossary
Vertical communication.
Vertical communication means that information is passed from one person to the next according to a linear system based on their titles. This type of communication is used when a company follows a hierarchical structure or for important, sensitive information.
Learning Management System (LMS)
Learning Management Systems (LMS) are online platforms that provide learning resources and support the organisation of learning processes.
Multimedia Presentation
A multmedia presentation is a speech in which several types of visual and audio aids are combined in the same speech with the help of computer software. .
Normal view (slide view)
The normal view or slide view is the main working window in your PowerPoint presentation. You can see the slides at their full size on screen.
Be the first to know!
The latest SlideLizard news, articles, and resources, sent straight to your inbox.
- or follow us on -
We use cookies to personalize content and analyze traffic to our website. You can choose to accept only cookies that are necessary for the website to function or to also allow tracking cookies. For more information, please see our privacy policy .
Cookie Settings
Necessary cookies are required for the proper functioning of the website. These cookies ensure basic functionalities and security features of the website.
Analytical cookies are used to understand how visitors interact with the website. These cookies help provide information about the number of visitors, etc.
How to Make a Boring Presentation Interesting
Small Business
Business Communications & Etiquette
Presentations
')" data-event="social share" data-info="Pinterest" aria-label="Share on Pinterest">
')" data-event="social share" data-info="Reddit" aria-label="Share on Reddit">
')" data-event="social share" data-info="Flipboard" aria-label="Share on Flipboard">
How to Make a Business Plan Presentation
How to design powerpoint slides for oral presentations, team-building icebreaker objectives.
Good Ways to Improve a Group Presentation
How to Make a Good Impression at a First Business Meeting
For many people, there is nothing worse than being forced to sit through a boring presentation. If you are due to give a presentation and the subject matter is less than interesting, you will need to find ways to keep your audience engaged and interested in the material you are presenting. With the right mix of techniques, even the driest subject matter can be made more interesting and exciting to learn about.
Schedule the presentation at a good time. If you know the material you will be presenting is not going to hold everyone's attention, avoid scheduling the presentation directly before or after lunch or before everyone leaves for the day. Mid-morning is typically best since most everyone will still be fresh and not as apt to feel tired, bored or ready to go home.
Find something funny about your subject matter. Jokes keep a presentation flowing and they help keep the audience engaged. Find at least a few jokes that can be made, even if they are at the expense of the presentation and sprinkle them throughout. In fact, making fun of your own presentation or the subject matter can be endearing to an audience, and helps them stay more focused on what you have to say.
Improve your presentation with interesting graphics. Having interesting graphics to look at can help people get through a presentation, particularly when it is a mind-numbing topic. Once again, go for the humorous side to keep your audience engaged.
Keep your presentation as short as possible. The only thing worse than a boring presentation is a long and boring presentation. Cut to the chase, present what you need to and close it on a funny or up-note. This will help the time go by quicker for your audience and they won't leave feeling bored. "Forbes Magazine" suggests a presentation time of around six minutes.
Forbes Magazine: The End of Boring Presentations; Scott Berkun; January 2010
Even a Nerd: How to Make a Boring Subject Interesting; Gina Whitehouse
Thomas Umstattd: 5 Tips to Avoid Boring Power Point Presentations; Thomas Umstattd
Kate McFarlin is a licensed insurance agent with extensive experience in covering topics related to marketing, small business, personal finance and home improvement. She began her career as a Web designer and also specializes in audio/video mixing and design.
Related Articles
How to write an oral presentation, how to conduct an effective powerpoint presentation, what are benefits of powerpoint, presentation tips for public speaking, how to write a 30-second sales pitch, hints & tips for a training presentation, how to prepare your business plan on a video, how to insert a countdown timer in powerpoint, the importance of creating effective visual aids in the workplace, most popular.
1 How to Write an Oral Presentation
2 How to Conduct an Effective PowerPoint Presentation
3 What Are Benefits of PowerPoint?
4 Presentation Tips for Public Speaking
Michael Aragon
March 18, 2019
business , presentation , presentations
Related Categories
Related courses, free resources.
7 PowerPoint Tips to Banish Boring Presentations
You know it and I know it: PowerPoint is boring.
Why? Because the minute we sit down to create a PowerPoint presentation, we forget everything we know about engagement and persuasion .
How do you make a PowerPoint presentation interesting?
It starts with the realization that attention is the only currency that matters. You need to hook your audience's attention the moment you begin—and you can't let go for even a second.
Fortunately, it's not as difficult as you might think. And in this post, I'll walk you through 7 PowerPoint tips to make your presentations more effective, so you can banish boring presentations forever.
PowerPoint Tip 1: Think Visual
The #1 most common mistake in PowerPoint presentations—and the reason they're so boring—is that that we create them for us rather than our audience.
And the temptation is real. If you're afraid of forgetting an important point, you'll want to put every word into your slideshow.
But your PowerPoint slides aren't notecards to keep your presentation on track. They aren't for you at all. They're for your audience.
The slides are a supplement to your speech, not a transcript . Their job is to capture your viewers' attention and clarify your points. And to do that, you need to create a slideshow that's visual, not textual.
Here is how to make your PowerPoint presentation more visual:
Use text sparingly. You may have a slide with only 1 word, or no words at all. After all, less is more with PowerPoint presentations.
Be liberal with images and graphs. Use them as illustrations for your main points or to add another layer of meaning to your message. And don't be afraid to let them fill up the screen—with no words at all.
Use videos for pacing and engagement. Videos are especially engaging. They can capture people's attention at the beginning of your presentation and reengage them after a slow or boring section. They can also be used to transition from one part of your presentation to a dramatically different part, since they create a natural break.
Don't try to be cute. Visuals should support your presentation. And yes, they may be entertaining, but they should never distract or interfere with the readability of your slides. At all costs, avoid creating slides like this :
Of course, there may be times when visuals won't work, and that's okay. In some video sales letters , for example, the words are your visuals.
But even in a purely text-based presentation, you need to think about how it looks. Don't put too many words on a single slide. Provide lots of white space. Give your audience just one thought at a time, so they stay engaged.
PowerPoint Tip 2: Think "Brand"
Whether it's your company's brand or your personal brand, you want to have a recognizable style.
When people see your presentations, they should know it's yours—because the color and style scream you .
Apple is a good example of this. They're the masters of "distinctive minimalism," and everything they do reflects that.
You can pull any 2 slides from their presentations—often even years apart—and they still look like they belong to the same presentation.
Notice the trademark simplicity in this slide from an old Steve Jobs presentation.
And here's Tim Cook years later. The slides are almost identical.
But how do you make sure you are creating your own well-branded presentation?
Don't copy other brands' designs. Your brand should be distinctive. Your presentations should be too. Stick with your brand's fonts, colors, and unique style.
Design your slides to reflect your brand's personality. If your brand is bold, go bold in your design. If your brand is understated, go simple. The point is to stay true to your own branded look and feel.
PowerPoint Tip 3: Create a Quality Layout
To create recognizable presentations, you need to develop a high-quality layout that can become your signature style .
A good layout involves everything we've talked about so far. It includes the way you come across visually and your branded fonts, colors, and personality. But it's strategic as well—because you want the layout of every slide to look like you .
To do that, you need to decide in advance how you're going to handle different design elements, and then stay consistent.
For example, the presentation below could be laid out any number of ways. It could have a traditional layout, like this:
Here, the text primary text box is at the top of each slide, with a secondary text box at the bottom. Images are centered with a yellow border that keeps them from bleeding into the blue background.
But if your brand is more modern, you might choose a more artsy layout, like this:
Now, both of these layouts can work. While most designers would agree the second version is "better," in reality, the right choice is the one that aligns with your brand and works with the information you'll be presenting. Here, the image is placed in the background and text is minimized. With this layout, slides are more engaging—less predictable.
What's more important is that you create a PowerPoint layout that's attractive to your audience. Then stick with it—don't jump from one style to another.
And you can do that in several ways:
Use white space to your advantage. White space is the unfilled space between elements on the page (or in this case, the slide). It keeps things from feeling crowded and helps you keep your audience focused on what matters. White space is your friend. Embrace it.
Use animated transitions and multimedia sparingly. Animations can be classy or cheesy—and overdone, they're usually irritating. An effective use of animation is to show one sentence or bullet point at a time. Avoid garish transitions that could become distracting.
Clip art is almost always a no-no.
Please. No.
Keep your layout simple. Every slide should have just one focal point.
Use gifs sparingly. Movement attracts attention, and gifs move nonstop. The problem is, they can distract people from your main message. So if you use gifs, don't leave them up while you're sharing important information. Show them, then move to the next slide while you talk.
PowerPoint Tip 4: Use a Template
Once you've settled on a good design for your presentation, turn it into a template. Then create a few variations for the different types of information you'll present—say, a layout for lists, another for text with an image, and yet another for charts.
For example, this presentation by Edureka! has 3 primary layouts that keep everything looking consistent.
This is the primary template, which has text above and below a graphic:
This is the template for introducing new subtopics:
And this is the template for discussions, case studies, and examples:
Templates can make your life much easier. Instead of reinventing the wheel every time you need to create a presentation, you can simply pull out your template. With the design work already done, you can focus on the content—so you're sure your presentation will be interesting.
PowerPoint Tip 5: Create Flow
In a strong presentation, every idea leads to the next. There should be no "stops" or awkward transitions. That's true for your speech and for your PowerPoint slides.
Every slide should bring your audience closer to your final slide—or call to action.
Of course, flow is nebulous. It's hard to create it, but easy to spot when it's missing. While there aren't many hard-and-fast rules to ensure flow, there are several things you can do to make it easier.
Know your goal. It's a lot easier to lead people to a place when you know what that place is. Every slide should bring your audience closer to your final slide—or call to action.
Edit content to fit your template. Don't depart from your template. If an image doesn't fit, edit the image. If your text doesn't fit on the screen, break it up and create extra slides. To make a PowerPoint presentation attractive, you need to embrace the boundaries of your template.
Create transition slides. If you need to transition smoothly from one subtopic to another, create transition slides to bridge the gap.
PowerPoint Tip 6: Test Your Hardware
If you're presenting live—whether on a webinar or at an event—make sure your technology will work.
Nothing's worse than apologizing to the audience for 15 minutes because your slide show isn't loaded and ready. Always have a back-up plan.
For presentations, have your laptop or tablet ready. Make sure your PowerPoint is already open—just in case.
For webinars, do some dry runs to make sure the internet and your hardware and software work.
PowerPoint Tip 7: Use Presenter View
Finally, use PowerPoint's Presenter View when delivering your presentation.
Presenter View lets you to view the entire presentation—along with any notes you've written to yourself—while the audience sees only your finished slides.
PowerPoint's presenter view lets you see the final slides PLUS presenter notes.
If PowerPoint doesn't prompt you to select Presenter View when you start your slideshow, you can find the option in the "SlideShow" tab. To find it after you've begun the slideshow, look for 3 dots below the main slide view—you can click on them to bring it up.
Use Presenter View to write notes to yourself. This is how you can avoid using your slides as index cards. Add prompts, tips on movements or gestures, or specific stats and numbers that you didn't want to include on your slide.
Meanwhile, your audience just sees the slides flowing seamlessly, and you look like a genius, pulling stats and figures seemingly from thin air.
Pull up the appropriate slide if someone asks a question. In many cases, questions relate to one of the slides in your presentation. When that happens, find the slide in Presenter View before you put it on the screen—rather than forcing your audience to watch as you flip through the entire stack.
Final Thoughts
PowerPoint can be your best friend or your worst enemy. So many people use it badly that it's almost synonymous with boring.
In fact, there's even a political party focused on removing PowerPoint from business presentations.
But it doesn't have to be that way.
With a little thought and time, you can make effective PowerPoint presentations that grab your audience's attention.
Make PowerPoint your friend: Keep it simple. Keep it focused. Keep it visual. And people will be excited that you're the one giving the next presentation.
Latest Posts
Winning Back Abandoned Carts: Effective Techniques for Cart Recovery
AI's Impact on Video Marketing in 2023 & Beyond
Are Skill Gaps Holding Back Your Social Media Marketing Team's Potential?
Subscribe to the dm insider newsletter.
Marketing Skills
Digital Advertising Content Marketing Email Marketing Search Marketing Social Media Marketing Copywriting Ecommerce Marketing Analytics & Data Community Management Optimization & Testing
Marketing Topics
Google Facebook Instagram YouTube Email LinkedIn Twitter Pinterest TikTok Influencer/Affiliate
Customer Value Journey Stages
Awareness Engagement Subscription Convert Excite Ascend Advocate Promote
Agencies & Consultants
Become A Partner Find a Partner
Newsletter Blog Podcast Case Studies
Certifications Workshops M3 Mastermind Traffic & Conversion Summit
About Us Our Process Our Faculty Our Partners Our Coaches Testimonials Careers  Work with Us Events
Legal & Info
Support FAQ Privacy Policy Terms & Conditions  Contact Us
© 2023 All Rights Reserved. Powered by DigitalMarketer.
5 Ways To Make A Boring PPT Look Interesting
For an audience, there is nothing worse than being forced to sit through a boring PowerPoint Presentation . However, advancements in technology are allowing professionals and students to make presentations more effective and engaging.
If you are due to give a PPT and the subject matter sounds to be boring then certainly you will need to find ways to keep your audience interested in the material you are presenting.
No doubt, with the right mix of techniques, even the most juice less content can be made more interesting and engaging. Have a look at some of the powerful ways that can help make a boring PPT look Interesting:
Highlight Key Points
Try to use contrasting colors at it helps in highlighting your important points. By using so much of colors in each slide, do not weaken the color effect. In case, the background is of a rich color then you should use a light color for the text.
Enhance Your Oral Presentation Skills
Maintain eye contact with your audience as it helps in creating a connection. Know your PowerPoint slides inside out, since it will allow you to proceed further rightly. Remember, slides are just visuals; it's your speech only that can make a good impression on the listeners. So, work on your verbal presentation skills and you will be on the way of delivering a nice presentation.
Know Your Audience
Design your presentation in such a way that it suits your audience. When making the content, pay attention to these questions. What will keep them focused on your presentation? What do they expect from you? What do you require to convey them? What will be interesting to them?
Standardization is Must
Use the same sizes and font on all your PowerPoint slides , especially the text, sub-headings and title. It is also recommended to use your baseline, corporate colors and company logo for a standard template upon which you can simply design each slide of your PPT.
Keep It Simple and Straight
Craft your messages on the template slides carefully and never put what you are going to tell on the PPT slide. Because, people read much faster than you can speak and so in slides, try to use keywords only than sentences and explain the data effectively as it will help you engage with the audience in a nicer way.
Browse Templates
Best PowerPoint Templates
Accounting & Finance
Corporate Strategy
Health & Medical Services
Entertainment
Popular Topics
Related Blog Posts
Ways to Make the Most of your PowerPoint Skills on your Resume
8 Ways To Make Online Presentations Smoother
7 Effective Ways To Promote Your PowerPoint Presentation
How to Make a Word Cloud for PowerPoint or Google Slides