Writing a Cover Letter for Master's Degree Applications
Cover letters are an important part of any Master's Program application. In this blog, we explore how to craft a cover letter for a Master's programs.
Melissa Vitiello
Jan 16, 2023
TABLE OF CONTENTS
Trending articles.
Cover letters are an important part of any Master's Program application. They help ensure that the recipient really knows who you are and what makes you qualified for the position. That's why it's important to write a cover letter when applying for anything related to work or school.
How do I write a cover letter for a Master's Degree Application?
Cover letters are typically used to introduce yourself and highlight your skills, particularly those relevant to the position you are applying for. When applying for a Master's program, it is important to include some basic information in your letter.
The first part of the cover letter should include:
Your contact details (name, address and telephone number)
The name of the department you are applying to
The name of the course or program that you would like to complete your studies in
The second part of this section should discuss basic information about your academic record and past accomplishments as well as any experience that might be relevant to the topic.
State your interest in the study program
The cover letter should also provide information about your thesis ideas and a description of your interest in studying in the program. This description should be short but informative enough to convince the reader that you understand what is required of you and that you are capable of doing a good job.
Furthermore, if you have gaps in your academic record, including an explanation for these can help demonstrate that you have taken steps to improve yourself since those points in time.
Make the cover letter about them
In order to do that, you'll need to know who they are and how they like to be addressed. This is where research comes in handy.
Using their name and title is always a good move—and it's an easy way to make your cover letter more personal and memorable. If you're still not sure what their name or title actually is, try searching through the website of the institution (or even just Google) to find out more information on them. You'll likely find that information included in bios or other publications online where the institution has mentioned its staff members in writing before.
If it is possible, reference the organization or some project associated with it – especially if there is something distinct about what your research will add that is not already mentioned in your CV/resume (ie: if it is something particularly noteworthy).
Include a strong greeting and identifiers
Include a strong greeting and identifiers. The first paragraph of your letter should be written in a friendly tone, and it's crucial that you include an introduction that is personal but brief. 
In your introductory paragraph, state how you learned of the programme—whether it was through an alumni network or through word-of-mouth. Be specific and highlight what drew your interest toward this opportunity over others that might have also been advertised at around the same time period. You can also bring up any other details regarding why this particular programme appeals to you; perhaps there are qualities within this study that align with several interests on your resume (such as education) or perhaps there are certain aspects which differ from previous positions held throughout schooling (such as responsibilities).
Tips to writing a better cover letter for Master's Applications
Now, we move onto certain tips that will make your cover letter stand out from the crowd. Follow these steps to add some flair into your cover letter.
Highlight Your Skills, Past Experiences and How They Can Bring Value
This is one of the most important parts of your letter, as it will tell the reader what you can bring to their institution and how you plan to excel in your studies. 
Be specific about your skills and mention how they will help you excel in this particular Master's degree by citing examples from past academic experience that demonstrate those skills. Make sure you are talking about the company and its goals, not just yourself. Show that you have done research on them by mentioning something unique or interesting about them in your cover letter.
Do your research about the institution
Investigating the school, its alumni, teachers, and their work can give you insight into how to utilize them in an advantageous way in your cover letter. To make your cover letter stand out from the multitude of others, you must include important specifics that are associated with your statement.
If they also happen to have some interview process after the applications, these details and your research will be helpful at those stages.
Include details that shows you have done your research
If you are hoping to be admitted to the Master's program, then making sure your cover letter is detailed with the information on your prior research is important. This is because the admissions committee will be looking for qualities that match their institution, and the more detail you can provide, the easier it will be for them to see that you put actual effort into your cover letter.
Additionally, providing specific examples of your accomplishments or experiences will make your application more memorable and help you stand out from the rest. So be sure to include as many relevant details as possible in your cover letter!
How you should conclude your cover letter
You should close your cover letter with a call to action and express appreciation for their time. Thank them again for taking the time to read your application, and let them know that you look forward to hearing from them soon.
Cover Letter Examples for Master's Degree Applications
Here are some of our selections of cover letter templates for master's program applications. Feel free to use them and make edits on them according to your needs.
[Your first name] [your last name]
[Your street address]
[City], [state] [zip code]
[First and last name of the head of admissions]
[University Name]
[College address]
Dear [Mr. or Ms.] [last name of the head of admissions],
I am writing to apply to [University Name & Master's program name]. I have been a student at [Your previous degree] for the past [X] years and I am very excited to continue my education at the postgraduate level.
[University name] has always been my top choice for several reasons. First and foremost, the school has an excellent academic reputation. I have always been a very good student and I know that I will be able to thrive in the challenging environment of your institution.
My education has allowed me to have first-hand experience with the field I am interested in and the challenges that come with it: [examples].
I am currently looking to begin my studies in [field] in order to complete a program that will allow me to pursue my goal of becoming a [job title]. I believe that [University Name] can provide me with the best education and opportunity to reach my objectives.
I am an ambitious individual who is always looking to learn and grow in my field of interest. I am very passionate about my work, and I believe that by continuing to expand my knowledge and skills, I can make a significant impact on [field] in a positive way.
I am grateful for the opportunity to apply to be a part of your student body and I will work diligently to uphold the standards of your school. If admitted, I pledge to be a respectful and contributing member of the community and I promise to take advantage of all that your school has to offer and make the most of my time here. I have included all of the required documentation and my application form. If you have any further questions, I would be happy to provide additional information.
Thank you for your time and consideration.
Sincerely, [Your first name] [your last name]
This letter is a formal request for admission to [name of the university & master's degree]. 
I am a recent [Your previous University name & degree name] graduate and I am interested in studying [subject area] in [postgraduate degree program] with the hope of obtaining a [job title] after graduation. 
I have always enjoyed [activity] and am confident that I would excel in [Master's program] at [University Name]. I am passionate about [topic] and believe that I would be a valuable asset to your [University Name] community.
I am enclosing my transcripts, test scores, and letters of recommendation. I would be happy to answer any questions you may have about my qualifications.
[College name]
I am applying to the [season] semester of the [university name] Master's program. I am very proud of the [program name] and believe that I would be a great fit for it. Thank you for considering me!
Over the past few years, I've researched many universities that offer a Master's degree in [program name], but have ultimately chosen [institution] because of [reasons]. The opportunity to join your top-level institution and become part of its alumni is one of my greatest goals. I am confident that my education in [subject area] and [work/volunteer experience] make me a valuable asset and an ideal candidate for admission into the program. My educational experience has given me the opportunity to [insert your previous experiences] and face the challenges that come with [field name]. 
I am currently looking to begin my Master's degree, with a goal of completing the [program] at [institution]. Upon graduation, I wish to become [job title] to [career goals]. I believe the [college name] can provide me with the best education and opportunity to pursue my objectives.
I have enclosed all of the necessary documentation and application form for your consideration. If you have any further questions, I will be happy to provide you with more information. Thank you for your time and consideration.
We trust that this article has given you some thoughts concerning composing a cover letter for your master's program application. Bear in mind, the most significant thing is to stay positive and sure of what you have accomplished so far, as well as what will drive you enough to keep on working on this project.
Unlock your full potential with an AI Companion
Discover what writing with AI feels like. We assure you'll save 20+ hours every week. Start creating beautiful content.
Did you like this article? Explore a few more related posts.
Linkedin Summary Examples for Fresh Graduates
Best Linkedin Summary Examples for Students
Hook Sentence Examples for Narrative Essays
Your AI partner is ready to write content.
Save time and improve your writing using TextCortex. Create content in seconds in every textbox.
The Graduate College at the University of Illinois at Urbana-Champaign
Writing academic cover letters.
The purpose of a cover letter is to introduce yourself and demonstrate the fit between your background and the advertised position. A cover letter must accompany and be tailored to any application you submit.
Take this opportunity to:
Briefly tell your story, explaining why you are applying for this position and will be a good fit.
Guide the reader's attention to the most significant portions of your CV.
Explain how your particular experiences and education have provided you with the skills and experiences you need to be successful in the position.
Convey enthusiasm for the position for which you are applying.
Focus on your potential contributions to this institution—not just on why you need or want the job.
Answer any questions they might have. For example, "When will you complete your degree?" or "When are you available?"
What to Write About
Although most cover letters follow a similar structure, you should tailor each one for the job to which you are applying. STEM letters should typically be one page, and letters for the humanities and social sciences should not exceed two pages. Sample academic cover letter can demonstrate the basic structure.
Research each institution to which you are applying, especially its philosophy, mission statement, size, and internal structure. The Carnegie Classifications website is a great tool to assist your research. Identify the areas you find most interesting and think about ways in which you could make a contribution to the department and/or institution as a whole. Work this information into your letter. This research personalizes your letter and demonstrates your sincere interest and potential fit.
Address the letter to the person named in the job description, or with "Dear Members of the Search Committee."
Proofread and spell check!
Your cover letter is a writing sample. Write concisely and effectively.
Single-space text with a line of space between paragraphs.
Opening paragraph
Introduce yourself: Mention the university you attend, your degree program, and when you expect to graduate.
Refer to the specific position for which you are applying.
Briefly, but specifically, describe what attracted you to the position and institution to which you are applying.
Demonstrate your enthusiasm and include a thesis statement outlining the reasons why you are a good fit for this position.
Body paragraphs
Use these paragraphs to paint a picture of yourself in this position.
Highlight your achievements and qualifications, your interest in the position, and match your skills, experiences, and philosophy to the position. Support your statements with specific examples of your skills.
Tailor to each application. For instance, if you are applying to a teaching-focused institution, lead with one or more paragraphs about your teaching experience and commitment. (In a letter to a more research-focused institution, these paragraphs may instead come at the end of your letter.)
Indicate your knowledge of the institution and perhaps give examples of how you could fit in there. For example, if there are faculty or research centers that are potential collaborators, mention these.
Concluding paragraph
Reinforce your interest in the position and enthusiasm for the institution.
Take care of any final business matters, such as indicating that letters of recommendation are being sent under separate cover (and from whom).
Offer to provide extra materials or additional information if necessary.
Indicate what you would like to see as next steps. For example, you look forward to speaking with the search committee.
Thank them for their time and consideration.
End with a professional closing, such as "Sincerely" or "Kind Regards" and your full name.
Emailing Application Materials
If email application is encouraged, send documents as attachments.
Use a short email message to indicate your application materials are attached. Then attach your cover letter and other materials as PDF document(s).
Graduate School Cover Letter Examples for
With writing tips and a step-by-step guide.
Looking at graduate school cover letter examples is a good idea if you plan on applying to a graduate school program, as you may be required to include a cover letter with your CV for graduate school and other application components. Even though it is not a required document for all grad school programs, a well-written graduate school cover letter can help you stand out to the admissions committee and improve your chances of being accepted into your chosen program. This is especially true if you are applying to a highly selective institution or trying to get into graduate school with a low GPA.
This blog will discuss everything you need to know about writing a cover letter for graduate school. You will learn why cover letters are important, learn tips to make your graduate school cover letter stand out, and you will get to review cover letter samples that will inspire you to write your own.
>> Want us to help you get accepted? Schedule a free strategy call here . <<
Article Contents 10 min read
What is a graduate school cover letter.
A graduate school cover letter is a brief letter that applicants attach to their graduate school application. Much like a work cover letter, such as a research assistant cover letter , for example, graduate school cover letters are meant to introduce you and your application to the reader. They give you an opportunity to make an excellent first impression, tell the admission committee that you are interested in their graduate school program and why you believe it is a good fit for you.
Graduate school cover letters have become less popular as graduate schools typically ask students to fill out their personal information and submit materials online. If you are sending specific application materials or your entire application by mail, then you will need to include a graduate school cover letter. Additionally, a few institutions, like the University of Illinois graduate college, for example, require students to submit a graduate school cover letter with their application, even when it is online.
Furthermore, even when a graduate program does not explicitly ask for a cover letter, including a well-written and informative letter can help differentiate you from the other students by leaving a lasting impression on the admission committee, thus increasing your chances of admission. That said, before you start writing a cover letter for such a program, you should verify the school's admissions website to ensure that the school accepts additional documents.
It should also be noted that many graduate students look for work and research opportunities at the school that they will be attending. If that is the case for you, then you will need a graduate school cover letter with your application for that school-related internship, job, or research opportunity. For example, if you're interested in conducting research with a specific professor while you complete your master's, then it would be a good idea to send them your application with a cover letter attached so that you can communicate your suitability for their research project.
Graduate school cover letters are academic letters, meaning that they need to be formatted in a way that is professional, clear, and concise. Your graduate school cover letter should be no longer than a page, written in a classic font that is easy to read, such as Times New Roman or Calibri, sized 11 or 12.
The text of your letter should be organized and separated into paragraphs. Keep in mind that your letter may go through several readers, and not all of them may be experts in the field you intend to study, so do not use overly technical language or industry-specific jargon. Keep your language succinct, clear, and consistent throughout the letter.
Lastly, your letter needs to provide a quick introduction to you as a candidate and pique the reader's interest so that they want to read the rest of your application. This means that you should not use your cover letter to list all of the experiences and skills that make you perfect for this graduate program. Simply express your interest in the program, select one or two experiences, skills, or values to focus on, and relate those to your suitability for the program you're applying for.
Wondering how to get into grad school with a lower GPA?
Step 1: Brainstorm & plan
The first thing you want to do before you start working on your cover letter, or any graduate school admission essay, is make a plan. Think about what you want to say in your cover letter and write it down. Remember that you only have a few paragraphs to work with, and you do not want to repeat information from your personal statement or other application components.
Once you know what you want your cover letter to say, organize it so that it flows nicely, and it is easy to follow. Your graduate school cover letter should follow the structure of a typical letter. It should have an introductory paragraph, the main body, and a closing paragraph.
Step 2: Address your letter
As mentioned earlier, your graduate school cover letter is, in fact, a letter! Therefore, you should begin by addressing it the way you would in a formal letter. Write your full name and mailing address at the very top. We also recommend including your email address and phone number, but this is optional. On the following line, write out the date, and then write the recipient's name (typically, this is the name of the head of the department or just the name of the school you are applying to) and their address. You should verify the school's admissions webpage for this information. If it is unclear and you are unsure whom to address in the letter, contact the school and ask for this information to ensure that your documents get to the right person.
This first section of your letter should follow this template:
1234 Imaginary Lane
NameofCity, TN 34421
December 12, 20XX
Dr. John Smith
Department of Psychology
BeMo Academic University
66 University Circle
NameofCity, TN 34457
Once again, because this is a formal letter, you want to open your letter with the appropriate greeting or a personal salutation. If you have the name of a specific recipient, you can use the most common salutation for graduate school cover letters, which is "Dear [recipient's name]." Do not forget to include the recipient's title if you have it. If you do not have the name of a specific recipient, then you can simply address the letter "To Whom It May Concern".
Step 4: Introduce yourself and express your interest in the graduate program
The reader will already have your name at the top of the page, but your introductory paragraph should tell them why you're writing this graduate school cover letter. You should use it to state your interest in your chosen graduate program and briefly mention your academic background and accomplishments thus far.
Take a look at this example for context:
I am pleased to submit my application for the Master of Applied Psychology program at X university. As a recent psychology graduate of YZ university, this graduate program is the perfect next step toward achieving my goal of becoming a clinical psychologist.
Step 5: Talk about your suitability for this program
This is the main body of your graduate school cover letter. You should try to limit this to one paragraph, but you can use up to two of them if necessary. You should briefly touch on why you chose this particular school and program, what skills you have that have prepared you for this program, and what makes you an ideal applicant.
You can talk about what you intend to do after this degree or specific professors and faculty members you wish to work with. The information you share here will be personal, so there is no golden template. Just ensure that it is written in an organized fashion that is easy to read and understand.
Step 6: Conclude and close your letter
In your last paragraph, make sure you thank the recipient for their time and consideration. You should also encourage them to reach out to you if they need additional information, or if they have any questions. Then finally, You can close your cover letter with a warm, professional closing salutation. "Sincerely" or "Warm Regards" followed by your name are some acceptable closing salutations you can use.
Step 7: List enclosed documents
This section of your graduate school cover letter will look different depending on the school you are applying to, and the application format used. If you are applying by mail, you should list the enclosed documents in the same envelope as your cover letter. If you are applying online or by email, verify that all of the documents listed on your cover letter are attached and ready to send.
This section should be at the very bottom of the page. It should list the documents in a bullet point format, in the order in which they are enclosed. The list should look something like this:
Sincerely,
Jane Doe
Program application form
Statement of purpose
Academic transcripts
Letters of recommendation
Graduate school cover letter examples
Graduate school cover letter example #1.
Candice Williams
1234 Dream St.
Winnipeg, MB R3J 8T6
[email protected]
204-990-887
August 12, 20xx
Dr. Trevor Thorne
Department of English, Theatre, Film & Media
Toronto, ON M4C 2Y9
Dear Dr. Thorne,
I am excited to submit my application for consideration for the English literature master's program at BeMo Academic University. I have spent the past four years learning the basics of literature analysis through my bachelor's degree in the field, and I am eager to take this next step in my educational journey in order to further my training.
My undergraduate studies allowed me to explore and learn about different forms of literature from around the world. Still, I often found myself drawn to the impressive works of Shakespeare, Milton, Bronte, and many other great English writers. I had the opportunity to study in London for a year, where I attended a seminar on the impact of Charlotte Bronte's work on modern feminism led by none other than Prof. Jane Smith. She is one of the many brilliant professors in the English, Theatre, Film & Media department at BeMo that I hope to learn from.
You will find enclosed the required application documents, including my academic CV, which provides more information on the research I have been able to do and publish so far in my short academic career. I am especially interested in the role that authors such as William Shakespeare played in the development of modern English, and I wish to explore that further through research. I feel that the rigorous curriculum this program offers will inform my future writing and research efforts, and allow me to achieve my goals.
Thank you for your time, attention, and consideration. It is truly appreciated. Please do not hesitate to contact me if you require any additional information.
Program application form
Statement of purpose
Graduate CV
Official undergraduate transcripts
Angela Wong
102-9876 Mainland Rd.
New Haven, CT 44567
[email protected]
April 8, 20XX
University of BeMo
175 Academy lane
New York, NY 34567
To whom it may concern,
It is my pleasure to submit my application for the Master's degree in Early Childhood Development in the Psychology department at The University of BeMo. I am currently completing my bachelor's degree in psychology and plan to graduate in the fall. Since my goal is to pursue a career as an educational psychologist, this particular program is the perfect next step toward achieving my goal.
My undergraduate degree includes coursework in childhood psychology, special needs education, school and family crisis intervention, and many other courses that have given me the basics required to keep up with the thorough coursework that awaits me in your rigorous program.
I have also gained valuable knowledge in the field through shadowing and internships in different schools in my community. Observing other child educators at work confirmed that this is the right career path for me, and it motivated me anew to learn how I can best help children develop a love of learning from the early stages of their educational careers. I know that there is only so much I can learn from observing, and the fact that this program provides six months of hands-on training is one of the many reasons why I am hoping to be a student at BeMo next year.
Thank you for your time and consideration. Please do not hesitate to contact me if you require any additional information or documents. I look forward to hearing from you soon.
Research Interest Statement
Cover letters are supposed to be a brief introduction to your application, so unless otherwise specified by the school, they should not be longer than one page. We recommend sticking to three to four paragraphs, as this is long enough to share substantial information without losing your audience. Keep in mind that your reader will also be reviewing your other application components, so you do not need to address everything in this one letter. The information in your other application components, such as your statement of purpose , will complement your cover letter. So, treat your cover letter like a summary of your candidacy; keep it short but impactful.
Have you started working your graduate school CV? Check out this video for tips:
Be genuine & professional
The individual or committee that will review your application will probably be people that help run the program you're applying to. It is, therefore, best that they get a sense of who you genuinely are. Communicate honestly and let your personality shine through. This will help make your cover letter more memorable. That said, keep in mind that this is a professional document and that genuine does not mean informal or unprofessional. Your tone should still be courteous and consistent throughout the letter.
Proofread & edit carefully
We cannot stress how important this is. Remember that your graduate school cover letter will be one of, if not the first, document that the admissions committee will see from your application. You do not want their first impression of you to be negative. Your letter should be easy to read and follow, and it should be error-free.
Take the time to review your letter multiple times and edit for flow, grammar, spelling, punctuation, and typos. Better yet, reach out to a grad school essay tutor for assistance. They can review your cover letter and help you edit it to make sure it is up to par.
Grad school essay tutors can also help you with other tricky written application components, such as grad school career goals statements . So, do not hesitate to contact one if you need grad school application help. ","label":"Bonus tip","title":"Bonus tip"}]" code="tab1" template="BlogArticle">
It is a brief letter that you attach to your graduate school application. This letter should state your interest in the program, and briefly explain why you chose it, as well as why you are a good fit for it.
Many programs do not request graduate school cover letters, but they are more common than most people think. Additionally, several programs accept grad school cover letters even when not required, so you can still submit a cover letter to help your application stand out.
That depends on the program that you are applying to. Some schools may request a cover letter for online applications, and others may not require one, but they allow students to submit them as an optional component.
Graduate school cover letters are not replacements for admission essays like a personal statement or statement of intent . So if your school requires a graduate school cover letter, do not assume that this means you will not have to write any grad school admission essays.
Unless you are given the name of a specific member of the admission committee, you should address your graduate school cover letter to the "Admissions team," "[subject] Head of Department," or "To Whom It May Concern."
You can make your graduate school cover letter stand out by making sure your personality shines through in your writing, telling a short anecdote or interesting fact about you in the body of the letter, and detailing your relevant skills and experience.
Graduate school can be pretty competitive, but the level of competition depends on the specific program you will be applying to. Some programs have acceptance rates as high as 60%, while others admit less than 10% of applicants.
Graduate school advisors are admission experts who help students plan and prepare for graduate school applications.
Want more free tips? Subscribe to our channels for more free and useful content!
Apple Podcasts
Like our blog? Write for us ! >>
Have a question ask our admissions experts below and we'll answer your questions, get started now.
Talk to one of our admissions experts
Our site uses cookies. By using our website, you agree with our cookie policy .
FREE Training Webinar:
How to make your grad school application stand out, (and avoid the top 5 mistakes that get most rejected).
Time Sensitive. Limited Spots Available:
We guarantee you'll get into grad school or you don't pay.
Swipe up to see a great offer!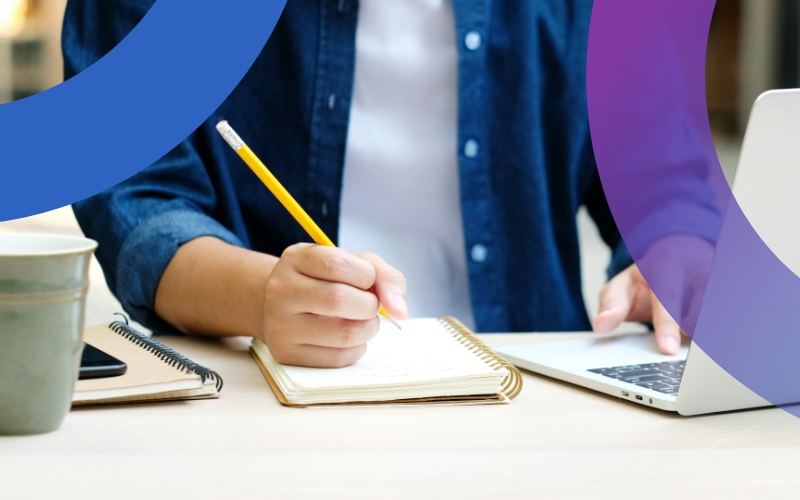 How to write a flawless Cover Letter for Master's applications!
For students, for universities, career test, compatibility test, apply through brive, free counselling, reward points, brive scholarships, study abroad, master's degrees abroad, tuition free master's degrees, online master's degrees, top countries, netherlands.
Privacy Policy
Term & Condition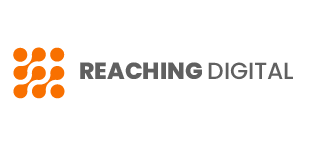 Home » 5+ Catchy Cover Letter For Masters Application Sample
5+ Catchy Cover Letter For Masters Application Sample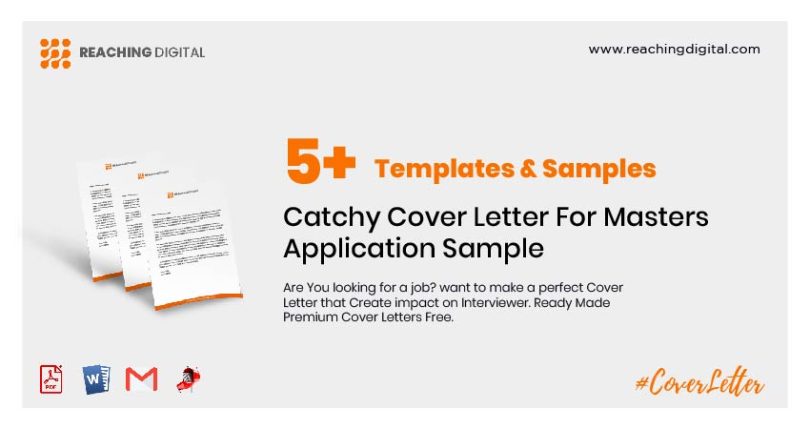 A well-crafted cover letter can make a big difference when applying to graduate school. However, many applicants struggle to know how to start their letters, or what to include. In this post, we provide a sample cover letter for a masters application that you can use as a guide. We also offer tips on how to write your own letter, and what to highlight in your experience and education. So if you're preparing to apply to grad school, be sure to read this post!
Table of Contents
How To Write a Cover Letter For Masters Application?
A cover letter is a letter of introduction that accompanies your resume when you apply for a job. The purpose of the cover letter is to express your interest in the position and to persuasively argue why you are the best candidate for the role. When applying to graduate school, your cover letter needs to explain why you have interest in the program and what your long-term goals are. It should also highlight your research experience and any relevant skills or coursework. While there is no one-size-fits-all formula for writing a cover letter, there are some general tips that will help you get a start
Start by introducing yourself and explain why you have interest in the program.
Discuss your research experience, including any relevant publications or presentations.
Highlight any skills or coursework that make you a good fit for the program.
Finally, conclude by expressing your enthusiasm for the opportunity and reiterating your interest in the program.
Related: How To Write a Cover Letter (And Get Hired in 2022!)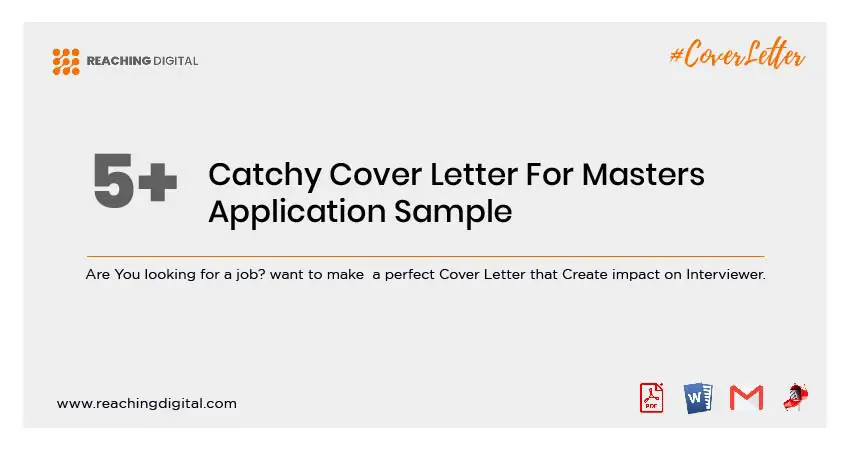 Application Letter For Masters Degree Sample
To Whom It May Concern,
I am writing to apply for the Master's Degree program in ___________ at ___________ University also i had currently a ___________ major at ___________ University and will be graduating with my Bachelor's Degree this ___________.
I have interest in ___________ and believe that a Master's Degree in this field will help me to reach my long-term goals and i am a hard worker and a quick learner, and I am confident that I will be able to do well in this program.
The would appreciate if you could consider my application for admission into the Master's Degree program at ___________ University. If you have any questions, please do not hesitate to contact me at ___________.
Thank you for your time and consideration.
Related: 127+ Best Sample Career Objective For Master's Degree ideas
Cover Letter For Masters Program
The writing to apply for the Master's program in ___________ at ___________ University. It is a recent graduate of ___________ University, where I earned my Bachelor's degree in ___________. To very excited about the possibility of continuing my education in ___________ and feel that ___________ University would be the perfect place for me to do so.
Have been interested in ___________ for many years and have taken several courses in the subject during my undergraduate studies. Have also had the opportunity to conduct research in ___________, which has given me a great deal of experience and knowledge in the field. I am confident that I have the skills and abilities necessary to succeed in a Master's program and would be a valuable asset to your school.
would appreciate if you could please consider my application for the Master's program in ___________ at ___________ University. If you have any questions, please do not hesitate to contact me at ___________. Thank you for your time and consideration.
Related: 145+ Creative Safety Officer Resume Objective ideas
Cover Letter For Master Application
The writing to apply for the Master's program in XYZ at your esteemed university. Have completed my Bachelor's degree in ABC from XXX University and am currently working as a Junior Research Fellow atYYY Institute. The immensely interested in pursuing research in the field of XYZ and am confident that I have the necessary skills and potential to excel in this field.
Would be grateful if you could consider my application for the Master's program at your university. I am confident that I will be able to contribute to the research being conducted at your institute and will be a valuable asset to your team.
Related: Indeed Cover Letter: 07 Templates and Samples
Cover Letter For Masters Scholarship
I am writing to apply for the Master Scholarship offered by your esteemed institution. have recently completed my undergraduate degree in International Relations from ABC University and am keen on pursuing a Masters degree in the same field.
I am confident that I can posses the required skills and attributes needed to be an excellent candidate for this scholarship. My academic record is strong and I have been actively involved in extracurricular activities throughout my time as an undergraduate student. In addition, I have also worked as an intern at XYZ Corporation, where I gained valuable experience in the field of international relations.
I am convinced that pursuing a Masters degree will allow me to deepen my understanding of international relations and build upon the skills and knowledge that I have acquired as an undergraduate student also i am eager to apply what I have learnt in a real-world context and contribute to the field of international relations in a meaningful way.
I am grateful for your consideration and look forward to hearing from you soon.
Related: 115+ Unique Career Objective for Assistant Professor Ideas & Examples
Cover Letter For a Master Degree
I am writing to apply for the Master degree program in your esteemed university.
I have completed my undergraduate degree in ___________ from ___________ University and have consistently achieved excellent academic results. My GPA is _____ and I have also received several scholarships and awards during my studies.
I am extremely passionate about ___________ and have been involved in various extracurricular activities and projects related to this field and i am confident that I have the necessary skills and qualifications for the Master degree program.
I am keen to continue my studies at your university as I believe it will provide me with the excellent academic environment and resources that I need to further develop my knowledge and skills I am confident that I will be able to contribute positively to the university community and hope to have the opportunity to learn from some of the world's leading scholars in ___________.
5 Things To Include a Cover Letter For Masters Application
When applying for a master's degree, there are many elements to the application process In addition to transcripts and test scores, most programs will also require a personal statement or essay. And while the essay is an important part of the application, the cover letter is often just as important. Here are five things you should always include in your cover letter:
A brief overview of your academic achievements.
Why you are interested in the program and what you hope to gain from it.
How your experience and skills make you a good fit for the program.
A description of your research interests and any relevant experience you have.
Why you believe you would be a good addition to the program and what you can contribute to it.
If you take the time to address all of these points in your cover letter, you will give yourself a much better chance of being accepted into the program of your choice
Related: What is Cover Letter? Complete Guide To Get any Job.
I hope you found this blog helpful. It can be tough to know where to start when writing a cover letter for your masters application, but hopefully, the tips provided in this post will give you a good place to start. Remember to personalize your letter and make it specific to the program that you are applying to. Showing that you've done your research on the school and program is always a plus. Finally, don't forget to proofread your letter carefully before submitting it! Best of luck with your application process.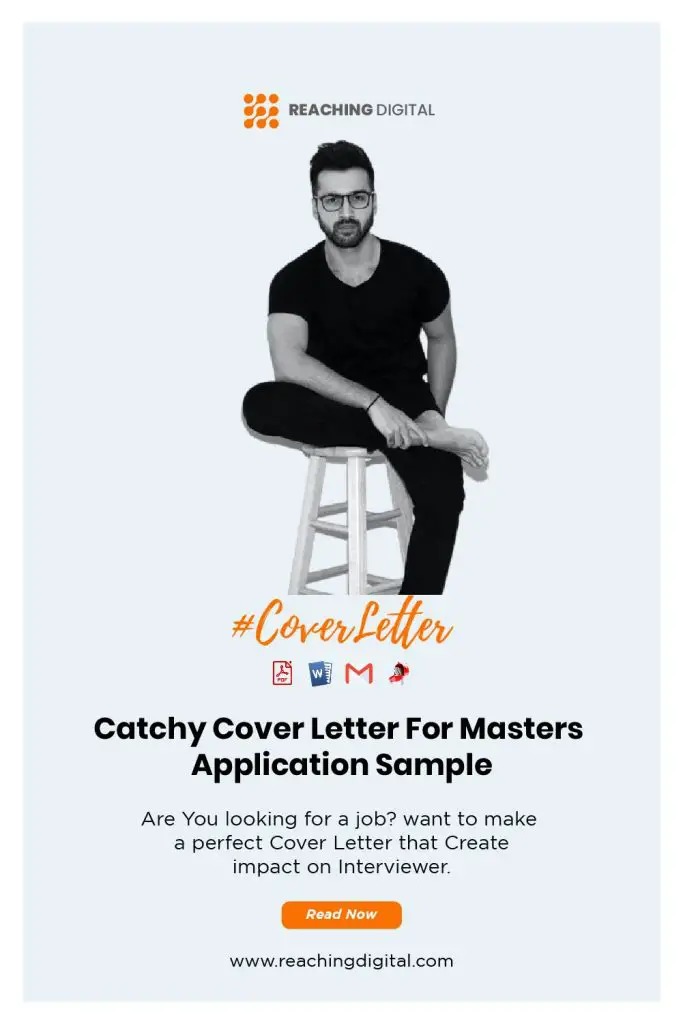 You may also like

Cover Letter for Ph.D. Application: 5 Template ideas

Customer Service Representative Cover Letter: 09...

Waitress Cover Letter: 07 Template Ideas

Computer Science Cover Letter: 05 Ready Template

9 Best Associate Cover Letter Samples [Free]

Creative Inspiring Cover Letters: 7+ Template
About the author.
Leave a Comment X
Save my name, email, and website in this browser for the next time I comment.
Cover letter by a Masters graduate
This graduate cover letter example demonstrates how to sell your Masters qualification to employers. Discover how to showcase the skills and experience you gained during your course
Employers don't always distinguish between a Masters and Bachelors degree when recruiting. They may value the additional maturity, but it's up to you to explain in your cover letter what skills and knowledge you have gained through this higher qualification and how this experience makes you the better candidate for the job.
Present yourself in terms of the extra abilities you have and how this relates to your career goals. A Masters also needs to be complemented by relevant work experience, so make sure you mention any details of this.
Please be aware that this is an example. Use this graduate cover letter template to help generate ideas and structure your own document but avoid copying and pasting. Your cover letter needs to be original and tailored to the job you're applying for.
Misha Kuna 64 Main Street Yourtown YT19 1XP [email protected] 07799123123
Jerry Kunzwa Head of HR Consulting plc 5th Floor, The Tower City Street Citytown CT45 8QX
5th May 2023
Dear Mr Kunzwa
Re: Trainee management consultant post
I am writing to apply for the post advertised on the Prospects.ac.uk website. I am enclosing my CV.
While organising events during my undergraduate history degree, I became fascinated by the business side and quickly became aware of the factors which make an event successful, profitable and sustainable. I decided to develop my growing commercial awareness by studying for a Masters in Business Information and Systems. Alongside my studies, I continue to be involved in the business world as a shift leader in the hospitality sector.
I would now like to bring my humanities and business training to your management consultancy. I have experience of:
Organising popular events which attracted record attendances and were rated in the university's top ten events for 2021-2022.
Managing a budget and creating a profit.
Time management from combining study, employment and event management to achieve a First for my degree.
Working in a team on clearly defined, time-limited projects.
Customer awareness as a bar assistant.
Team leadership as a bar shift leader.
Analysing data from a range of sources.
Writing reports and presenting to an audience.
I am particularly interested in the projects which Consulting plc has undertaken in the charity, arts and entertainment sectors.
I look forward to hearing from you.
Yours sincerely
(Sign your name here)
Find out more
Get more information on cover letters .
Learn more about the 5 things to avoid when writing a cover letter .
Discover what your options are after graduation in your Masters, what next?
How would you rate this page?
On a scale where 1 is dislike and 5 is like
Dislike 1 unhappy-very
Like 5 happy-very
Thank you for rating the page
Skip to content
University of Washington Links
College of Arts & Sciences
Directories
Department of English
Search form.
Graduate Students
Undergraduate
Teaching Endorsement
Study Abroad
Faculty Dialogue Series
Community Literacy Program
UW in the High School
Public Scholarship
Public Pedagogies
Publications
Affiliated Journals & Publications
Research Groups
Fields of Interest
Recent News
Student Awards
Events Calendar
Roethke Reading
Diversity & Equity
Multilingual Language Learner Support
Odegaard Writing & Research Center
Scholarships & Financial Support
Simpson Center for the Humanities
Teaching Resources
For Employees
Stay Connected
Writing the Cover Letter
What are the objectives of a cover letter.
A good cover letter puts your résumé in context and persuades the prospective employer that you are a good match for the position in question. If your cover letter does its job, the prospective employer will begin to consider your candidacy and go on to review your résumé in detail.
Your cover letter also serves as a sample of your organizational and communication skills. For this reason, it's essential to spend time writing and organizing the content, and to proofread it carefully. The time and care that you devote to constructing and writing your cover letter and résumé will demonstrate to the prospective employer that you're capable of producing high quality work.
Finally, your cover letter expresses your interest in the particular position or particular organization. Cover letters should be individually tailored for each job prospect. Your letter should convey to each prospective employer that you have an understanding of the job, and that you've done some thinking about how you could fit in to the organization and contribute to its goals.
How should I approach the writing task?
Your cover letter is your opportunity to market those aspects of your skills, abilities, education, training, background, and experience which are most relevant to the position you're seeking. This means that you will need to begin by doing some thinking about your skills and background and how these relate to the position for which you're applying. (For more information about skills, visit the Humanities Academic Services Center website .) Your cover letter should reflect your individuality, but remember that you are "introducing yourself" for the first time to a stranger: it's best to err on the side of professionalism.
Read the job announcement carefully. What are the most important qualifications being sought? How can you best demonstrate that you have them? Try to put yourself in the prospective employer's position: What would you want to know about a candidate for this particular job? What information would be most important to you? Include only the most relevant attributes and experiences you possess which specifically match the job for which you're applying.
Research the company or organization: What does the employing organization do? What are its goals? What is its history? How does it fit in to its industry? What characterizes the organization's culture (e.g., is it casual, conservative, highly structured, diverse, traditional, modern, fast-paced, etc.)? Some information, such as the organization's mission, purpose, clients, partners, and a sense of its "style" can be found on its website (if it has one). There are also industry and employer directories available on the web, in the libraries, and at UW Career Center in 134 Mary Gates Hall. Local and national newspapers, industry-related publications and journals, and the Washington Occupational Information System are also good resources.
Address the letter to a specific individual. As with all writing, it's important to identify your audience. Taking the time to find out the hiring party's name and correct title is another way to demonstrate your interest in the position.
How should I format my cover letter?
Your cover letter should be three to four paragraphs in length and limited to one page. Like an essay, its content can usually be divided up into three parts:
The introduction states the position you're seeking, explains how you learned about the position, and indicates your interest. It often also contains a brief statement of your qualifications (education, experience, and skills).
The body highlights the most important qualities you can offer to this particular employer , related to the position that you're seeking. Because you will be attaching your résumé, this is not the place to go into great detail. What you are attempting to do is to get the employer's attention and interest him/her in your candidacy. This is also the place to present other relevant information about your characteristics or background that may not be evident from your résumé. You might provide the employer with some specific examples of how you've demonstrated particular key skills or how you fulfill the most important qualifications listed in the job announcement.
The conclusion should summarize your qualifications and your interest in the position. Be sure to close your letter with a request for action or an indication that you'll be following up. This might include a request for an interview, a statement of your intent to call the employer on a specific date, or the dates you'll be in town for an interview. Finally, always thank the employer for considering your application.
Sample Cover Letters
April 22, 2013
Ms Stephanie Everly Managing Editor Dickinson Press 12 Main Street Amherst, MA 11001
Re: Editorial assistant position
Dear Ms Everly:
I am writing to express my keen interest in the editorial assistant position you advertised with the University of Washington's Career Center. I will be receiving my bachelor of arts degree in English in June 2012, and I am eager to join a small publishing house where I can use my skills in writing, editing, proofreading, research, and critical anaylsis. Based on my knowledge of Dickinson Press publications and objectives, I believe that my educational background and abilities would be an excellent match for the editorial position.
Through my academic work in English language, literature, and writing, I am prepared to make meaningful contributions to editorial discussions and to function as a member of your editorial team. In addition to my university training, I have held editorial positions with Bricolage , the University of Washington's undergraduate literary journal, and with Steubing Press, a small publishing house specializing in non fiction and regional publications in the Pacific Northwest. These intern positions have provided me with experience in editing, proofreading, fact checking, production scheduling, working with off-site vendors, sales, marketing, and customer service. My positions with a small publication and a small press have taught me to manage my time effectively, adapt readily to new responsibilities, work as a team member, and function well under pressure. The writing skills I developed through my background as an English major have been further refined in both of these positions, where I learned to write concise, persuasive prose for press releases, catalog statements, and website content. Both positions afforded me an in-depth understanding of the important and varied behind-the-scenes work involved in book publishing.
I hope you'll agree that the combination of my academic training and my internship work in publishing has provided me with excellent preparation for the demands of a literary editorial position with Dickinson Press. Thank you for your time and consideration. I look forward to meeting with you to discuss this opportunity in greater detail.
Mary L. Martin
Encl: résumé
Keeshia Rodell Marketing Director Echomedia Marketing Group 123 Avery Place Seattle, WA 98111
Dear Ms Rodell:
John Bingham of Hemming Communications tells me that you are seeking a marketing assistant at the Echomedia Marketing Group, and he suggested that I send you my résumé. I am particularly interested in the public relations work that Echomedia has done in the non profit sector, and I hope you'll agree that my academic background in English along with my promotions internship with the Experience Music Project make me a good candidate for this position.
In June, I will be receiving my BA in English and Communications. My background includes relevant course work in mass media communications, concepts of new media, media structure, and cross-cultural communications. I have also developed strong writing, persuasive, and critical analysis skills through my major in English.
In the course of my internship in promotions, I gained practical skills in managing media campaigns, doing press work, and planning promotional events. One of my tasks with the EMP was to prepare promotional materials for upcoming museum events and to distribute these materials to the local media. Because there was often very little lead time, I learned to obtain information quickly and assimilate it into a persuasive set of ad materials in short order. At the end of the internship, I was commended by my supervisor, Marion King, for producing high quality work on a strict timeline. I am diligent, creative, and flexible, and I work well as a member of a marketing team.
I look forward to speaking with you about the suitability of my English and marketing background for this position with Echomedia. I will telephone you within a week in the hope that we can set up a meeting soon. Thank you for considering my application.
Department Faculty
Emeritus Faculty
Adjuncts & Affiliates
Alumni News
Alumni Profiles
Submit an Update
BA in English, Language and Literature Option
BA in English, Creative Writing Option
Careers & Internships
How to Apply
Graduate Faculty
Graduate Staff
Creative Writing
Program for Writing Across Campus
Program in Writing and Rhetoric
Diversity and Equity
Writing Minor
Upcoming Programs
Past Programs
Additional Resources
Course Offerings
Registration Policies
English Composition Requirement
Computer-Integrated Courses
About the Readings
Past Readers
Safety & Health
Emergency Plan
Faculty Computing
Faculty Guidelines
Paper Usage
Printers & Scanners
Department Meetings
15% discount on first order.
Sample cover letter for admission (master's degree).
School admission and admission reconsideration are two of the most common reasons why students seek online guides on how to write a cover letter. While it is not that common, admission essays along with relevant documents e.g. clearance, report cards, etc. are required to be submitted with a cover letter. Cover letters for school admission are more used for post-graduate degrees than undergraduate or high school level unless it is for a scholarship.
Frederic James Delacroix
2011 Tides Street, New York, NY 1102
linkedin.com/in/fjdelacroix
15 April 2021
Stanislav Radost
Head of Department
Eldrich School of Nursing
Bembridge University
4102 Andrews Avenue
New York, NY 51414
Dear Mr. Radost:
With deep respect, I convey my intention of applying for the Master of Science in Nursing program at the Eldrich School of Nursing at Bembridge University. Completing this graduate program is the next step toward my goal of gaining a leadership position in the profession.
I graduated from Brooke University's College of Nursing in 2016 and acquired my license in 2017. I have spent the last four years working in the emergency department of Brooke University Hospital. To say that my experience has been fruitful would be an understatement. Not only has my time in the hospital allowed me to apply the knowledge and skills I learned in a real-life clinical setting, but the experience has taught me invaluable lessons in nursing interventions, interprofessional collaboration, and ethics. I have had the great fortune of working with distinguished mentors such as Arielle Edmonds and Lea Harolds, whose research on clinical organization culture profoundly influenced current leadership practice in nursing. I am now ready to move forward, armed as I am with the competencies I have gained in my studies and practice. I trust that under your graduate program I will acquire the ability to serve as a nurse leader.
I have enclosed all documents required for the application as listed on the university website. Please do inform me via call or email should further documents be required. Thank you very much for your time. I look forward to hearing from you.
Frederic James Delacroix, RN, BSN
It is overwhelming to try and get into the university you have been dreaming to get into. That feeling only increases once you start meeting the school's requirements mainly due to anxiety if you are going to get in despite all your efforts. Alleviate this anxiety by asking for help from your family, trusted friends, teachers, and professional ghostwriters. Lessen your worries by letting a professional writer know what you need - what you want in your letter, what you want in your admission essay, and even how to format your essay. Talk to us now and let us help you get a spot at that university!
Deadline Approaching?
We work 24/7 and we are affordable (from $13.95/page). Our writers, managers and support agents all have been involved in academic ghostwriting for years. We can assist even with the most difficult writing assignment under time constraints.
more in Technical / School Application
Free Template for Cover Letter for School Admission
Let's get your assignment done!
- Will you write my paper for me? - Yes, we will.
Our paper writing benefits, let's write a paper for you in no time, start with, "write my essay for me" and end with a perfect piece in your inbox, ready for download and submission for grading. it only takes four steps to go from one to the other..
Begin with "Write my essay" and add all the details you deem important, from the deadline and formatting style to your professor's rubric and writing style preferences.
Watch your expert write an essay online through the dashboard or reach out to our support team for progress updates whenever you get antsy about the deadlines or instructions.
Check out the first draft preview you get in your inbox and approve the order to download an editable file or get your writer to revise the paper to make it even better.
What do the customers of Write Paper For Me say?
Still hesitant just look: your fellow students in search of someone to "do my essay" have already used our services and were pleased with the results.
Was looking to pay someone to write my paper. Found these guys and been using them for two years now.
I was afraid of plag, but it hasn't been detected here. Get an essay once a month, and it keeps me from going insane, so I couldn't recommend it more.
I'm never doing another paper when ther's a pro to write an essay for me. I'd rather pay for it than waste my time.
I had to write my paper in two days but had no time. So I turned to my trusty writer. Sure, it was a bit pricey, but I got a pass, and the prof never suspected a thing.
I risked using this site knowing nothing of the real privacy here but it was the best decision of my life. I finally caught up on sleep, and my grades are better than ever.
When I need someone to write my paper for me cheap, I come here. Never failed a paper, and the prices are great. Wish the writers were more open, tho.
Wasn't sure they had true pro writers ready to do my paper for me. I know now they're the best! Big fan here, so keep up the good work, guys!
Finally, I found someone to do my essay for me, no questions asked. Upload the prompt and rubric—get the paper in a week or so. Simple, painless, cheap. Love it.
Never thought I'd pay someone to write my essay, but now I can't believe I waited this long to get help. It was much cheaper than I expected, super friendly and open!
These guys sure know how to write paper for me. It's just perfect for my class, and there's no way my professors know I'm cutting corners.
The best bargain is just a few clicks away!
Get an original paper that doesn't cost a fortune!
450 orders completed daily
86 disciplines of expertise
820+ professionals on our team
4.88/5 is the average order rating
​​Still have questions?
Contact our support agents and let them help you!
Is it time to write a paper for you? Contact us and relish the highest academic performance! 
Our professionals will do their best!
Why Should I Pay Anyone to Write My Essay?
If you're suddenly wondering, "Can someone do my paper for me?", there's likely a very good reason for that. After all, college is an eye-opening experience for most students. Not only is it your first attempt at independent life free from parents' oversight, but it's also a completely new level of academic requirements and independent study many aren't ready for. 
And if you're an overachiever or a perfectionist, keeping up with all the classes, assignments, extracurriculars, and side gigs will keep you up most nights. You will soon forget about your plans to discover the party scene, visit your parents every other weekend, or find your soulmate on campus. If you try to stay on top of all your responsibilities, you'll likely burn out or suffer an anxiety attack sooner rather than later. 
So don't feel bad if your thoughts go from "Can someone write my paper?" to "Write me a paper asap!" within the first few weeks of the college term. You're not alone, and it's perfectly normal to struggle in a new environment and buckle under the weight of elevated expectations. 
Luckily, you don't have to suffer in silence or give up on your dream of a college degree. Instead, you can seek help. And nowadays, it's as easy as typing "Make an essay for me" in live chat.
Why Should I Choose Write Paper For Me As My School Assistant?
A quick Google search will unearth dozens of do-my-paper services, adding to your stress, instead of alleviating it. But unfortunately, you cannot trust the first company you find, tell the writers "Write a paper for me", and hope for the best. Although you may be lucky enough to stumble upon a reliable company by accident, choosing a trustworthy service requires some research.
We suggest you look for these staples of a solid writing service WritePaperForMe has in spades:
Academic writers with proven experience in your major. For instance, our write my paper service employs hundreds of experts across the most popular majors, so we can handle anything from Anatomy to Zoology.
Thorough anti-plagiarism protocols. In our experience, a combination of writer training, strict citation procedures, and a mandatory plagiarism check ensure the best results for our clients.
Round-the-clock access to human support agents. With our 24/7 support, you don't have to wait for office hours to ask "Can you do my paper for me?". You can get answers to all your questions, paper progress updates, and other help whenever you need it.
Free and frictionless revision process. Although our writers do their best to meet your expectations on the first try, we guarantee free revisions and make the revision process easy and painless for everyone involved.
Detailed confidentiality terms that protect your personal and financial data. We adhere to local and international data protection regulations and keep the specifics of your order private, so your school can never learn about your paper from us.
Affordable rates that ensure the best value for money. We realize how tight money can be for students, so we keep our prices as low as possible while still keeping the writers happy and motivated.
If you want to make the most of these and other benefits, start by typing "Help me write my essay" in live chat, and we'll see what we can do for you.
We Handle Any Paper Writing Task for High School, College, and Grad School
One of the most common complaints when it comes to paper writing is a poor writing style, unsuitable for a specific academic level. Fortunately, that never happens to our customers, as we carefully match your requirements with our writers' expertise levels while keeping the rates affordable.
For example, when you come to us asking for a college essay, we'll round up our experts with Bachelor's degrees and above. Similarly, if you want us to handle MBA coursework, we'll match you with a writer who already has their Master's degree. And even doctorate papers, like thesis proposals or research papers, are not beyond our expertise, as our talent pool includes a fair share of PhDs.
So if you think our order form is too complex and your order doesn't need to go beyond "Write essay for me," we ask for your patience. After all, the more details you provide, starting with your academic level, the better we'll be able to help you.
"Type an Essay for Me" Is Not the Only Service We Offer
You've probably found our site when you were looking to pay someone to write your essay. And we will happily take over argumentative, persuasive, narrative, and creative pieces for you. However, the do-my-paper service is not your only option. We have plenty of offers for students who are unwilling to let others take over their work completely. Here are a few viable suggestions that can make your college writing much easier:
Editing works wonders for students unwilling to admit, "I need someone to write papers for me," and looking to improve their writing style. Choose this service if you want actionable suggestions that will instantly improve your chances of getting a higher grade.
Proofreading goes beyond the standard spellcheck and weeds out the smallest grammar, spelling, and style errors. Your professors will appreciate a flawless piece of writing without a single typo. 
Formatting doesn't have to be dull and time-consuming, especially when your reference list exceeds a few dozen sources. If you let our experts take over, you'll save yourself hours and submit a picture-perfect paper.
Paraphrasing is the best choice for fast results when you already have a flawless piece but need it to pass a plagiarism check the second time. Just say, "Help me write my paper based on this sample," and our writers will deliver a perfect replica, capable of fooling Turnitin.
We Employ Expert Academics to Make Your "Write My Paper" Order Perfect
Whether you're an English or a STEM major, you're probably wondering, "Who can write essay for me?" or "Why should I pay someone to write my paper for me when I know nothing about them?" And you're absolutely right about asking these questions. After all, thousands of freelancers offer to write essay online, but you can't know who to trust with your grades and record. To make your life easier, we take over the screening tasks to ensure only the best are hired and have the privilege to write an essay for you.
To get on our team, each writer must:
Provide us with a copy of a college or postgraduate diploma.
Share multiple samples of academic writing across different subjects, topics, and paper types.
Write a paper on a topic of our choosing within 24 hours to demonstrate research and writing skills.
Pass a timed English proficiency test with and score 80+ points.
And once hired, writers must keep their customer feedback rating high. Those who get negative comments don't stay on our team for long.
Although our hiring approach may seem harsh, it's proven its efficiency for writers and students. And we urge you to give our experts a chance to prove they're as good at writing papers as we claim they are.
We Deliver Every "Write My Paper" Order on Time
Timing is critical in the college papers market. An hour's delay can make your submission late and cause you to fail the class. And a drawn-out revision may fry your last nerve and end in a breakdown.
To guarantee your every "write papers for me" order arrives in your inbox on time, we use an efficient communication and time-management approach and train our writers, editors, and proofreaders in beating procrastination and writer's block. 
Still, we urge you to be realistic in your expectations. Research alone would usually take several hours, and writing and finishing touches need time, too. So please give our experts enough time to work on your paper and give yourself enough leeway for a quick review and revision.
Our "Write Essay for Me" Service Is Online and Ready to Help 24/7 
With so many responsibilities, it's not uncommon for students to forget about essays. So if you wake up in cold sweat scrambling for answers to "Can someone do my essay for me asap?" you won't be left to deal with the problem alone.
Our write my paper service never sleeps. The support agents operate round-the-clock through weekends and holiday seasons to ensure you can reach a human manager in your darkest hour and get the answers and support you need.
You can contact our team via:
Simply reach out, and explain your "write my paper" problem, and our managers will help you find a suitable solution. They can also get you in touch with your expert, provide progress updates, and explain our policy clauses and conditions.
We Guarantee Our "Write My Essay" Help Is Private and Confidential
"Can someone do my essay for me without risking my reputation?"
"I'm afraid my school will kick me out if they learn about my order."
If you're familiar with either of these lines of thinking, you're just like any other college student. However, you have nothing to worry about when you pay someone to write your essay for you with our service. We carefully guard the details of your order and do not disclose your personal information to anyone without a court order.
So the only way your professors and school administration can learn about our help is if you tell them, "I pay to write my essay". Without your confession, they'll have no hard evidence. Their accusations and threats will be empty, and you'll get away with buying papers easily, like thousands of our clients before you.
We Keep Working on Your "Write a Paper for Me" Requests Until You're Happy
Reputation is everything for paper writing services. Although no company is safe from accusations, negative reviews, and underhanded rivalry with fellow "write my paper for me" platforms, we strive to keep every customer happy and willing to return.
That's what our satisfaction guarantee is about. Whenever you come asking, "Write my essay online, we take your requirements seriously and ensure the experts fulfill your every instruction. And if you still think our writing could be better, you can order a free revision with your initial "write essay for me" parameters. Your writer will rework your piece according to your comments and return the second draft for your approval within 24 hours. With luck, you'll like it better, and if not, you can repeat the whole process again and again until you're 100% satisfied with your paper.
Ready to Reap the Benefits of Our "Write Papers for Me" Services?
If you're ready to place your first "write my paper" order, welcome to the order form. It's streamlined to guide you through sharing all the information your expert will need beyond your request of "write my paper for me". And if at any point you feel lost, confused, or too tired to deal with our simple "do my essay" order form, reach out to our support team. Call or type something like "I want you to write a paper for me," and they'll respond within seconds to help you complete the order, finalize the payment, and get the first progress update when we assign the best expert to your case.
How can I pay someone to write a paper for me? What are your payment methods??
We accept credit and debit card payments by Visa, MasterCard, Discover, JCB, and American Express. You can use a reliable and secure payment system that keeps your personal and financial information safe to get us to write an essay for you. So you don't have to worry and ruminate, "Is it safe to pay someone for writing my papers online?" After all, it's as safe as getting your next coffee batch on Amazon or paying for your Netflix subscription.
How fast can you write my essay for me?
"Write my essay ASAP!" and "Write my essay, and I need it yesterday!" are two of the most common requests we get from college students. And although we can't trick time and only have 24 hours in our days, we can deliver short pieces in 6 hours and longer assignments—within a day. As long as you don't come asking "Write my research paper in six hours," and are realistic about your expectations, our experts should be able to handle the tightest deadlines. But please account for a preview and revisions not to miss your submission deadline.
Can I talk to the person who'll do my essay for me?
Of course, you can. We realize you're probably thinking, "When I pay someone to write my paper, I want to have a direct line to this person." So all you need to do is log into your account and find the chat tab to ask your questions or provide comments. But please remember that writers may not be available 24/7, as they have research and writing to take care of. If you're thinking "I want round-the-clock access with the person I hired to write an essay for me," you're unlikely to find a writing service that will satisfy your needs.
Can you write my essay for me cheap?
Sure, our rates start as low as $6.99. Despite inflation and global crises, we keep our prices student-friendly. So anyone who comes asking, "write my paper for cheap" or "write my term paper without breaking the bank" will feel welcome and safe in the knowledge they'll get the best value for money. At the same time, we urge you to beware of online frauds promising free results, as every "Write my research paper for me for free" may end in a scam.
Is it legal to use your service and pay someone to write my paper?
Yes, it is legal. Whether you're carefully considering "Can someone do my paper for me?" in the privacy of your own mind or clamoring for assistance with the bold demands of "Write my paper for me now!", you're in the clear until you submit the paper you purchase for grading under your name. Even that isn't illegal in most countries, though it is frowned upon in most schools. It's up to you to decide what to do with the paper you get after we fulfill your order.
Can I pay someone to do my essay after it's done?
Sadly, no. In an ideal world of perfectly honest people, you'd say, "I need help write my research paper", and we'd have it ready for you for free and rely on your generosity. In the real world, our writers, editors, and support managers are real people who like to have a roof over their heads and meals on their tables. Our refund policy keeps you safe, but only your upfront payment protects our writers from scams. So whenever you ask, "Can you write my essay cheap?", we say, "Sure", but we ask you to cover the cost first.
Who will write my paper for me? How do I know they're qualified to handle it?
Every writer on our team holds a degree in one or more majors, possesses years of academic writing experience, and has a solid reputation among our clients. You can be sure that whenever you run asking, "Write essay for me", we'll match you with an expert best suited to handling your academic level, class, and topic. Be safe in the knowledge that we only hire seasoned academics to write papers for you.
How do I choose the best writer to write my paper for me?
You can select a specific expert to deal with your "write my essay" issue or pick a top or pro-level writer. Although either of these options will add to the bottom line, you won't have to wonder, "Who will write my essay?". We recommend selecting one of our premium experts for critical assignments that need a special touch to score top grades and improve your class ranking or GPA. Contact our support team to ask, "Can someone write my paper for me with top results?" to learn more about writer options.
How do I know if you'll make my essay original?
Your every "write my essay" order goes through a plagiarism checker to guarantee originality. After all, our writers know "write my paper" means crafting an original piece from scratch, not rewriting a stale sample found online. But if you want further proof, you're welcome to order an official plagiarism report with a similarity percentage. All it takes is checking the box in the order form or asking a support agent to add it to the bottom line when you come asking, "I need you to write an essay for me."
How can I lower the price when ordering an assignment?
Although we keep our online paper help rates as low as possible, you can play around with the order parameters to lower the price. For example, instead of crying, "I need you to write my essay in 12 hours", set the deadline for two weeks, and your bottom line will be much more affordable. You can also wait for a seasonal promotion with discounts of up to 15% if you're thinking, "I'm in no hurry to pay someone to write my essay."
What do I do if you write my paper for me, and I don't like it?
You can get a revision or a refund, depending on how much your "write my essay for me" order went off track. We know when you pay someone to write your paper you expect the best results, and we strive to follow every instruction to a T when we write a paper for you, but miscommunication can occur. In this case, don't be shy about requesting a free revision or a new writer to rework your assignment. And if you feel the paper is unsalvageable, you may be liable for a partial or full refund.
How do I know you've finished writing my paper?
We'll notify you via email the moment the writer uploads the first draft for your revision. You can then preview it and approve the piece to download an editable file or get it sent for a revision round with your comments about necessary corrections. Besides, you can always request a progress update from your writer or a support manager. Just ask them, "Any progress since I hired you to write my essay for me?". As you see, you don't need to fret, thinking, "How will I know when you write my essay, and it's ready?"
What are you waiting for?
You are a couple of clicks away from tranquility at an affordable price!