What is 'Presentation, Practice, Production' (PPP)?
Discover more from Barefoot TEFL Teacher
And how can i best use it in my classroom.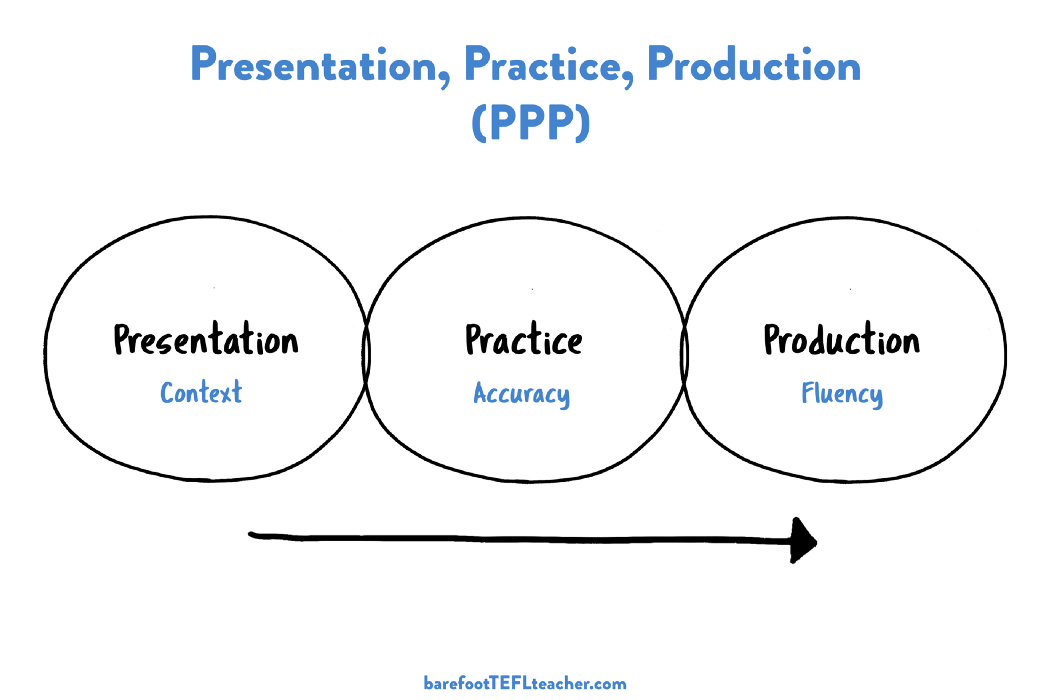 Presentation, practice, production (PPP) is a lesson structure, a way to order activities in your lessons.
Although quite old and heavily criticised over the years, PPP is probably the most commonly used lesson structure in teaching English to foreign learners today. It's also still widely taught to new teachers and seen on initial teacher training courses like the CELTA and CertTESOL.
Most course books that you're likely to use will structure their chapters in ways similar or the same as PPP, meaning that you'll get a lot of exposure to this method.
As the name suggests, there are three stages to this lesson structure, which we'll look at now.
Thanks for reading Barefoot TEFL Teacher! Subscribe for free to receive new posts.
The 'Presentation' Stage
This is where the language is introduced, or 'presented' to the learners, usually by introducing a context or situation. For example, you could:
Tell or act out a short story or anecdote ( "I woke up this morning with a nasty cold… AHHH-CHOOO! I went to the doctor and…")
Play a short audio clip
Show a clip from a movie or TV show.
Show objects you've brought in (e.g. newspaper cuttings, plane tickets, hobby materials)
The aim is to ensure students understand the context and get them thinking about it. You could elicit ideas or suggestions from students, get them to talk to each other about what they know or think about the situation, etc. This also helps them start to remember the language and vocabulary they already know about the topic (or 'activate the schemata', if you want the fancy term for it).
The 'Practice' Stage
The 'practice' stage is when students use the language in a controlled way. This stage is sometimes divided into two — a controlled practice and a freer practice. Again, among many things, you could get students to:
Drill sentences or sounds, chorally or individually.
Substitution drill in pairs
Sentence matching activities
Gap-fill exercises
Pair work asking and answering questions
The aim of this stage is accuracy . Error correction is important in this stage, so monitor the students closely and take time to correct errors immediately. A delayed error correction section after the activity would be useful for target language errors that seem to be common.
The 'Production' Stage
The 'production' stage is where the language is used more openly. Things like:
Communication tasks
Collaborative tasks
Discussion activities
The focus of this stage is using the language as fluently and naturally as possible , as students would do outside of the classroom.
Theory Behind Presentation, Practice, Production
This is where PPP gets criticised. It started in the 1960s, and language learning theory has developed considerably since then. Academics who study second language acquisition get annoyed at how PPP doesn't tick any of the boxes for how we're supposed to learn a language and yet is still so widespread.
Some learning assumptions behind presentation, practice, production are:
Students should be told the grammar rules and then practice them (a deductive approach).
Language learning is a skill like any other and should be practised as such.
There should be a high level of teacher control, slowly handed over to learners as the lesson progresses.
Language is a series of items that can be learned in sequence.
The target language should be practised by removing unnecessary language to help focus.
All of these have been shown that this isn't how we best learn languages (in fact, the opposite is largely true!).
However, it isn't all bad. Here's my opinion on the advantages and disadvantages of PPP:
It's easy to learn for new teachers.
It's very flexible.
It's easy to plan for and has a logical progression.
It works for most types of classes, including larger classes.
Most course books use this or a similar method to structure their lessons and chapters.
Disadvantages
Research shows that it may not be the best way to teach/learn a language.
Weaker learners may overuse the target language from the practice session, so it sounds unnatural.
Learners may not know how to use the target language in different contexts.
It can be boring if used repeatedly for higher-level students.
Thoughts on Presentation, Practice, Production
Academics are often far removed from the classroom and the real world, studying the individual phenomenon in isolation.
I've often seen a light bulb moment for students whilst teaching PPP (although one could argue that it's not strict PPP, and it'd be hard to isolate the teaching method from other variables). Teaching over a period of time with this method, you do see students improve. Consider also that it's not done in isolation — you should be getting your learners to interact in English naturally and read extensively outside of class, for starters.
Presentation, practice, production works. Maybe not as well as something like task-based learning (TBL), but TBL takes longer to plan and implement, which becomes very difficult when your teaching hours are high.
Sure, so it might not be theoretically perfect, but it does work.
How to Adapt the PPP Method
Also, I believe it has evolved from the 'traditional' PPP approach described above. Here are some ways you can adapt the classic PPP structure:
Spend more time in the presentation stage eliciting.
Turn the deductive aspect of explicit grammar instruction into an inductive aspect (so learners have to figure out the patterns themselves).
Add collaborative tasks during the practice stage, which learners must use the target language to complete successfully.
Include meta-learning strategies so students can learn how to learn.
Include more incidental language throughout the class so learners hear language in a more natural context.
Change the final stage into a task, such as you'd find in task-based learning .
These changes turn PPP into something else, a blended approach that addresses many of the criticisms of PPP.
Other structures have sought to improve upon the model of PPP. Variants include ESA (engage, study, activate) and CAP (context, analysis, practice)
However, the simplicity of PPP and its notoriety have kept it the most widely used model. I doubt it's going away any time soon.
See you again in two weeks.
Whenever you're ready, there are three ways I can help you:
1.   Learn how to plan better, faster and stress-free with my book Lesson Planning for Language Teachers (90 ratings, 4.5 ⭐ o n Amazon).
2.  Develop calm students, a relaxed mind and a classroom full of learning with my book Essential Classroom Management (16 ratings, 4.5 ⭐ o n Amazon).
3.  Improve your teaching in five minutes daily with my Reflective Teaching Practice Journal (4 ratings, 4.5 ⭐ o n Amazon).
Thanks for reading! If you know someone that would find this useful, click the button to share:
Ready for more?
Professional development
Knowing the subject
Teaching Knowledge database N-P
See an explanation of the term 'PPP'.
PPP is a paradigm or model used to describe typical stages of a presentation of new language. It means presentation, production and practice. The practice stage aims to provide opportunities for learners to use the target structure. Criticism of this paradigm argues that the freer 'practice' stage may not elicit the target language as it is designed to do, as in this meaning-based stage, students communicate with any language they can. It is not clear that forcing students to use certain structures to communicate in a practice activity will necessarily mean they will use these structures spontaneously later.
Example The teacher presents and illustrates the communicative purpose of a new structure 'If I was you…' for advice. Then learners use prompts to complete sentences with the correct forms of the verbs. They practise by giving each other advice.
In the classroom Despite current doubts about the usefulness of the practice stage in the PPP model, it is still a common framework to find in classes and in materials.
Further links: https://www.teachingenglish.org.uk/article/planning-a-grammar-lesson https://www.teachingenglish.org.uk/article/checking-understanding https://www.teachingenglish.org.uk/article/a-task-based-approach https://www.teachingenglish.org.uk/blogs/david-petrie/david-petrie-space-spontaneity
Research and insight
Browse fascinating case studies, research papers, publications and books by researchers and ELT experts from around the world.
See our publications, research and insight
My English Language
English language resources for efl students and teachers.

PPP Technique in TEFL
Presentation, practice and production.
The PPP technique in teaching is a common way to introduce students to new words and concepts. This can be especially useful in the EFL classroom. The PPP method in English teaching is a three-step lesson plan and teaching approach that helps the student learn, understand and practice new vocabulary.
The three stages of a PPP lesson 
There are three stages in a PPP TEFL lesson.
Firstly, the teacher presents the new word, an event which involves the presentation of pronunciation and spelling in context.
Next, the teacher allows the students to practice the new word in a controlled setting, making sure the student has understood the vocabulary and usage properly.
Lastly comes the production stage, where there is a period of less-controlled practice and an informal assessment of learning. This is where the students get chance to use the new word or phrase in an original way and to relate it to their knowledge and experiences.
These three stages of a PPP lesson help the student to consolidate the new word in their mental vocabulary bank.
The sequence of a PPP lesson in EFL teaching
This EFL teaching method of presentation, practice and production is an approach that follows a definite sequence:
The teacher presents the new vocabulary and explains the form of the language in a meaningful context.
The students practise this new vocabulary through controlled activities such as worksheets or question and answer activities to check comprehension .
The students use or produce what they have learned in a communicative activity such as a role-play, communication game, or question and answer session.
Teaching English using the PPP technique
Each stage of the Presentation, Practice and Production lesson must be planned well to be effective. However, the PPP method in TEFL is a highly flexible approach to teaching and there are many different activities a teacher can employ for each stage.
Presentation can include mime, drawing and audio. In fact, it is a good idea to try to engage with the students' different senses to get across the meaning of the new word, using visual, kinaesthetic (movement) and audio techniques.
It is also important to make sure that students have understood the new word before encouraging them to practise it. It is often fun and highly effective for students to play games to practise vocabulary and to produce it.
Current debate about the PPP technique in TEFL
In recent times, there has been increasing debate surrounding the PPP method of teaching, with many critics asking if teachers should be using the PPP technique so often in the EFL classroom.
Some critics of the PPP method in TEFL think it can be too formal and structured, with too little focus on student interaction. However, we think the PPP technique in EFL teaching offers a very flexible base from which to construct a lesson that is highly student-centred.
For ideas on ways to present new vocabulary and check comprehension , and activities which allow students to practice and produce their vocabulary , please browse this PPP teaching section.
Is the PPP method old fashioned  or is it still a useful and effective way to teach?
Do you use the PPP technique in TEFL?
What is your favourite way to present new vocabulary?
Let us know your thoughts in the comments box below.
9 thoughts on " PPP Technique in TEFL "
may I know who is the actual founder of PPP technique?
Sorry Sifa, we don't know who originally developed the PPP technique. Can any readers help?
Yes, it was Jeremy Harmer. 😉
Thanks for this information, Miri! If any readers want to check out Jeremy Harmer's explorations of the PPP technique, you can read more in his book: 'How to Teach English', published by Longman.
Catherine may you please help me with the same book by Jeremy Harmer, on soft copy I will highly appreciate it.
Hi Grace, Jeremy Harmer's book can be found online to read or download at academia.edu .
It PPP useful and used in teaching reading?
Hi Muharram, thanks for your question. Yes the PPP method can be used to teach all areas of language, including reading.
In this type of lesson, any new target words would be presented in the early part of the class (pre-reading) before the student meets the vocabulary within a longer written text. While reading the text during the 'practice' stage, students should be able to identify the individual ideas expressed and understand how the new words are used in context.
After reading, students can analyse the material and discuss the text, hold a questions/answer session or write about it in the production stage. This helps them deepen their understanding and test their reading comprehension. I hope this gives you a few ideas – I'll be adding more details about using the PPP method to teach reading and writing soon.
Can somebody help me with these questions of Unit 3 i-to-i (180 hour units) please:
Match the description to the stages to make a complete PPP lesson. The aim of the lesson is expressing past habits with 'used to' + infinitive. For example, When I was younger, I used to watch cartoons.
The teacher repeats the model sentence with natural linking, stress and intonation. The class repeats.
1)Teacher asks, "Did he play football in the past?" (Yes) "Does he play football now?" (No).
2)Teacher says 'used to' + infinitive can be used to talk about things we regularly did in the past, but don't do now.
3)The students answer conversation questions about their childhood to introduce them to the topic.
4)The teacher asks some individuals how many people share their thoughts on living in London and corrects some errors if they are made.
5)The learners use the target language to talk about how their lives are different now they live in London and compare their country's cultures to the UK.
6)The teacher writes the model sentence on the board. When I was younger, he used to play football. Draws a box round 'used to' and writes 'infinitive' over play.
7)Learners choose an activity they enjoyed as children then walk round the class asking if other people used to do the same thing. For example, Did you use to watch cartoons?
Leave a Reply
Your email address will not be published. Required fields are marked *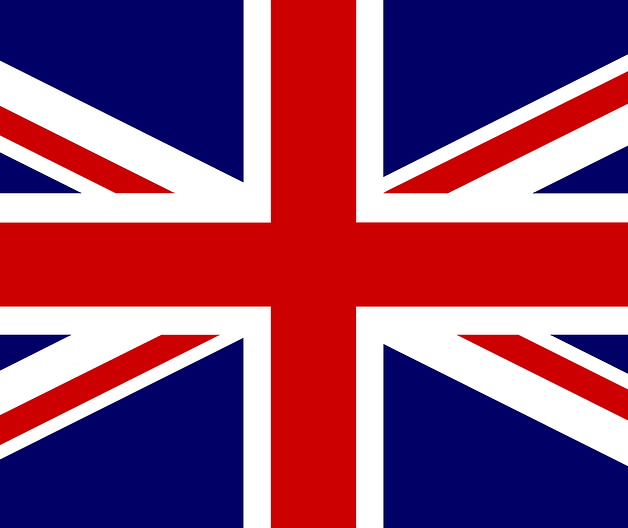 PPP TEFL Teaching Methodology
What is presentation, practice and production (ppp).
During your SEE TEFL certification course you will become more familiar with an established methodology for teaching English as a foreign language known as 3Ps or PPP – presentation, practice, production. The PPP method could be characterized as a common-sense approach to teaching as it consists of 3 stages that most people who have learnt how to do anything will be familiar with.
The first stage is the presentation of an aspect of language in a context that students are familiar with, much the same way that a swimming instructor would demonstrate a stroke outside the pool to beginners.
The second stage is practice, where students will be given an activity that gives them plenty of opportunities to practice the new aspect of language and become familiar with it whilst receiving limited and appropriate assistance from the teacher. To continue with the analogy, the swimming instructor allowing the children to rehearse the stroke in the pool whilst being close enough to give any support required and plenty of encouragement.
The final stage is production where the students will use the language in context, in an activity set up by the teacher who will be giving minimal assistance, like the swimming instructor allowing his young charges to take their first few tentative strokes on their own.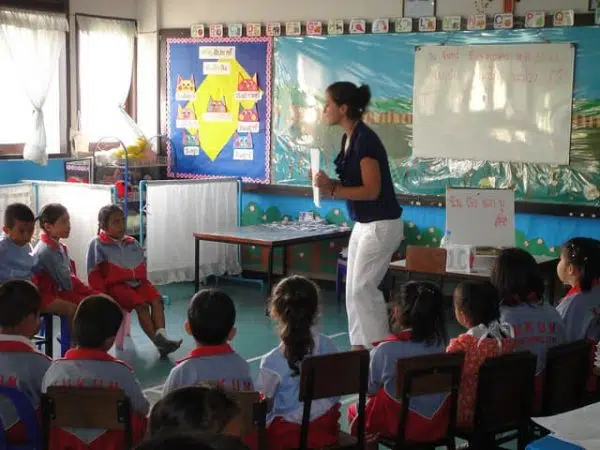 Advantages of the PPP (3Ps) Method
As with any well-established methodology, PPP has its critics and a couple of relatively new methodologies are starting to gain in popularity such as TBL (task based learning) and ESA (engage, study, activate) . However, even strong advocates of these new methodologies do concede that new EFL (English as a foreign language) teachers find the PPP methodology easiest to grasp, and that these new teachers, once familiar with the PPP methodology, are able to use TBL and ESA more effectively than new trainees that are only exposed to either TBL or ESA.
Indeed, there are strong arguments to suggest that experienced teachers trained in PPP use many aspects of TBL and ESA in their lessons, and that these new methodologies are in truth, the PPP methodology with some minor adjustments.
At this stage you might well be asking, It's all very well having a clear methodology for how to teach but how do I know what to teach? The language that we call English today has absorbed a great many influences over the last thousand years or so. It has resulted in it becoming a language that can provide us with a sparklingly witty pop culture reference from a Tarantino script, 4 simple words spoken by Dr. Martin Luther King that continue to inspire us today, and something as simple and mundane as a road traffic sign.
The Job of the EFL Teacher
As EFL teachers our job is to break down this rich and complex language into manageable chunks for our students. These chunks of language are what EFL teachers call target languageWe are going to look at an example of what a piece of target language might be and then you will be given more detail on how this would be taught in a PPP lesson before finally watching three videos with some key aspects of each stage of the lesson highlighted for you.
During the course we will spend a great deal of time in the training room equipping you with the tools to employ a successful methodology for teaching the English language. You are going to get opportunities to both hone these skills in the training room and put them into practice in authentic classroom settings.
Of course you might be thinking, I don't have any experience of being in a classroom! How on earth am I going to cope with standing at the front of a class with 20 plus pairs of eyes looking at me waiting to see what I do?
All good TEFL courses are designed to train those with no teaching experience whatsoever. We will spend the first part of the course in the training room making you familiar with all the new skills you will need whilst giving you opportunities to practice them in a supported and controlled environment.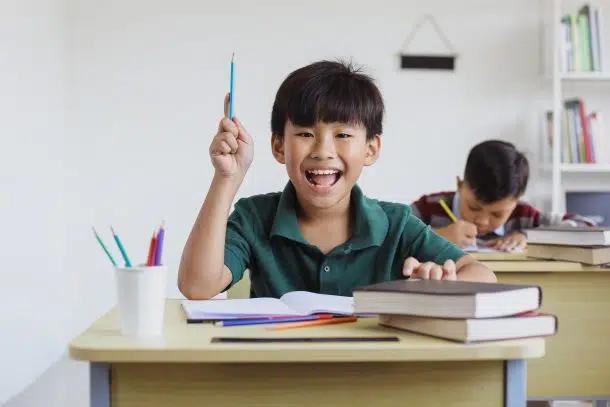 Only after that, will you be put in an authentic classroom environment. It goes without saying that the first time anybody stands up and delivers their first lesson will be a nerve-racking experience. However, it is also an experience that mellows over time, and one that all teachers remember fondly as time goes by and they feel more at home in a classroom.
There will be some of you out there with experience of teaching in a classroom already. You may be well versed in employing many different methodologies and strategies in your classroom already, but many or most will have been with native English speaking students, or those with a near-native levels of English. This means that some of the skills we will be equipping you with may feel a little alien at first, but your experience will not prove to be a hindrance. Indeed, you will already have successful classroom management skills that can be adapted to fit a second language classroom fairly easily and other trainees on the course will benefit from your presence.
In addition, some of the skills that you will learn on the course can also be adapted to work in a classroom of native speakers too, and it is not unusual for experienced teachers to comment on exactly this after completing a good TEFL course.
Target Language in an EFL Lesson
Recall how it is the job of the EFL teacher to break down the rich tapestry of the English language into manageable bite-size chunks, suitable for study in an average study period of 50 minutes. As mentioned, we refer to these chunks as target language. As EFL teachers we will select target language that is appropriate for both the skill level and the age of the students.
The target language that you will see being presented in the videos is Likes and dislikes for 6 food items.
The teacher you will watch in the video has a clear aim, which is to ensure that:
**By the end of the lesson, students will know the names of 6 food items in English and will be able to express whether or not they like them in a spoken form by entering into a simple dialogue consisting of,
Do you like ___?,
Yes, I like ___., or
No, I don't like ___.
The six food items are ___. In short, the students will be able to name the 6 food items by the end of the lesson and tell whether they like them or not.**
Presentation – Part 1 of PPP
You may have delivered a few presentations in your time but the type of presentation we deliver in a second language classroom will differ quite a bit from those. For a start, you were speaking to proficient users of the English language about something they were, most likely, vaguely familiar with anyway. In an EFL classroom we don't have those luxuries, so we have to be careful about the language we use and how clearly we present the new language that we wish for our students to acquire.
Let's look at 4 key things that should be occurring in an effective second language classroom presentation:
1 – Attention in the Classroom
Learners are alert, have focused their attention on the new language and are responsive to cues that show them that something new is coming up. A simple way to ensure some of the above is if the teacher makes the target language interesting to the students.
The language will of course, be of more interest to the students if it is put into some type of context that the students are familiar with. In the case of likes and dislikes for young learners a visual associated with a facial expression will be something they can relate to. Naturally, the easier it is for them to relate to the context, the more likely they are to be interested in the language presented.
In the case of the target language for the videos a smiley face visual and a sad face visual on the whiteboard linked to the phrases I like ___. and I don't like ___., respectively. A teacher might make exaggerated facial expressions whilst presenting these ideas to make the ideas both fun and easy to perceive for the students. This is often referred to as contextualization in EFL classrooms.
2 – Perception and Grading of Language
We want to ensure that the learners both see and hear the target language easily. So if a whiteboard is being used, it should be well organized with different colors being used to differentiate between different ideas. If images are being used, there should be no ambiguity as to what they represent and sounds made by the teacher should not only be clear, but should be repeated and the teacher needs to check the material has been perceived correctly, and can do this by asking the students to repeat the sounds he or she is making.
Learners will be bombarded with a series of images corresponding to sounds made by the teacher during the presentation stage and it is the teacher's responsibility to ensure that they are not overloaded with information and that clear links are being made between the images and the associated sounds.
Therefore, there is an onus on the teacher not to use any unnecessary language at this stage. That is to say the grading of their language should be appropriate for the level of their students and the language they use should consist of the target language and any other essential language required to present the ideas clearly such as commands like listen! The commands should, whenever possible, be supported by clear body language.
3 – Target Language Understanding
The learners must be able to understand the meaning of the material. So in the case of likes and dislikes they perhaps need to see an image of a happy face and associate it with liking something and a sad face and associate that with disliking something.
We also need to have a way of checking if the learners did indeed, understand the material presented without asking the question, Do you understand? as this invariably triggers the response yes! from learners who are keen to please their teacher and not to lose face. We, as teachers, need to be a little more imaginative in checking our student's understanding of material presented. Ideally, we should be checking the learners' understanding in context. In the videos you will see, expect to see the teacher doing this during the presentation stage.
4 – Short-term Memory in the Classroom
The learners will have to retain the information from the presentation and use it further on in the lesson when we have consolidated their learning of the material and we will give them an opportunity to produce it on their own.
For the target language to be retained by the learners, it needs to be engaging and we need to consider that different learners will remember the material in different ways. Some by the way the material is seen, others by the way it is heard, and others if it is associated with a physical movement perhaps. We need to make sure our presentation has something to enable all these types of learners to retain the information.
Presentation Stage of a PPP EFL Lesson with subtitles
Practice – Part 2 of PPP
Practice can roughly be defined as the rehearsal of certain behaviors with the objective of consolidating learning and improving performance. Below are some of the characteristics of an effective language practice:
1 – Practice Validity
The practice activity must have learners rehearsing the skill or material it purports to practice. So in the case of the lesson you will view shortly, it must have the learners practicing both the food vocabulary items and the structure of the dialogue, i.e.,
2 – Pre-learning
Before we ask our learners to practice new language, we must have ensured that they have some understanding of the new language. We will have done this during the presentation stage. If they have not had the new language clearly presented to them and been aided in being given some understanding of it, then they (the learners) will not be practicing at this stage but will be going through another initial learning stage. Worse still, they will feel like they are being tested on something they haven't been allowed to gain an understanding of.
3 – Volume (Amount) of Practice
Here, we are referring to the number of opportunities every student in the class has to practice the new language and not the level of sound. The more opportunities each student has to practice the target language, the more effective this stage of the lesson is.
So in the case of likes and dislikes, we might give the students individual worksheets where they have to fill in some part of the dialogue and the name of a food.
4 – Success Orientation
The students should have an opportunity to practice the new language and in order for this to happen they need an activity that both stretches them and is a task they can complete because of course, if it wasn't, they wouldn't be getting any opportunity to practice.
5 – Issuing Activity Instructions and Managing the Activity
Of course, whilst it is important to select an appropriate activity, it is equally important to issue clear and unambiguous instructions for the activity itself so all of your students are clear as to what is expected of them. We will be issuing instructions for the activity in the student's second language so we need to make use of clear visuals to support any language we have to use and strong demonstrations of what is expected.
Managing the activity should consist of the teacher being mobile during the activity, offering praise and being on hand to show struggling students where relevant information may be found on the whiteboard.
Practice Stage of PPP EFL Lesson with subtitles
Production – Part 3 of PPP
The students have now had the target language presented to them clearly and have had an opportunity to practice it in a controlled environment. If we return to the swimming instructor analogy, it is now time to let them take their first few tentative strokes in the pool on their own with supervision and encouragement from the instructor.
As with the practice stage, we have to initiate an activity that allows them opportunities to use the target language in the classroom. In fact, the characteristics of a production stage activity are quite similar to the practice stage with one key difference and that is, student autonomy.
During this stage, the students will be producing the target language with minimal assistance from the teacher as opposed to the practice stage where the teacher will be on hand to assist students rehearse target language that has only just been presented to them.
Here are some of the key aspects of a production stage activity:
1 – Volume (Amount) of Production
As with practice, we want to create as many opportunities for our students to produce the target language albeit this time, more independently. This means we avoid activities where the students speak to the teacher as this allows limited opportunities (the students have to wait their turn before they get a chance to speak to the teacher). Instead for spoken activities, we look to get the students speaking in pairs, speaking to each other as much as possible, whilst we as the teachers go around the classroom offering minimal assistance but lots of positive reinforcement.
2 – Production Validity
Again, we should initiate an activity that allows the students to produce the target language that we presented to them and not a variation on it (although this is not strictly true with higher level students).
So, in the case of likes and dislikes for food, we should set up an activity where the students are saying, Do you like pineapple? as opposed to, What do you think of pineapples?
3 – Production Contextualization
The activity should simulate a real–life situation where they (the students) may use the target language. In the case of likes and dislikes for food this might be a menu with images of the food items or perhaps a series of images of the food items to prompt the dialogue,
Note that a successful production activity will also have aspects that set it apart from a practice activity, including:
4 – Student Autonomy
Students will be speaking, using the target language, with ideally, little or no support from the teacher.
They shouldn't be looking things up on either the whiteboard or on any materials they have on their desk (e.g. a completed practice worksheet) so a teacher may choose to erase information from the whiteboard for this stage and the teacher might also choose to get students to clear their desks.
5 – Issuing Instructions for an Activity
As with the practice stage whilst it is important to select an appropriate activity, it is equally important to issue clear and unambiguous instructions for the activity itself so all of our students are clear as to what is expected of them. We will be issuing instructions for the activity in the student's second language so we need to make use of clear visuals to support any language we have to use and strong demonstrations of what is expected, just as we will have done during the practice stage.
6 – Correcting Errors During the Activity
It is important that the students get as many opportunities to speak using the newly acquired language. Therefore, a teacher shouldn't be drowning them out by speaking at length, over the top of them to correct any errors. This obviously differs from the practice where students expect the teacher to assist them as they rehearse (not produce) newly acquired language.
Clever use of body language by the teacher will enable them to be discrete in correcting errors and will allow them to offer much needed encouragement to students as well.
Production Stage of a PPP EFL Lesson with subtitles
TEFL Student Online Training Task (password protected)
Headphones for Schools
Customer cases
Become a reseller
Language education , Language Teaching Strategies
Using the ppp lesson structure to teach grammar and vocabulary.
More about us
Understanding the grammatical elements and key vocabulary of a language are essential parts of achieving a good degree of fluency. Without them, it is pretty difficult to communicate clearly with a native language speaker. Grammar and vocabulary can therefore be seen as structural parts of a language and usually require a specific teaching methodology to deliver effectively.
Deductive approaches to teaching grammar and vocabulary are commonly used in this regard and form part of initial teacher training courses like the CELTA and CertTESOL . In such approaches a teacher presents a rule / structure to the class and the class then produces language based on that rule. This technique easily fits into a lesson structure known as PPP (Presentation, Practice and Production) . This blog post explores the PPP language lesson plan structure in detail, outlining how and where it can be most effectively used in English language and foreign language teaching classrooms.
The PPP lesson structure
As outlined in the image above, the PPP model consists of three progressive stages, which combine to engage and motivate language learners. Best practice suggests that a 60-minute lesson should feature equal time (i.e 20 minutes) to each stage – language teachers can therefore plan out their lessons in advance allowing enough time to address any issues that students may encounter. It is worth noting that this structure therefore works best with classes of uniform ability – otherwise less able students can be left behind if the key learning outcomes have not been fully understood. (Remember to check out our other post for ideas on how to tailor lessons based on students' different language levels ).
Let's work through each of the PPP stages in turn.
1. The 'Presentation' Stage
In this stage the teacher presents the new grammar concept or vocabulary in a meaningful context or situation to their learners. Building up stories on the board, using realia (e.g newspaper cuttings, household items, hobby materials), flashcards and miming are fun ways to present the language. Short audio or film clips can also be highly effective. 
The aim of this stage is to ensure that the students understand the context you are presenting and to get them to start thinking about it. Always try to get their thoughts on the context you've presented – ask them if they have been in this situation, has a family member? How did it make them feel and what happened next? This helps students to bring the situation to life and helps them remember previous scaffolding on the topic (i.e grammar and vocab that they already know). 
2. The 'Practice' Stage
In this stage, students begin to use the elements of the target language that they learnt previously through activities developed by the educator. The stage is usually controlled by the teacher and learners practice saying or writing the language structure or vocabulary correctly. Teachers should certainly model and correct if mistakes occur.
Typical practice stage activities include:
Drill sentences / sounds – individually, in pairs or whole class
Multiple-choice exercises
Gap fill tasks
Directed, paired conversation practice
The aim of these practice activities is building students' accurate use of target language. If common errors persistently occur, then a specific exercise or recap session might be useful.
3. The 'Production' Stage
Once learners have demonstrated that they fully understand the key learning points and are able to demonstrate this without mistakes in controlled exercises, they can move onto the (free) production stage. In this stage, students are encouraged to use the target language as fluently and naturally as possible to replicate use outside of the language classroom.
Typical production stage activities include 
Communication tasks (e.g presentations, speeches, debates, articles)
Collaborative tasks
Discussion activities
In this stage the teacher should not intervene or correct whilst students are "producing" language. Rather if mistakes have been made, it is better to address them after the exercise has been completed.
Advantages and disadvantages of the PPP lessons in language teaching
As with all language teaching strategies and lesson structures, the PPP approach is not 100% guaranteed to work brilliantly in all classrooms and with all students. A review of the literature relating to the PPP approach identifies a number of advantages and disadvantages which we summarise below.
The PPP method is easy to adopt and is good for new language teachers
The approach is widely applicable and can be used very flexibly
It's easy to plan a lesson around and has a clear, logical structure for students (and educators) to follow
Evidence suggests that teachers trained on this method are more likely to use new teaching methods than those who do not.
Disadvantages
It encourages and prioritises accuracy over fluency
The presentation stage is too teacher-focused and has limited student engagement
It can become boring to students if used repeatedly, particularly for higher language proficiency students
Research suggests that it might not be the most effective way to teach or learn a language
As always, our recommendation would be to test it and try it in your setting and then tailor it to your specific circumstances. Maybe see how some form of learner-focused guided discovery could be incorporated into the presentation stage. Collaborative learning activities could, for example, also be included in the practice stage and a task, such as you might find in a task based learning approach would also fit well into the final stage.
How do Sanako products help educators to teach using the PPP lesson plan?
Sanako produces a range of language learning and teaching tools that help educators to improve their students' reading skills. For example our browser-based language teaching solution Sanako Connect supports educators across all stages of the PPP language teaching approach.
PRESENTATION – Educators can create distinctive contexts and situations in Sanako Connect using a wide variety of easily uploadable stimulus materials including text files, PDFs, presentations, audio clips, video, and web pages.
PRACTICE – Test students' understanding of grammar concepts and key vocabulary by creating exercises and questions for them to answer through gap-fill and multiple-choice quizzes.
PRODUCE – Students can be easily divided into pairs or group discussions and be assigned role play and discussion activities. Outputs and deliverables can be collected, and reviewed on the same platform.
If you'd like to find out more about how Sanako's dedicated language teaching solutions could transform your approach to teaching English or other modern languages, please contact us now to arrange your FREE demo!
This blog post was last updated 26 September, 2023.
Feature request
Become a partner, privacy overview.
EnglishPost.org
PPP Framework: Presentation, Practice and Production
Manuel Campos
July 6, 2023
The PPP Teaching Framework is a model to describe the typical stages of language teaching lesson.
The PPP Teaching framework consist of four main stages: Warm-up, Presentation, Practice and Production and is used to teach speaking and writing lessons.
There is a variation when we use this framework to teach Listening and Reading skills .
The framework that we use to teach passive skills is the PDP framework which stands for Pre, While and Post
Let's check all that you need to know to use the PPP Framework correctly
Table of Contents
Ppp framework: criticism, stages of the ppp framework, presentation, important considerations when planning lessons, considerations when teaching listening and reading, how to teach listening, how to teach reading , questions to ask yourself when creating ppp or pdp lessons, short quiz: how much did you learn, more on english language teaching.
This framework for teaching language classes is often criticized because:
It forces students to use certain grammar structures and vocabulary.
Since it forces students to use a target structure and vocabulary, this reduces the learner opportunities to use the language in spontaneous ways.
These are the stages of the PPP Framework:
It's an activity at the start of the class to warm up the learners. They tend to be short, dynamic activities.
It is recommended that the warm- up is related to the topic studied during that class.
In my opinion, the most important thing about a dynamic warm-up is that you continue with dynamic activities during the presentation, practice and production stage.
In the presentation stage, teacher introduces:
You can introduce the vocabulary and grammar in two different ways.
Deductively : This involves the learners being given a general rule, which is then applied to specific language examples
Inductively: This approach starts with examples and asks learners to find rules
Important things to take into account:
Choose the vocabulary and grammar structures necessary for your students to succeed.
Don't introduce vocabulary and grammar that won't be used during the lesson.
Try not to introduce lots of words. Keep new words to a maximum of 20 per lesson.
Get students involved in the presentation of the vocabulary and grammar so you can reduce teacher talking time and encourage learner-centered instruction
The practice stage aims to provide opportunities for learners to use the target structure and vocabulary used during class.
This stage is also controlled practiced since the tasks prepared by the teacher have controlled results.
Teacher should try to use the vocabulary and structures during the presentation stage for obvious reasons:
What's the point of introducing vocabulary and grammar you aren't going to use?
How can you expect students to succeed if you use different vocabulary and grammar to the one you taught in the presentation stage?
All meaningful activities which give students the opportunity to practise the language more freely.
It is impossible to be wrong if:
Your activities encourage peer to peer interaction.
Students are taught grammar inductively.
Your lesson is made up of task that maxime student talking time.
Students stand up and talk to others.
There are games and activities that are fun and meaningful.
Your scaffolding is good because students can do what you want them to do.
The Presentation, Practice and Production is usually used to teach speaking, writing or grammar.
If you want to focus on listening and reading, you have to take into account the PDP Framework
This framework is an approach to teaching reading and listening skills lessons.
PDP means Pre- During (while) and Post
The basic idea is:
Try to help students to know a little about what they're going to read or listen before they read or hear it
Give them a reason to read or listen by setting questions or other reading listening tasks
Ask them to do something with the information they get from the reading or listening.
The Framework for teaching listening is called Pre, While and Post.
Check out these resources to understand more about this framework
12 Types of Pre-Listening Activities
12 Examples of While-Listening Activities
10 Types of Post-Listening Activities for the ESL Classroom.
The Framework for teaching reading is called Pre, While and Post
Stages for Teaching Reading
15 Examples of Pre-Reading Activities
10 Examples of While-Reading Activities
10 Examples of Post-Reading Activities
Making Reading Communicative
These are some important questions that you should ask yourself when creating a PPP or PDP Lesson.
Are the activities of the PPP lesson plan linked to each other?
Are the activities of the PDP lesson plan linked to each other?
Do the activities belong to the right stage of the lesson? For example, is the pre-reading activity an actual pre-reading activity?
Is the lesson plan based on reality and not on impossible and unrealistic expectations
Is the evaluation strategy measuring what you need to measure?
Are activities engaging to the learner?
These are some statements that you should analyze and assign to a category of the PPP Framework
The categories being: Presentation (A), Practice (B) and Production (C)
Teacher directs the activities during this stage ( )
Teacher provides feedback to students ( )
Activities include drills and multiple choice exercises ( )
Students produce oral and written texts ( )
Teacher uses visual aids to demonstrate a situation ( )
Teacher describes grammar rules ( )
Activities include oral presentations by the students ( )
The teacher doesn't necessarily intervene in this stage ( )
Language is presented in context ( )
Exercises in this stage can be productive or receptive ( )
I hope that you found everything that you were looking for about the PPP Framework
These are some posts with more ideas and information to teach English
5 Challenges English Language Learners Face
10 Characteristics of Teacher-Centered Instruction
The Most Effective Classroom Seating Arrangements
15 Awesome ESL Games and Activities
ESL Classroom Activities: Dictogloss
Approaches and Methods in Language Teaching
Instructional Scaffolding to Improve Learning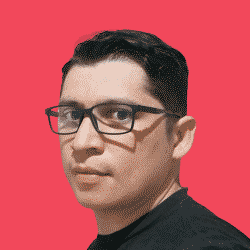 About manuel Campos
I am Jose Manuel, English professor and creator of EnglishPost.org, a blog whose mission is to share lessons for those who want to learn and improve their English
Articulos Relacionados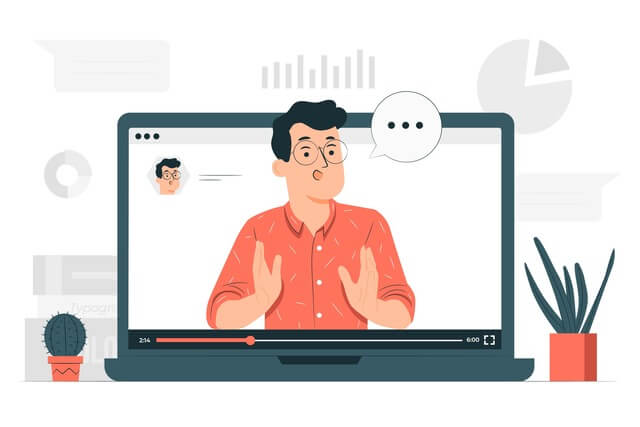 A Guide to Transcendentalism in Literature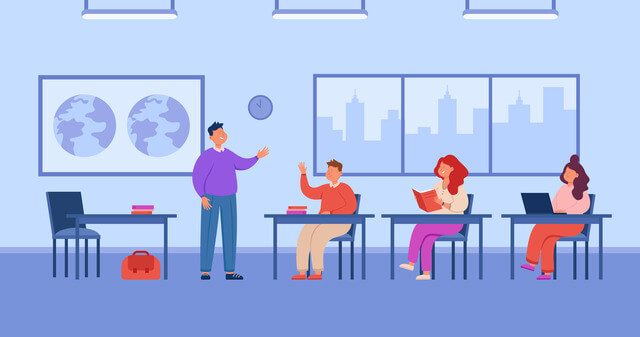 5 Great Strategies to Cut Teacher Talking Time