Building and Scaling a Design System in Figma: A Case Study
Building a design system for a multinational company means cataloging every component in meticulous detail. It's a massive undertaking that calls for both a big-picture view and a focus on specifics. Here's how one design system team leader accomplished it.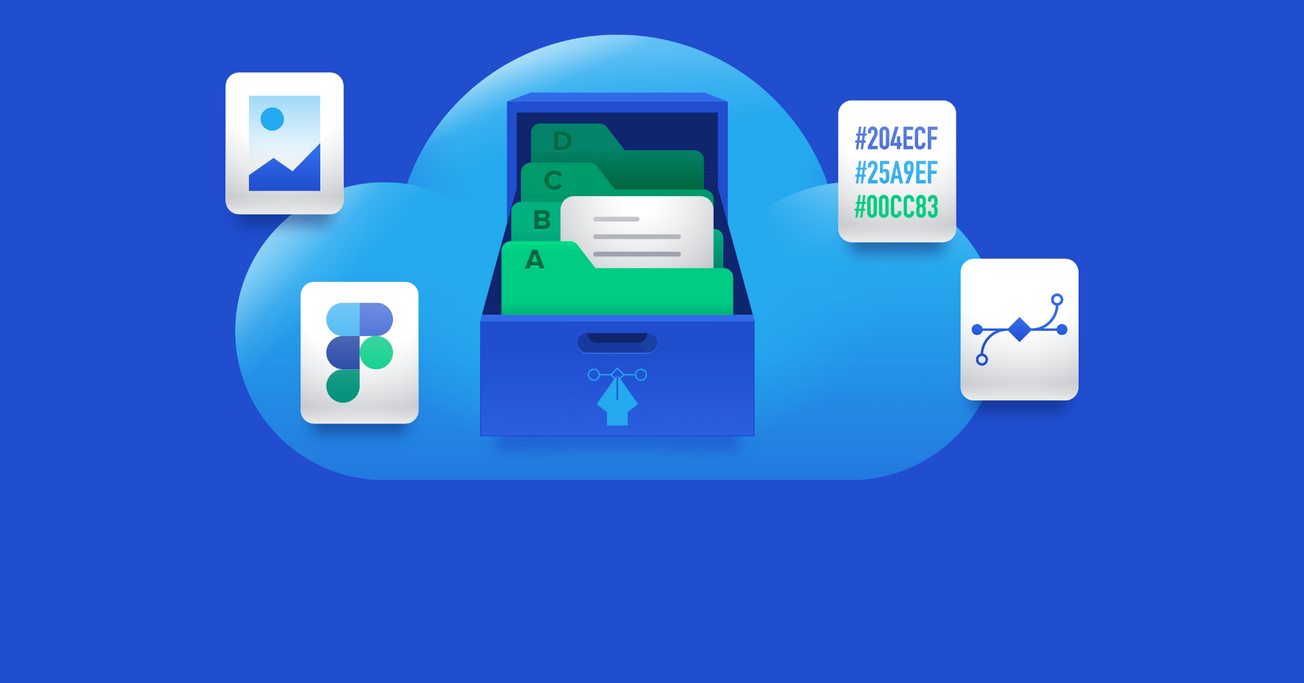 By Abigail Beshkin
Abigail is a veteran of Pratt Institute and Columbia Business School, where she oversaw the design and production team for Columbia Business magazine. Her work has appeared in the New York Times and been heard on NPR.
Determining how to build a design system for a multinational company means cataloging every component and pattern in meticulous detail. It's a massive undertaking that calls for both a big-picture view and a focus on specifics. Here's how one design system team leader accomplished it.
When Switzerland-based holding company ABB set out to create a design system , the goal was to knit together a consistent look and feel for hundreds of software products, many of which power the mechanical systems that keep factories, mines, and other industrial sites humming. It was no small task for a company with almost two dozen business units and nearly 150,000 employees around the world. For Abdul Sial , who served as the lead product designer on ABB's 10-person design system team, scaling the library of components and patterns depended on maintaining openness and transparency, with an emphasis on extensive documentation.
The Role of a Design System Designer
Increasingly, large companies like ABB have teams dedicated exclusively to creating and maintaining design systems. "A design system allows for consistency, going to market in a fair time and not allowing production to get stuck on customizations that are not building value," says Madrid-based designer Alejandro Velasco . Or, as Alexandre Brito , a designer in Lisbon, Portugal, explains, "Design systems come to provide structure whenever there are many people using the same set of tools. It's like everyone having the same language."
If a traditional style guide covers the design basics—fonts and colors, for instance—a design system has a much further reach. "A design system is a mix of a style guide, plus design components, design patterns, code components and, on top of it, documentation," Sial says. When he worked on ABB's design system, about 120 designers used it on a regular basis. The effort represented version 4.8 of the system, and the team dubbed it "Design Evolution."
Design system designers play a different role than those who focus solely on individual products. "You have the bird's-eye view of all the different products that a company is using," Sial says.
Working in design operations also calls for communicating with stakeholders throughout a company. "Design system designers have to be social," says Velasco. "A design system designer has to really like to work and talk with people who have different roles within an organization. They have to be able to distinguish what feedback to include in order to build the design system around the company's needs."
The Life Cycle of a Component
Working on ABB's design system, Sial was guided by one overarching philosophy: "Documentation, documentation, documentation." For every reusable element on ABB's websites, mobile screens, or large stand-alone screens, Sial wanted to show what he calls the life cycle of a component. That meant extensive record-keeping for all components and patterns—breadcrumbs, headers, inputs, or buttons, to name just a few. "What are the journeys it went through? What decisions went into it? That way we're not always recreating everything. Before trying something, you can read and see that someone already tested it," Sial says.
In his experience, this philosophy is a departure from the typical approach to documentation. In the fast-paced world of product development, for example, documentation is often written at the end of the project or abandoned altogether. But for design systems, Sial says, documentation should be more than an afterthought. "A design system is never done; it needs continuous improvement," he says. "Design system creators and consumers want to understand the thought processes and decisions in order to keep improving it."
Documentation is especially important for a design system as large as ABB's. "With such a large team you have to be able to scale," he says. "How can we make sure that everybody who joins the team can quickly go to any component and understand how it started, how it was edited, and what version they are using?"
Finding the Right Tool
There are many tools out there for building design systems, including Figma, Sketch, and Adobe XD. Sial experimented with several, trying a mix of design and project management tools before settling on Figma, which offers ample space for documentation.
Sial and his team determined that every component should sit within its own file. "Most of the time, you're working on one component at a time. If you put all the components in one file, it slows down Figma. By giving each component its own file, it's quicker to open and you have the whole history and documentation in one place," he says.
Setting the Hierarchy
Sial set up the ABB design system so that the file for each component and pattern has the same pages. The images that follow detail what's on each page.
Sial recommends setting up a simple cover page for every component. In Figma, this enables a thumbnail preview of all the components and helps with the browsability of files. In the ABB setup, the cover page includes the component name and what phase it's in: design, development, or released. The status can be easily updated when the component progresses.
Inventory, Use Cases, and Requests
This page contains examples of the numerous ways that a component shows up in a company's digital product. In the case of a text field component, for instance, the inventory page would show how the text field looks on abb.com compared to how it appears on an iPhone compared to how it shows up on an Android device. "The inventory allows us to understand clearly what's already there," says Sial.
This page should also show the ways the component is being used incorrectly. "This allows you to look at your products and see where there are alignments and misalignments," Sial says. He advises teams launching a design system project to begin by cataloging what already exists. "Start with inventory and it will guide you as you're creating the design," he says.
References, Best Practices, and Competitive Analysis
Sial advises creating a section of each component file akin to a vision board, showing how other companies design comparable pieces. "As with anything else, best practice is to perform competitive analysis and see how other people are doing it," he says. "Observe other products and see their learnings."
Tests and Data
The test results data page aggregates all the data related to testing a component, including the results of A/B testing and feedback from users and stakeholders. In short, Sial says, "It's the whole story of a component." Perhaps the design team tried a new variation two years ago and found it didn't work? "Maybe we worked on that variation and we discarded it for some reason," he says. If so, this kind of history can save significant time by making sure that designers don't try it again.
The next page lays out a component's scope so designers can bring a design to fruition. By the time they arrive at the scope page, Sial says, "You have a story. You understand the inventory of all the products. You know what you need to build and you know the requirements. Now it's time to write it down and make a brief out of it." He adds that creating the scope should be a collaborative process with the product owners, developers, and designers.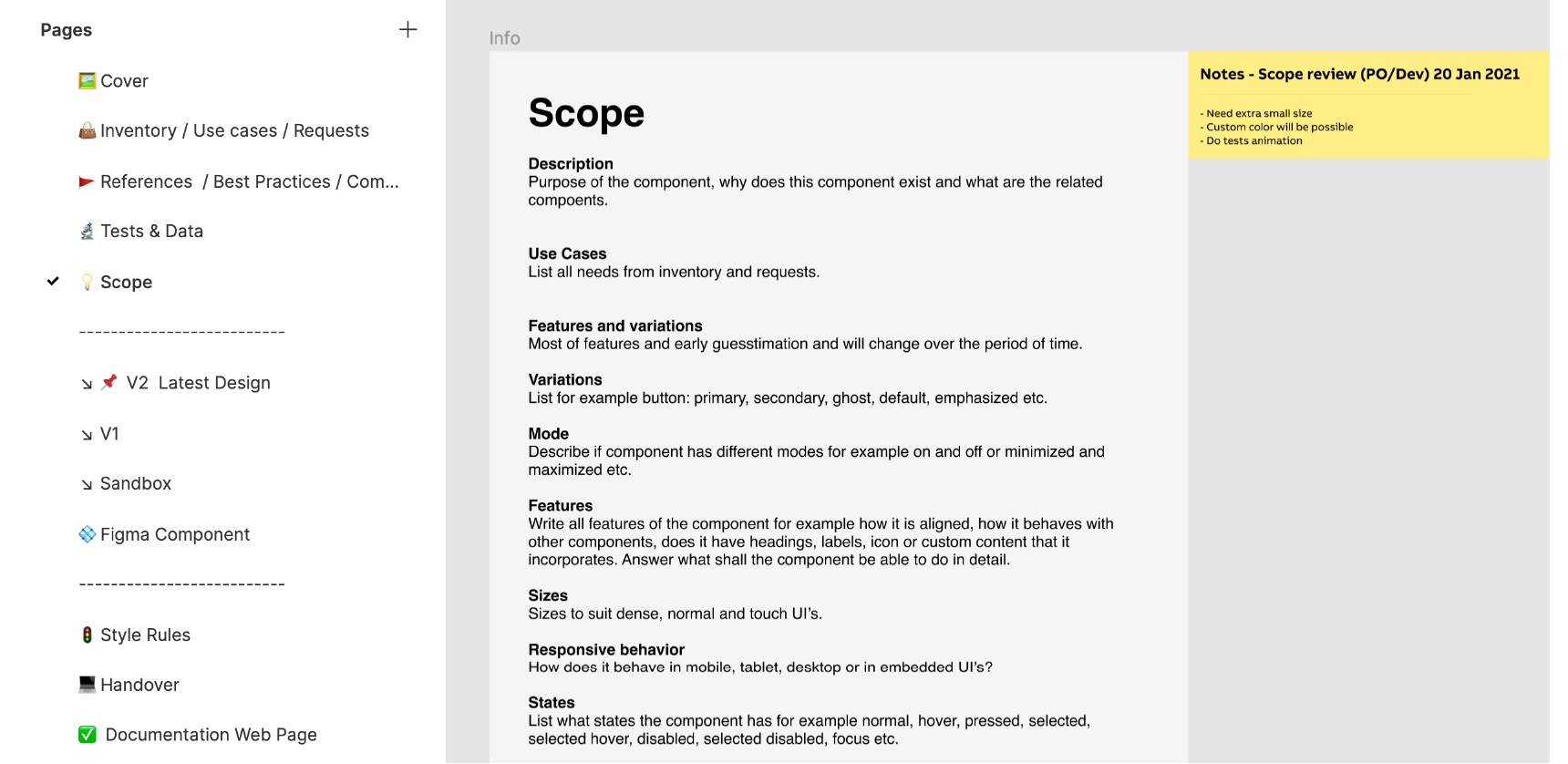 Images of the final versions of the component are found here, with the latest iteration pinned on top. Other designers should be able to review and comment on it.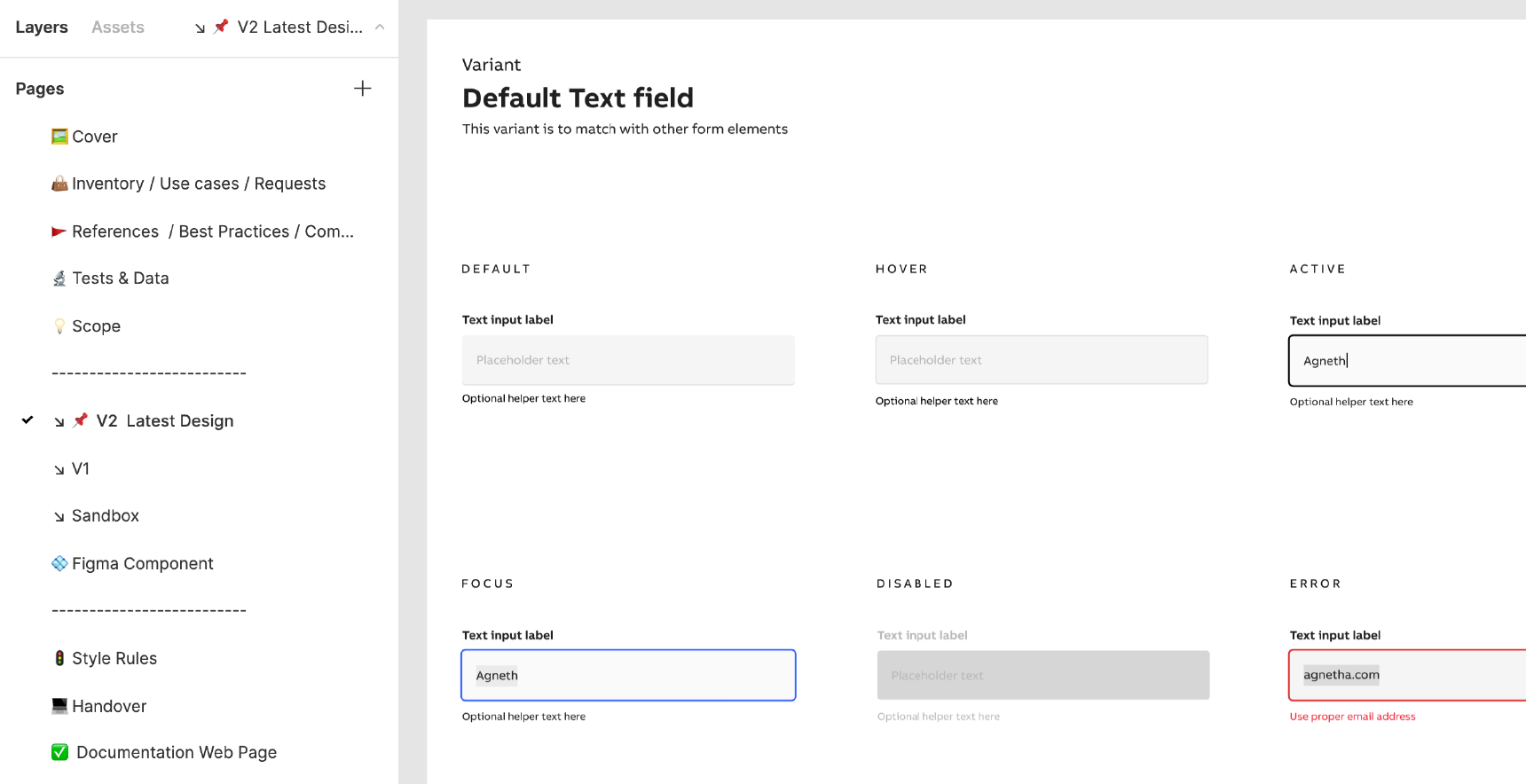 The sandbox enables designers to experiment with different iterations of a component or pattern directly in Figma. "It can be messy, and there's no standardization," Sial says. "It's just a playground where a designer has the freedom to do anything."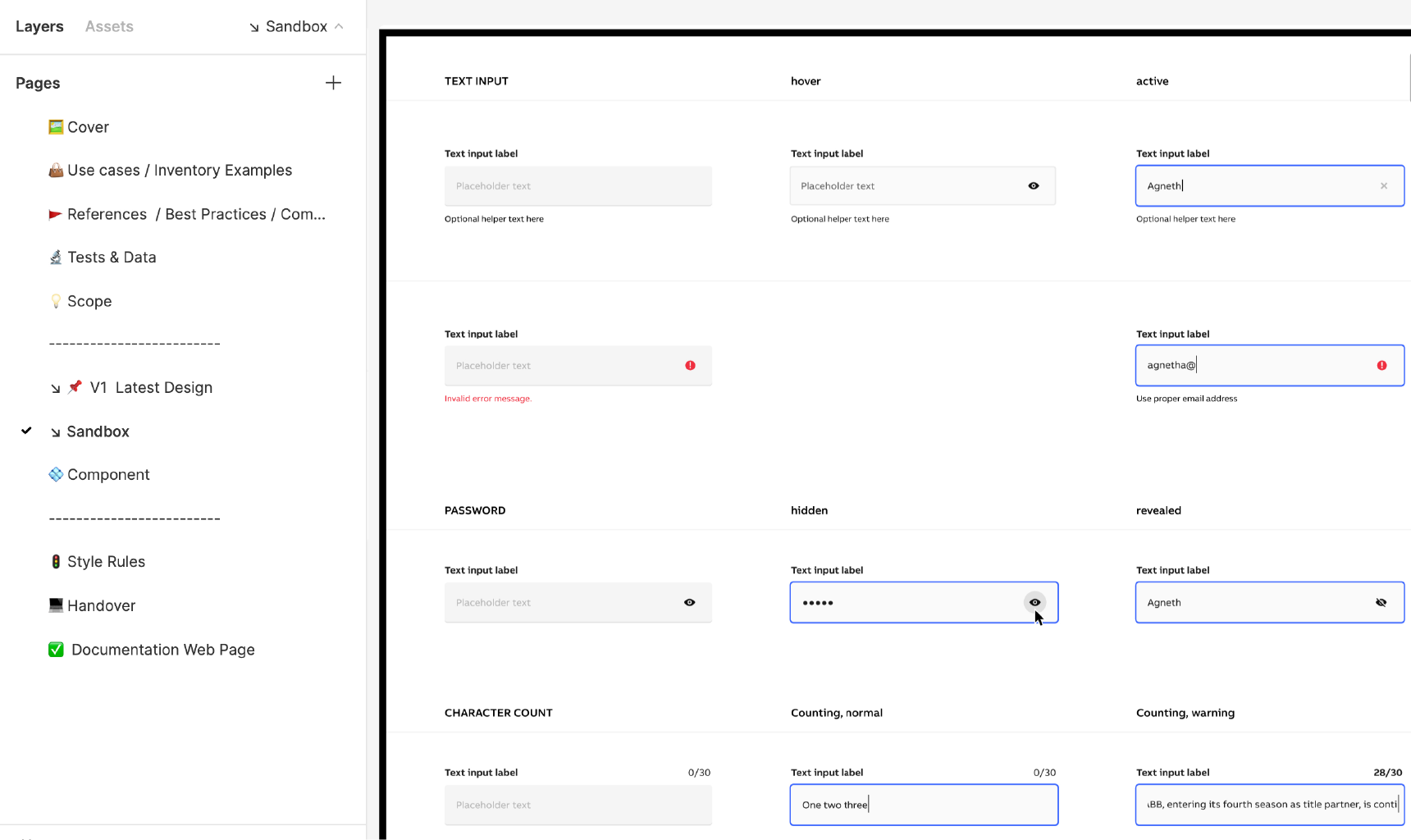 Figma Component
The file also contains a page for the Figma component itself, a UI element that is easily repeatable throughout the design system. The designer can make changes to the component, and that change will populate throughout all the instances of that component across the company, keeping everything consistent. This page will be exported to the Figma design system library, and any individual designer can drag and drop the Figma component into their design. If the design system team needs to make a change to the component, they can make it once and deploy it throughout the company.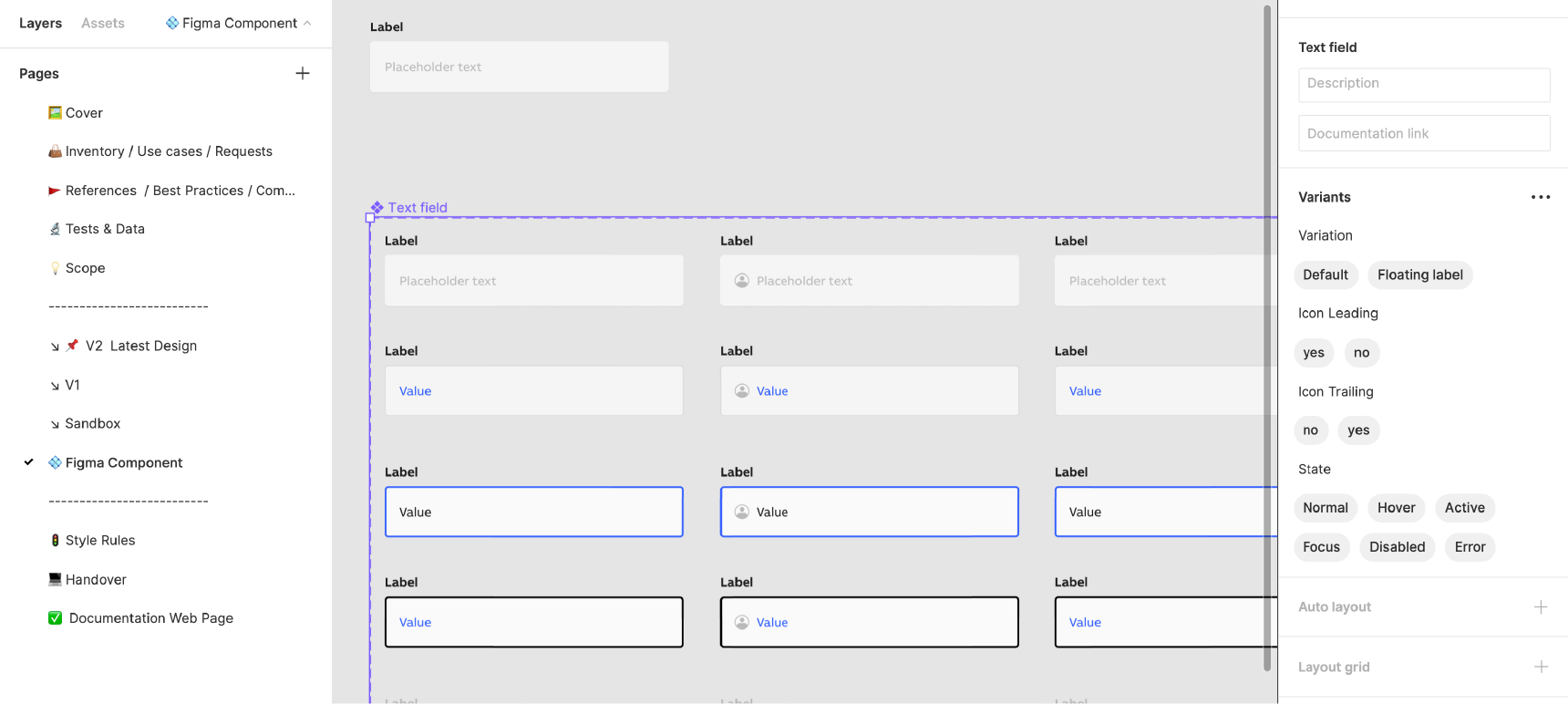 Style Rules
Next, the design system designers and developers create the style rules page, a kind of catch-all for elements that, Sial says, "are not visible in the design." For example, how will the component render when you scroll down the page? It's also where the design system team keeps track of unresolved questions or issues. He says he was surprised at how integral this page turned out to be: "At first, we thought this page was not that important, but now we realize we spend most of our time here."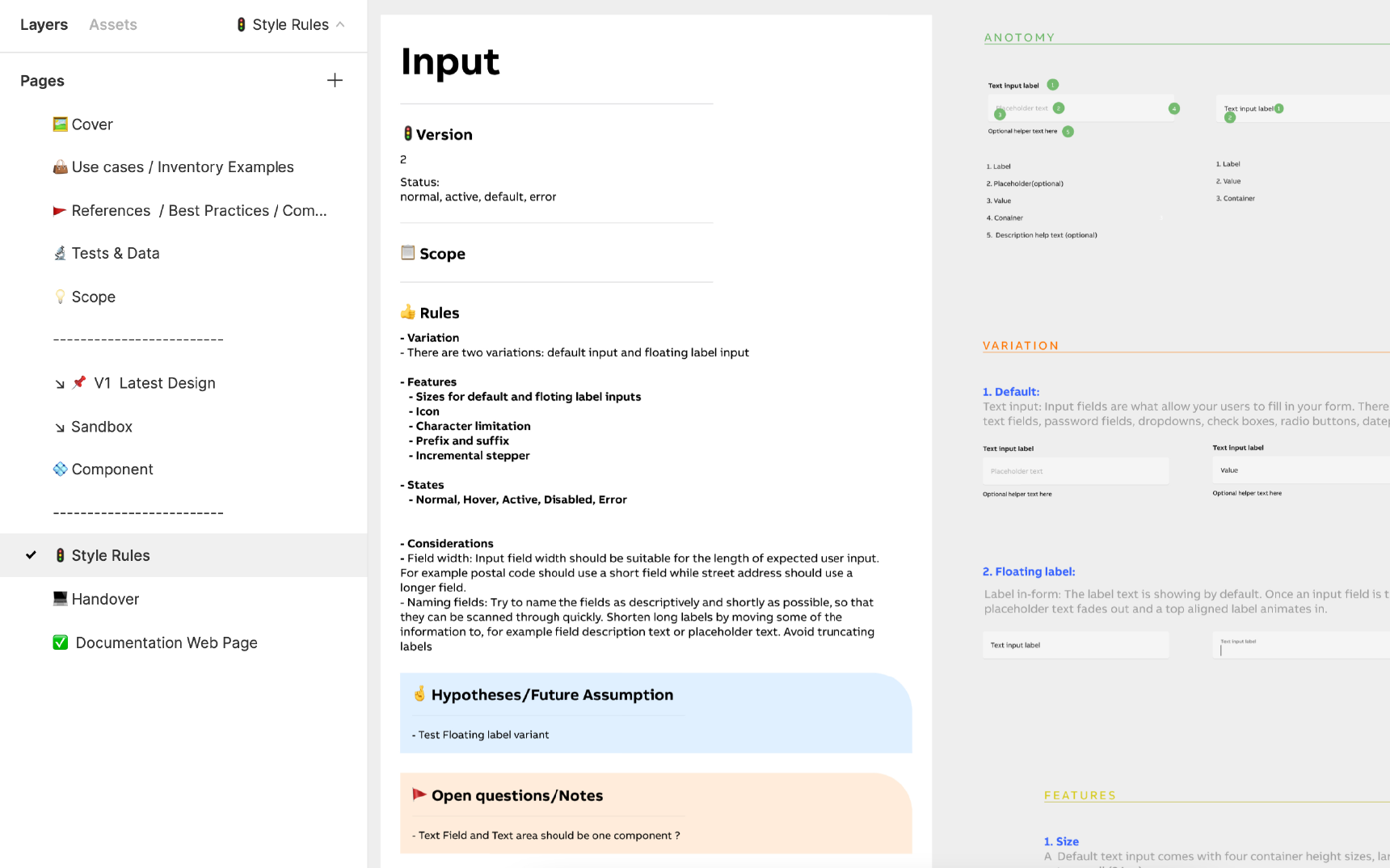 The handover notes are the instructions for developers on writing the code for the component. The handover document begins with the anatomy of the component, then includes its variations.
The ABB system handover documents also include design tokens . Becoming increasingly popular in large-scale design systems such as ABB's, design tokens are pieces of platform-agnostic style information about UI elements, such as color, typeface, or font size. With design tokens, a designer can change a value—indicate that a call-to-action button should be orange instead of blue, for instance—and that change will populate everywhere the token is used, whether it is on a website, iOS, or Android platform.
Sial also created a Figma token plug-in to expand the scope of tokens designers can create in Figma. "Figma supports colors, typography, shadows, and grid styles," he says. The plug-in will generate tokens for more variables, such as opacity and border width. It also creates a standardized naming convention, so designers don't have to keep track of token names manually. "The plug-in bridges the gap between developers and designers. It allows both to work on a single source of truth for design; if one makes a change in one place, that change takes effect everywhere in the design and code," he says.
Sial stresses that in his system, developers take an active role throughout the creation of a component. "Early on, we would involve our developers when we had something ready to show them," he says. "Then we realized that's not working, and now we literally start kickoff sessions with them."
Documentation Webpage
The last page of each file contains a webpage with the final design, showing how the component looks as a finished product. "We create a page that shows how the live example will look so the users, in this case our designers, can see how it will look at the end of the day on a real website," Sial says.
Collaboration Is Key
The role of a design system designer is multifaceted. As Alejandro Velasco says, "Designing a design system involves so many roles, and if I'm leading that, I'm the glue for the project."
It's an enormous undertaking and not necessarily the right move for all companies. Startups, for instance, might do better to begin with an out-of-the-box system such as Google Material Design or the IBM Carbon Design System , rather than dedicating extensive resources to creating one. Still, the time might come when that won't suffice, says Alexandre Brito: "As soon as you have multiple designers working together, you start to realize that there's a need for someone to build rules that are more in line with the product or brand you're building."
Building a design system takes work and dedication; it also takes collaboration. Sial stresses that involving all stakeholders in the development of ABB's system throughout the process was a priority. "It was really iterative work with my whole team. It was all about listening to them and we took the time to learn and test it thoroughly and develop this structure," he says.
Having a structure that includes extensive documentation, including history and best practices, is at the core of the Figma design system. "It's a success because people can read the documentation all in one place," Sial says. "They can see everything, starting from the use case to the design and moving on to the handover and the final component page. People can see the whole life cycle of a component."
You can browse Abdul Sial's Figma file in its entirety here: Component Template .
Further Reading on the Toptal Blog:
Saving Product X: A Design Thinking Case Study
All About Process: Dissecting Case Study Portfolios
The Benefits of a Design System: Making Better Products, Faster
Helping AI See Clearly: A Dashboard Design Case Study
Design Problem Statements: What They Are and How to Frame Them
Understanding the basics
What is a design system.
While a traditional style guide covers the design basics—fonts and colors, for instance—a design system has a much further reach. The design system documentation for Switzerland-based holding company ABB, for example, contains design components, patterns, and code components.
What role does a design system designer play in an organization?
Design system designers play a different role than designers who focus solely on individual products. They tend to have more of a bird's-eye view of all the products a company is using. They also must interface and communicate with stakeholders throughout a company.
What are some best practices when building a design system?
One approach is to organize it in Figma and give each component and pattern its own file. This design system case study demonstrates one approach: At ABB, each file has several pages with extensive documentation on all the ways the element is used throughout the product and all the iterations it went through. Showing the full life cycle of a component is key to building and scaling a design system.
World-class articles, delivered weekly.
Subscription implies consent to our privacy policy
Toptal Designers
Adobe Creative Suite Experts
Agile Designers
AI Designers
Art Direction Experts
Augmented Reality Designers
Axure Experts
Brand Designers
Creative Directors
Dashboard Designers
Digital Product Designers
E-Commerce Website Designers
Front End Designers
Full-Stack Designers
Information Architecture Experts
Interactive Designers
Mobile App Designers
Mockup Designers
Presentation Designers
Prototype Designers
Prototyping Experts
SaaS Designers
Sketch Experts
Squarespace Designers
Usability Designers
User Flow Designers
User Research Designers
Virtual Reality Designers
Visual Designers
Wireframing Experts
View More Freelance Designers
Join the Toptal ® community.
ML system design: 300 case studies to learn from
How do companies like Netflix, Airbnb, and Doordash apply machine learning to improve their products and processes? We put together a database of 300 case studies from 80+ companies that share practical ML use cases and learnings from designing ML systems.
Navigation tips. You can play around with the database by filtering case studies by industry or ML use case. We added tags based on recurring themes. This is not a perfect or mutually exclusive division, but you can use the tags to quickly find:
ML systems with different data types: computer vision (CV) or natural language processing (NLP).
ML systems for specific use cases. The most popular are recommender systems, search and ranking, and fraud detection. 
We also labeled use cases where ML powers a specific user-facing "product feature": from grammatical error correction to generating outfit combinations.
Enjoy the reading! And if you find the database helpful, spread the word.
Real-world ML systems
Selection criteria. Here is how we selected the case studies to include: 
It is a blog, paper, or article about a machine learning system created in-house (not by a vendor that sells or implements ML solutions for others).
It has sufficient detail on the ML use case and implementation: who the model is for, the ML model design, evaluation criteria, deployment architecture, etc. The more, the better. 
It covers a real-world ML system that is used in production.
It describes one particular ML use case. There are only a few exceptions that detail multiple ML projects at once — about causal ML or generative AI, for example.
Did we miss some great ML case studies? Let us know! Our Discord Community with 2000+ ML practitioners is the best place to share feedback.
Get started with open-source ML monitoring
Evaluate, test, and monitor ML models in production with Evidently . From tabular data to NLP and LLM. Built for data scientists and ML engineers.
Case studies
To learn to design machine learning systems, it's helpful to read case studies to see how actual teams deal with different deployment requirements and constraints. Many companies, such as Airbnb, Lyft, Uber, Netflix, run excellent tech blogs where they share their experience using machine learning to improve their products and/or processes. If you're interested in a company, you should visit their tech blogs to see what they've been working on -- it might come up during your interviews! Below are some of these great case studies.
Using Machine Learning to Predict Value of Homes On Airbnb (Robert Chang, Airbnb Engineering & Data Science, 2017)
In this detailed and well-written blog post, Chang described how Airbnb used machine learning to predict an important business metric: the value of homes on Airbnb. It walks you through the entire workflow: feature engineering, model selection, prototyping, moving prototypes to production. It's completed with lessons learned, tools used, and code snippets too.
Using Machine Learning to Improve Streaming Quality at Netflix (Chaitanya Ekanadham, Netflix Technology Blog, 2018)
As of 2018, Netflix streams to over 117M members worldwide, half of those living outside the US. This blog post describes some of their technical challenges and how they use machine learning to overcome these challenges, including to predict the network quality, detect device anomaly, and allocate resources for predictive caching.
150 Successful Machine Learning Models: 6 Lessons Learned at Booking.com (Bernardi et al., KDD, 2019).
As of 2019, Booking.com has around 150 machine learning models in production. These models solve a wide range of prediction (e.g. predicting users' travel preferences and how many people they travel with) and optimization (e.g.optimizing the background images and reviews to show for each user). Adrian Colyer gave a good summary of the six lessons learned here:
Machine learned models deliver strong business value.
Model performance is not the same as business performance.
Be clear about the problem you're trying to solve.
Prediction serving latency matters.
Get early feedback on model quality.
Test the business impact of your models using randomized controlled trials.
How we grew from 0 to 4 million women on our fashion app, with a vertical machine learning approach (Gabriel Aldamiz, HackerNoon, 2018)
To offer automated outfit advice, Chicisimo tried to qualify people's fashion taste using machine learning. Due to the ambiguous nature of the task, the biggest challenges are framing the problem and collecting the data for it, both challenges are addressed by the article. It also covers the problem that every consumer app struggles with: user retention.
Machine Learning-Powered Search Ranking of Airbnb Experiences (Mihajlo Grbovic, Airbnb Engineering & Data Science, 2019)
This article walks you step by step through a canonical example of the ranking and recommendation problem. Four main steps are system design, personalization, online scoring, and business aspect. The article explains which features to use, how to collect data and label it, why they chose Gradient Boosted Decision Tree, which testing metrics to use, what heuristics to take into account while ranking results, how to do A/B testing during deployment. Another wonderful thing about this post is that it also covers personalization to rank results differently for different users.
From shallow to deep learning in fraud (Hao Yi Ong, Lyft Engineering, 2018)
Fraud detection is one of the earliest use cases of machine learning in industry. This article explores the evolution of fraud detection algorithms used at Lyft. At first, an algorithm as simple as logistic regression with engineered features was enough to catch most fraud cases. Its simplicity allowed the team to understand the importance of different features. Later, when fraud techniques have become too sophisticated, more complex models are required. This article explores the tradeoff between complexity and interpretability, performance and ease of deployment.
Space, Time and Groceries (Jeremy Stanley, Tech at Instacart, 2017)
Instacart uses machine learning to solve the task of path optimization: how to most efficiently assign tasks for multiple shoppers and find the optimal paths for them. The article explains the entire process of system design, from framing the problem, collecting data, algorithm and metric selection, topped with tutorial for beautiful visualization.
Uber's Big Data Platform: 100+ Petabytes with Minute Latency (Reza Shiftehfar, Uber Engineering, 2018)
With massive data comes massive engineering requirement. Relying heavily on data for decision making, "from forecasting rider demand during high traffic events to identifying and addressing bottlenecks in our driver-partner sign-up process", Uber has collected "over 100 petabytes of data that needs to be cleaned, stored, and served with minimum latency." This article focuses on the evolution of analytical data warehouse at Uber, from Vertica to Hadoop to their own Spark library Hudi, each with their limitations analyzed and addressed.
Creating a Modern OCR Pipeline Using Computer Vision and Deep Learning (Brad Neuberg, Dropbox Engineering, 2017)
An application as simple as a document scanner has two distinct components: optical character recognition and word detector. Each requires their own production pipeline, and the end-to-end system requires additional steps for training and tuning. This article also goes into detail the team's effort to collect data, which includes building their own data annotation platform.
Scaling Machine Learning at Uber with Michelangelo (Jeremy Hermann and Mike Del Balso, Uber Engineering, 2019)
Uber uses extensive machine learning in their production, and this article gives an impressive overview of their end-to-end workflow, where machine learning is being applied at Uber, and how their teams are organized.