Resume builder
Reverse Chronological Order in a Resume
Here's the thing. As a job seeker, the more your resume stands out, the better your chances of landing the job. And, as research shows, 92 percent of recruiters regard previous work experience as the leading hiring factor . That's why listing your qualifications and work experience in reverse chronological order is the recruiter's favorite approach to resume writing.
Want to know more about what a reverse chronological order resume is and when to use it? Keep reading, and you'll find out.
Table of Contents
What Is Reverse Chronological Order?
Reverse chronological order describes events starting with the most recent and moves backwards in time . For resumes, it means highlighting your most recent job and qualifications first and listing your first job last.
The same goes for education, where the highest education level comes first followed by other schooling details.
Just like with other resume formats, a reverse chronological order resume follows certain rules. For starters, you must quantify your qualifications and list key achievements. Moreover, you need to be concise and use the best font for a resume for faster readability.
This resume format focuses on your work history and professional achievements and is the standard expected by most employers.
The reverse chronological order resume has three key parts:
Relevancy : The format emphasizes to recruiters the relevance of your experience and job titles to determine if you're a good fit for the advertised position.
Recency : Since it lists your most recent job first, recruiters can easily see what experiences you've gained in the last five years.
Longevity : The format makes it easy for employers to see how long you held previous positions. It shows your ability to commit and stay loyal to a company.
Reverse Chronological Resume Example
Here's a sample resume written in reverse chronological order:
Why Is Reverse Chronological Order the Most Popular Resume Format?
This ordering system is considered the traditional resume format in all industries and professions. For that reason, recruiters and employers are more familiar with it, which makes it easier for them to analyze.
In addition, it seems logical to scan an applicant's details starting with the current or recent job position and education history. For job seekers, the format makes it easy for them to highlight a consistent career path.
This can prove useful for those applying for a similar position as their previous job.
It Underscores Continuity
One of the top advantages of using reverse chronological order is that it links all your employment dates. A recruiter can immediately see a clear view of your career path, neatly organized in succession.
It also provides an effective way for job seekers to demonstrate their professional growth to potential employers.
Easy to Skim
A reverse chronological order requires that you format your resume in a certain order. You must start with your most recent job, followed by the one before it, and so on.
Additionally, you must provide your position, the company's name, and the dates worked for each entry list. It's this order that makes it easy to skim.
Easy for ATSs to Scan
Did you know that over 98 percent of Fortune 500 companies use Applicant Tracking Systems (ATS) in their hiring process? Normally, when there's a corporate job opening, hundreds of applicants submit their resumes to try their luck.
This would make the work of recruiters an uphill task trying to sort through all those applications. ATS scans and scores these resumes to make it easier for recruiters to find those that meet the most important criteria defined in the job offer.
In other words, an applicant who uses this format stands a better chance of being picked compared to those who use a different format.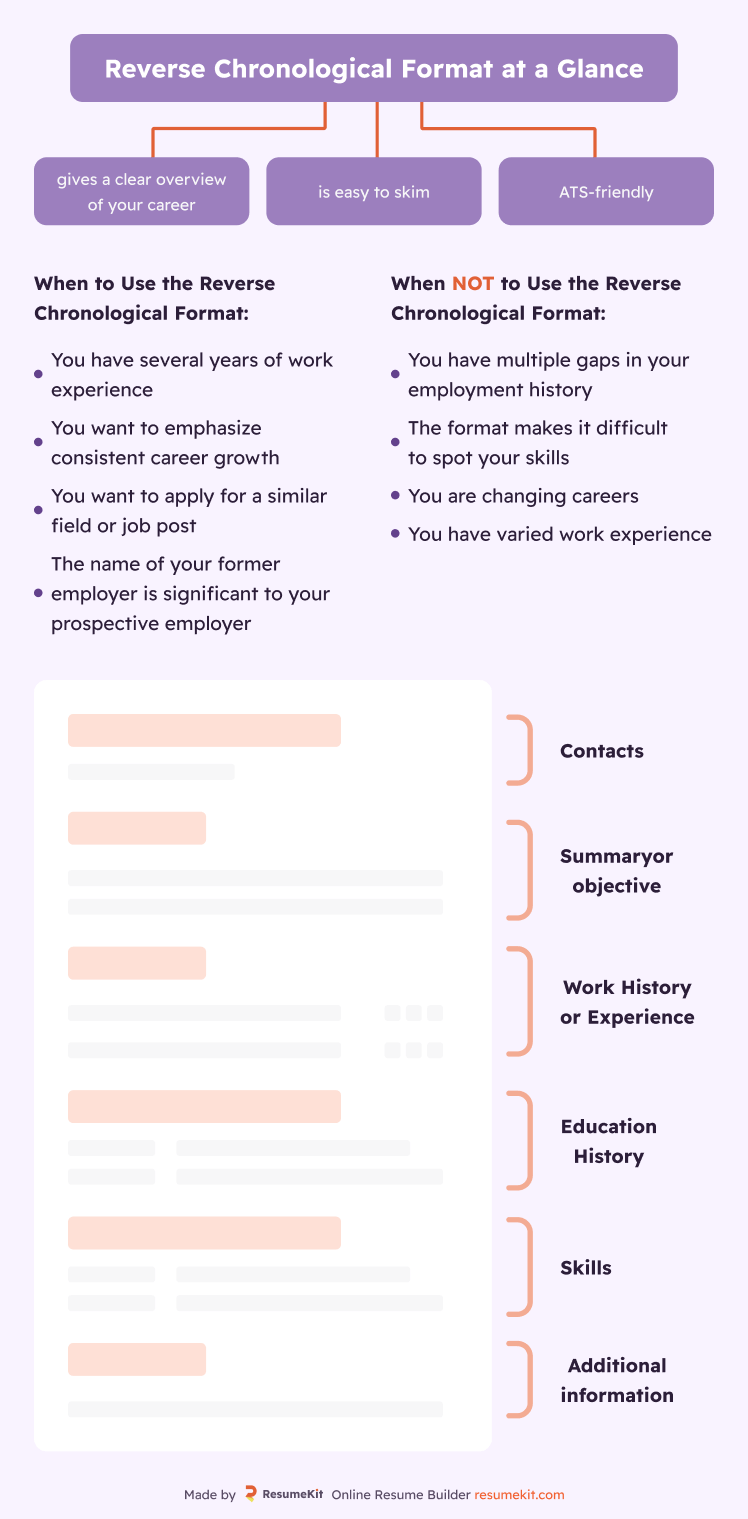 The Best Time to Use a Reverse Chronological Order Resume
The reverse chronological resume is ideal for job seekers who want recruiters to see the most relevant and important details about their work history . On top of that, this resume can be useful when:
You have several years of work experience.
You want to emphasize a consistent career growth and development, preferably in one industry, and each role you've held was more senior than the last.
You want to apply for a similar field or job post to most of your work history.
The name of your former employer is significant to your prospective employer.
When You Shouldn't Use a Reverse Chronological Resume
With that in mind, there are times when a reverse chronological resume isn't the best format to use. Here are instances when its wisest to consider a different type of resume:
If you have multiple gaps in your employment history, the format calls attention to these interludes. Unless you have valid explanations, it's wise to consider either the functional or combined resume formats.
This format makes it difficult to spot your skills unless you've listed them in your most recent job.
The format won't favor you if you want to change careers . The employer will not see the relevance of your qualifications if you're targeting a different position.
Likewise, you'd want to consider other resume formats if you have heavily varied work experience .
Reverse Chronological Resume Writing Tips and Example
Now that you have a clear understanding of what a reverse chronological resume is, when to use it and when to avoid it, what's next?
The juicy part – how to write your resume in reverse chronological order.
First things first: the layout
According to research by The Ladders , recruiters are most likely to notice resumes with the following characters:
Clear and simple logical layouts
Layouts that have bold job titles supported by bulleted lists of achievements
An overview at the top
Clear, eligible fonts
Typically, the reverse chronological resume comprises the following main sections
Name, job title, and contact information
Resume objective/summary
Work history or experience
Education history
Skills and strengths
Additional sections
Let's take a detailed look at how you can make each section of your reverse chronological resume shine:
Name, Job Title, and Contact Information
This section might seem like a no-brainer, but you must be careful how you approach it. This is the header of your resume and will be the first thing employers see. So, you'd want to make sure it's crafted correctly.
The details of this section include:
Your job title
Your location
Your email address
Links to your portfolio, blog, or social media profiles
Here's a good example :
Gladys Dawson Nurse in Atlanta, GA (123) 456-899 | gdawson @ gmail.com www.linkedin.com/in/gladys-dawson
Resume Objective/Summary
This is the first section of your resume that captures, in summary, what you can offer if hired. It focuses on previous experience (relevant to the position) and applies to candidates who have worked for at least two years.
Use this section to highlight your skills and strengths.
Work History or Experience
In this section, you want to be as precise and accurate as possible. False or erroneous information is something employers don't tolerate. This is just one of many resume mistakes that can be instant deal breakers for employers.
Here are tips to make the most of your professional experience in a resume:
Start with the most recent position at the top and follow it up with the previous one. After all, you're following a reverse chronological order.
Indicate the dates worked, the company's name, and the job title for each position listed. If necessary, add the company's location.
Make your work scannable by including at least three bullet points . They should be short and simple sentences describing your responsibilities and any quantifiable achievements. Start each bullet point with strong action words, such as achieved, boosted, delegated, etc.
Create a special subsection for key achievements .
Demonstrate only the experience that's relevant to the position you're applying for.
Read more about how to write good resume bullet points .
Education History
If you don't have much experience for the job position but have the qualifications to show for it, you can start with the education section. Follow this up with the work experience section.
Otherwise, the reverse chronological resume favors the experience section more than any other element. If you have years of work experience and want to highlight all of them, the education section doesn't have to be extensive.
With this format, you only need to include five key pieces of information . These are:
University, College, or School
Your highest level of education
Year of graduation
The school's location
Area of specialization (study)
You can include any relevant academic achievements or experiences that you feel are beneficial to the job position.
Employers will be interested to see the skills you're good at. Consider listing around six skills , making them short and simple. More importantly, the skills should be relevant to the position you're applying for.
You should list both hard and soft skills . Hard skills comprise those that require technical or job-related knowledge, for example, coding and analytical skills.
Soft skills can be personal qualities or traits that help you get along with others. They are commonly known as "people skills."
A CareerBuilder survey shows that 62 percent of job descriptions list management and leadership as desired soft skills. Others include interpersonal skills and innovation and creativity skills.
Additional Sections
There's nothing wrong with wanting to earn extra points from a potential employer. The additional sections of a resume allow you to emphasize other relevant facts that make you stand out from the crowd.
Just remember to be mindful of the formatting. You don't want to draw attention away from the work experience section. Another thing to keep in mind is to only add parts that will boost your chances of employment.
Here are some ideas:
Certifications or extra training, such as dropshipping or digital marketing courses
Unpaid experiences, like volunteer work
Awards and achievements, e.g., Employee of the Month Award
Languages. List languages you can write and speak proficiently
Interests and hobbies
Avoid cramming too much information into this section. You want to ensure a good visual flow of information that's scannable.
What Are the Top Resume Formats?
Applying for jobs is no mean easy. To come out on top, you must be creative and pick the right resume format based on the job you're applying for.
Generally, there are three main resume formats :
Reverse-chronological : As we mentioned earlier, the reverse chronological resume format is the most popular. It lists your work history in reverse order, starting with your current or most recent job at the top.
Functional (Skill-based) : This format focuses more on relevant skills than work experience. It highlights what you're good at (skills and abilities) and takes the pressure off of your employment history. It's ideal for graduates who have the skills necessary for the job but not much work experience.
Combination (Hybrid) : This format blends the resume elements of a chronological and functional resume. It emphasizes both skills and work history.
Key Takeaways
Armed with these fundamental principles of creating a reverse chronological resume, you shouldn't have a problem writing one yourself. Remember, stick to simple fonts, use bold text to show prominence, focus on your achievements, and do not lie or mislead recruiters.
Leave a Reply Cancel reply
Your email address will not be published. Required fields are marked *
Save my name, email, and website in this browser for the next time I comment.
Reverse Chronological Resume Templates
The most commonly used resume format is a reverse-chronological one as it shows hiring managers how you progressed throughout your career.
Browse templates by resume style
Mix & match unlimited theme, font and color combination..
Use our suggestions to complete your resume 5x faster.
Get a head start with one of our resume examples.
Facebook • Twitter • Linkedin • Pinterest • Crunchbase
How to Decide On Using A Reverse Chronological Resume

Provides a clear narrative of your career
Lines up with expectations, big names play in your favor, gaps in your resume become more noticeable, harder to navigate through different sectors, not optimal for starting out.
The reverse chronological resume is the most common resume format out there, but is it impactful?
Today's hiring landscape requires you to not only provide recruiters with information, but to package it in a way where they remember. Especially when there's a tsunami of applicants that arrive at their desks.
Everyone is reduced to a piece of paper when it comes to your resume, so how can you make your piece of paper as effective as possible?
See the benefits of the reverse-chronological resume and examples of how others have used it in their job application process below.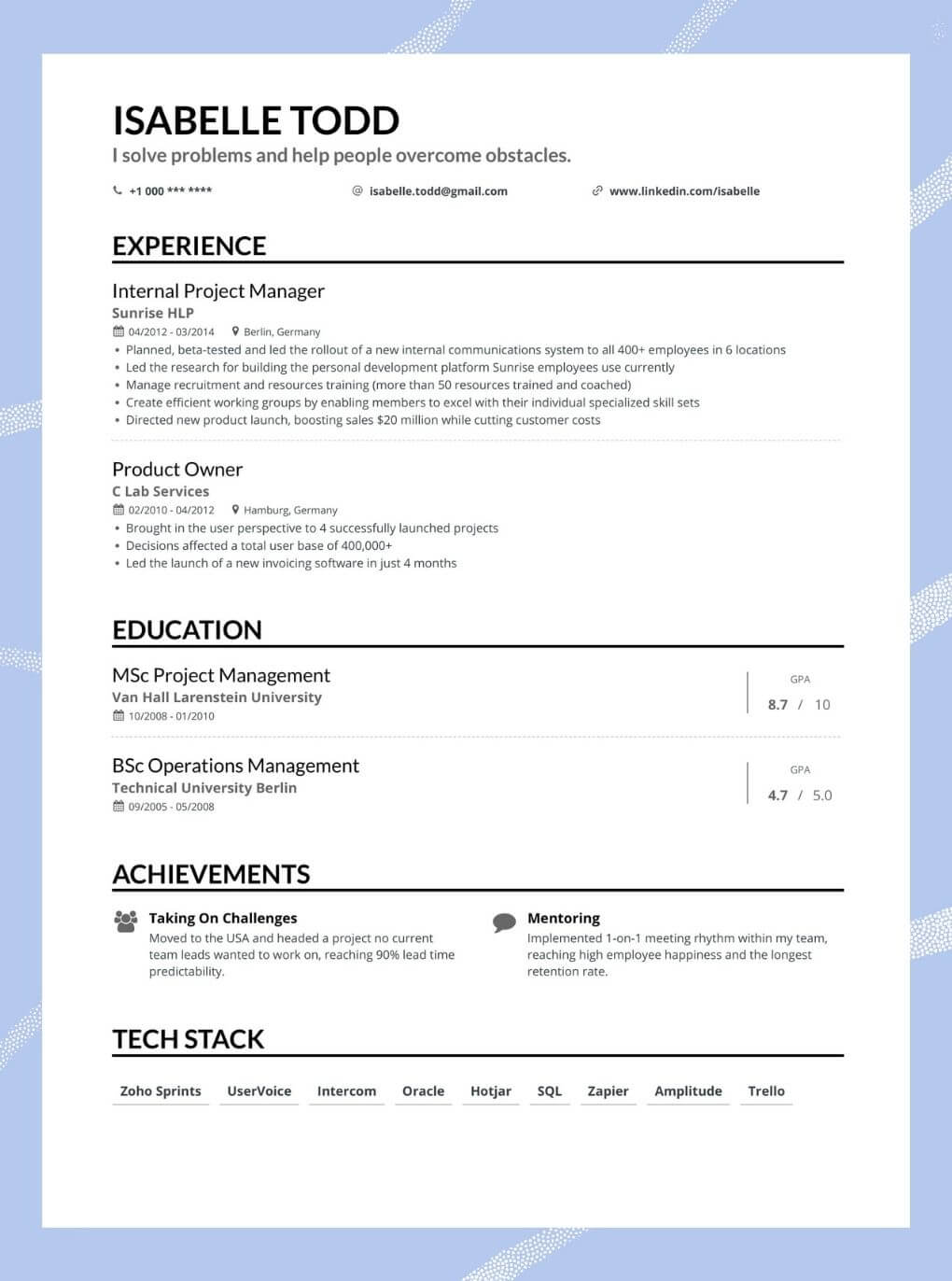 BUILD MY RESUME LIKE THIS
What is the reverse chronological resume format?
The name itself is self-explanatory. The reverse-chronological resume describes your work experience in reverse-chronological order. This means describing your most recent job first and moving backward in time for every subsequent position.
The format comes with a general expectation of flow. It starts with your resume header coming first. Then, it's accompanied by a personal summary , your experience, your skills, and then any other subsequent section. While this is the convention, it's certainly not the law. You can keep the spirit of a reverse-chronological resume without sticking to a restricting structure.
Mostly, the structure is used in the functional skills-based resume format when listing out the relevant skills and experience.
(Tip: Read our full guide about resume sections to confidently optimize a stronger resume that's more likely to attract job recruiters!)
what are the benefits of using a reverse chronological resume?
Inconsistencies in someone's career history is one of the first red flags recruiters will notice. Especially when recruiters devote just 6 seconds for initial screenings which can cause your resume to be overlooked.
The recruiter is interested in the story of your career – including what brought you to this current position. This can play into your culture fit and your impact on the team dynamics within the organization.
Check out the example below: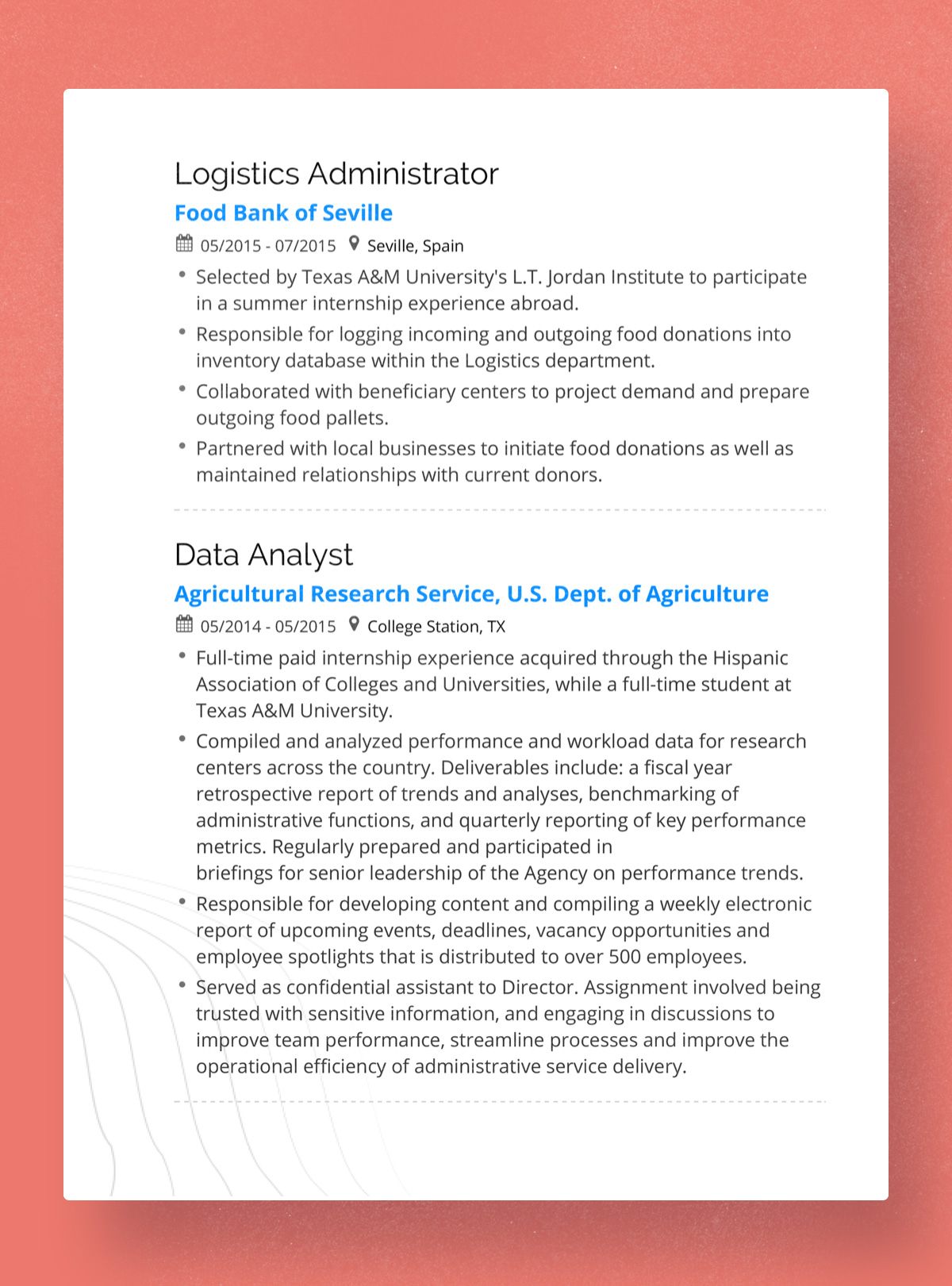 When Jonathan was getting his job at HEB (one of the largest grocery retailers in Texas), he used the reverse-chronological order with Enhancv's resume builder to highlight his journey into operations from data analytics. Because of this, job recruiters were able to estimate his skill level and recognize his commitment to the area.
Sometimes the traditional route is best. This can come into play when applying to large organizations with standardized application forms or those who rely on Automated Tracking Systems (ATS).
With the reverse-chronological resume being most common, it's easily analyzed by the ATS and gives the recruiter exactly what they're looking for. The recruiter can straightforwardly identify what you've worked on most recently and quickly assess how that experience compares to what you'll be doing.
As the saying goes, " you're only as good as your last performance".
One of the advantages of using this format is that it provides emphasis on the organizations you've worked at previously. If you've worked with some heavy-hitters in your industry, this can create a great impression on the recruiter which separates you from the crowd.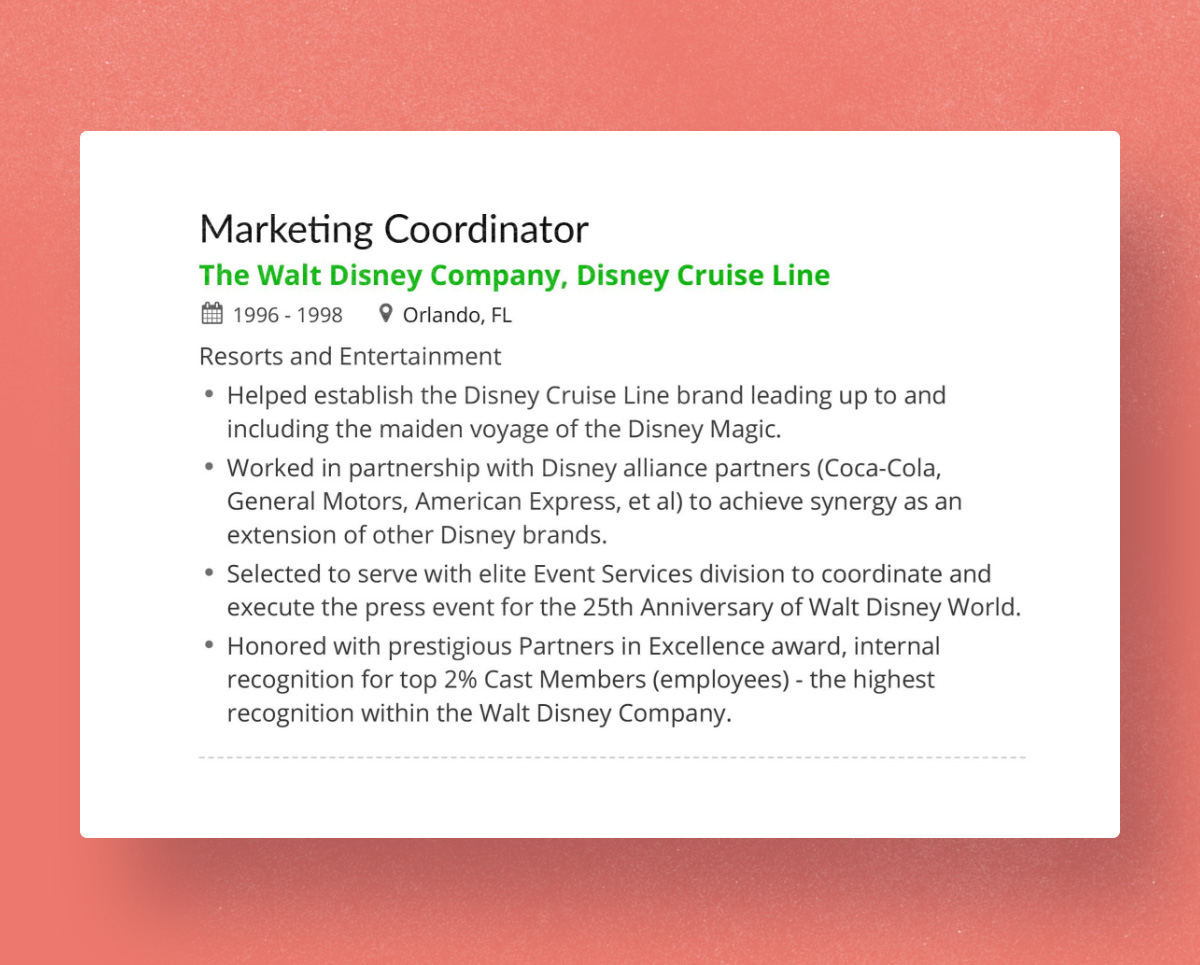 What have you got to lose when it comes to using a reverse chronological resume?
"Do they still possess the same skills they had X years ago?" "Will they be able to adapt to the current market?"
This is just two of many possible questions the recruiter might not even spend the time getting an answer on.
Any resume that relies on your chronological timeline, the gaps in your career become more apparent. Usually when you're presenting your most recent job first, it can be a red flag for the recruiter that your most recent job was several years ago.
(Tip: One way to overcome this difficulty is to describe other projects or skills you've built up between the present and your most recent experience. Oriol highlighted courses in business management in his business analyst resume. )
Let's say you have experience in both music and marketing. You've spent the last five years pursuing jobs in music, but now you're looking for a new job in marketing.
In this case, it might make sense to use a reverse-chronological resume format. However, sticking to this structure could make your experience seem irrelevant. This makes it even harder for you, especially when you're trying to move through the different areas that you're skilled in.
With prior experience being the crux of this resume format, it's going to be difficult to write your first resume with the reverse-chronological guide. For this reason, this format may not be suitable for those starting their first job or applying for volunteer positions for the first time.
Is the reverse chronological resume format right for you?"?
There are five ideal situations for when you should use the reverse chronological resume format. Keep in mind that these do not apply to every job seeker – everyone is at different stages in their career. So, one determining factor is that it depends on where you're currently at.
See below for who and when the reverse chronological resume format is most ideal:
You don't have much professional experience in the workforce or have gaps in your employment timeline
You're still a student or a fresh graduate that came out of education (see how you can make your first job resume here )
You've had several temporary jobs, or haven't been employed for over a year
You're looking to change into a new industry or completely new/different career
You don't fully meet and fit in all of the job recruiter's expectations or requirements
Chronological or reverse chronological resumes?
If you're someone who has inconsistencies in your career timeline and work history, it's best if you kept to using a reverse chronological format. Whereas, if there's not many gaps in your career history, then it would make more sense if you used the chronological resume format.
Generally, chronological resumes are preferred because it makes it clear there are no vulnerabilities behind your corporational profession. Your experiences are labelled and described in full transparency, which puts you at an advantage for the job application process when your resume is being scanned.
But, if you're going to use a reverse-chronological resume format, one good resume structure you should take advantage of are functional skill-based resumes and combination resumes. This way, you can showcase your skills that demonstrate why and how you're more than capable of getting the job done at a good standard.
The truth about reverse chronological resumes
While this format is great for organizing your experience (assuming you have any), it's arguably an outdated system.
Reverse-chronological resumes are far from one-size-fits-all. In reality, your resume should be tailored to the position you're applying to. This may mean describing a less recent job first on your resume as it's the most recent job relevant to the position you're applying to.
Using Enhancv's resume creator, you can describe your previous experience in modular segments that can be moved as pieces to any place on your resume. This makes positioning easily streamlined, so you don't have to worry too much.
Overall, you'll benefit from organizing your resume by relevance and impact, not by date.
Do you have a reverse chronological resume prepared yourself? It's always good to have different resumes ready at hand in case anything unexpected happens that can lead to gaps in your career.
If you're unsure about how to build or optimize your resume effectively, check out the 530+ resume examples here. Find your job title, and see proven resumes that got others hired for your exact role.
Do you use a chronological resume format or a reverse-chronological resume format? Which one do you find has a higher response rate? Let me know in the comments below!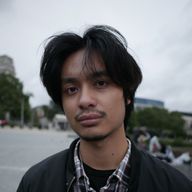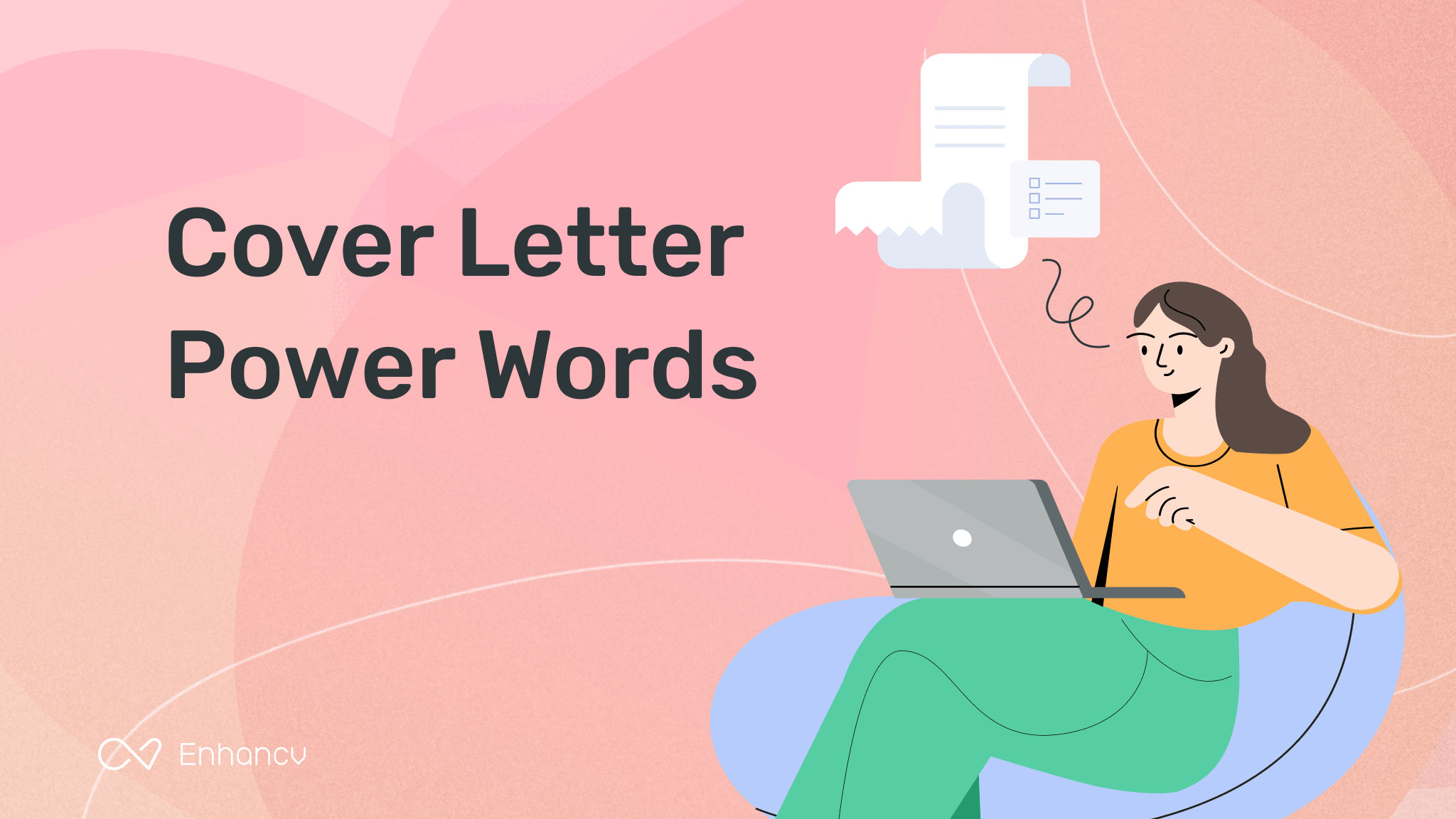 The Power of Power Words in a Cover Letter

Lying On A Resume: Here's What It Can Cost You

How To Follow Up on a Job Application

Cover Letter Vs. Resume: Which Should You Use?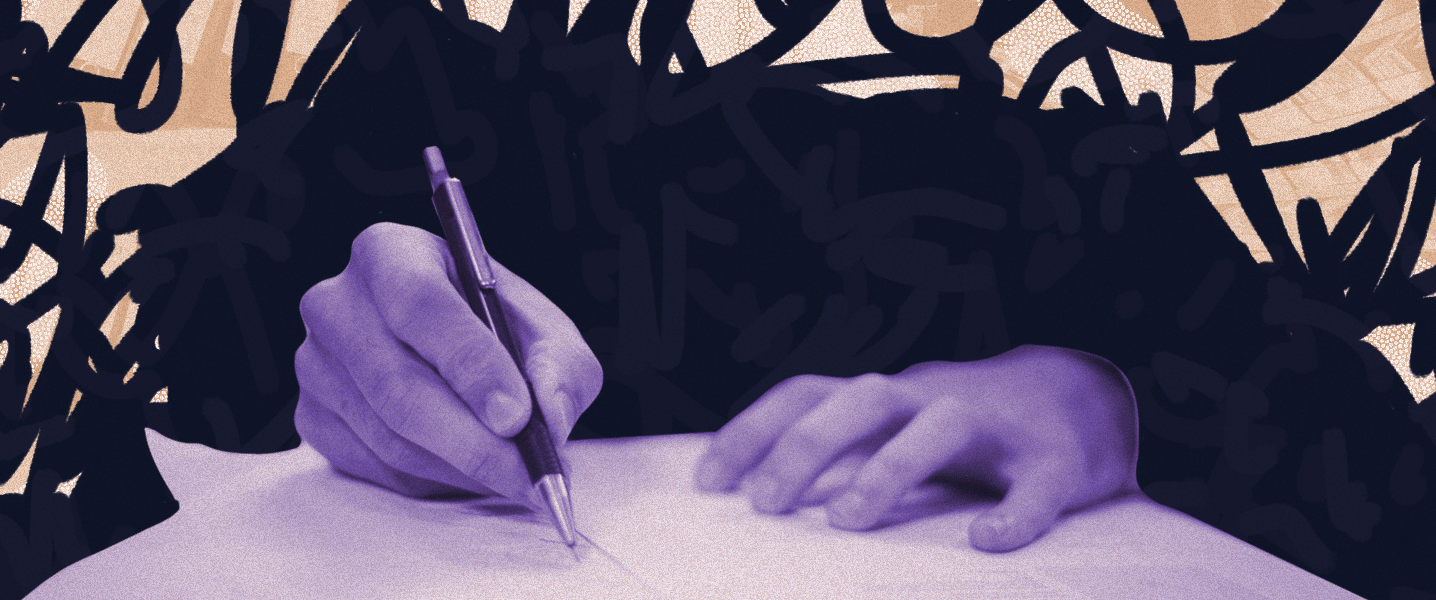 How to Do Your References On Resume: Is It Important?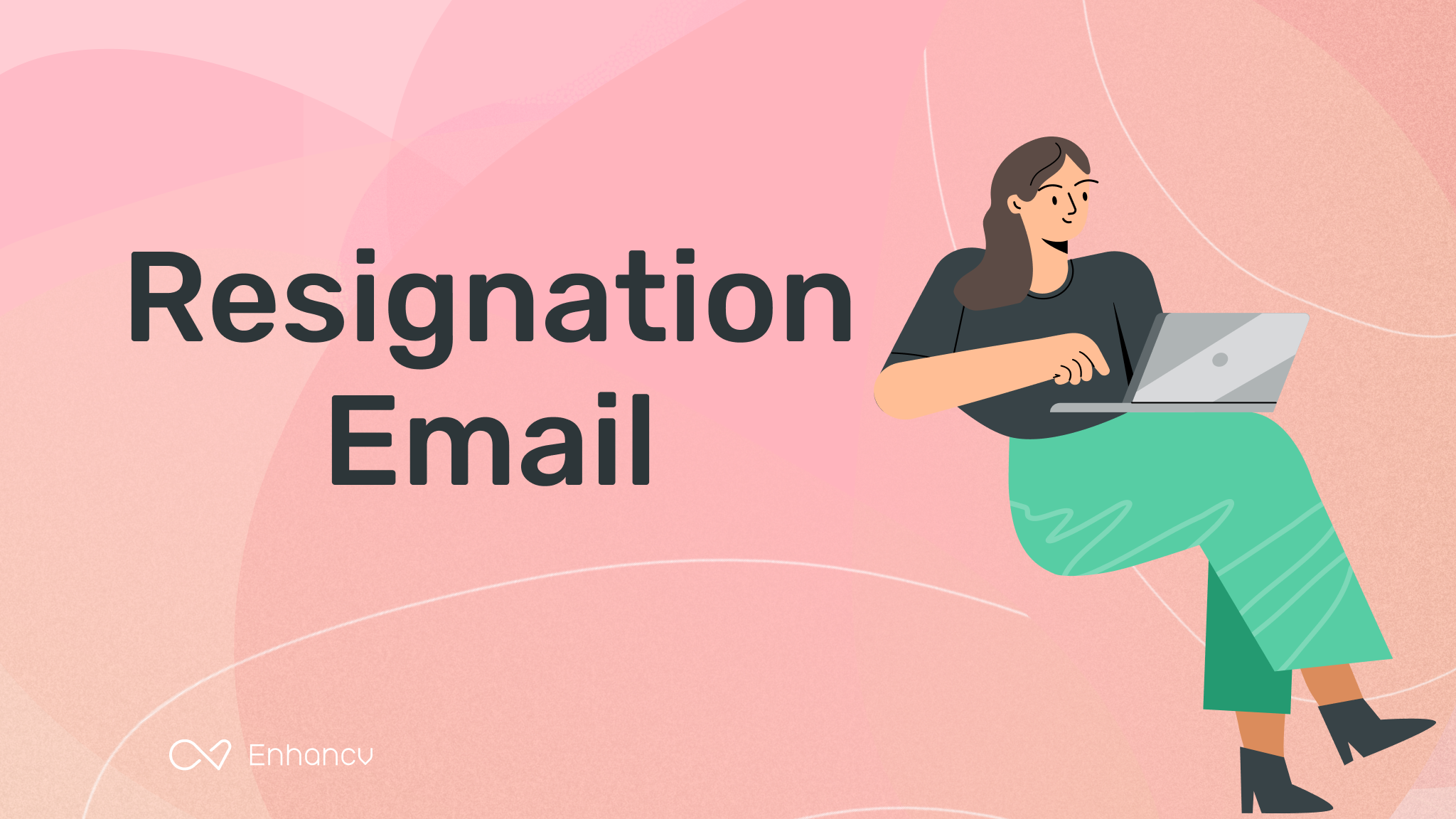 Why and How to Write a Resignation Email (With Examples)

Create Resume
Terms of Service
Privacy Policy
HTML Sitemap
Resume Examples
Resume Templates
Resume Formats
Resume Checker
Resume Skills
How to Write a Resume
Modern Resume Templates
Simple Resume Templates
CV Examples
CV Templates
How to Write a CV
Cover Letter Builder
Cover Letter Examples
Cover Letter Templates
Cover Letter Formats
How to Write a Cover Letter
Cover Letter Guides
Job Interview Guides
Job Interview Questions
Career Resources
Meet our customers
Career resources
French (FR)
Swedish (SE)
© 2023 . All rights reserved.
Made with love by people who care.
Reverse Chronological Resume: Tips & Examples
There are three main resume formats, but reverse chronological is by far the most popular as well as the most effective layout for the majority of job seekers. This article will cover when to use a reverse chronological resume and how to create an effective one.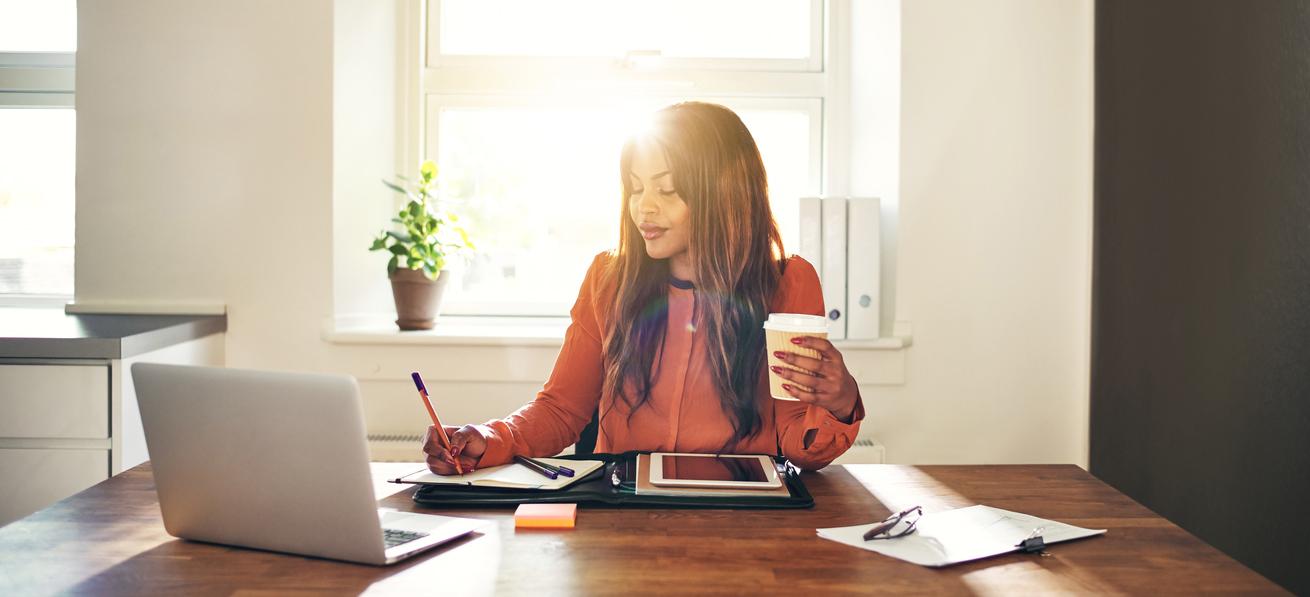 What Is a Reverse Chronological Resume?
In many countries around the world, reverse chronological resumes are considered standard. The format is sometimes referred to simply as a chronological resume, although 'reverse chronological' is more accurate since past positions are typically listed starting with your current or most recent job at the top and working backwards in time from there.
A reverse chronological resume prioritizes your previous work experience which makes it the preferred format for most recruiters, who generally look first for your past positions. However, if you don't have a wealth of work experience, you may wish to use a different resume format to highlight your skills and abilities as outlined in the next section.
The reverse chronological format will also make any gaps in your work history immediately apparent to employers, but taking time away from work is no longer the red flag it once was and you can easily frame the gap in a positive light by simply including a short explanation and/or highlighting skills that you gained during that period.
Reverse chronological resumes are also the easiest for applicant tracking systems ( ATS ) to scan. ATSs are automated computer programs that scan each resume that is submitted to a company, evaluating each one on the basis of how well it matches up to keywords that the employer has inputted regarding their desired experience and skills in a candidate.
Other Resume Formats
The two other main resume formats are functional resumes and combination resumes.
A functional resume showcases your skills over your past experience, which can be beneficial for freelancers, those in creative industries, and those who have gaps in their work history or little to no work history to mention. However, a functional resume can be more difficult for hiring managers to scan and it can present some red flags that you might be intentionally concealing your work experience or lack thereof.
A combination resume includes elements of both reverse chronological and functional resumes, which allows you to highlight your skills as well as your experience while also glossing over gaps in your employment. But, a combination resume can be difficult to format effectively and is best used only when applying to highly specialized positions.
When To Use a Reverse Chronological Resume
A reverse chronological resume is a great choice if you have at least a few years of professional work experience, but the format is very versatile.
In an ideal scenario where you have several years of experience in one industry and are applying for another position in the same field, a reverse chronological resume will clearly demonstrate your career progression.
However, you can still reap the benefits of a reverse chronological resume even if you don't have much work experience, such as if you are a student or a recent graduate. In that case, you can place your education section above your work experience section and still list everything in reverse chronological order. You can include internships, volunteer work, and so forth in your work experience section.
Again, if you are concerned about a reverse chronological resume exposing gaps in your work history, it is now considered acceptable to include an explanation for each gap in the same format that you would list a past job. Simply list the dates and the reason for the gap. If applicable (such as if you took time off to complete a training course or certification), you can also include bullet points that outline your new skills and qualifications .
What To Include on a Reverse Chronological Resume
If you've decided that a reverse chronological resume makes sense for your situation, here are the key sections to include:
Resume Header
Your resume header goes at the very top of your resume and should include your full name, your phone number, your email address, your LinkedIn URL, links to your online portfolio or professional website if you have one, and your city and state (or your full mailing address if you prefer).
Resume Summary or Objective
Next, add your resume introduction section, which can either be a resume summary or a resume objective depending on your situation. If you have at least a few years of experience in the industry that you are applying for, use a summary to highlight your skills and experience. An objective statement is usually a better option if you are a student, have recently graduated, or are making a career change.
Work Experience
If you have at least a few years of work experience in your target industry, add your work experience section next. If you are still a student or you've recently graduated, you can place your education section above your work experience.
List your relevant work experience in reverse chronological order, starting with your current or most recent position. You don't need to include every position that you've ever held, especially if you have previously worked jobs that aren't pertinent to your current career. For example, if you worked as a lifeguard in high school or college and you are now several years out of school and applying for an engineering position, you don't need to include that on your resume.
For each job, include your official title, the company name and location, and the dates you worked there (months and years only). Under each one, add a few bullet points that outline your skills and achievements , focusing on how well you performed in the position rather than just listing job duties and responsibilities. Quantify your accomplishments with numbers and data whenever possible.
If you have a college degree and at least a few years of professional experience, your education section can be brief, listing the university you went to, the degree you earned, and the dates you attended. There's no need to list your high school information if you've already earned an Associate's, Bachelor's, or more advanced degree. If you have multiple degrees, list the highest one first followed by the others in reverse chronological order.
However, if you are currently in high school or college or you don't have much professional experience, you can include your high school information. To make up for a lack of work experience, you may wish to include extra details about your education, including your GPA (if it's above a 3.5), relevant coursework, honors and awards, and so forth.
While you should work your skills into all other sections of your resume, you can also create a dedicated section to highlight your hard and soft skills . Be sure to list only skills that are relevant to the job that you are applying for. Read the job posting carefully to identify which skills and qualities the employer is looking for, and use those keywords in your resume.
Optional Resume Sections
If you still have room on your resume after including all of the above sections, you can add optional resume sections such as hobbies and interests, certifications , languages , volunteer experience, extracurricular activities, and so forth.
Your resume should only be a single page if you have less than ten years of experience in your industry, and no more than two pages if you have more experience than that.
Example of a Reverse Chronological Resume
Here's an example of what a reverse chronological resume might look like:
John Sample
Salt Lake City, Utah
(111) 222-3333
linkedin.com/in/john.sample
Results-driven sales manager with 5+ years of experience, eager to contribute sales and management skills to ABC Company to motivate the sales team and drive exceptional revenue growth. In past roles, consistently grew sales by at least 20% year over year, managed teams of up to 20 sales associates, and increased annual revenue by $100K+.
Sales Manager, XYZ Inc., Salt Lake City, UT, August 2018-Present
Drafted and executed quarterly marketing plans
Managed merchandise purchasing and stocking
Exceeded sales targets by 25% each quarter
Sales Associate, DEF Company, Salt Lake City, UT, July 2016-August 2018
Brought in 50+ new leads each month
Renegotiated sales contract to increase revenue each year
Developed seasonal promotions
Oregon State University, Beaverton, OR
BA in Economics, 2016
Collaboration
Communication
Interpersonal skills
Relationship building
Sales techniques
Bilingual English/Spanish
Key Takeaways
A reverse chronological resume is a great choice for the majority of job searchers as it will highlight your skills and experience in an easy-to-scan format that is optimized for both hiring managers and ATSs. The focal point of a reverse chronological resume is your work experience, which should be listed with your current or most recent position first, working backwards in time from there.
Not sure how to create an eye-catching reverse chronological resume? Consider using Jobseeker 's professional resume creation tool. You can enter in your information and then easily swap between formats, styles, color schemes, and more with just a few clicks. Then download your polished resume instantly and get started applying for your dream job!
Get ahead of the competition
Make your job applications stand-out from other candidates.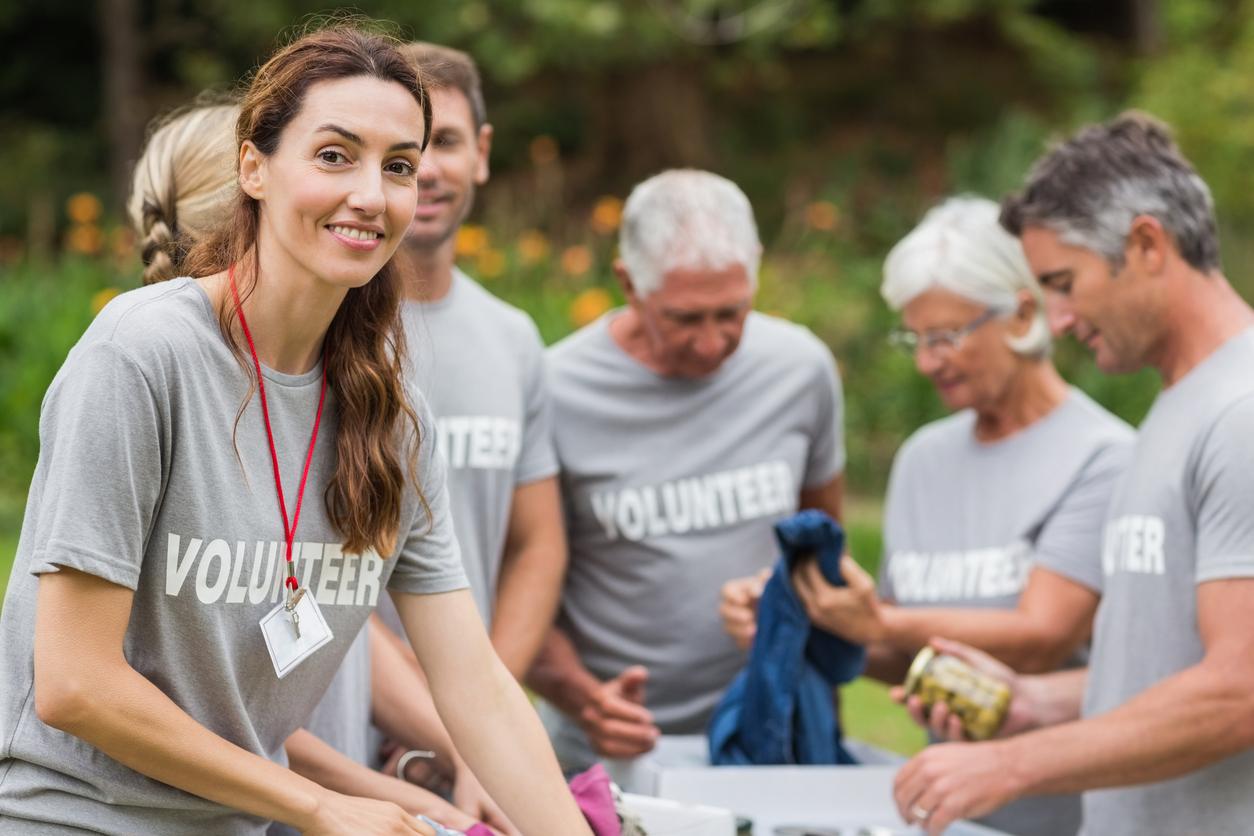 How To List Volunteer Experience on a Resume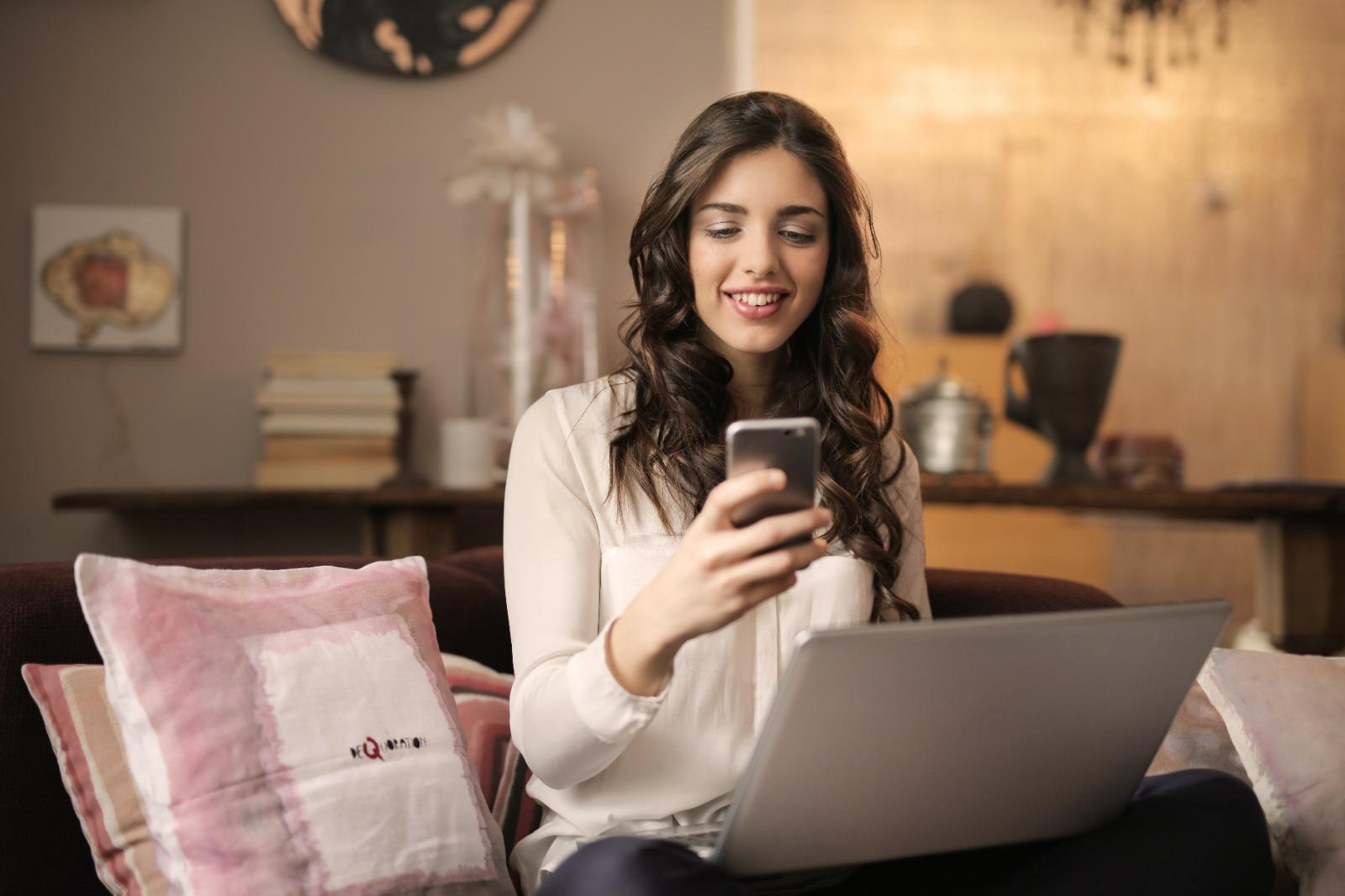 How To Make a Resume in Google Docs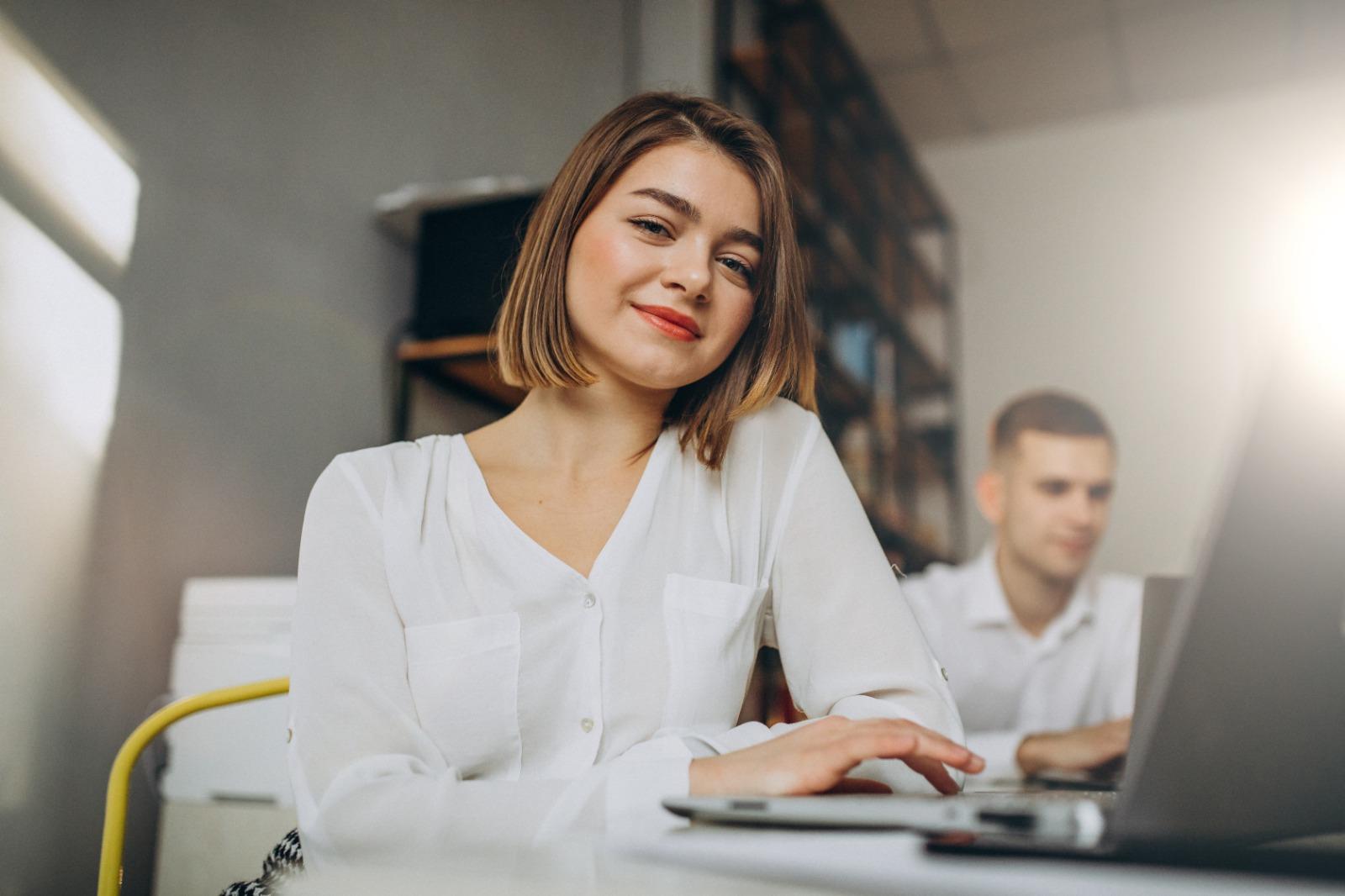 Summary of Qualifications for a Resume
Why the Reverse Chronological Resume Is the Most Popular Format
The reverse chronological resume format is widely used by job seekers today for a reason.
As a whole, it's a strong approach for professionals at all levels.
But what's more important than the priority of dates is whether or not it's most impactful for the hiring manager. 
If you'd like to learn more about how this formatting leads to candidate success and how you can use this concept to increase your hiring chances, keep reading on! 
"I used Rezi to make my resume look more professional. I had applied to a handful of jobs before using Rezi, but once I signed up and revamped what I had, I got call backs from almost all my applications" - Samantha W.
Explore Rezi 🔥 Comes with 5,000 AI Credits, and is free forever, no credit card required.
What Are Reverse Chronological Resumes?
The reverse chronological order is when the timeline starts with the most recent events going back to the oldest. 
For resumes, it means listing the latest job position and qualifications you've worked or achieved first. And then continuing backward from there. 
Because of this, it shows higher relevance and contextuality. This makes it more compelling and leaves a more profound effect for the reader.
Why It's The Most Popular Resume Format 
It's a modern format and common approach used by job seekers when making an application. 
Unlike listing in chronological order, it highlights the most recent and relevant details first. 
It also reveals no gaps in your employment history as it shows a consistent timeline of your career. Meaning, employers can easily see your corporate progression and professional development. 
Since it's highly contextual to the job you're applying for, it makes your application more impactful for recruiters. 
Alternative Resume Formats
Depending on your circumstances, one of these 3 alternative resume formats could be the better option.
We'll go through each of these below and who they're best suited for:
Chronological resume: effective for seasoned professionals since it highlights your years of experience in the workforce.
Skills-based resume: useful for candidates with little to no work experience as it highlights your skills as opposed to your work experience. 
Hybrid resume: best for applicants who have at least 2 years of experience, highlighting both your skills and experience.
When to Use a Reverse Chronological Resume
All job seekers should aim to create a one-page reverse chronological resume as it showcases a stable record of your professional background. It's good practice for providing clarity and making relevance and quality a priority. 
The most relevant and important things should be shown first if you want to make a what to put on a resume .
But, there are some exceptions where you should reconsider using this format:
You have gaps in your career history, e.g. you've worked at multiple jobs and companies in a short period of time. 
Employability issues, e.g. you haven't been employed for the past year or two.
If you have no work experience , it's not the best approach since it highlights your work history. 
In some of these cases, the skills-based format or hybrid resume would be the better option.
How to List Sections in Reverse Chronological Order
We'll cover how the how to write a resume should be structured when creating a reverse chronological resume. Later, we've also included and analyzed proven examples that have got candidates interviewed at even the most competitive companies. 
Despite how much experience you have as a professional, it works for almost all candidates. 
1. Professional Work Experience 
The first job title to mention should be the most recent position you've worked in. 
What's more important than the what to write in a resume for work experience and jobs you've had is its relevance. So, take into account if it's related or helpful in any way, shape, or form to your prospective employer.
When describing your experience, the key details should be written down first. That includes information such as:
Duties and responsibilities
The impact you've made
Accomplishments
Here's an example below:
2. Education Section
As you're listing your qualifications, start with the latest one you've achieved. 
Then, go backward by writing down the awards you've achieved before that. This makes the date of your achievements clear and it brings attention to your formal knowledge in specific areas.
Here's an example of this:
3. Additional Sections 
Repeat the process from the previous steps but for your other resume sections. 
By using this principle throughout your application, the reader will immediately notice that you're up to date. This makes it easy to review and identify your strengths since you're showing what's most related to the job position you're applying for.
Here's an example from the certifications section:
Expert Reverse Chronological Resume Examples 
One aspect that stays the same is that the most important details are mentioned first, so stick to your strengths. This holds true for all types of resumes. 
If you're unsure of how to update resume , you may find it helpful to refer to some of the guides and expert resume examples we have available. These can provide valuable tips and guidance on how to craft an effective and compelling resume.
Blogger Resume
The work experience section is thorough and detailed when providing a description of previous responsibilities. But, it's mostly in-depth with the recent job position as opposed to their first job position. 
From this progression, it's clear the candidate has developed their skills throughout their professional experiences. 
Quality Engineer Resume
The employment history and engineering specializations section are reverse chronological. This allows the employer to notice their areas of expertise and how well-informed they are in certain fields.
Nurse Resume
The first job title listed is often the most detailed part of the section because they're more relevant. 
When it comes to the education section, they've made it simple for the hiring manager to see they're updated with the formal knowledge required. It's easy to notice this, as well as their other qualifications that have been written.
Reconsidering the Reverse Chronological Approach
It's acceptable to reconsider elements of the reverse chronological format as long as it makes sense.
The importance of the information provided is a bigger factor than the dates themselves.
Here's an example from the creative producer template that got the candidate an interview with Tesla:
From the sample above, notice that the section isn't entirely in reverse chronological order. 
The user emphasizes a significant project and ensures the recruiter sees this first, i.e. being a director & editor at Apple. This portrays a stronger impression at first glance and is more likely to grab the reader's attention.
The Best Resume Format 
Highlighting your career progress and professional strengths is easier with a reverse chronological resume. Plus, it's flexible and works for almost all candidates. It's no surprise why it's the most popular resume format. 
Above all, it emphasizes consistency and relevance. 
But, the best approach depends on the context of your career timeline. 
When you have gaps in your work history, consider using the hybrid or skills-based resume format.
Explore Rezi 🔥 Comes with 5,000 AI Credits, and is free forever, no credit card required. ‍
Keep reading with...
74+ In-Demand Skills to Put On Your Job Application (With Examples)
6 ATS Engineering Resume Examples (Including Writing Tips)
Beat The Applicant Tracking System in 9 Easy Steps
How to Write a Cover Letter for Any Job (Including Best Practices)
Chronological Resume - Writing Guide With 5 Free Templates
The chronological resume - also known as the "reverse chronological resume" - is the most popular resume format out there.
Particularly advisable for those with rich work history, the chronological resume prioritizes and lists your work experience and achievements from most to least recent.
This article is here to teach you all there is to know about creating a chronological resume.
What is a Chronological Resume? 
Chronological Resume Structure 
When to Use a Chronological Resume Format? 
4 Free Chronological Resume Templates
How to Create a Chronological Resume - Step by Step
9+ Chronological Resume Examples for All Industries
What is a Chronological Resume?
A chronological resume lists your work experiences and achievements starting from the current or most recent one, and following up with previous jobs below.
For this exact reason, the chronological resume is the perfect choice for job-seekers who have plenty of experience and achievements to list on their resume .  
What's most important, studies point to the chronological resume being a favorite among recruiters, too.
Why? Well, because you are applying for a job, so work experience in your resume will be the first thing a recruiter looks out for.
But worry not, you can structure your resume in a chronological format even as a recent graduate too. Or, you can opt for other popular formats fitter to your profile.
But first, let's go through the basics. 
The chronological resume follows a straightforward structure. The only thing to keep in mind is that your current or most recent experience - be it professional or educational - comes first.
The second most recent will follow, and so on.
Here are the main and most popular sections for the chronological resume structure:
Contact information
Professional title and resume summary/objective
Work experience and achievements
Education section
Your top soft/hard skills
Include optional sections (languages, certificates, volunteer experience, etc)
If you're a recent college graduate and want to build your resume in the chronological structure format, you still can.
All you have to do is rearrange the order of your resume sections so that the education resume section comes first.
Here, too, make sure that your education entries are listed from the most to least recent, and you're good to go!
If reading this is already looking too complicated and time-consuming, try out the Novorésumé online resume builder . Novorésumé provides 8+ free resume templates that follow the chronological resume structure. 
When to Use a Chronological Resume Format
The three main types of resume formats are the chronological, functional/skills-based one, and a combination resume format of the two. What you choose to use will depend on the type of job you are applying for and your experience level.
In the majority of cases, the obvious choice is the chronological resume. It is common, it highlights just the right sections, and job recruiters prefer it over the other formats.
Nonetheless, this doesn't mean you should just cross the other options off your list, especially if your work experience doesn't amount to much.
Consider these other two formats, taking into account their advantages and disadvantages as well: 
Functional Resume
Perfect for students or recent graduates, as it highlights your skills. 
Offers creative space for a varied portfolio 
Difficult to pass through the ATS (Applicant Tracking System) that most companies use to scan through countless resumes they receive daily. 
It conceals your experiences, however minor they might be. 
Combination Resume
A great choice for job-seekers with a diverse skill-set, because it highlights both skills and experiences. 
It can mask gaps in your employment history since you can also list your skills, so it's the second-best option for those who lack work experience. 
It is a really good fit only for highly specialized professionals who have a very diverse skill-set. Say, for example, that you're applying for a role that requires expertise in 3-4 different fields, and you want to show all that in your resume - then, the combination resume really is the one for you.
It is hard to organize. As a professional with a diverse skill-set, it might be a challenge to decide which part of your expertise to prioritize in the combination resume format.
4 Chronological Resume Templates 
Below, you will find 5 chronological resume templates out of many free resume templates. Dig right in to find the best match for you. 
#1. Creative Chronological Resume Template 
#2: Modern Chronological Resume Template 
#3: Professional Chronological Resume Template
#4: Functional Chronological Resume Template
How to Create a Chronological Resume
Now that we mentioned the traditional structure, let's go through each section one by one to create the perfect chronological resume. 
#1: Start With a Contact Information Section 
Depending on the template you have chosen for your chronological resume, there is a possibility that your name will be directly followed by your professional title right at the top.
How do you fill up your professional title in chronological resume format? Easy. If you're not looking to change career paths your professional title should be your current title. However, if you're changing career paths, then choosing the combination resume mentioned above might be a better option for you.
Regarding the rest of the contact information section on your chronological resume, it should be current and lacking any typos. The mandatory elements of the information section include: 
First and last name
Phone number
Email address
LinkedIn URL (optional)
#2: Add a Resume Summary or Resume Objective
  Second in the chronological resume comes your 'profile' as a candidate, which is expressed through a resume summary or a resume objective .
Wondering what the difference is?
Well, the summary is a short (2-3 sentences) overview of your career so far and it is used in 90% of resumes - especially by those with two or more years of work experience. A summary is a perfect fit for the chronological resume.
On the contrary, a resume objective represents your aspirational career goal and highlights your skills, making it perfect for entry-level professionals with little work experience, or job-seekers looking to completely switch career paths. 
#3: Fill in Your Work Experience 
This is, without a doubt, the section that weighs the most when it comes to the chronological resume, so it's vital that you get it right.
Your work experience section is there to show the recruiter what you can bring to the table through your past accomplishments and responsibilities and what the company would be gaining were they to hire you.   
Feeling pressured? Don't. There are many practices to help your work experience section stand out in the eyes of the recruiter.
If you are looking for more tips and tricks to help you take your resume to the next level, head over to our beginner's guide on how to write a resume . 
Here are the key points you should keep in mind when it comes to the work section:
This is the most important so we'll be repeating it as many times as it takes: your current or latest job position should be placed on top. Then come the previous ones, all the way to your earliest job position. 
For each entry, list your job title and position, the company and its location, as well as the dates when you were employed. 
List your achievements and responsibilities, with a higher focus on quantifiable achievements, whenever you can. 
Use bullet points instead of just text to express what you have achieved and what you were responsible for in every job entry. 
Tailor the resume to the position you are applying for. For example, if you've had too many jobs in the past and some of them don't relate to the field you are now applying for, then they are just taking space. Feel free to omit them.
Here's a close-up of a work experience section in the chronological resume:   
#4: Add an Education Section
Generally, the education section comes right after work experience. 
If, however, you have just graduated college and want to create a chronological resume to start applying for jobs, the education section can replace the experience section that you'd be lacking. 
Either way, the education section should be brief but jam-packed with information that can communicate your values and skills to the recruiter.
Here's what the education section consists of: 
Program Name: E.g. "MA in Conflict Resolution and Peace Studies" 
University Name: E.g. "University of Greenwich"
Period Attended: E.g. "08/1214 - 05/2018"
(Optional) GPA: E.g. "3.9 GPA"
(Optional) Honors: E.g. " Cum Laude, Magna Cum Laude, Summa Cum Laude"
(Optional) Academic Achievements: E.g. Papers you might have published, or awards received.  
(Optional) Minor: E.g. "Minor in Political Science"  
#5: Spice Up Your Chronological Resume With Your Skills
Needless to say, the reverse-chronological order doesn't really apply in the skills section. 
What you can do, however, is begin by listing your hard skills and then your soft skills. 
Unsure of what this means? 
Hard skills are measurable abilities. These can range from programming in Python language to knowing how to use Photoshop and InDesign.
Soft skills are personal skills. They vary from attitude to flexibility, motivation and teamwork. 
Listing your skills has its own peculiarities, so don't pay this section less attention than the ones above it, especially if you're a recent college student. Pay attention to skills specifically required at the job ad and if you have them, make sure to include them. 
Here's an example of how your skills section can look like:  
#6: Include Any of These Optional Sections
Last but not least, come these optional sections.  
Having them in your resume can earn you extra points and even separate you from the competitors, but only if they don't make your resume longer than it should be (1-2 pages maximum) and if they are relevant to the job position.
Some of those sections include (but are not limited to):
Languages : If you speak two or more languages, don't fail to put that in your resume. To list them, simply categorize your proficiency level into native, fluent, proficient, intermediate, or basic . 
Hobbies & Interests : They can help humanize you and show a part of your personality that work and education can't. If
Volunteering Experience : Studies show that volunteering experience actually raises your chances of getting hired . 
Certification & Awards : If you have awards that make you stand out in your field or certifications from experts that are relevant to the position you are applying for, don't hesitate to show them off!
Not sure how adding volunteering experience works? Check our article on how to list volunteer experience on your resume .  
10 Chronological Resume Examples for All Industries
Now let us walk you through a few practical examples of what the chronological resume looks like depending on the industry. 
#1. Business Chronological Resume
In the world of business, accomplishments matter. This is why in this business chronological resume , the work experience section is jam-packed with measurable information on what the employee achieved in his previous professional experiences. 
#2. Computer Science Chronological Resume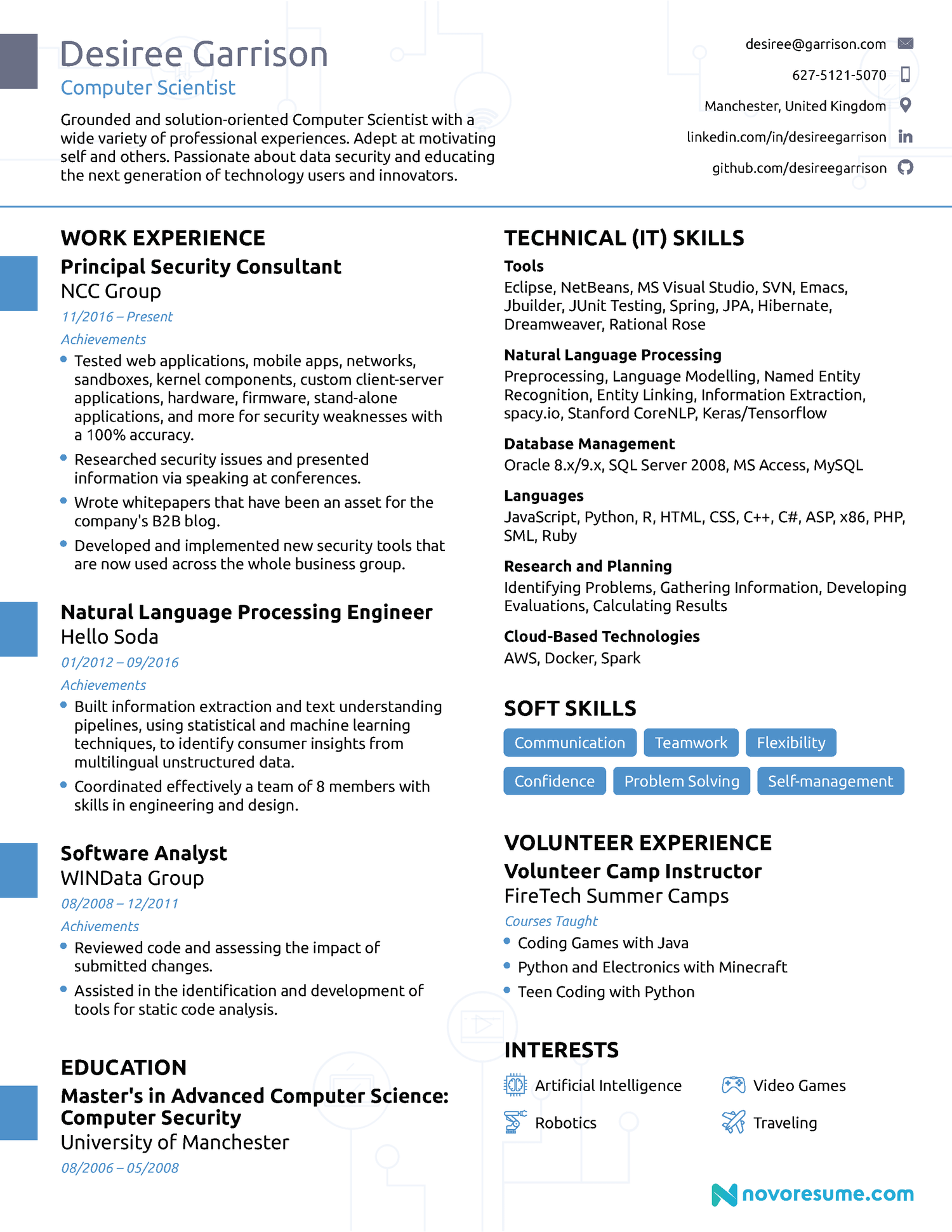 Computer science jobs are heavily based on hard skills - in addition to your previous work experiences, that is. So, make sure to include your hard skills on your computer science resume to impress recruiters. 
#3. Architect Chronological Resume 
As you can see from the example above, the sections that follow your work experience and education can be placed according to your profile. If, for example, you've worked on some side projects that you feel do your resume more justice than your skills, feel free to prioritize those projects.
In this article, you can find what's expected from an architect's resume in more detail.
#4. Nurse Chronological Resume  
Action verbs can really make an active professional like that of a nurse shine. So when you list your achievements under your experience, use strong verbs that can paint a picture of who you are and what you can do.
#5. Pharmacist Chronological Resume 
With plenty of attributes up their sleeve, the chronological format is the perfect choice for a pharmacist's resume . 
#6. Project Manager Chronological Resume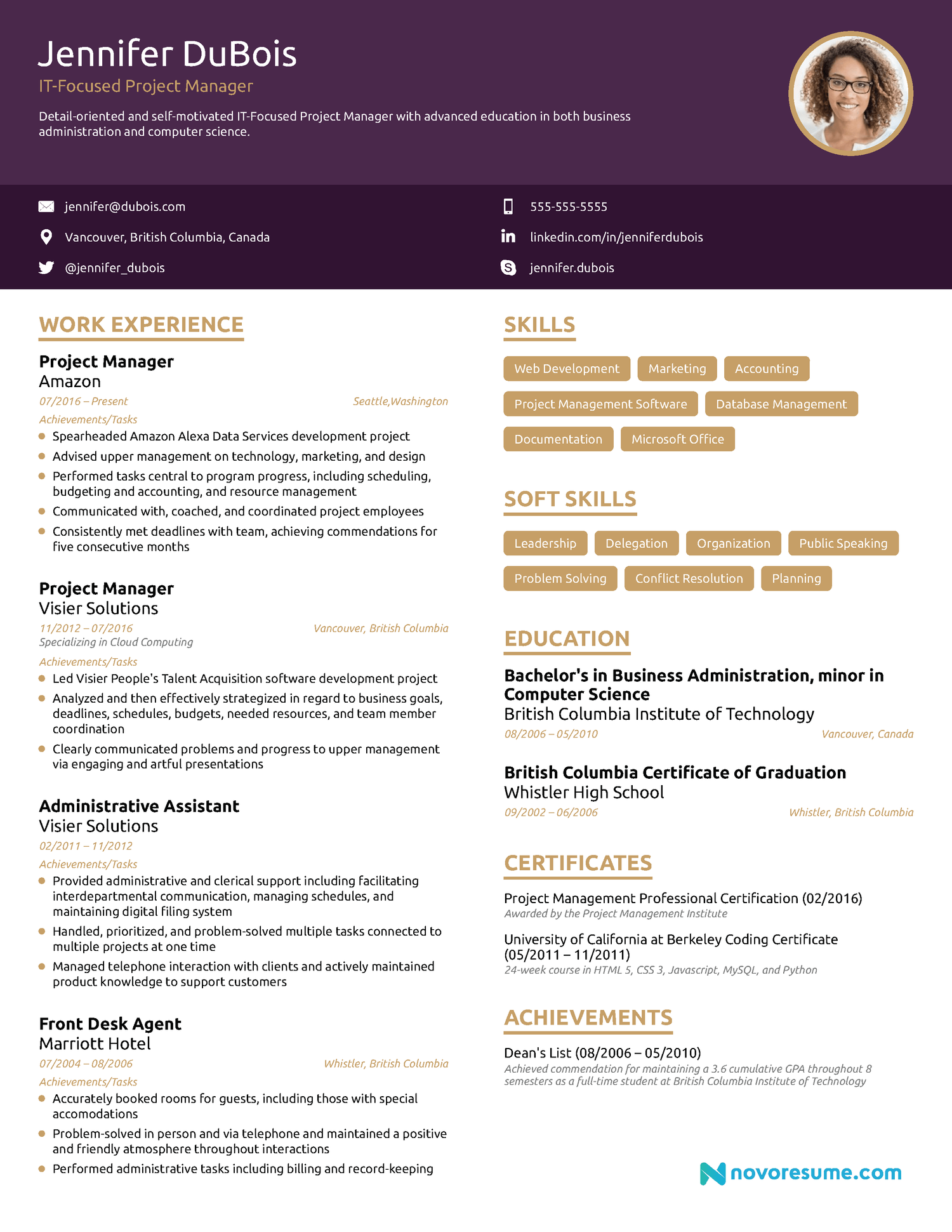 Project manager resumes have good chances to show industry expertise - given they hold the manager title - and highlight successful projects. Feel free to do both in your chronological resume, as shown above. 
#7. Web Developer Chronological Resume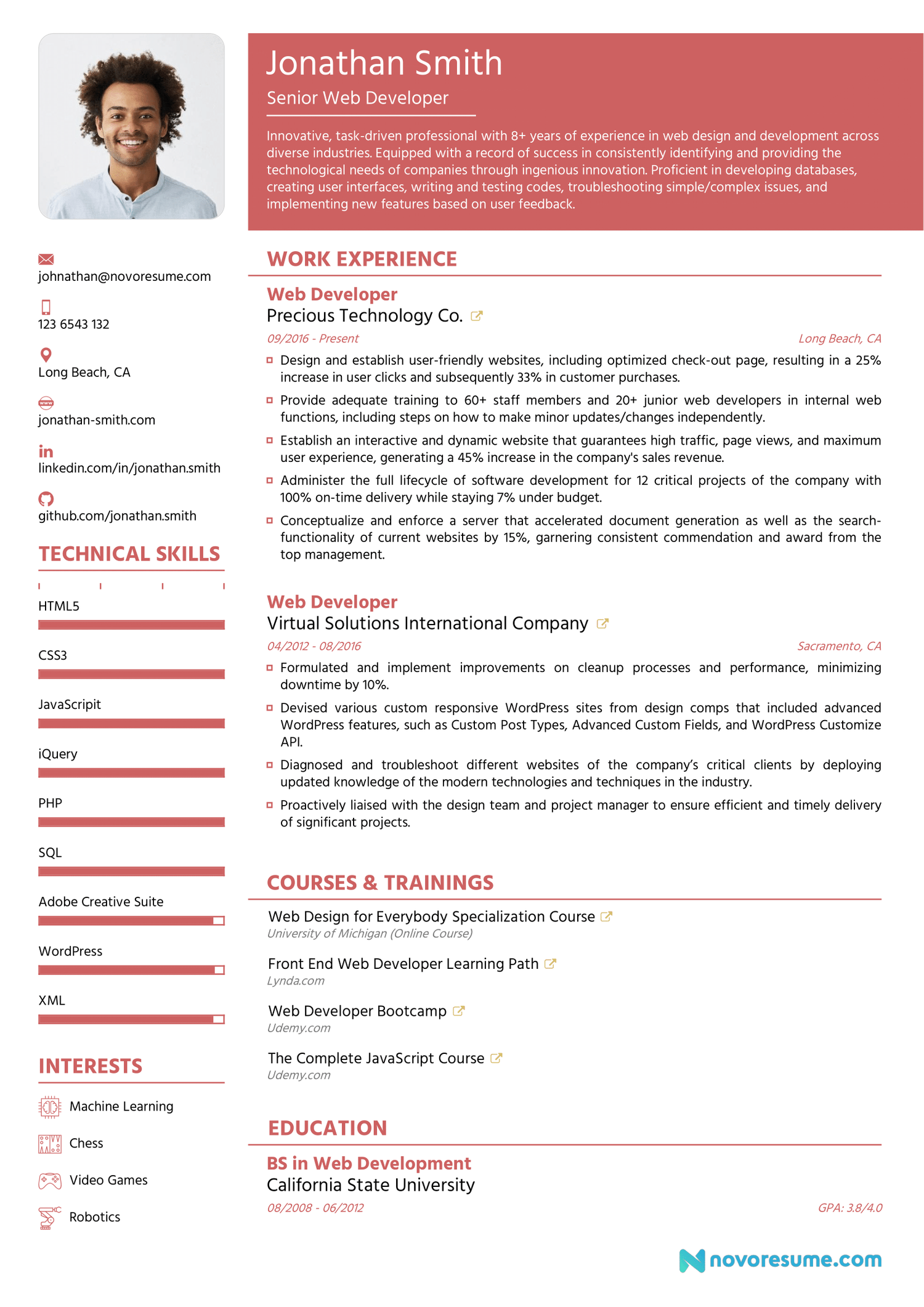 As you can see in the example, the candidate has chosen to place his courses and training above his education. When you have followed courses or have been trained in the exact field of work where you're applying, it makes sense to rank the field-specific courses and training higher than your university education. 
This article has more information on how to perfect your Web Developer Resume .
#8. Teacher Chronological Resume 
This is another "special" example of a chronological resume. Right after the experience section, the candidate has listed their volunteering experience. Not normally the case, it makes sense here because the volunteering experience has been as a tutor - which is pretty much the same thing as a teacher in the teacher resume . 
In cases when your volunteering experience is directly connected to the job you are applying for, feel free to list it under professional experience as well. 
#9. Bar Manager Chronological Resume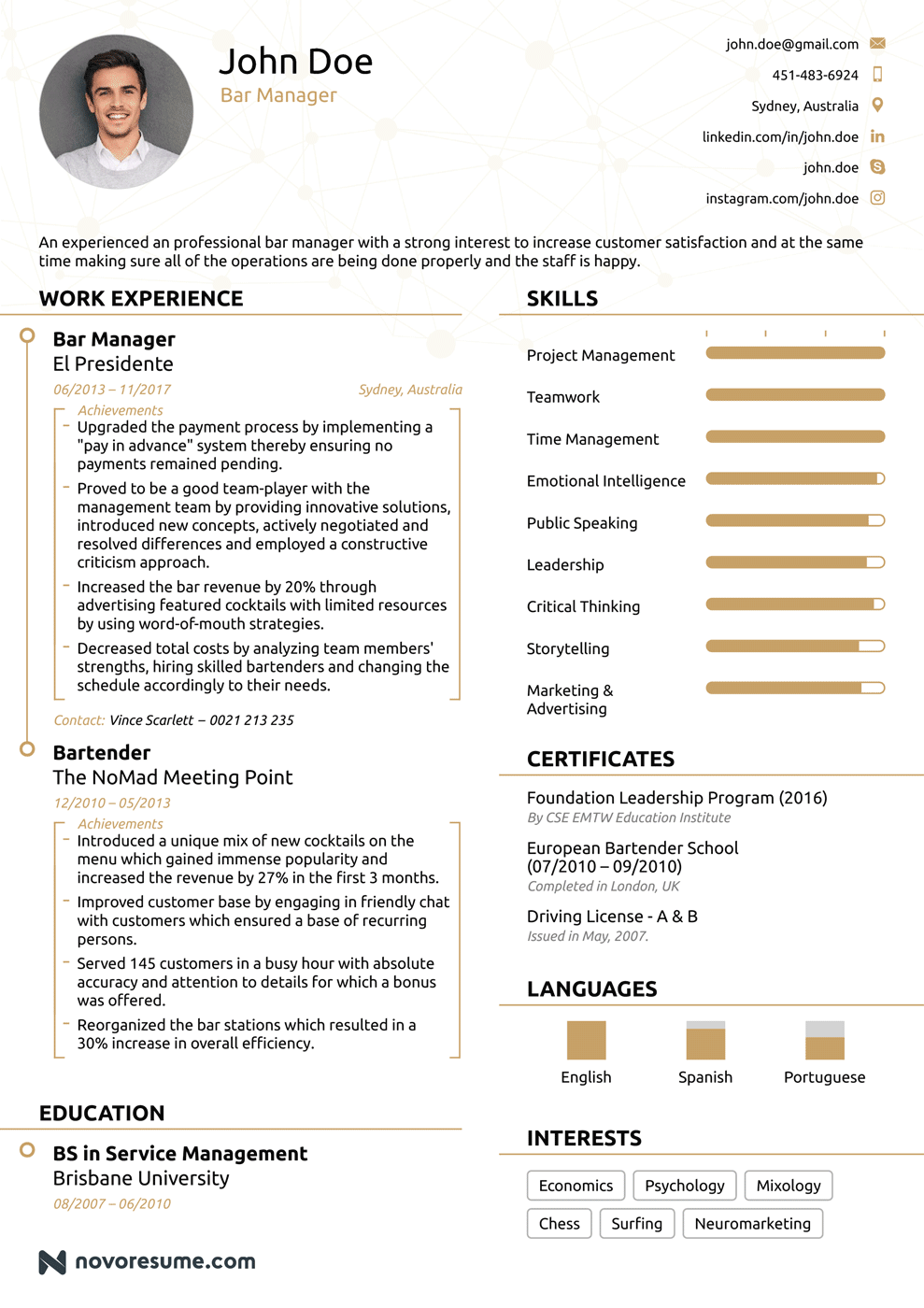 For more info on how to update your own bar manager chronological resume for 2023, this is the article for you. 
#10. Human Resources Chronological Resume
The example says it all: the chronological resume does wonders showing the peak of your work experience first, and then going back to your professional history and skills. This article on the HR chronological resume has more tips on how to perfect it.
Discover More Resume Templates
Combination Resume Templates
Creative Resume Templates
Functional Resume Templates
Minimalistic Resume Templates
High School Resume Templates
One Page Resume Templates
2 Page Resume Templates
Google Docs Resume Templates
Word Resume Templates
Key Takeaways 
And that's a wrap! 
Let's do a quick recap of the main points covered in this article: 
The chronological resume - or reverse chronological - is a top choice among candidates with years of professional experience and a favorite among recruiters.
The chronological resume focuses on your work experience, starting your current or most recent one, and following up with the rest - from most to least recent.
Recent college graduates that want to use this format can - simply replace the work section with the education section, following the same reverse-chronological order.
Save time and energy building the reverse chronological resume from scratch by using online resume builders , such as the one Novorésumé offers.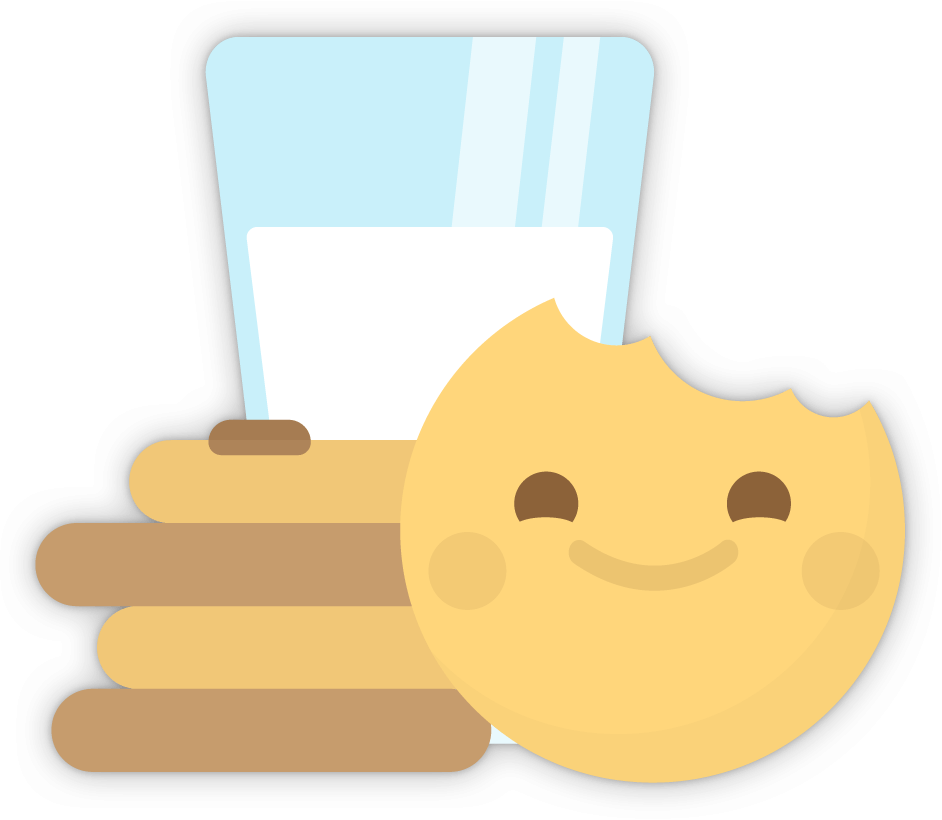 To provide a safer experience, the best content and great communication, we use cookies. Learn how we use them for non-authenticated users.
What is a Chronological Resume (with Tips and Examples)
Job seekers who explore resume formats may sometimes get confused when they see terms like functional, combination, hybrid, and chronological or reverse chronological order. Do you know the difference between these different resume format types, or why the reverse-chronological resume continues to be the format of choice for job seekers and hiring managers alike?
In this post, we'll examine the chronological, or reverse-chronological, resume and explain why it's the most popular resume format in today's job market. We'll also provide some helpful advice that you can use to determine whether this format is right for you, and tips to help you employ this format for your own resume.
What is a reverse-chronological order resume?
Reverse-chronological order simply refers to how information is organized according to time. A reverse-chronological resume differs from other resume formats in the way employment details are presented to a prospective employer. The format includes the details about each company you've worked for, listing them in order, beginning with your current or most recent position.
Now, you may be wondering the difference between a chronological order resume and a reverse-chronological order resume. The answer is simple: the chronological resume format and reverse-chronological resume format are one and the same. The only real difference is in the terms used to describe the format. So, when you read the words "chronological resume" you should automatically assume that the format lists employment history in reverse chronological order.
How the chronological resume compares to other resume formats
The chronological resume is the most popular resume format for many reasons. In addition to providing a clear and concise way to showcase your job history in reverse chronological order, it also offers an opportunity to present a compelling narrative about your work history and achievements. Used properly, this format can help hiring managers to quickly assess your motivation, drive for success, and potential value as an employee.
Since it focuses so heavily on work experience, a chronological order resume is ideal for candidates whose professional experience demonstrates their qualifications for an open position. But how does it compare to other resume formats like the functional or hybrid resume? To understand the differences, it's important to learn about those other two formats.
The functional resume format
The functional resume uses a different format because it has a different goal than the chronological order resume. Instead of focusing on your work experience, the functional resume is designed to highlight your relevant skills, including transferable abilities. As such, it is best used by job candidates who have little or no experience in their chosen industry or profession. For example, recent graduates can benefit from using this type of resume. It is also a great option for people who have major gaps in their work history.
The combination, or hybrid, resume format
Another option, that combines the benefits of the chronological resume with those of the functional resume, is the combination resume format. This resume still includes work experience, but places that section after a detailed skills section. As a result, employers are able to focus attention on the candidate's overall qualifications while still gaining insight into the job seeker's previous work history. As a result, this can be a good option for candidates who are switching industries and careers.
The right way to use reverse chronological order
A reverse chronological order resume should always include your jobs and qualifications in chronological order, beginning with the most recent. In other words, start with your current or last job and work backwards through time, listing each relevant position you held. Any employer who reads through your employment history section should be able to see a clear history of the jobs you've held. Follow this simple guide to create that list:
1.       Start with your most recent job and the employment dates.
2.       Then list the job you held prior to your most recent position.
3.       Then list the job you held prior to that job.
4.       And so on, for as many positions as you want to include.
While it might be tempting to highlight the most relevant positions by listing them first, you should avoid that option. Employers want to see not only your relevant experience, but your career progression too. The only exception to this rule would be if you have little relevant experience and want to focus attention on your skills rather than your work history. Of course, if that's the case, you should probably be using a functional or combination resume anyway.
Tips to help you create a reverse-chronological order resume
For most people, the chronological order resume will be the best option, so it's important to understand how to craft this type of resume. The following tips will discuss the sections that your chronological resume should contain and the types of information you should include in each of those sections.
1.      Contact information
Your personal contact information should always be the first thing hiring managers see when they look at your resume. Put this information at the top and include all of the key details an employer might need to contact you for an interview or job offer. Those details should include:
Your first and last name
Your phone number - just your cell phone number is fine, no need for a landline 
Your physical address, especially if you are applying for a job in another city or state - just town and zip code is enough 
Your email address
Relevant professional social media links, such as LinkedIn
2.      Summary statement
If you're used to the old objective statement, skip it. The resume summary statement is the preferred choice these days because it enables you to focus on the company's needs rather than your own career goals. Basically, this summarized overview of your skills and experiences is a written "elevator pitch," designed to capture a hiring manager's interest and attention in just a few seconds.
Don't underestimate the important role that this summary plays! Most employers only need a few seconds to decide whether they want to read the rest of your resume, so take your time to craft the right message. Include two or three sentences that highlight your experience in the industry and role, one or two relevant skills, and a measurable achievement that shows your potential value if you get hired.
3.      Skills
Your skills section is typically found right after the summary statement. Here, you will want to list all of your most relevant skills. These should include both soft skills and hard technical skills that are required for the position you're seeking. You should consult the job description to see which skills the employer wants to see in any job candidate, and try to include each of those abilities in your skill section.
As you list these skills, remember to use the same terms you find in the job description. Those keywords and phrases may be essential for ensuring that your resume can be picked out by any applicant tracking system the company might be using to assess resume submissions. If those keywords are not in your resume, there is a good chance that the machines will overlook your submission.
4.      Professional experience
In any chronological resume, the professional experience does most of the heavy lifting. In this section, you should include all of your most relevant work experience , listing jobs in order from the most recent to the oldest. As you do so, include several bullet points under each job listing, highlighting the skills you used in your role and notable achievements that created value for those past employers. To add emphasis to those achievements, use real numbers that demonstrate that value. For example:
Acme International                                                     2019-2023
Order Fulfillment Manager
Oversaw delivery of 5 products per week for Acme's biggest customer, ensuring timely delivery of Acme Anvils, Acme Axle Grease, Acme Dehydrated Boulders, and other in-demand items used for pursuing Road Runners
Led effort to create expedited shipping processes to speed up client receipt of Acme goods by 12 hours, resulting in a new system that guaranteed same-episode delivery of all products
Launched internal diversity project that resulted in the creation of the Female Road Runner Costume
5.      Education
You will also need to include your educational achievements, especially if the advertised job requirements include some type of academic qualification. Treat this section like your professional experience and use reverse chronological order to list your schools and degrees. For example:
Educational History
Bachelor of Science     2015-2019
Acme College
Order Fulfillment Science Program
Unless you're a recent graduate, have major gaps in your work history, or are in the process of switching careers, the reverse-chronological resume will likely be the best option for your resume format needs. By learning more about why this resume type is so effective and applying these simple tips in your own resume creation process, you can create a more compelling resume narrative to aid you in your job search.
Are you still not sure that your chronological resume is ready for prime time? Be sure to get your free resume review from our experts now!
Recommended reading:
How to Get Your Resume Past the ATS Scans
How long should a resume be in 2023?
Why You Shouldn't Use AI to Write Your Resume
Ken Chase, Freelance Writer
During Ken's two decades as a freelance writer, he has covered everything from banking and fintech to business management and the entertainment industry. His true passion, however, has always been focused on helping others achieve their career goals with timely job search and interview advice or the occasional resume consultation. When he's not working, Ken can usually be found adventuring with family and friends or playing fetch with his demanding German Shepherd. Read more resume advice from Ken on  ZipJob's blog .
Land your next role with the help of our top-rated writing team.
Our resume services get results.
We've helped change over 30,000 careers.
Get a free resume review today
Our experts will review your resume's grammar, layout, and ability to pass ATS — all free and delivered straight to your inbox.
Is your resume getting ignored?
Earn twice as many interviews with a professional resume rewrite..
What you need for a quick career boost.
A professional resume
ATS optimization
Direct writer messaging
Most Popular
The documents you need to apply to jobs faster.
Everything included in the Launch package
A cover letter
60-day interview guarantee
Advanced features to secure your next interview.
Professionally written resume and cover letter plus
A LinkedIn profile update
Expedited delivery
HK AU NZ SG CN
Search jobs
Salary Guide 2023
Job interviews
Psychometric testing
Leadership development resources
Hudson Career
Accounting & Finance
Financial Services
Human Resources
Sales & Marketing
Supply Chain & Procurement
Technology & Digital
Contracting & Payroll Services
Frontline Recruitment
Recruit Graduates
Psychometric Testing
Scaleup by Hudson Blog
Navigate change
Realign capability
Mobilise careers
Coaching For Your Team
Salary Guides 2023
Hong Kong CEO Series
hellomonday – people development & coaching
job accelerator – career transition & outplacement
Sapia – AI Smart Chat Interviewing
scaleup – volume & graduate recruitment
About the Hudson group
Resumes & cover letters: Reverse chronological resume template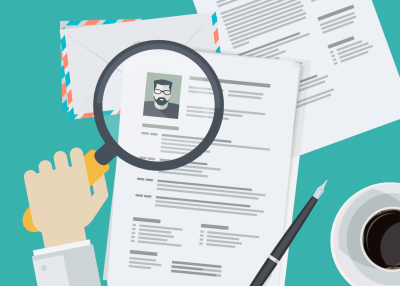 The reverse chronological resume is the most common and traditional type of resume. With this resume format, you list your relevant work experience in reverse chronological order, beginning with your most recent position and proceeding backwards. For each job, you provide dates, location and the name of your employer, and succinctly outline your key responsibilities and achievements.
The advantage of using the reverse chronological format is that it helps to highlight your upward career progression and continuous work history. Those who have had gaps in their employment, who are changing careers or who have a long work history may wish to consider using a functional resume or one-page career summary to better outline their skills and experience. Confused? View summaries of the benefits of each resume template .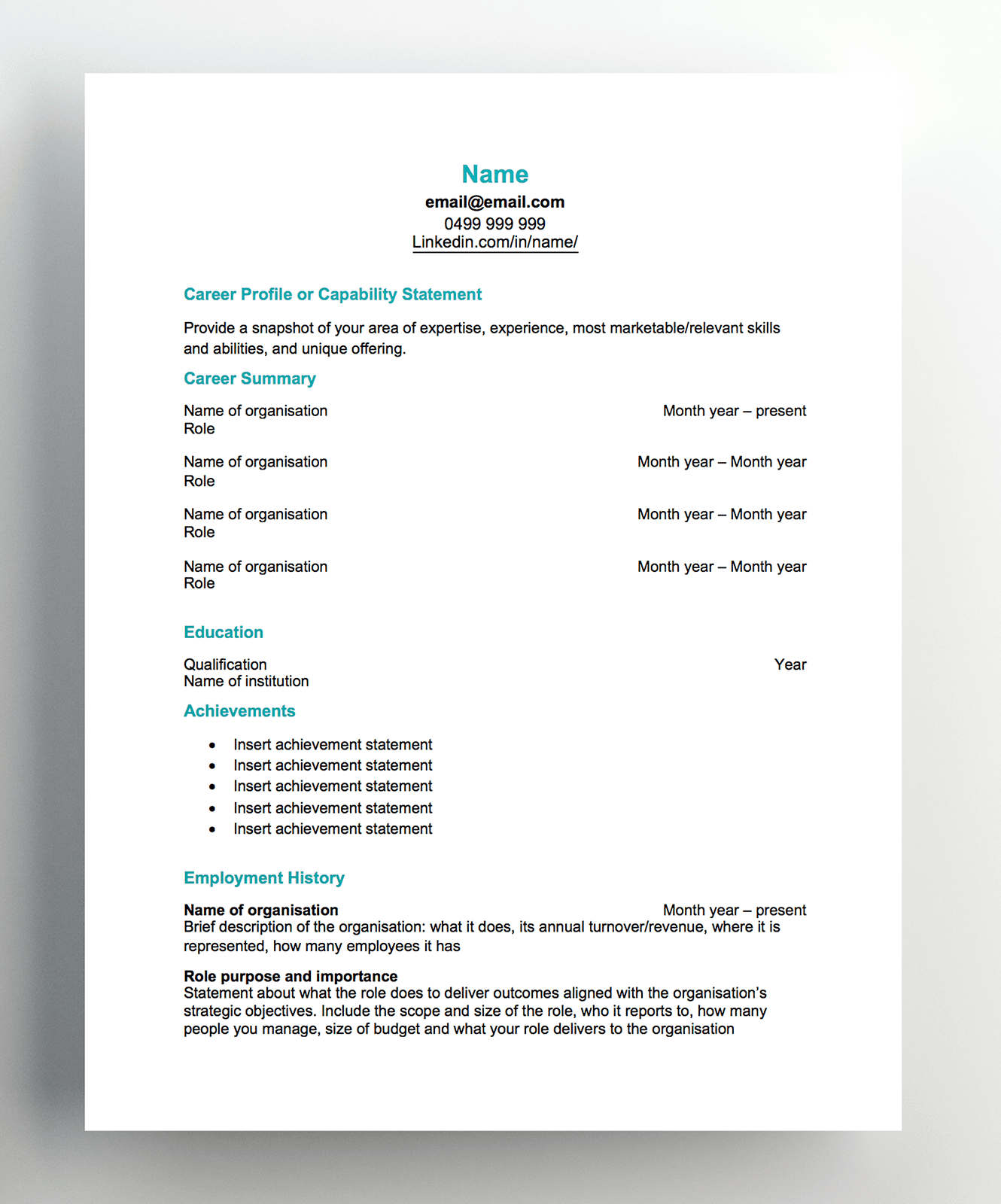 Related insights
Exploring the Best Resume Formats — The Complete Guide
Published: June 07, 2023
The content of your resume is as important as the format used in presenting the resume. Put another way, crisp resume content plus the best resume format is the perfect match for getting hired for a role.
In this post, you'll learn about the best resume formats, their pros and cons, and when to use each one. Let's dive in.
Table of Contents
What are the different resume formats?
Chronological resumes — how do they work, functional resumes — how do they work, combination resumes — how do they work.
3. List relevant job experiences only.
Adding unrelated job experiences to your resume weakens its impact. If you have any irrelevant work experience, it's best to leave it out.
Yes, this will appear as a career gap to recruiters. But if your experience is good enough for a role, it won't matter.
4. Don't place your Education above your Work Experience section.
If you graduated with spectacular grades from a big-name university like Princeton, you might want to show it off at the top of your resume. But that's a bad idea.
Recruiters value work experience over high academic achievement, and for good reason — work experience of any form is a stronger predictor of your on-the-job performance.
Examples of Chronological Resumes
Let's take a look at some stellar examples of chronological resumes so you can visualize how the format works when creating your own.
1. Management Consultant
Don't forget to share this post!
Related articles.
The 14 Best Free Resume Builders We've Ever Discovered
27 of the Best Professional Bio Examples We've Ever Seen [+ Templates]
40+ Resume Objective Examples to Help You Craft Your Own
CV vs. Resume: What's the difference?
Career Objective Tips To Get Your Resume Noticed [+ Examples]
What is an Infographic Resume? Examples and Templates
Google Docs Resume Templates: 10 Best Templates to Land Your Next Job
The 10 Resume Mistakes to Avoid at All Costs
27 Free Resume Templates for Microsoft Word (& How to Make Your Own)
The 17 Best Resume Templates for Every Type of Professional
Resume templates to create a killer resume for your job application.
100% Free CRM
Nurture and grow your business with customer relationship management software.