+44 (0)207 118 1600 (8am-10pm)
Senior Team
Testimonials
Articles & More
Our Services
Copywriting
Coaching on speech delivery
TED & TEDx talks
Consultancy
Training & Courses
Communications Audit
Outsourcing your communications to us
Our Clients
Motivational & After Dinner
Charity & Fundraising
Best tips 1: how to write a successful business speech
How to write a successful business speech?  It's extraordinary how many brilliant business people don't get it right.  And how simple it is to write something really compelling.
Whether the business speech is at an external conference, an internal meeting or a big pitch, there is a tendency for the speaker to:
Begin slowly and safely (running through numbers, listing the agenda)
Structure the speech around a series of 'key points' they wish to make (often rising well into double figures!)
Carry on for too long
Use phrases like "Another crucial point is …"
Leave the audience wondering quite what they were meant to focus on or remember.
Getting it right is so simple and satisfying.  Here are three tips to ensure you write a successful business speech:
Your main problem is that you know too much about your subject.  More than any member of your audience will ever need to digest.  So don't start by listing all the things you need to say. Ask yourself a crucial question:
If there was one thing the audience could remember the following day, what would it be?
That tip alone has  transformed  the way a number of our clients think about their speeches.
Then put yourself in their shoes.  What matters to them?  What will hook them in?  What's worrying them?  What will inspire?  How can you use that understanding to ensure your key message will be heard and remembered?
That's relevance in a  nutshell.  Switching the 'features' of your subject into 'benefits' that will be impossible for your audience to ignore.
So don't fall into the trap of writing a speech structured around ' who we are', 'what we do ' and ' where we're based '.
Switch it into " I know what you want to hear"  or " I know what's worrying you"  or " If there's one thing I'd love you to take away from this …"
Originality
Relevance alone isn't enough.  Particularly if your audience have heard it all before.  You also need to speak to them in a new way.
Originality is easy.  It means linking two different things together in a relevant way.  Or starting with a story that brings your message to life. You could tell a story or explode a myth.
A client of mine flew to South Africa to give a speech about technological change in her industry.  She approached it by talking her audience through her journey, illustrating it with how technology had effected each stage, from booking her ticket to choosing her accommodation.  It allowed her to keep it light and self-deprecating, making serious points as 'evidence' in an argument rather than just listing them.  She received the only standing ovation of the event.
Another client working in property told the story of an octogenarian living in a managed London apartment who shot pigeons with an air-gun from her bedroom window.  Original, true and the audience literally couldn't wait to hear what was going to come next!
Why would you want to speak for an hour if you can get your key message across in fifteen minutes.? There is ample proof that audiences begin to lose concentration somewhere between eight and ten minutes in.  It's no coincidence that TED talks are limited to 18.
Put yourself in your audience's shoes.  How many times have you sat down to listen to a senior executive giving a speech and wished they'd wrapped things up in half the time?  Ever felt your mind wandering or started subtly checking emails? There's just no excuse for wasting anyone's time simply for the sake of filling a slot.  Better to leave them inspired and wanting more.
Because there is nothing worse than a speaker who takes two minutes to introduce himself and then uses long, winding sentences like this one to make a point that could have been made much more clearly in far less time and using far fewer words.
Brevity's not just about speaking for less time, it's about using shorter, punchier sentences.
With time to pause.
To collect your thoughts.
And to really EMPHASISE key words.
If you have a long, technical passage …
… split it up like this …
… allowing the dots to give your audience time to absorb what you said last.
Try to avoid convoluted ways of explaining something simple.  For example:
"The problem with playing three centre forwards is that each forward is based in the attacking third of the pitch which can leave a massive gap in midfield to be filled by less players, meaning that the defence gets pulled out of shape."
Could be changed to:
"Selecting three forwards can leave holes behind them in midfield …
… that defenders are forced to cover."
Finally, remember this sad truth:
A day after you have spoken, few of your audience will remember your key message, fewer still will have remembered your second message, and only a handful will remember more than one example you highlighted.
So see if you can compact a twenty minute speech into fifteen, and don't worry about being too brief.
If you'd like some help writing a successful business speech, please give us a call .  We'll keep it relevant, brief and we'll do our very best to be original!
Thanks for reading.
How can we help?
Please give us as much detail as possible in the form below (including deadlines!). Or call the office on +44 (0)207 118 1600.
Email Address
Phone Number
Speech or presentation type Political Corporate Motivational After Dinner Charity & Fundraising TED / TEDX Social event
Please tell us more (including your deadline and the best time to contact you).
Visit our dedicated wedding and social speech writing site
Advertising
Applications
Assessments
Certificates
Announcement
Invitations
Newsletters
Questionnaires
Food & Beverages
Recruitment
Marketing Examples
Transportation
Examples of Writing a Business Speech
Inspirational Speech Examples
Speech Outline Examples
Examples of Writing an Inspirational Business Speech
Know your audience.
What's the job function of the  aud ience members that represent the businesses sector?
What's would be the s ize and i ndustry of those companies if your listeners represent different companies?
Do they have pressing concerns?
What is the age range of the audience?
Are your audience members present clients, prospective clients, or a mix of both?
Know Your Subject
Have a Vision
More design, 5+ self-introduction speech examples, 4+ presentation speech examples, how to start a speech, metaphors in business talk, 23+ free outline examples, 9+ after dinner speech examples, 8+ memo writing examples, 4+ introduction email examples, 5+ business questionnaire examples, samples.

Related Articles
id; ?>)" rel="noopener" role="button" tabindex="0" aria-label="postclick">13+ Elevator Speech Examples
id; ?>)" rel="noopener" role="button" tabindex="0" aria-label="postclick">9+ Short Proposal Examples
Key points in writing a good business speech
Fear of giving a speech is one the three top fears people have, right after fear of altitude and fear of sudden death.
No wonder that most of the people get stuck with writing speeches, especially business related speeches, as they can really influence future.
You might need to write a business speech to present a report or promote your start-up. No matter what you intention is, writing a persuasive business speech is not an easy task especially if you haven't done it before.
We can't promise that you can create a stellar speech from the first try, and if you aim this exactly we would recommend to address a professional writing service.
However, with the following tips provided by writing experts from WriteMyPaperHub.com you can write a good business speech not wasting too much time.
Persuasive Business Speech Writing Guide
The first thing to do is to determine the main idea of all speech. A clear understanding of what you want to convey to the audience will help not only to formulate a goal correctly but also to write a statement that will be easily understood, assimilated and form the right attitude to the subject of discussion. If you don't have a goal your audience won't know what to do exactly. Your goal should not be related to you, it should target the audience. Ask yourself, what do you want your listeners to think or do after you finish your speech. Bad goal: I want to give an impressive speech. Good goal: I want 45% of the audience order our products immediately after my speech, using their phones and links I give.
Focus on one topic. No need to deviate from the selected vector or try to cover several topics at once. Verbiage distracts the attention of listeners. Every sentence you pronounce should lead your audience to the goal you have in mind. Jokes, side stories, statistics, everything in your business speech should be related to the chosen topic. Don't share information, no matter how interesting it is, if it doesn't strengthen your position.
Determine the structure of the speech. The logical sequence of writing is easier absorbed by the consciousness of the audience. Start with a strong introduction – this will be the "clue" for the attention of listeners. It may be a small story, a question, a quote, or an interesting fact that could inspire the confidence of the audience. Do not neglect the importance of a good introduction. Otherwise, the information will make listeners suffer, overwhelming them.
When speaking to a business audience, you can change the classic speech structure and give as much solid information as you can in the beginning. People in business need to grasp benefits of paying attention to what you say immediately, otherwise you will lose them before getting to the point.
Having prepared the introduction, go to the main part. It must contain as much information as is necessary for the disclosure of the topic. No need to be sprayed and spread everything that you know on this issue. A flurry of information will not help the audience to extract something useful – people will simply stop listening at some point. Therefore, in the process of writing a speech, the principle of "less but better" seems optimal.
Be persuasive. Achieve this in different ways: refer to the morals of the audience, its emotions, and logic. Your listeners must agree with you. Use both your own reputation and the reputation of an authoritative outsider, manipulate emotions, logical inferences. Support your words with statistics and facts – this will serve as a good proof of what is written. The main thing is to use only reliable information and select words wisely.
Be clear. Think what the audience would like to hear? Use words that she will understand – do not complicate. Put yourself in the audience. Write it as if you are addressing a friend – your relaxation and openness will rather attract an audience to you. Speech, in which there are a character and soul, will surely find a response within everyone.
Writing a business speech you can't lean solely on the structure or good jokes, you have to provide the audience with solid facts, persuasive statistics, plausible projections, etc.
Focus on your goal and remember, that even the smartest listeners don't remember more than one key and one additional idea from the speeches, so don't overwhelm people, stress your idea as much as you can and you will appreciate the result.
Business Matters
How it works
Transform your enterprise with the scalable mindsets, skills, & behavior change that drive performance.
Explore how BetterUp connects to your core business systems.
Build leaders that accelerate team performance and engagement.
Unlock performance potential at scale with AI-powered curated growth journeys.
Build resilience, well-being and agility to drive performance across your entire enterprise.
Transform your business, starting with your sales leaders.
Unlock business impact from the top with executive coaching.
Foster a culture of inclusion and belonging.
Accelerate the performance and potential of your agencies and employees.
See how innovative organizations use BetterUp to build a thriving workforce.
Discover how BetterUp measurably impacts key business outcomes for organizations like yours.
A demo is the first step to transforming your business. Meet with us to develop a plan for attaining your goals.
Best practices, research, and tools to fuel individual and business growth.
View on-demand BetterUp events and learn about upcoming live discussions.
The latest insights and ideas for building a high-performing workplace.
The online magazine that helps you understand tomorrow's workforce trends, today.
Innovative research featured in peer-reviewed journals, press, and more.
Founded in 2022 to deepen the understanding of the intersection of well-being, purpose, and performance
We're on a mission to help everyone live with clarity, purpose, and passion.
Join us and create impactful change.
Read the buzz about BetterUp.
Meet the leadership that's passionate about empowering your workforce.
For Business
How to write a speech that your audience remembers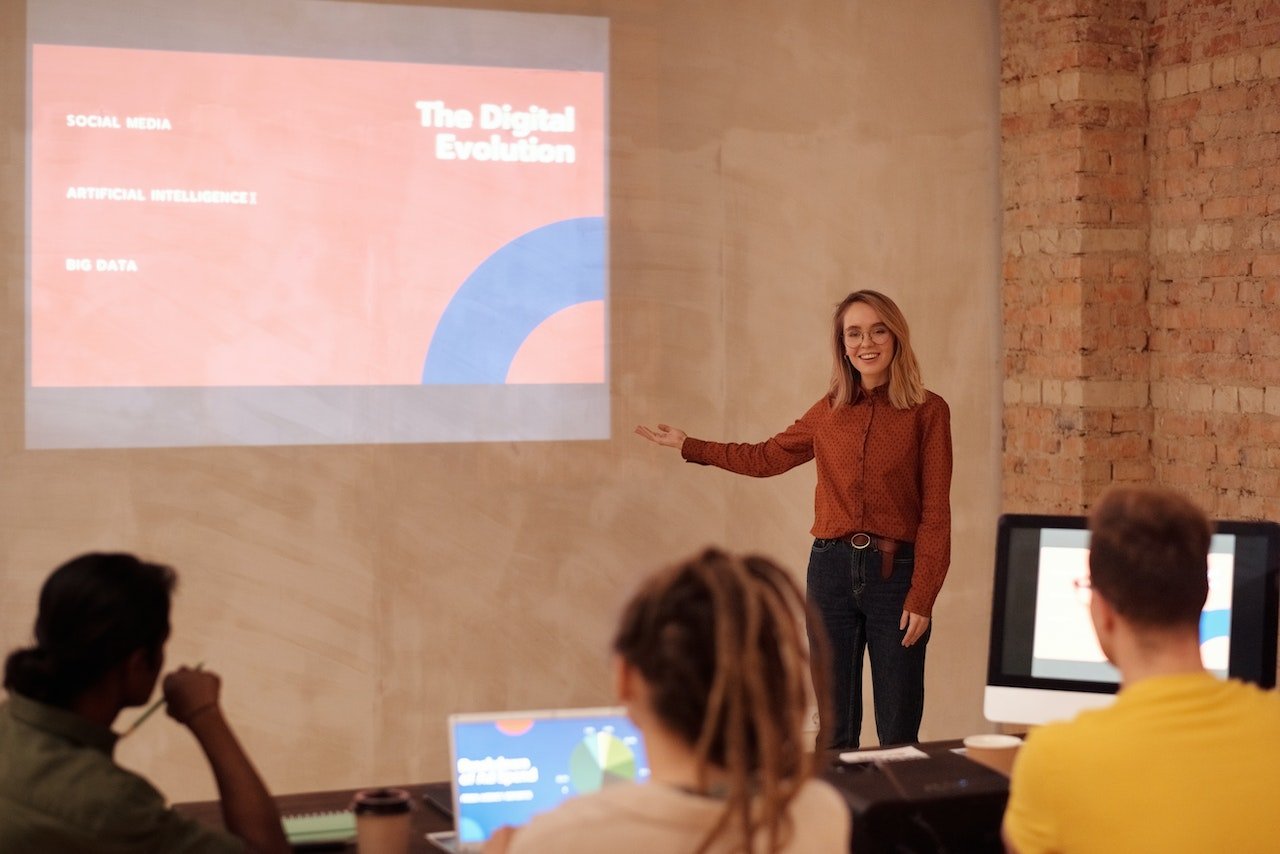 Understand Yourself Better:
Big 5 Personality Test
Whether in a work meeting or at an investor panel, you might give a speech at some point. And no matter how excited you are about the opportunity, the experience can be nerve-wracking .
But feeling butterflies doesn't mean you can't give a great speech. With the proper preparation and a clear outline, apprehensive public speakers and natural wordsmiths alike can write and present a compelling message. Here's how to write a good speech you'll be proud to deliver.
What is good speech writing?
Good speech writing is the art of crafting words and ideas into a compelling, coherent, and memorable message that resonates with the audience. Here are some key elements of great speech writing:
It begins with clearly understanding the speech's purpose and the audience it seeks to engage.
A well-written speech clearly conveys its central message, ensuring that the audience understands and retains the key points.
It is structured thoughtfully, with a captivating opening, a well-organized body, and a conclusion that reinforces the main message.
Good speech writing embraces the power of engaging content, weaving in stories, examples, and relatable anecdotes to connect with the audience on both intellectual and emotional levels.
Ultimately, it is the combination of these elements, along with the authenticity and delivery of the speaker , that transforms words on a page into a powerful and impactful spoken narrative.
What makes a good speech?
A great speech includes several key qualities, but three fundamental elements make a speech truly effective:
Clarity and purpose
Remembering the audience, cohesive structure.
While other important factors make a speech a home run, these three elements are essential for writing an effective speech.
The main elements of a good speech
The main elements of a speech typically include:
Introduction: The introduction sets the stage for your speech and grabs the audience's attention. It should include a hook or attention-grabbing opening, introduce the topic, and provide an overview of what will be covered.
Opening/captivating statement: This is a strong statement that immediately engages the audience and creates curiosity about the speech topics.
Thesis statement/central idea: The thesis statement or central idea is a concise statement that summarizes the main point or argument of your speech. It serves as a roadmap for the audience to understand what your speech is about.
Body: The body of the speech is where you elaborate on your main points or arguments. Each point is typically supported by evidence, examples, statistics, or anecdotes. The body should be organized logically and coherently, with smooth transitions between the main points.
Supporting evidence: This includes facts, data, research findings, expert opinions, or personal stories that support and strengthen your main points. Well-chosen and credible evidence enhances the persuasive power of your speech.
Transitions: Transitions are phrases or statements that connect different parts of your speech, guiding the audience from one idea to the next. Effective transitions signal the shifts in topics or ideas and help maintain a smooth flow throughout the speech.
Counterarguments and rebuttals (if applicable): If your speech involves addressing opposing viewpoints or counterarguments, you should acknowledge and address them. Presenting counterarguments makes your speech more persuasive and demonstrates critical thinking.
Conclusion: The conclusion is the final part of your speech and should bring your message to a satisfying close. Summarize your main points, restate your thesis statement, and leave the audience with a memorable closing thought or call to action.
Closing statement: This is the final statement that leaves a lasting impression and reinforces the main message of your speech. It can be a call to action, a thought-provoking question, a powerful quote, or a memorable anecdote.
Delivery and presentation: How you deliver your speech is also an essential element to consider. Pay attention to your tone, body language, eye contact , voice modulation, and timing. Practice and rehearse your speech, and try using the 7-38-55 rule to ensure confident and effective delivery.
While the order and emphasis of these elements may vary depending on the type of speech and audience, these elements provide a framework for organizing and delivering a successful speech.
How to structure a good speech
You know what message you want to transmit, who you're delivering it to, and even how you want to say it. But you need to know how to start, develop, and close a speech before writing it.
Think of a speech like an essay. It should have an introduction, conclusion, and body sections in between. This places ideas in a logical order that the audience can better understand and follow them. Learning how to make a speech with an outline gives your storytelling the scaffolding it needs to get its point across.
Here's a general speech structure to guide your writing process:
Explanation 1
Explanation 2
Explanation 3
How to write a compelling speech opener
Some research shows that engaged audiences pay attention for only 15 to 20 minutes at a time. Other estimates are even lower, citing that people stop listening intently in fewer than 10 minutes . If you make a good first impression at the beginning of your speech, you have a better chance of interesting your audience through the middle when attention spans fade.
Implementing the INTRO model can help grab and keep your audience's attention as soon as you start speaking. This acronym stands for interest, need, timing, roadmap, and objectives, and it represents the key points you should hit in an opening.
Here's what to include for each of these points:
Interest : Introduce yourself or your topic concisely and speak with confidence . Write a compelling opening statement using relevant data or an anecdote that the audience can relate to.
Needs : The audience is listening to you because they have something to learn. If you're pitching a new app idea to a panel of investors, those potential partners want to discover more about your product and what they can earn from it. Read the room and gently remind them of the purpose of your speech.
Timing : When appropriate, let your audience know how long you'll speak. This lets listeners set expectations and keep tabs on their own attention span. If a weary audience member knows you'll talk for 40 minutes, they can better manage their energy as that time goes on.
Routemap : Give a brief overview of the three main points you'll cover in your speech. If an audience member's attention starts to drop off and they miss a few sentences, they can more easily get their bearings if they know the general outline of the presentation.
Objectives : Tell the audience what you hope to achieve, encouraging them to listen to the end for the payout.
Writing the middle of a speech
The body of your speech is the most information-dense section. Facts, visual aids, PowerPoints — all this information meets an audience with a waning attention span. Sticking to the speech structure gives your message focus and keeps you from going off track, making everything you say as useful as possible.
Limit the middle of your speech to three points, and support them with no more than three explanations. Following this model organizes your thoughts and prevents you from offering more information than the audience can retain.
Using this section of the speech to make your presentation interactive can add interest and engage your audience. Try including a video or demonstration to break the monotony. A quick poll or survey also keeps the audience on their toes.
Wrapping the speech up
To you, restating your points at the end can feel repetitive and dull. You've practiced countless times and heard it all before. But repetition aids memory and learning , helping your audience retain what you've told them. Use your speech's conclusion to summarize the main points with a few short sentences.
Try to end on a memorable note, like posing a motivational quote or a thoughtful question the audience can contemplate once they leave. In proposal or pitch-style speeches, consider landing on a call to action (CTA) that invites your audience to take the next step.
How to write a good speech
If public speaking gives you the jitters, you're not alone. Roughly 80% of the population feels nervous before giving a speech, and another 10% percent experiences intense anxiety and sometimes even panic.
The fear of failure can cause procrastination and can cause you to put off your speechwriting process until the last minute. Finding the right words takes time and preparation, and if you're already feeling nervous, starting from a blank page might seem even harder.
But putting in the effort despite your stress is worth it. Presenting a speech you worked hard on fosters authenticity and connects you to the subject matter, which can help your audience understand your points better. Human connection is all about honesty and vulnerability, and if you want to connect to the people you're speaking to, they should see that in you.
1. Identify your objectives and target audience
Before diving into the writing process, find healthy coping strategies to help you stop worrying . Then you can define your speech's purpose, think about your target audience, and start identifying your objectives. Here are some questions to ask yourself and ground your thinking :
What purpose do I want my speech to achieve?
What would it mean to me if I achieved the speech's purpose?
What audience am I writing for?
What do I know about my audience?
What values do I want to transmit?
If the audience remembers one take-home message, what should it be?
What do I want my audience to feel, think, or do after I finish speaking?
What parts of my message could be confusing and require further explanation?
2. Know your audience
Understanding your audience is crucial for tailoring your speech effectively. Consider the demographics of your audience, their interests, and their expectations. For instance, if you're addressing a group of healthcare professionals, you'll want to use medical terminology and data that resonate with them. Conversely, if your audience is a group of young students, you'd adjust your content to be more relatable to their experiences and interests.
3. Choose a clear message
Your message should be the central idea that you want your audience to take away from your speech. Let's say you're giving a speech on climate change. Your clear message might be something like, "Individual actions can make a significant impact on mitigating climate change." Throughout your speech, all your points and examples should support this central message, reinforcing it for your audience.
4. Structure your speech
Organizing your speech properly keeps your audience engaged and helps them follow your ideas. The introduction should grab your audience's attention and introduce the topic. For example, if you're discussing space exploration, you could start with a fascinating fact about a recent space mission. In the body, you'd present your main points logically, such as the history of space exploration, its scientific significance, and future prospects. Finally, in the conclusion, you'd summarize your key points and reiterate the importance of space exploration in advancing human knowledge.
5. Use engaging content for clarity
Engaging content includes stories, anecdotes, statistics, and examples that illustrate your main points. For instance, if you're giving a speech about the importance of reading, you might share a personal story about how a particular book changed your perspective. You could also include statistics on the benefits of reading, such as improved cognitive abilities and empathy.
6. Maintain clarity and simplicity
It's essential to communicate your ideas clearly. Avoid using overly technical jargon or complex language that might confuse your audience. For example, if you're discussing a medical breakthrough with a non-medical audience, explain complex terms in simple, understandable language.
7. Practice and rehearse
Practice is key to delivering a great speech. Rehearse multiple times to refine your delivery, timing, and tone. Consider using a mirror or recording yourself to observe your body language and gestures. For instance, if you're giving a motivational speech, practice your gestures and expressions to convey enthusiasm and confidence.
8. Consider nonverbal communication
Your body language, tone of voice, and gestures should align with your message . If you're delivering a speech on leadership, maintain strong eye contact to convey authority and connection with your audience. A steady pace and varied tone can also enhance your speech's impact.
9. Engage your audience
Engaging your audience keeps them interested and attentive. Encourage interaction by asking thought-provoking questions or sharing relatable anecdotes. If you're giving a speech on teamwork, ask the audience to recall a time when teamwork led to a successful outcome, fostering engagement and connection.
10. Prepare for Q&A
Anticipate potential questions or objections your audience might have and prepare concise, well-informed responses. If you're delivering a speech on a controversial topic, such as healthcare reform, be ready to address common concerns, like the impact on healthcare costs or access to services, during the Q&A session.
By following these steps and incorporating examples that align with your specific speech topic and purpose, you can craft and deliver a compelling and impactful speech that resonates with your audience.
Tools for writing a great speech
There are several helpful tools available for speechwriting, both technological and communication-related. Here are a few examples:
Word processing software: Tools like Microsoft Word, Google Docs, or other word processors provide a user-friendly environment for writing and editing speeches. They offer features like spell-checking, grammar correction, formatting options, and easy revision tracking.
Presentation software: Software such as Microsoft PowerPoint or Google Slides is useful when creating visual aids to accompany your speech. These tools allow you to create engaging slideshows with text, images, charts, and videos to enhance your presentation.
Speechwriting Templates: Online platforms or software offer pre-designed templates specifically for speechwriting. These templates provide guidance on structuring your speech and may include prompts for different sections like introductions, main points, and conclusions.
Rhetorical devices and figures of speech: Rhetorical tools such as metaphors, similes, alliteration, and parallelism can add impact and persuasion to your speech. Resources like books, websites, or academic papers detailing various rhetorical devices can help you incorporate them effectively.
Speechwriting apps: Mobile apps designed specifically for speechwriting can be helpful in organizing your thoughts, creating outlines, and composing a speech. These apps often provide features like voice recording, note-taking, and virtual prompts to keep you on track.
Grammar and style checkers: Online tools or plugins like Grammarly or Hemingway Editor help improve the clarity and readability of your speech by checking for grammar, spelling, and style errors. They provide suggestions for sentence structure, word choice, and overall tone.
Thesaurus and dictionary: Online or offline resources such as thesauruses and dictionaries help expand your vocabulary and find alternative words or phrases to express your ideas more effectively. They can also clarify meanings or provide context for unfamiliar terms.
Online speechwriting communities: Joining online forums or communities focused on speechwriting can be beneficial for getting feedback, sharing ideas, and learning from experienced speechwriters. It's an opportunity to connect with like-minded individuals and improve your public speaking skills through collaboration.
Remember, while these tools can assist in the speechwriting process, it's essential to use them thoughtfully and adapt them to your specific needs and style. The most important aspect of speechwriting remains the creativity, authenticity, and connection with your audience that you bring to your speech.
5 tips for writing a speech
Behind every great speech is an excellent idea and a speaker who refined it. But a successful speech is about more than the initial words on the page, and there are a few more things you can do to help it land.
Here are five more tips for writing and practicing your speech:
1. Structure first, write second
If you start the writing process before organizing your thoughts, you may have to re-order, cut, and scrap the sentences you worked hard on. Save yourself some time by using a speech structure, like the one above, to order your talking points first. This can also help you identify unclear points or moments that disrupt your flow.
2. Do your homework
Data strengthens your argument with a scientific edge. Research your topic with an eye for attention-grabbing statistics, or look for findings you can use to support each point. If you're pitching a product or service, pull information from company metrics that demonstrate past or potential successes.
Audience members will likely have questions, so learn all talking points inside and out. If you tell investors that your product will provide 12% returns, for example, come prepared with projections that support that statement.
3. Sound like yourself
Memorable speakers have distinct voices. Think of Martin Luther King Jr's urgent, inspiring timbre or Oprah's empathetic, personal tone . Establish your voice — one that aligns with your personality and values — and stick with it. If you're a motivational speaker, keep your tone upbeat to inspire your audience . If you're the CEO of a startup, try sounding assured but approachable.
4. Practice
As you practice a speech, you become more confident , gain a better handle on the material, and learn the outline so well that unexpected questions are less likely to trip you up. Practice in front of a colleague or friend for honest feedback about what you could change, and speak in front of the mirror to tweak your nonverbal communication and body language .
5. Remember to breathe
When you're stressed, you breathe more rapidly . It can be challenging to talk normally when you can't regulate your breath. Before your presentation, try some mindful breathing exercises so that when the day comes, you already have strategies that will calm you down and remain present . This can also help you control your voice and avoid speaking too quickly.
How to ghostwrite a great speech for someone else
Ghostwriting a speech requires a unique set of skills, as you're essentially writing a piece that will be delivered by someone else. Here are some tips on how to effectively ghostwrite a speech:
Understand the speaker's voice and style : Begin by thoroughly understanding the speaker's personality, speaking style, and preferences. This includes their tone, humor, and any personal anecdotes they may want to include.
Interview the speaker : Have a detailed conversation with the speaker to gather information about their speech's purpose, target audience, key messages, and any specific points they want to emphasize. Ask for personal stories or examples they may want to include.
Research thoroughly : Research the topic to ensure you have a strong foundation of knowledge. This helps you craft a well-informed and credible speech.
Create an outline : Develop a clear outline that includes the introduction, main points, supporting evidence, and a conclusion. Share this outline with the speaker for their input and approval.
Write in the speaker's voice : While crafting the speech, maintain the speaker's voice and style. Use language and phrasing that feel natural to them. If they have a particular way of expressing ideas, incorporate that into the speech.
Craft a captivating opening : Begin the speech with a compelling opening that grabs the audience's attention. This could be a relevant quote, an interesting fact, a personal anecdote, or a thought-provoking question.
Organize content logically : Ensure the speech flows logically, with each point building on the previous one. Use transitions to guide the audience from one idea to the next smoothly.
Incorporate engaging stories and examples : Include anecdotes, stories, and real-life examples that illustrate key points and make the speech relatable and memorable.
Edit and revise : Edit the speech carefully for clarity, grammar, and coherence. Ensure the speech is the right length and aligns with the speaker's time constraints.
Seek feedback : Share drafts of the speech with the speaker for their feedback and revisions. They may have specific changes or additions they'd like to make.
Practice delivery : If possible, work with the speaker on their delivery. Practice the speech together, allowing the speaker to become familiar with the content and your writing style.
Maintain confidentiality : As a ghostwriter, it's essential to respect the confidentiality and anonymity of the work. Do not disclose that you wrote the speech unless you have the speaker's permission to do so.
Be flexible : Be open to making changes and revisions as per the speaker's preferences. Your goal is to make them look good and effectively convey their message.
Meet deadlines : Stick to agreed-upon deadlines for drafts and revisions. Punctuality and reliability are essential in ghostwriting.
Provide support : Support the speaker during their preparation and rehearsal process. This can include helping with cue cards, speech notes, or any other materials they need.
Remember that successful ghostwriting is about capturing the essence of the speaker while delivering a well-structured and engaging speech. Collaboration, communication, and adaptability are key to achieving this.
Give your best speech yet
Learn how to make a speech that'll hold an audience's attention by structuring your thoughts and practicing frequently. Put the effort into writing and preparing your content, and aim to improve your breathing, eye contact , and body language as you practice. The more you work on your speech, the more confident you'll become.
The energy you invest in writing an effective speech will help your audience remember and connect to every concept. Remember: some life-changing philosophies have come from good speeches, so give your words a chance to resonate with others. You might even change their thinking.
Elizabeth Perry
Content Marketing Manager, ACC
Why coworker feedback is so important and 5 ways to give it
Use a personal swot analysis to discover your strengths and weaknesses, why we need to reframe potential into readiness, self-management skills for a messy world, 10+ interpersonal skills at work and ways to develop them, what is a career statement, and should you write one, how to improve your creative skills for effective problem-solving, a guide on how to find the right mentor for your career, getting passed over for a promotion is tough. here's how to handle it, similar articles, how to write an executive summary in 10 steps, 18 effective strategies to improve your communication skills, 8 tip to improve your public speaking skills, the importance of good speech: 5 tips to be more articulate, how to pitch ideas: 8 tips to captivate any audience, how to give a good presentation that captivates any audience, writing an elevator pitch about yourself: a how-to plus tips, how to write a letter of recommendation (with examples), how to write a memo: 8 steps with examples, stay connected with betterup, get our newsletter, event invites, plus product insights and research..
3100 E 5th Street, Suite 350 Austin, TX 78702
Platform Overview
Integrations
BetterUp Lead
BetterUp Manage™
BetterUp Care™
Sales Performance
Diversity & Inclusion
Case Studies
Why BetterUp?
News and Press
Leadership Team
Become a BetterUp Coach
BetterUp Labs
Center for Purpose & Performance
Leadership Training
Business Coaching
Contact Support
Contact Sales
Privacy Policy
Acceptable Use Policy
Trust & Security
Cookie Preferences
Everything that you need to know to start your own business. From business ideas to researching the competition.
Practical and real-world advice on how to run your business — from managing employees to keeping the books.
Our best expert advice on how to grow your business — from attracting new customers to keeping existing customers happy and having the capital to do it.
Entrepreneurs and industry leaders share their best advice on how to take your company to the next level.
Business Ideas
Human Resources
Business Financing
Growth Studio
Ask the Board
Looking for your local chamber?
Interested in partnering with us?
Grow » thrive, 7 steps to writing a great speech.
These seven steps will help you write a memorable and effective speech.
If you're preparing for a presentation, the work really begins when you sit down to write your speech. A great speech will engage the audience and can lead to greater personal and professional success. Here are seven steps to writing an effective speech.
Know what your core message is
When preparing to write a speech, you want to start by thinking about the core message you want to share. Your core message should be a topic you're knowledgeable and passionate about and one that's relevant to your audience.
The topic should be delivered in a way that's easy to understand and concise. Ideally, your audience should be able to explain what the speech was about in just one or two sentences.
Think about your audience
Next, you want to learn as much as possible about your audience because this will inform how you deliver the speech. The language you use and the examples you share will depend on the audience you're speaking to.
As you learn more about your audience, you want to consider the circumstances that brought them together. Are they gathering for a business conference, or is it for a charity event? How big will the audience be, and how knowledgeable are they about the subject you're speaking on?
[Read more: How to Give a Great Presentation ]
Do your research
The amount of research you complete will depend on how familiar you are with your topic. But even if it's a topic you know inside and out, it's a good idea to do at least some research. This will help you gather new information and come up with unique and fresh ideas.
The amount of research you complete will depend on how familiar you are with your topic. But even if it's a topic you know inside and out, it's a good idea to do at least some research.
Come up with an outline
Now it's time to organize your information and ideas into a detailed outline. Organizing your information will make it easier once it's time to sit down and write the speech. Your outline should include three main parts:
Introduction : The introduction sets the stage for the information you'll be sharing. It's a good idea to start with a story that will catch your audience's attention. From there, you can outline what you'll be sharing and the conclusion you'll reach.
Body : The body of your speech is where you'll highlight the overarching points you're trying to make. But be careful not to throw too much information at your audience — two to three main points are enough.
Conclusion : During the conclusion, you'll summarize your core message and what the audience should take away from the speech. Look for ways to end your speech on a strong note, so the audience understands why this topic matters and how they can take action.
Write a draft
Once you have an outline, you can begin drafting your speech. Don't try to make your speech perfect during the drafting stage — just try to get your ideas on paper. You can come back to revise and improve your speech later.
Choose a presentation tool
If you're speaking in a professional setting, you'll likely want to compliment your speech with a presentation tool like PowerPoint. Using a slide deck is a great way to add a visual element to your speech that will further engage the audience. Using a template can make it easier to develop a well-designed slide deck.
[Read more: 6 Business Presentation Tools for Small Businesses ]
Practice and revise
Great speeches take time to write, so you should plan to practice and revise your speech as needed. You can practice your speech in front of a friend or family member, ask for their feedback, and then adjust your speech accordingly.
As you're revising, focus on using conversational language and short sentences. Look for any areas that are too general or vague, and try to come up with specific examples that will back up your core message.
CO— aims to bring you inspiration from leading respected experts. However, before making any business decision, you should consult a professional who can advise you based on your individual situation.
CO—is committed to helping you start, run and grow your small business. Learn more about the benefits of small business membership in the U.S. Chamber of Commerce, here .
Become a small business member and save!
Become an integral voice in the world's largest business organization when you join the U.S. Chamber of Commerce as a small business member. Members also receive exclusive discounts from B2B partners, including a special offer from FedEx that can help your business save hundreds a year on shipping. Become a member today and start saving!
Subscribe to our newsletter, Midnight Oil
Expert business advice, news, and trends, delivered weekly
By signing up you agree to the CO— Privacy Policy. You can opt out anytime.
For more personal success tips
How to be a better boss in 2024, how to be a better entrepreneur in 2024, how to keep your remote business fresh and creative.
By continuing on our website, you agree to our use of cookies for statistical and personalisation purposes. Know More
Welcome to CO—
Designed for business owners, CO— is a site that connects like minds and delivers actionable insights for next-level growth.
U.S. Chamber of Commerce 1615 H Street, NW Washington, DC 20062
Social links
Looking for local chamber, stay in touch.
5 Ways To Improve Your Business Speech – Before You've Written It
Uncategorised
Share this post
(*Of course, if you're looking for more than 'advice', check out all the different ways the Speechy team can help you write & deliver a great speech. Or check out our new AI-powered team member, SpeechyAI .)
As a business leader, you need to know how to write a persuasive speech. A convincing talk can inspire a workforce, secure a deal and elevate your chances of success.
The trick to getting it right is in the preparation. Sure, delivery and the wording are important but planning is key.
Here are the five best ways you can improve your big speech before you even start writing it.
1. Know your audience.
First, it is worth remembering who you are addressing so you can tailor your speech. Are you speaking to the general public? Then they will want to hear something approachable and accessible. Technical detail risks being a turn-off for them. Of course, if you are speaking to an industry crowd then you can get into the nuts and bolts.
At the same time, it is wise to think about your audience and what they are expecting to hear: is it an update on your business? A big display of thought leadership? Or are they hoping for something nice and jolly after dinner?
Anything that does not hit or exceed those expectations should be left for another day.
2. Settle on your objective
Now you have thought about who you're speaking to, it's time to decide what you want to use this big moment to achieve.
Is this a big product launch, where you need to inform potential buyers, commercial competitors and journalists about your most exciting work yet? A pitch to a smaller gathering seeking to persuade them to buy into your latest project? A media statement seeking to persuade the public that your business is on top of everything? Or perhaps an after-dinner speech where you just need to entertain and leave a few thoughts for people to digest.
Decide on this and so much more will fall into place.
3. Do your homework
You know what you want to tell your audience, so make sure to be across the details. It might seem tempting to stand up and speak on the hoof, but only the most gifted speakers can busk it smoothly. Failing to prepare risks having your big moment unravel due to the lack of material helping you go beyond the first few minutes.
Researching your topic does not just ensure you have enough substance to chew over in your speech. It also means you are far less likely to be caught out later on, whether it's by a question from an audience member or a journalist on a fact-checking quest.
4. Get your structure straight
Now you have worked out your audience, objective and filled your boots with research, it is time to create a structure for your speech.
This will help order your thoughts in a coherent way and firm up the key points you want to make. The structure should have a logical flow so that even those coming to the topic of your speech for the first time can understand from it alone the gist of what you are talking about.
The structure need only be a series of bullet-points. Each point that comes should seek to lead the reader, and then later your audience, through your story so that the conclusion makes sense.
The types of structure can vary but they all serve the same purpose: to set out what you are there to say in a way that engages your audience best.
So you can decide whatever works best for the occasion. The simplest way to tackle it is three broad points: first set out what you are going to tell them, second tell them, and finally remind them what you've just said. This can be endlessly adaptable as a skeleton.
5. Decide on your delivery
You've worked out what you want to say, but have you thought about how you want to get it across? Speeches can be delivered in a variety of ways, from the standard script read out on a lectern to a few bullet points on cards to the whole thing being up on an autocue.
Consider what you are like as a performer. Do you thrive when being able to look members of the audience in the eye? Then try to shy away from a full script, as it will require constant attention not to lose your place in the sheathes of paper.
On the other hand, if you're prone to nerves, you can mitigate that by being strict in the length of your speech so that you stay pithy and to the point. That can have the additional benefit of leading to a more effective speech as if it's less of a slog getting through for you, it'll be even easier for your audience.
Now the keyboard awaits with nothing on the screen in front of you except for a neatly-drafted structure. But you can get cracking safe in the knowledge that you are clear what your audience should hear, confident in what you want to say and set for a successful speech..
How Speechy Can Help You…
WhatsApp  us, call Heidi on  07971 224 245 ,  or email  [email protected]
Or just dive straight into working with us…
BESPOKE SPEECH WRITING SERVICE
The Speechwriting Experts
The Speechy team  are TV-trained scriptwriters/comedians by trade & we've helped 1,000s of speakers around the world deliver their dream speech.
Our advice has been quoted everywhere from  The New York Times  to  Grazia  and from Forbes to The Observer . Our founder has also featured on the  BBC Sounds' Best Men podcast with Jason Manford and written ' The Modern Couple's Guide to Wedding Speeches' , published by Little, Brown.
How can we help you?
Speech edit service, £ 245, bespoke speech writing service, £ 495, delivery coaching, £ 150, or check out our range of speech templates from just £ 29 :, we're rated 'excellent' on trustpilot for a reason....
We do mic-drops not name-drops but here's just a few places we've been featured...
Choose a Speech Service
Choose a speech template, not sure where to start, products & services, speechy help, let's help you get started..., discover our services, speech templates, not sure let's find the right service for you..., we use cookies to ensure that we give you the best experience on our website. if you continue to use this site we will assume that you are happy with it., yes, i'm cool with this, privacy policy.
Click here to add top navigation
7 Tips for Writing & Delivering the Perfect Speech
Know Your Audience Knowing your audience is a major key to writing and delivering an exceptional speech. The demographics of your audience should dictate what kind of word phrasing you use, what kinds of jokes you may or may not want to include, and more. An older crowd will not receive a message the same way a high school crowd would. Keep in mind who you are talking to, and what makes them tick.
Start and End Strong The beginning and end of your speech should be symmetrical in strength. If you start strong and end weak, it will be noticeable. Attention grabbers like quotes, relevant questions and tasteful jokes are good ways to start and end a speech. If you start with a quote, you don't necessarily have to end with the same quote—or a quote at all. Your speech may fare better if you end with a question or a joke. Every speech is different.
Have a Clear Purpose Before you start writing your speech, you should consider your goal. Do you want the audience to be in awe of what you said? Are you persuading them to take an action? Do you want to inspire them or cause them to think? Distinguishing your end result will help you to write an exceptional speech to support your purpose.
Practice Practice, practice and practice more. Say your speech out loud in front of your mirror. Recite your speech over and over again until you feel confident that you could give the speech without any notes. You may still want to use an outline in case you stumble, but being prepared goes a long way. Find someone who you trust to be supportive, and recite your speech to that person and see what advice, questions or suggestions they might have for you. Try to eliminate "ums" and "uhs" as much as possible. You may want to have someone count how many times you say "um," and try to get that number down to as few as possible.
Consider Time A great speech fits within the parameters of a given situation, including the time. Whatever the situation, the length of the speech should be succinct. A wedding speech is usually two to five minutes in length, while a business speech might be around 10 minutes, or longer.
Outline An outline is a piece of paper that portrays the main points of the speech. Your outline may have a short phrase per line just to remind you how of you ordered your speech. The goal would be to give the speech without referring to your outline. Use eye contact with most, or all, of your audience members. Only glance at your outline if you have to.
  Body Language Your body language says a lot about you. Relax, loosen up and use hand gestures when appropriate. Don't try to keep your hands on a lectern, in your pockets or across your chest for the duration of your speech. Remember to breathe and be yourself!
Mary Moore is an award-winning writer and speaker. A former newspaper reporter and author, Mary is well-versed in composing compel ling speeches, articles and essays. For more information on crafting or delivering your best speech, or if you need presentation coaching, contact Mary Moore at [email protected] or (352) 792-5598.
You may also like
How Champions Think
Many years ago, I was the definition of a golf freak. I read everything I could find about golf...
Business Transition Strategies Start with a Plan
If you own a business, now is the time to start planning for your business transition. You should...
Readying Your Business for Disasters
Many businesses are impacted by a wide range of disasters each year, from hurricanes to ransomware...
Two Steps to Live Networking: Operator. Well Could You Help Me...
Sometimes old school is just fine. Society (which includes the business world) would not be where...
Why You Shouldn't Do Business from Your Personal Bank Account
As a banker, I often advise clients on their businesses, and I love helping them. Right off the...
Energy Detectives
GRU Software helps businesses pinpoint waste Last year, Bosshardt Realty discovered alarming...
Leave a Comment X
You must be logged in to post a comment.