MBA Knowledge Base
Business • Management • Technology
Home » Management Case Studies » Case Study: Quality Management System at Coca Cola Company
Case Study: Quality Management System at Coca Cola Company
Coca Cola's history can be traced back to a man called Asa Candler, who bought a specific formula from a pharmacist named Smith Pemberton. Two years later, Asa founded his business and started production of soft drinks based on the formula he had bought. From then, the company grew to become the biggest producers of soft drinks with more than five hundred brands sold and consumed in more than two hundred nations worldwide.
Although the company is said to be the biggest bottler of soft drinks, they do not bottle much. Instead, Coca Cola Company manufactures a syrup concentrate, which is bought by bottlers all over the world. This distribution system ensures the soft drink is bottled by these smaller firms according to the company's standards and guidelines. Although this franchised method of distribution is the primary method of distribution, the mother company has a key bottler in America, Coca Cola Refreshments.
In addition to soft drinks, which are Coca Cola's main products, the company also produces diet soft drinks. These are variations of the original soft drinks with improvements in nutritional value, and reductions in sugar content. Saccharin replaced industrial sugar in 1963 so that the drinks could appeal to health-conscious consumers. A major cause for concern was the inter product competition which saw some sales dwindle in some products in favor of others.
Coca Cola started diversifying its products during the First World War when 'Fanta' was introduced. During World War 1, the heads of Coca Cola in Nazi Germany decided to establish a new soft drink into the market. During the ongoing war, America's promotion in Germany was not acceptable. Therefore, he decided to use a new name and 'Fanta' was born. The creation was successful and production continued even after the war. 'Sprite' followed soon after.
In the 1990's, health concerns among consumers of soft drinks forced their manufactures to consider altering the energy content of these products. 'Minute Maid' Juices, 'PowerAde' sports drinks, and a few flavored teas variants were Coca Cola's initial reactions to this new interest. Although most of these new products were well received, some did not perform as well. An example of such was Coca Cola classic, dubbed C2.
Coca Cola Company has been a successful company for more than a century. This can be attributed partly to the nature of its products since soft drinks will always appeal to people. In addition to this, Coca Cola has one of the best commercial and public relations programs in the world. The company's products can be found on adverts in virtually every corner of the globe. This success has led to its support for a wide range of sporting activities. Soccer, baseball, ice hockey, athletics and basketball are some of these sports, where Coca Cola is involved
The Quality Management System at Coca Cola
It is very important that each product that Coca Cola produces is of a high quality standard to ensure that each product is exactly the same. This is important as the company wants to meet with customer requirements and expectations. With the brand having such a global presence, it is vital that these checks are continually consistent. The standardized bottle of Coca Cola has elements that need to be checked whilst on the production line to make sure that a high quality is being met. The most common checks include ingredients, packaging and distribution. Much of the testing being taken place is during the production process, as machines and a small team of employees monitor progress. It is the responsibility of all of Coca Colas staff to check quality from hygiene operators to product and packaging quality. This shows that these constant checks require staff to be on the lookout for problems and take responsibility for this, to ensure maintained quality.
Coca-cola uses inspection throughout its production process, especially in the testing of the Coca-Cola formula to ensure that each product meets specific requirements. Inspection is normally referred to as the sampling of a product after production in order to take corrective action to maintain the quality of products. Coca-Cola has incorporated this method into their organisational structure as it has the ability of eliminating mistakes and maintaining high quality standards, thus reducing the chance of product recall. It is also easy to implement and is cost effective.
Coca-cola uses both Quality Control (QC) and Quality Assurance (QA) throughout its production process. QC mainly focuses on the production line itself, whereas QA focuses on its entire operations process and related functions, addressing potential problems very quickly. In QC and QA, state of the art computers check all aspects of the production process, maintaining consistency and quality by checking the consistency of the formula, the creation of the bottle (blowing), fill levels of each bottle, labeling of each bottle, overall increasing the speed of production and quality checks, which ensures that product demands are met. QC and QA helps reduce the risk of defective products reaching a customer; problems are found and resolved in the production process, for example, bottles that are considered to be defective are placed in a waiting area for inspection. QA also focuses on the quality of supplied goods to Coca-cola, for example sugar, which is supplied by Tate and Lyle. Coca-cola informs that they have never had a problem with their suppliers. QA can also involve the training of staff ensuring that employees understand how to operate machinery. Coca-Cola ensures that all members of staff receive training prior to their employment, so that employees can operate machinery efficiently. Machinery is also under constant maintenance, which requires highly skilled engineers to fix problems, and help Coca-cola maintain high outputs.
Every bottle is also checked that it is at the correct fill level and has the correct label. This is done by a computer which every bottle passes through during the production process. Any faulty products are taken off the main production line. Should the quality control measures find any errors, the production line is frozen up to the last good check that was made. The Coca Cola bottling plant also checks the utilization level of each production line using a scorecard system. This shows the percentage of the line that is being utilized and allows managers to increase the production levels of a line if necessary.
Coca-Cola also uses Total Quality Management (TQM) , which involves the management of quality at every level of the organisation , including; suppliers, production, customers etc. This allows Coca-cola to retain/regain competitiveness to achieve increased customer satisfaction . Coca-cola uses this method to continuously improve the quality of their products. Teamwork is very important and Coca-cola ensures that every member of staff is involved in the production process, meaning that each employee understands their job/roles, thus improving morale and motivation , overall increasing productivity. TQM practices can also increase customer involvement as many organisations, including Coca-Cola relish the opportunity to receive feedback and information from their consumers. Overall, reducing waste and costs, provides Coca-cola with a competitive advantage .
The Production Process
Before production starts on the line cleaning quality tasks are performed to rinse internal pipelines, machines and equipment. This is often performed during a switch over of lines for example, changing Coke to Diet Coke to ensure that the taste is the same. This quality check is performed for both hygiene purposes and product quality. When these checks are performed the production process can begin.
Coca Cola uses a database system called Questar which enables them to perform checks on the line. For example, all materials are coded and each line is issued with a bill of materials before the process starts. This ensures that the correct materials are put on the line. This is a check that is designed to eliminate problems on the production line and is audited regularly. Without this system, product quality wouldn't be assessed at this high level. Other quality checks on the line include packaging and carbonation which is monitored by an operator who notes down the values to ensure they are meeting standards.
To test product quality further lab technicians carry out over 2000 spot checks a day to ensure quality and consistency. This process can be prior to production or during production which can involve taking a sample of bottles off the production line. Quality tests include, the CO2 and sugar values, micro testing, packaging quality and cap tightness. These tests are designed so that total quality management ideas can be put forward. For example, one way in which Coca Cola has improved their production process is during the wrapping stage at the end of the line. The machine performed revolutions around the products wrapping it in plastic until the contents were secure. One initiative they adopted meant that one less revolution was needed. This idea however, did not impact on the quality of the packaging or the actual product therefore saving large amounts of money on packaging costs. This change has been beneficial to the organisation. Continuous improvement can also be used to adhere to environmental and social principles which the company has the responsibility to abide by. Continuous Improvement methods are sometimes easy to identify but could lead to a big changes within the organisation. The idea of continuous improvement is to reveal opportunities which could change the way something is performed. Any sources of waste, scrap or rework are potential projects which can be improved.
The successfulness of this system can be measured by assessing the consistency of the product quality. Coca Cola say that 'Our Company's Global Product Quality Index rating has consistently reached averages near 94 since 2007, with a 94.3 in 2010, while our Company Global Package Quality Index has steadily increased since 2007 to a 92.6 rating in 2010, our highest value to date'. This is an obvious indication this quality system is working well throughout the organisation. This increase of the index shows that the consistency of the products is being recognized by consumers.
Related Posts:
Case Study: Success of Starbucks Mobile Payment Application
Case Study of Toyota: Birth of Lexus
Case Study: L'Oreal International Marketing Strategy
Case Study: An Analysis of Competitive Advantages of Honda Corporation
Case Study: Acquisition of Jaguar and Land Rover by Tata Motors
Case Study: The Collaboration Between Sony and Ericsson
Case Study on Entrepreneurship: Richard Branson
Case Study: Starbucks Growth Strategy
Case Study on Information Technology Management: Frito-Lay's Long-Term IT Plan
Case Study: Kraft's Takeover of Cadbury
Leave a Reply Cancel reply
Your email address will not be published. Required fields are marked *
This site uses Akismet to reduce spam. Learn how your comment data is processed .
Impact of Quality Management on the International Business Management: A Case Study of the Coca-Cola Company
Introduction.
One of the biggest and most prosperous beverage corporations in the world, The Coca-Cola Company has a long history that dates back more than a century. The company has consistently maintained its leadership position in the beverage industry despite encountering numerous obstacles over the years, because of its cutting-edge marketing tactics and dedication to high-quality products. In recent years, quality management has grown in importance as a component of global corporate management. Companies may improve their goods and services, boost customer happiness, and strengthen their competitiveness in the global market by putting effective quality management methods into place (Coca-Cola Company, 2021).
The Coca-Cola Corporation is a well-known, multinational beverage firm that has improved its business operations and held onto its position as the market leader by implementing quality management methods. According to Kotler and Keller (2016), quality management describes the methodical process of guaranteeing that products and services meet or exceed consumer expectations. Designing products, monitoring processes, and analyzing consumer feedback are just a few of the tasks involved in putting quality management methods into operation. To offer goods and services to consumers at the highest degree of quality possible is the ultimate purpose of quality management.
The Coca-Cola Company has a long history of integrating quality management practices into its corporate operations. The company's commitment to quality is clear from its quality policy statement, which declares that it is "dedicated to offering safe, refreshing, high-quality beverages to consumers throughout the world" (Coca-Cola Company, 2021). The organization's quality management procedures are based on several international standards, including ISO 9001, which offers a framework for putting quality management systems into place. Its quality management system is centered on continuous improvement, with a special focus on the avoidance of quality concerns rather than reactive actions.
Research Questions
The research study will seek to answer two main research questions including:
What effects have quality management practices had on the Coca-Cola Company's business operations?
Which quality management guidelines and standards does the Coca-Cola Corporation adhere to in its global business operations?
Aims And Objectives of the Study
The aims and objectives of the study include the following;
To examine the effects of quality management practices on the business operations of the Coca-Cola Company.
To list the quality management standards and principles used by the Coca-Cola Corporation in its international business activities.
Literature Review
The Coca-Cola Company's quality management procedures are governed by its quality policy, which places a strong emphasis on surpassing customers' expectations and adhering to all applicable legal and regulatory requirements (Coca-Cola Company, 2021). The organization's quality management framework involves the implementation of international quality standards like ISO 9001, which offers a systematic approach to quality management and highlights the significance of continual improvement (International Organization for Standardization, 2015).
Quality management improves product quality, customer happiness, and organizational success, according to research (Samson & Terziovski, 1999; Wong & Aspinwall, 2005).
The Company's quality management has helped it maintain product quality across markets and cultures, contributing to its global success (Coca-Cola Company, 2021). Quality management in multinational businesses is difficult to accomplish. Cultural and regional differences can hinder the application of quality management practices, and their efficacy may vary among markets (Wong & Aspinwall, 2005). For small and medium-sized firms (SMEs) in worldwide marketplaces, adopting international quality standards may demand significant resources and may not be practical (International Organization for Standardization, 2015).
The Coca-Cola Corporation, a multinational organization, uses quality management standards and concepts to preserve product quality and customer happiness (Coca-Cola Company, 2021). The company follows ISO 9001, ISO 22000, and ISO 14001. ISO 9001 is a quality management standard for meeting customer needs and improving customer satisfaction (International Organization for Standardization, 2015). ISO 22000 provides food safety from farm to table (International Organization for Standardization, 2018). ISO 14001 gives standards for managing environmental responsibilities and minimizing environmental consequences (International Organization for Standardization, 2015).
Customer focus, leadership, engagement, process approach, improvement, evidence-based decision-making, and relationship management are also quality management concepts at Coca-Cola (Coca-Cola Company, 2021). Moreso, Quality management standards promote product quality, customer satisfaction, and organizational success, according to research (Dahlgaard et al., 2008; Juran, 1989). Quality management has helped Coca-Cola achieve global success by ensuring product quality and consumer happiness.
Conclusion and Recommendations
The Coca-Cola Company has a long history of employing effective marketing techniques that have contributed to the growth of its brand into one of the most recognized in the world. Nonetheless, as competition heightens, it is crucial for the business to continually review and enhance its marketing initiatives. On the business operations of the Coca-Cola Corporation, the adoption of quality management practices has had a considerable impact. Because of the company's dedication to quality control, it has been able to maintain consistent product quality throughout many regions and cultures, which has aided in its international success. However, there are difficulties in implementing quality management practices in international corporate operations, and further study is required to determine how effective these methods are in various situations.
The Coca-Cola Corporation uses several quality management standards and principles to preserve product quality and customer satisfaction in its international commercial activities. ISO 9001, ISO 22000, and ISO 14001 and quality management have helped the organization succeed globally. This case study proposal aims to shed light on the Coca-Cola Company's marketing tactics and point out development opportunities. As a result, this research will add to the body of information regarding successful marketing plans for multinational firms.
Coca-Cola Company. (2021). Quality Policy. Retrieved from https://www.coca-colacompany.com/content/dam/journey/us/en/policies/pdf/quality-policy.pdf
Dahlgaard, J. J., Kristensen, K., & Kanji, G. K. (2008). Fundamentals of Total Quality Management: Process Analysis and Improvement. Routledge.
International Organization for Standardization. (2015). ISO 9001:2015 Quality management systems – Requirements. Retrieved from https://www.iso.org/standard/62085.html
International Organization for Standardization. (2018). ISO 22000:2018 Food safety management systems – Requirements for any organization in the food chain. Retrieved from https://www.iso.org/standard/65464.html
Juran, J. M. (1989). Juran on Quality by Design: The New Steps for Planning Quality into Goods and Services. Free Press.
Kotler, P., & Keller, K. L. (2016). Marketing management. Pearson Education Limited.
Samson, D., & Terziovski, M. (1999). The relationship between total quality management practices and operational performance. Journal of Operations Management, 17(4), 393-409.
Wong, W. P., & Aspinwall, E. (2005). An empirical study of the important factors for implementing quality management in small and medium enterprises in a developing economy. Journal of Manufacturing Technology Management, 16(3), 304-321.
Cite This Work
To export a reference to this article please select a referencing style below:
Related Essays
Functions and intentions of advertisement, embracing diversity: the importance of inclusive marketing, economic principles research paper, research project report: economic performance of the united kingdom, france, germany, and spain from 2011 to 2021, essay on communication barriers, hong kong international airport master planning, popular essay topics.
American Dream
Artificial Intelligence
Black Lives Matter
Bullying Essay
Career Goals Essay
Causes of the Civil War
Child Abusing
Civil Rights Movement
Community Service
Cultural Identity
Cyber Bullying
Death Penalty
Depression Essay
Domestic Violence
Freedom of Speech
Global Warming
Gun Control
Human Trafficking
I Believe Essay
Immigration
Importance of Education
Israel and Palestine Conflict
Leadership Essay
Legalizing Marijuanas
Mental Health
National Honor Society
Police Brutality
Pollution Essay
Racism Essay
Romeo and Juliet
Same Sex Marriages
Social Media
The Great Gatsby
The Yellow Wallpaper
Time Management
To Kill a Mockingbird
Violent Video Games
What Makes You Unique
Why I Want to Be a Nurse
Send us an e-mail
Coca-Cola Company Total Quality Management
Introduction.
Total Quality Management (TQM) are the activities in the management function that influence the quality of policies, responsibilities, objectives and their implementation through quality control, quality planning and quality improvement. Most organizations are focusing on quality improvement process than on the product itself. In other terms quality management system is the process of quality improvement where skills are used to add value to the quality of the products and enhance their future. This is done for the purposes of retaining present customers, and welcoming new ones.
In almost all organization, the production process has been modified in order to ensure quality improvement. Total quality management involves managing processes for a desired benefit. It involves structuring and controlling all processes involved in an organization so that they give effective results. Large and complex processes are normally broken down into small and inter-related processes for easy management. In doing this, one has to take into consideration, the time and the budget allocated to the specific processes.
Total quality management consists of competitive moves and business approaches aimed at producing successful performance; it is a management's "game plan" for running the business, strengthening a firm's competitive position, satisfying the customers, the stakeholders, share holders and the staffs. It seeks to develop the way into which all those that are a party to the business get satisfied. It aims at going a step further and satisfying the customers beyond their expectations.
There is a lot of focus on the customer; the customer is the greatest asset that an organization can have. To get customers loyalty is the dream of every business and that's what most businesses target. The compliance to TQM is one of the key factors required for the improvement of quality. Its implementation takes place in either the project level or the organization level (O'Connor 183).
Given the speed with which change occurs in the global business environment, standard, planning techniques and asset allocation methods have become woefully outdated. Achieving new levels of business sophistication is a never-ending process, requiring companies to rapidly reallocate assets to meet changing conditions. To effectively accomplish this reallocation the organizations need a system that provides continuous evaluation and improvement, ensuring effective use of both business (hard) and organizational (soft) assets.
Because of the ever changing market place, many organizations are transforming their business in order to compete favorably. Total quality management happens to be the widely applied technique in virtually all organizations. They have realized the benefits that come with this technique and it has been applied in all processes. In the implementation of TQM six concepts which are considered to be vital must be taken into consideration. These are customers (both internal and external), leadership and teamwork, continuous improvement, control of business processes, preventive action, and preventive management.
Most of the successive organizations have realized that a key factor in TQM is monitoring performance to ensure that all of the needs and requirements of customers are being met. They have come to the understanding that the term customers do not only refer to the people who buy products from them but also to the internal employees. Employees are one of the valuable assets that any organization can boast of and therefore they have to be handled with care at all times.
One of the organizations that have realized the benefits of TQM in its operations is Coca-Cola Company. This company ensures that all its personnel interact with its own supplies in its processes, this does not only refer to the people who sell products or services to the company, but all its internal suppliers. These internal suppliers are personnel involved in the production processes and they are people who provide input to the next level of production. Each customer has specific needs and demand appropriate requirements; it is upon suppliers to focus their efforts in order to build quality and ensure that they are able to meet all the requirements of customers. This includes making appropriate identification and improvement of the production process. Adoption of TQM in the company raises several questions (Gotzamani and Tsiotras, 1326). This include
How is the satisfaction of external customers measured?
How does the company compare itself wit its competitors?
How does the company identity and meet the requirements of its internal customers?
Does the work force understand and accept the concept of TQM?
Research objectives
This research paper will try to examine the implementation of Quality Management System from an institutional theory point of view. It aims to explain the process of institutionalization of the Total Quality Management (TQM) in the Coca-Cola Company and also to explore the extent this TQM has affected the organization's work culture.
With these objectives in mind, several research questions have been identified that are pertinent to this research. They are:
What form of management system exists in the organization?
How does the quality management system become institutionalized in the organization? Has it been institutionalized ceremonially or instrumentally?
How do the members of the organization respond to the quality based culture?
Overview of Coca-Cola Company
Coca Cola Company is the largest manufacturer and distributor of soft drinks and non alcoholic drinks in the world. Its headquarters is in Atlanta, Georgia where products are manufactured and sold to bottlers for packaging. Coca cola's operations are distributed in more than 200 countries (the UK being one of the biggest markets for the product) and produce more than 3000 products. It specializes in soft drinks, energy drinks, water and fruit drinks. Consumers all over the world enjoy over 80 different flavors of soft drink manufactured by the coca cola Company.
This includes brands such as fanta, sprite and the popular coca cola brand. Coca cola recorded the highest sales in 2009. Its products remain to be the most favored soft drinks by majority of people and this has resulted in an increase in the sales volume for the products. However, the company lags behind in the production and sale of Non-Alcoholic beverages where Unilever takes the lead. In 2004, Coca cola recorded total sales amounting to 13.7 billion liters of soft drinks in the UK market and sales worth over £9.2 billion in 2005 (Coca-Cola 2).
Coca cola has a strong and close relationship between its suppliers and distributors. It has expanded its markets in the social and cultural contexts and this has contributed to its success. Coca cola has been using high technology which has been rising over the years leading to success in all its activities. Most of its products are advertised over the internet making in easy for all people to access information (Giebelhaus 2).
Coca cola's innovativeness is facilitated by the use of decentralized structures where managers are allowed to experiment new products. An effective procedure is followed in order to establish new and attractive ideas for the success of the organization. Some times it is not able to make the expected profit margins due to competition. However, it has an opportunity of merging with global retailers and to expand into other countries. However, Coca cola is often faced by the threat or intense rivalry, price competition, and government regulations.
Coca Cola aims to retain its position as the world's largest soft drinks manufacturer. To attain this, it has improved its products with the needs of customers (Gotzamani and Tsiotras, 1330). It has a research department which advises the company on the kind of products it manufactures for better customer satisfaction. It also has a quality department with the responsibility of ensuring that its entire products are of high quality. It respects its consumers and nature by producing high-quality products which are eco-friendly.
Quality Management at Coca-Cola Company
Coca-cola was discovered in 1886 at the soda fountain of Jacob's Pharmacy in Atlanta. In 1899, the company was introduced to the world when it started selling its products packaged in glass bottles. By 1916, multiple designs of bottle had been discovered which have evolved to the contour shape which are now universally recognized. Back then, the company only produced one brand of product but soon it diversified into many brands and by 1980, it was producing more than three brands, this includes the Diet Coke and caffeine free Coke. In early 1990s, Coca-cola expanded extensively in its processes, products, and packaging designs (The Coca-Cola 4).
From the inception of the company, the executive had realized that quality was the only significant facet that would place the company away from its competitors. The leaders emphasized on the management of quality in all its processes. Towards the end of the 1990s, the global market started experiencing structural changes which forced Coca-Cola Company to review its quality management system. There was need to maintain consistent quality as well as meet consumer tastes and preferences. To address these changes the Coca-Cola Quality System (TCCQS) was introduced in early 1995. This technique helped the company to redefine its environmental standards as well as its quality requirements (The Coca-Cola 5). This was a decentralized approach to managing quality which was achieved after operating for about one hundred and nine years.
In 1999, TCCQS was modified to include safety, quality planning, and quality review. It continued evolving to incorporate business goals and objectives, among other things required by the global market, such as safety standards. Today, TCCQS has continued to evolve. It has been branded as the Quality Management System for Coca-Cola. It helps the company to manage and steer its activities to make sure that quality is achieved in all its processes. TCCQS has helped Coca-Cola to in all of its processes. It is now able to produce high-quality products that have helped in to retain its competitive advantage. This has also helped it to come up with innovative ideas in production of new products.
Why does the system keep on evolving?
TCCQS has to develop constantly in order to integrate changes in quality management, comply with regulations, meet the circumstances in the global market, as well as take on the best practices to be used in production. For instance, off late food manufacturing companies have become aware of the importance of maintaining food safety. Because coca-cola has been quality conscious since its inception, TCCQS has to evolve in order to embody the most recent practices in the manufacturing sector. Coca-Cola Company focuses more on its customers by ensuring that all consumers are satisfied, therefore, TCCQS has to concentrate of customer satisfaction. The quality management system (TCCQS) must ensure that safety and environmental stewardship is maintained at Coca-Cola because it is a responsible company (The Coca-Cola 5)
The latest evolution of TCCQS
The latest evolution known as evolution 3 of TCCQS offered notable benefits to the company when it comes to management of quality. Some of these benefits include:
A simplified structure
Proper configuration with external standards
Provision of unique training and auditing resources that meets Coca-Cola's requirements
Alignment of business objectives with metrics that can be used to keep an eye on performance
Ensures that executive managers are involved in the quality management process at every unit
Helps in planning and introduction of new products
Defines the methods to be used in problem solving as well as for continuous improvement
The framework of TCCQS
The core of TCCQS evolution 3 is quality, and environmental and safety aspects. Its framework allows other business to ally with the processes of Coca-Cola. TCCQS pyramid is mainly composed of four layers promise, policy, assurance, and control. Each aspect of the pyramid has equal number of components. That is, every facet, for environment, excellence and protection has to incorporate the four layers named above.
The promise
The most important reason of the existence of Coca-Cola Company is to do good to and rejuvenate all its stakeholders. Irrespective of the function of the business, each aspect of TCCQS must support the company's promise (The Coca-Cola 7).
This layer contains the policy statement for the company. This comprises of the security and environmental policies as well as the quality statement which is placed on the excellence part of the pyramid.
Management systems are contained in this layer. These systems are designed to make sure that control activities are reliable and efficient in order to ensure that the company meets its performance requirements. The management system contains the standards of the quality management system which must be in line with the requirements of ISO Standard 9001:2000. This certification was erected in order to meet the requirements of Global Food Safety Initiative (GFSI) and be up to date with worldwide requirements regarding food security. On top of that, the management system features other standards that are specific to Coca-Cola, for instance crisis resolution.
For more that one hundred years, controls have been part of the daily operations at Coca-Cola company. However, the modern world has changed and today's necessities are dissimilar to the past requirements. The TCCQS pyramid provides a comprehensible dissimilarity between the control actions and the assurance actions. Examples of control activities at Coca-Cola include cleaning methods, excellent environmental practices and high-quality manufacturing practices (Anon. " Coca-Cola Products" 3).
ISO certification
TQM allows a business to realize the purpose and objectives laid down in its policy and plan. It gives constancy and contentment in terms of techniques, resources, apparatus, etc, and interrelates with all actions of the business, starting with the recognition of customer requirements and concluding with their contentment, at every operation interface. In the light of the improving the performance and competitiveness of the Coca-Cola Company, the Quality Management System (mainly the ISO 9001:2000) was adopted. The ISO standards are a generic standard that has its origin from the engineering field. As generic standards, some of the terms used in the standard could be misconstrued as being vague, ambiguous and imprecise. Confusion also arises as there is a lack of definition of these terms in the standards (Kerzner 45)
Quality Management Excellency (QME) courses ensure Strategic & Operational outsourcing through trainings that cover areas related to Risk management, tax, professional, management services, intellectual, people development and accounting. Coca-Cola opted to adopt ISO 9001:2000 as its excellence model because it is the most effective model to help the company achieve its quality standards. This model has seen Coca-Cola's products being ranked as among the products with high quality allover the world. According to Lari (170), the purpose of the ISO certification is to boost quality in organizations, enhance communications, and decrease the cost of operation. Brecka (20) also observed, that the information management system required for ISO certification is based on decision making, problem shooting and prior understanding of management
This has been done in order to promote quality performance due to the increased competition on the available resources in the company. To facilitate understanding and compliance of the quality standard requirements Coca-Cola established a training and consultancy firm. It provides a wide range of consultancy, support service and training. Support services are available to the field of business, strategic management and quality management
The process of seeking for certification of ISO 9001:2000 was hectic and required compliance to certain standards. Most of the organizations that have already received ISO certification had to do a lot of changes in order to satisfy the ISO standards. One of the problems that were encountered by the company was staff resistance to the ISO requirements (Serpell 320). Most of them were ignorant about the requirements and the management had to train the staffs on these requirements. Some were quick learners while others were not ready to learn and vigorous training had to be embarked on by the management. Some of the employees 'minds have adopted the daily operations and it becomes difficult to introduce something new to them. Some feel that what they know is enough that there is no need for any improvement either on the product or service delivery
ISO certification ensures that the customer demand is met effectively. It helps to regulate the number of companies that can produce a certain product or service. It is a way of protecting the end users from exploitation. It ensures that they get quality products or service and are not charged highly for the same. The compliance of quality management ensures the company does not lag behind in international trade. It ensures that, its products and services compete favorably with other company's. It is through quality management that the production of goods and services becomes effective and wastages are minimized.
Benefits of Total Quality Management
T.Q.M has a lot of advantage to Coca-Cola Company. There is satisfaction among the management, the stake holders and the customer. They are deliberate actions that the company takes to ensure that all its ways are been looked into and made in such a way that the outcome are favorable to the end customer (Coca-Cola 2). Customer is the most important asset the company has and his welfare satisfaction should be at the fore front of any company's agendas. When the customer is satisfied, then he gives back to the company in many ways. Remember that a satisfied customer tells another and unsatisfied one tells two others. If the business attains customer royalty, it becomes a self advertising enterprise.
Many people talk about risk management but rarely do they do anything in connection to it. The major problem is that many people do not know whose responsibility it is to manage risk. TQM provides a solution to this since it defines the method of handling risk. This involves identification of risks, evaluation, and how to deal with identified risk within the manufacturing process. It also gives an idea of who is accountable for carrying out the diverse roles implicated in manufacturing process. It sets out the number and types of risks that an organization can be able to bear. It also recommends that, the probability and the impact of a risk should be considered to determine whether this varies over time and whether it has an impact on the quality of products and services.
The purpose of TQM is to ensure that, the products resulting from the company's processes are of good standard, that is, they meet the quality criteria. More often than not, this is done in a quality reassess meeting in which inaccuracies in products are recognized. It is worth noting that the quality review meeting is not under any obligation to resolve the errors identified in products, its work is to bring the interested people together and to help the project team in addressing the identified issues.
Over many years, TQM application systems in the Cola-Cola Company have been in an increasing trend. So far, TQM has brought about positive changes in the company. However, the company is still facing problems in the implementation of TQM. From this research, four main advantages have been identified for Coca-Cola. These are:
Organization image and reputation enhancement
Performance and customers' satisfaction improvement
Documentation procedures and instructions establishment and
Constant quality service
TQM application has enhanced the image and reputation of the company. It is a versatile and flexible management tool that an organization can use to improve their goals, efficiency and profitability. The application of TQM has also influenced the company to improve its performance and increase customers' satisfaction. Moreover, Coca-Cola is able to establish clear documented procedures and instruction that includes the documented statements of policy quality and objective quality. Besides that, the implementation of TQM serves as a guideline to ensure quality services are able to meet the required standard.
A triumphant manufacturing process, that is, one that delivers quality results within the set budget and on time depends on the eminence of people who are concerned in its execution. This includes project board and the project team which does most of the work. Today, projects engross different groups of people including but not limited to the clients, contractors, and the users. The most important objective behind the use of TQM is to make sure that there is a universal language amongst the concerned parties (Ahire 95). Customers and suppliers are brought together by contracts, whereas the employees and the management are brought together by the responsibilities expected of them by the customers and or the users of the project. By using TQM managers have been able to manage the manufacturing process more easily and this ensures that the products that are delivered from the process are of the right quality
Steps to be followed for continuous improvement
Through TQM, the company has been able to develop customer royalty. IT has been able to surpass other companies to become the world largest distributor of soft drinks. What has made the company go this far? The answer is in total quality management. For a company to continuously improve its processes and attain the set goals as well as surpass the expectations of the customer, it has to follow some steps;
Develop a vision and mission
Developing a strategic vision and mission involves thinking strategically about the following three questions
What are the customer's needs?
How much is the company offering? Can we do better?
Where are we now?
Where do we want to go?
How will we get there?
A vision is a view of an organizations future and business course: it is a guiding concept for what the organization is trying to do and become. All must be looked into so as to ensure that there is no one area that benefits at the expense of the customer.
Setting objectives that are aimed at meeting the gap that the company had not been filling in the past
The aim of setting the objective is to ensure that the company has embarked on the fulfillment of the need of the customer. The aim this is to improve the feeling that the customer will get when he has transacted with the business. The objectives are aimed at improving all the area of the organization and the measurement is the satisfaction that the customer will get. A satisfied customer will be a loyal customer and the business stands to benefit.
Crafting strategies and implementing them
This is all about drafting the way and the objectives that the company has set. The need to have well set strategies assists the business to attain the targets. In this stage, the issue of the resources that is required to meet the objectives is also considered. If the company needs more employees or latest technology, this is the time to set it. In Coca Cola Company one of the strategies that it has used to attain the objective of customer satisfaction is continuous improvement.
Total quality management assumes a continuous change, therefore managers must constantly evaluate performance, monitor the situation and decide how well things are going and make necessary adjustments. The management should review the strategies that they had implemented and the feedback that they have gotten from the customers. In case of any area that is not well addressed, it should be handled. In TQM the views of employees as well as the feedback from the customers are of great importance (Sirim 2). There are suggestion boxes that the views of the customers can be gotten from. At Coca Cola company there is a research department that has the aim of undertaking the policy of Genchi Genbutsu (go and see). The section is supposed to survey the market and come up with various recommendations that are aimed at improving the services.
GAP analysis
A gap analysis is a tool used by managers to decide which tactics and strategies to use in order to increase production. It is a tool used to link a business vision with its strategies and goals. It helps in identifying a discrepancy in the performance which helps in selecting appropriate strategies to fill the discrepancy. It was necessary to conduct a gap analysis on the implementation and use of TQM in the company. This was done by asking two simple questions, where is the company now? Where does it want to be five years from now? The following diagram shows the process of identifying the gap within the company.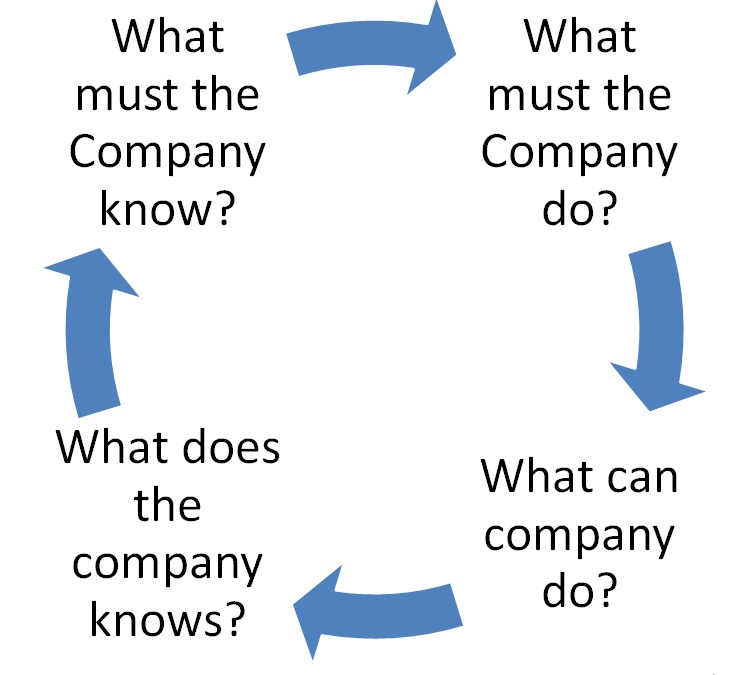 After looking at what the company has done and what it ought to do, certain problems were identified. These are grouped as follows;
Organizational culture
The employees have a set of belief that they are static to change. In developing a total quality management in the organization, change must appear. The people are sometimes opposing this change and hinder the process.
The management
There are some recommendations that are given by the sector employees but the management fails to implement them, this hinders how far the company responds to the demands of the customer.
Developing T.Q.M. system requires funds that the company may not be having. These funds may be for adoption of technology or development of Systems
Lack of information
The available information and feedback from the customers may not reach the company. If a customer encounters a problem with any of the products, they opt to keep quiet and thus the issue may never reach the company.
The above have consistently been a barrier because of two elements
The nature of human beings that is opposed to change. Both the management and the workforce are not prepared to take in new changes at all the time. The concept of inertia applies.
Lack of information and feedback
The customers are not giving feedback to the company about the areas they would like improved, but opt to solve by themselves.
List of problems identified at the company concerning the adoption and implementation of TQM include
Lack of understanding in the TQM
Lack of understanding on the process requirement
Lack of awareness in the benefits of TQM
Lack of available Quality System documentation such as procedures, records construction period, work instruction and record
Lack of documentation period, work instruction and record
Lack of planning to implement TQM
Lack of continuous professional development
Lack of TQM exposure among workers
High cost of implementing TQM
Time consuming
Even though Coca-Cola has been using quality management system for a long period of time, some of the employees are not aware of the existence of such systems. They have been left in the hands of top managers who have do not exposed them to workers who are actually involved in the manufacturing process. Therefore, most of the employees do not understand how these systems work and do not have an understanding of the system requirements. They are just given orders which they follow blindly without even aware of what they are doing. TQM is a process that requires continuous improving in the face of the ever changing global market. It requires high costs of implementation which limits the company on its continuous improvement.
Moreover, TQM is a time consuming process and this hinders the company on its implementation. The process of manufacturing involve a lot of administrative work, everyone has to be informed about the progress, meetings have to be arranged, plans have to be updated, and files have to be kept properly, among other activities. If some of the gaps identified in the implementation and use of TQM are addressed, the company can boast of high quality and efficiency in all its production.
Recommendations
One of the ways that the company can do to improve their quality system is to develop a feedback system. With this the company will know the weak points that need improvement. The people on the ground should be the ones who are in the forefront in giving the feedback from the customer and making recommendations to the management. The management should plan its operations and set some funds aside for future needs. Customer awareness of their right is another way that the company should embark on. This will help in attaining customer royalty and a two way system of communication.
Feedback assists in assessing the progress of the business in terms of goal attainment and what has to be done. It provides a basis on which other goals can be set. Feedback is most beneficial to the organization as well as the individuals. It adds individual motivation in goal setting which in turn influences the performance of the organization. The numerous inputs become another way of determining leadership effectiveness. The information gained from the feedback can be used to help leaders refine their attitudes and behaviors (Likert 80). For best results, it is really important that, feedbacks reflect on those behaviors and attitudes that the organization values most. Care should also be taken to ensure that the dimensions measured reflect important features of leadership execution.
The work of a manager is to organize and control processes within an organization. To do this, he selects human resources who are competent enough to work on these processes and it is his responsibility to supervise their work to ensure that it done timely and according to laid down standards. Opportunity for career growth and development is a good strategy for managing employee's career development. Employees should be provided with opportunities to participate in educational seminars and programs. Employees acquire new skills which they use on their jobs for their benefit as well as that of the organization.
The following recommendations should be made to increase the usefulness and effectiveness of the TQM in the company. These include:
Increase in effort by management
Internal Quality Audit training for staff of all levels
Increase the frequency of conducting Internal Quality Audit (Goh and Chng 20)
Achievement of global goals can only be possible if the concept of continuous improvement is adopted in all aspects of performance. New targets should always be set after the attainment of old ones and the company should always aim at for the highest level of product, and service efficiency. In this way, the company will be able to retain its competitive advantage. Adoption of continuous improvement and other concepts related to TQM involves a change in the management system. Total quality is not just a program of change. It requires a change in most of the organizations techniques and processes. All targets on the ongoing process must be steady and sustainable (Anand, Ward, and Tatikonda 313). This requires the company to adjust the measures of performance and management styles. Questions raised in the implementation of strategies for continuous improvement include:
Which review processes should the organization use?
How will the organization maintain momentum to ensure further improvements?
How will it convince its internal employees that the business survival depends on the achievement of a steady and continuous improvement process?
The quality of products in any organization is determined by the manufacturing process that is used to produce them. An effective and efficient manufacturing process results in efficient products or services. Therefore, efforts should be focused on controlling the manufacturing process, rather than concentrating on the products or services.
Total Quality Management is technique used to ensure that organizations produce products of high quality which are also friendly to the environment. For a long period of time, many organizations have been focusing on the quantity of the products produced but not the quality. However, because of the ever changing global market place, many practices have come up and are being adopted by many organizations. Moreover, customers have been quality conscious and they are now demanding for high-quality products. Technology advancement has brought about this changes and it seems it going to bring even more changes as time goes by.
One of the discoveries made through technology is quality management systems. Many organizations have realized the importance of producing quality products and have established quality management systems in their operations. This is a system that ensures that all the processes involved in the production of products are appropriate. It also makes sure that all customers (both internal and external) are contented by the products and services produced by an organization and that all their needs are fulfilled.
Coca Cola Company is one of the companies that have been using quality management systems for a long period of time. Since its inception in the late 19 th century, its management has been aware of the need to produce quality product and this has contributed to its success. However, back then, it did not have a well defined quality system and it was difficult to maintain its quality standards. With the introducing of Total Quality Management, Coca-Cola Company has been able to keep pace with the changes in the market places by producing products which are not only of high quality but are environmental friendly. It has come to the realization that, a satisfied customer will always come back and will come along with friends thus facilitating growth. Focus is aimed at the requirements of the external customers by guaranteeing that all their needs are met. However, this does not mean that it has neglected its internal customers as they too are given proper consideration.
Some of the benefits that Coca-Cola has gained because of the adoption of TQM are a good reputation, strong brand name, high number of customer, and global recognition. Because of the production of high quality products, Coca-Cola has remained to be the largest manufacturers and distributor of soft drinks all over the world. Its brand is recognized in every part of the world and this has resulted in an increase in its sales volume. There is no single company that has been able to imitate its flavors although many companies have been trying to compete with it. TQM especially the adoption of ISO 9001:2000 as its excellence model has contributed to this success. This model ensures that the company complies with all rules and requirements at the same time meet the highest standards of quality.
Nevertheless, the company faced some problems in the implementation of TQM. Some of these problems are lack of awareness in benefits of QMS, lack of TQM exposure among workers, and lack of understanding of TQM. Another problem is inadequate monitoring of TQM and training. In order to ensure the success of implementation of ISO 9001:2000 QTM standard in the Coca-Cola Company, the management should endeavor towards being focused and systematic.
The recommendations to solve this problem are extracts of respondent's opinions and established organization suggestions. The recommendations are to increase management effort, to train all organization management levels, to ensure proper documentation system is in-place, to increase the level of TQM understanding, to promote and monitor levels of management participation in training and monitoring programs and to provide guidance for ISO 9001:2001.
Works Cited
Ahire, Sanjay. L. Management Science- Total Quality Management interfaces: An integrative framework 27.6 (1997): 91-105. Print.
Anand, Gopesh;Ward, peter and Tatikonda, Mohan V. Role of explicit and tacit knowledge in six sigma projects: An empirical examination of differential project success. Journal of Operations Management 28.4 (2010): 303-315, 2010. Print.
Anon. Coca-Cola Products: New Coca-Cola Products, Brands of Beverages & More, 2008. Web.
Brecka, Joseph. Study finds that gains with ISO 9000 registration increase over time. Quality Progress .27.5 (1994):18-20. Print.
Coca-Cola. Product quality, 2011. Web.
Giebelhaus, August. "Coca-Cola Company". The New Georgia Encyclopedia . Georgia Humanities Council, 2008. Web.
Goh, Kurosawa C. and Chng, Tin Seok. Internal Quality Qudit as a measure of effective implementation of ISO 9000 Quality Management System. Singapore: Singapore Institute of Management, 2000.
Gotzamani, Kennedy and Tsiotras, George. An empirical study of the ISO 9000 standards contribution towards total quality management. International Journal of Operations & Production Management 21.10 (2001):1326-1342. Print.
Kerzner, Harod. Project Management/ A system Approach to Planning, Scheduling and Controlling . New York: John Wiley and Sons, Inc, 2001. Print.
Lari, Antony. An Integrated Information System for Quality Management. Business Process Management 8.2 (2002):169-182. Print.
Likert, Rensis. "Motivational Approach to management development". Harvard Business Review 37. 4 (2009): 75-82. Print.
O'Connor, Patrick. Total Quality Management. Quality & Reliability Engineering International 5.2: (2010): 183. Print.
Serpell, Alfredo. Integrating Quality Systems in Construction Projects: The Chilean Case. International Journal of Project Management 17.5 (1999): 317-322. Print.
Sirim, Berhad. Standard and Quality News. Quality Management Beyond ISO 9000 , 12.5 (2005). 23. Print.
The Coca-Cola Company. Evolution 3 the Coca-cola Quality system, 2009. Keeping our promise, Quality pdf . 1.1. (2009). 1-16. Print.
Cite this paper
Select style
Chicago (A-D)
Chicago (N-B)
BusinessEssay. (2023, January 11). Coca-Cola Company Total Quality Management. Retrieved from https://business-essay.com/coca-cola-company-total-quality-management/
BusinessEssay. (2023, January 11). Coca-Cola Company Total Quality Management. https://business-essay.com/coca-cola-company-total-quality-management/
"Coca-Cola Company Total Quality Management." BusinessEssay , 11 Jan. 2023, business-essay.com/coca-cola-company-total-quality-management/.
BusinessEssay . (2023) 'Coca-Cola Company Total Quality Management'. 11 January.
BusinessEssay . 2023. "Coca-Cola Company Total Quality Management." January 11, 2023. https://business-essay.com/coca-cola-company-total-quality-management/.
1. BusinessEssay . "Coca-Cola Company Total Quality Management." January 11, 2023. https://business-essay.com/coca-cola-company-total-quality-management/.
Bibliography
BusinessEssay . "Coca-Cola Company Total Quality Management." January 11, 2023. https://business-essay.com/coca-cola-company-total-quality-management/.
Tata Group Innovation Management
Toyota Global Operations Strategy
Absolut Vodka Target Audience & Marketing Planning
Nissan Motor Company: Globalization Effects
Cobra Beer Company's Marketing Issues
Tesco Innovation Strategy Analysis & Examples
Walt Disney Company Brand Awareness
FreshDirect Business Model & Strategic Analysis
Nestlé Inc.'s Total Quality Challenge and Solution
Ocean Beauty Center Business Plan
The Coca-Cola Company's Quality Standards Case Study
Introduction, product quality, recommendations.
We will write a custom Case Study on The Coca-Cola Company's Quality Standards specifically for you for only 9.35/page
808 certified writers online
Safety of health is the priority concern of the company in food and beverage business. The case study presents a scenario wherein Coca Cola failed to maintain the quality standards of its products. The paper aims to understand the quality standards of Coca Cola and its operations in its bottling plants. The issue related to the poisoning of schoolchildren due to bad quality drink must be handled seriously and taken as an example to maintain quality of the products. The paper will first discuss the quality measures maintained by the organizations and how these measures should be standardized throughout all its plants globally. The paper will also discuss the quality parameters of the product and its manufacturing process. In the end, the paper will provide recommendations regarding product creation and quality.
Maintaining product quality is a priority for beverage companies. In case of Coca Cola, there had been a breach of the safety norms that may have led to the disastrous outcome. However, beverage companies must ensure that carbonated bottled drinks are prepared such that they are safe for human consumption. In order to maintain this quality, they must follow certain procedures and meet certain standards that are carried out at various factories. In this section, we will discuss the various aspects of quality that has to be maintained by the company in order to produce quality product.
Water: Water is an essential element for production of soft drinks or bottled drinks. For beverage industry, the quality of water used for bottled drinks is of paramount importance. According to the stipulations of the Food Standard Agency, the "water used in the production of soft drinks must meet all the quality criteria of potable water as defined in the Water Supply (Water Quality) Regulations" (Beckett, 2009). But in many cases, it has been observed that even the water that meets the quality standard, it may cause problems due to higher concentration of certain constituents of the soft drink that may cause health hazards. Usually, most beverage manufacturers follow in-house standards. In case of Coca Cola, they give their water specifications to the vendors who manufacture the product at different geographic locations. The water is usually treated through a process of de-alkalization, which is an ion-exchange process, chlorination, and reverse osmosis. Reverse osmosis is a process that is more sustainable and leaves less carbon footprint and its operating cost is also low, therefore, has been adopted by most soft drink manufacturers. Further, this process provides a 99 percent removal of impurities from water as compared to other processes (Beckett, 2009). Therefore, this is a more reliable process of water purification to be used in firms. One of the problems in maintaining the water quality safety is the company's diverse geographic locations and plants in diverse locations. Different places have different water quality and purification of these waters to meet the desired standard may differ. However, this being the most important process, the challenge of different water quality must be solved.
Raw Material : Different soft drinks have different ingredients, which may be faulty and may cause health hazard. Soft drinks usually contain water, sweeteners, and flavouring agents. The sweetener may be sugar, high fructose corn syrup or in case of diet drinks, sugar substitutes (Aurelia & Cristian, 2011). Soft drinks also contain certain percentage of caffeine, fruit juice, or both. Some soft drinks have a small amount of alcohol that is usually less than 0.5 percent of the total volume of the drink (Aurelia & Cristian, 2011). In another instance, in Paris a report presented by the National Institute of Consumption in 2012 presented a report showing content of alcohol in Coca Cola beverages (Coca-Cola, 2012). However, Coca-Cola Company provided enough data to show that there was only "0.0048 grams of alcohol per kilogram (0.00048 percent)" in each serving of the bottled drink, which did not refute any quality standard for quality. Another problem faced for ingredients is caramel colouring that is used in several of the beverage products of Coca-Cola (Coca-Cola, 2012). Some researchers, such as the Center for Science in the Public Interest poses that the caramel colouring used in Coca-Cola products poses cancer threat as it contains 4-methaylimidazole (4-MEI) (Coca-Cola, 2012). Though the company in its GRI report categorically states that it disagrees with the research and the outcome of the research, it has asked its manufacturers to maintain the secure standard presented by the external research agency.
Packaging Standards : For all beverage companies, one of the priority quality maintaining process is in its bottling process. Bottling is an essential part of the product creation of soft drinks. Coca-cola follows a BPA standard much higher than the set government standard. BPA or bisphenol A is used the lining of the aluminium cans in which the beverages are bottled. BPA is a chemical product that is used in lining almost all metal containers that are used to store food or beverages. The purpose of using this canning is to preserve the food product against contamination and helps in increasing the shelf life of the product. It is also used for "manufacture shatter-resistant bottles, medical devices, and sports safety equipment and compact disc covers" (Coca-Cola, 2012, p. 38). This is a commercially viable product and hence is used rampantly in most food and beverage packaging industry. However, BPA is supposed to have negative health effects as it has the quality to mimic the character of certain hormones that can activate estrogens receptors causing cancers. However, some studies have actually showed that BPA consumed in adult body is deoxidized and eliminated from body, therefore causing no health concern (Coca-Cola, 2012). Therefore, in most countries such as Australia, Canada, Europe, Germany, Japan, New Zealand and the United States pose that BPA levels used in food packaging is low and cause no health hazard to the human body (Coca-Cola, 2012).
From the above section, it is clear that the health and safety concern of the product is of paramount importance to the company. However, there are certain health hazard issues that cannot be overlooked, such as the presence of BPA in cans, cancer germ carrying caramel colour, and water contamination. Therefore, effective quality control process has to be established in order to avoid any circumstantial quality breach.
Maintaining the quality of the manufacturing process and the products for beverages is a challenge that must be adhered to in order to maintain high standard of brand, maintain international and local food standards, as well as gain customer trust on the brand. Therefore, for a beverage company like Coca-Cola it is important to follow a standardised quality practice as shown in figure 1. Four essential processes must be followed in order to maintain quality in its geographically dispersed plants. The first criteria is to establish policies regarding standards and specifications regarding ingredients, marketing equipment, and packaging process. Coca Cola must increase and diversify its product in order to cater to increasing and diversifying customer demands. Therefore, in order to meet the customer demand, highest standard must be followed in order to maintain consistent quality of its products. In order to do this, a companywide management system must be employed in order to integrate the strategic growth plan of the company and the quality management program of the company.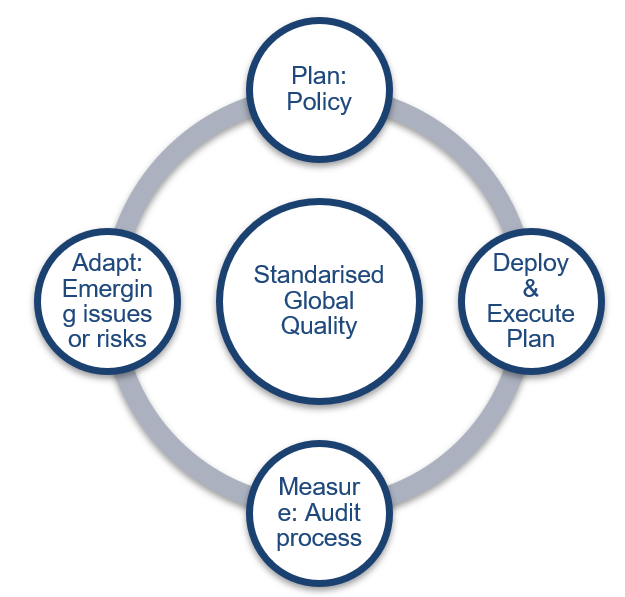 The second recommendation would be to deploy and execute would be adopt customer and quality oriented management system. This system would integrate both the sales and production quality end creating a seamless supply chain. One such system has been employed by Coca-Cola in 2010 i.e. Coca-Cola Operating Requirements (KORE). This process is self sufficient in maintain quality standards as and when new products are introduced or when the company enters a new market. This process has enabled the company to increase its packaging as well as quality index in 2010.
The third process to avoid such mishaps as faced in Belgium would be a continuous auditing process wherein future and emerging risks may be identified. Ensuring product compliance with all its vendors that supply raw materials or are jointly helping in production must be audited. Even the laboratory data results of raw material testing must be audited to indentify future risks. A group must be formed that would be responsible for crisis management for such incidents as well as identifying the reasons for such mishaps in order to provide guidelines to avoid such problems.
From the above analysis, the main learning that can be derived is to be diligent and adhere to the safety and quality norms. Make in-house regulations that surpass the standards of the local or international authorities, introduce auditing system to keep track of the production system. Create management system to indentify emerging risks and adhere to standards. And finally, to make a committee that would be responsible to mitigate risks related to product quality and handle crises.
Aurelia, O., & Cristian, O. (2011). Testing Of The Hygienic Quality Of The Carbonated . Retrieved from University of Oradea, Faculty of Environmental Protection. Web.
Beckett, I. (2009). Treatment technologies for soft-drinks production . Web.
Coca-Cola. (2012). Coca-Cola And Alcohol (Ethanol) . Web.
Coca-Cola. (2012). GRI Report. Web.
Need a custom case study sample written from scratch by professional specifically for you?
807 certified writers online
Chicago (N-B)
Chicago (A-D)
IvyPanda. (2021, July 22). The Coca-Cola Company's Quality Standards. https://ivypanda.com/essays/the-coca-cola-companys-quality-standards/
IvyPanda. (2021, July 22). The Coca-Cola Company's Quality Standards. Retrieved from https://ivypanda.com/essays/the-coca-cola-companys-quality-standards/
"The Coca-Cola Company's Quality Standards." IvyPanda , 22 July 2021, ivypanda.com/essays/the-coca-cola-companys-quality-standards/.
1. IvyPanda . "The Coca-Cola Company's Quality Standards." July 22, 2021. https://ivypanda.com/essays/the-coca-cola-companys-quality-standards/.
Bibliography
IvyPanda . "The Coca-Cola Company's Quality Standards." July 22, 2021. https://ivypanda.com/essays/the-coca-cola-companys-quality-standards/.
IvyPanda . 2021. "The Coca-Cola Company's Quality Standards." July 22, 2021. https://ivypanda.com/essays/the-coca-cola-companys-quality-standards/.
IvyPanda . (2021) 'The Coca-Cola Company's Quality Standards'. 22 July.
Bisphenol-A (BPA) Overview and Analysis
Bisphenol a (BPA) Pose a Significant Health Risk
Bisphenol-A Should be Banned
Health Risk of Exposure to Bisphenol A (BPA)
Bisphenol A: Addressing Safety Concerns
Cultural and Social Pressures in the Caramel Film
"Caramel" and "Arranged" Films Comparison
Is Bottled Water Ethical?
Caramel (Sukkar Banat): Made by a Woman About Women
Film Studies: "Caramel" by Nadine Labaki
Southwest Airlines' Corporate Strategy
Netflix Inc.'s Strategies, Products, and Finances
Alibaba Group's Profile and Counterfeit Goods
SASOS CPAs, LLA: Start-Up Business Analysis
Xerox Company's Gainsharing Plan
Academia.edu no longer supports Internet Explorer.
To browse Academia.edu and the wider internet faster and more securely, please take a few seconds to upgrade your browser .
Enter the email address you signed up with and we'll email you a reset link.
THE IMPLEMENTATION OF TOTAL QUALITY MANAGEMENT IN MANUFACTURING FIRMS IN GHANA: A STUDY OF COCA-COLA BOTTLING COMPANY (KUMASI BRANCH) PATRICK PROJECT WORK
by Patrick Asare
Free Related PDFs
Texila International Journal
2019, Texila International Journal of Management
The need for a comprehensive understanding of the connection between total quality management and customer satisfaction cannot be overstressed. It is on this note that this study seeks to examine the kind of relationship that exists between Total Quality Management and other three variables, vis-à-vis top management commitment, employee involvement, and customer satisfaction. The descriptive survey design was adopted for this study and primary data was collected with the use of a self-structured questionnaire from one hundred and thirty-six (136) randomly selected respondents among the employees of Access Bank Plc. (27); First Bank Nigeria Limited (35); Guarantee Trust Bank Plc. (30); United Bank for Africa (24); and WEMA Bank (20), in Akoka, Yaba Local Government Area of Lagos State, Nigeria. The hypotheses were tested using Pearson Product Moment Correlation Coefficient at 0.05 level of significance, with the aid of the Statistical Package for Social Scientists (SPSS 21.0). The findings of the study showed an increase in the Nigerian Banking Sector top management commitment to Total Quality Management will imply increase in TQM implementation; increase in the involvement of money deposit banks' staff in the TQM implementation process is also tantamount to an increase in the Total Quality Management implementation; and that implementation of Total Quality Management significantly correlates increase in customer satisfaction in the Nigerian banking sector. The study therefore recommends among others that the top management of the Nigerian banking sector should be committed to Total Quality Management and involve employees in its implementation. Keywords: Top Management, Commitment, Total Quality Management, Employee Involvement, and Customer Satisfaction.
Suzzy K R I S T Addo (PhD)
2017, Dama International Journal of Researchers (DIJR), ISSN: 2343-6743, ISI Impact Factor: 1.018 Vol 2, Issue 11, November, 2017, Pages 104 - 116, Available @ www.damaacademia.com
TQM has been identified as a vital factor sustainable competitive advantage in the currently challenging business environment (Yusof and Aspinwall, 2010). Unfortunately, organisations find it difficult to adopt it as a result of noncompliance with procedures and principles of TQM implementation (Naeem et al., 2008; Reed, Lemak, & Montgomery, 2012). While some firms run TQM as a program which they expert to function and perform the magic by itself, others have used half-hearted approach to it, by using some bits and pieces of the principles. This has accounted to the failure of most organisations to successfully implement this ideology (Oakland, 2010). A preliminary study to establish the extent to which TQM has been adopted in the Ghanaian banking sector reveal that research work on the implementation of TQM in the Ghanaian banking sector is scanty. Most studies on TQM are focused on the manufacturing industry (AI-Mansour, 2007; Ahire, 2012; Adza-Awude, 2012). The few studies that were done in the service sector in Ghana focused on higher education (Samson, & Terziovski, 2013). Moreover, (Kannan & Tan, 2011) established that banks can embrace quality management principles and implement them successfully to be able to delight their customers through efficient quality service. This study therefore seeks to bridge this knowledge gap by assessing factors that affects effective implementation of TQM principles in commercial banks in Ghana.
Ali Jaafreh
2012, International Journal of Financial Research
ABSTRACT Jaafreh, Ali & Abedalfattah, A. (2013). The effect of Quality Management Practices on Organizational Performance in Jordan an Empirical Study. International Journal of Financial Research. Vol. 4, No. 1, January 2013. ISSN 1923-4023(Print) ISSN 1923-4031(Online).
Abdurrahman Usman
This paper provide the answer for the impact of TQM in construction companies
Oday Khaleefa
Gangaram Biswakarma, PhD
In this 21st century, globally quality is the foremost emphasized in any sector, whether it is manufacturing or service sector. It leads to the competitive advantage to an organization. In this front, TQM implementation gives a cutting edge to the organization. In Nepalese context there is an increasing interest in TQM in service sector including hospitality, for providing company with a competitive advantage. A sample of 250 employees of hospitality sector in Nepal was taken with convenience sampling techniques, returned 226 questionnaires. It can be concluded in results that TQM is an important tool to manage organization successfully. TQM focuses strongly on the importance of the relationship between customers and as well as employee. It is practiced moderately. The dimensions of TQM - top management commitment & leadership, continuous improvement, quality planning, customer focus, service design, supplier relationship and employee management are equally vital and contribute to the instatement of TQM in hospitality industry. All the dimensions have positive correlation with effectiveness of TQM. Likewise, all dimensions have their impact over the effectiveness of TQM; employee management has the strongest impact on effectiveness of total quality management.
Richard Nyaoga
The study sought to determine the effect of Quality Management practices on performance in public primary schools within Nakuru Municipality, Kenya. The study used a census survey of all the 60 head teachers from all the 60 public primary schools in Nakuru Municipality. The study used structured questionnaires to gather data from school head teachers. Data was analyzed with help of the Statistical Package for Social Sciences (SPSS). Simple descriptive statistics mean, median, mode, percentages were used. Inferential statistics regression analysis technique was used to analyze data. Quality management practices (top management commitment, teamwork, continuous improvement, competitive benchmarking, training, reward and recognition and customer focus) were found to significantly influence performance among schools in the study area. This study recommended the need to strengthen these elements of quality management practices in order to realize meaningful performance increased levels of...
ahmed djomba toure
This paper resume the impact of TQM on organisation performance in GUINEA case study of GUICOPRES S.A one of the biggest construction firm in West Africa
Barbara Igel
2006, International Journal of Quality & Reliability Management
FREE RELATED PAPERS
Neil Morgan
1998, Journal of The Academy of Marketing Science
The management of quality and development of effective cross-functional cooperation have assumed a new strategic importance over the past decade. However, many companies have reported that quality strategies have failed to deliver anticipated performance benefits and that ineffective interfunctional relationships may be to blame. This study explores marketing-quality interfunctional relationships as a potential source of quality strategy implementation failure at
Pablo Ghiggo
lyca rhianelle roxas
Patrick Awoke
Subrata Talapatra
This paper empirically examines the TQM obstacles faced by the managers of RMG sector in Bangladesh. Now a day, the demand for quality improvement of the product has been raised to cope with the challenges in marketplaces. TQM implementation has already shown a positive attitude towards quality improvement. As a result, Bangladeshi RMG firms are trying to implement TQM in their organizations. Unfortunately, they are not able to implement TQM in their organizations. To determine the exact obstacles, two-pronged approached are used: first, an extensive literature review has been conducted to find out the obstacles of TQM implementation and second, data have been collected from some selected Bangladeshi RMG firms. 25 obstacles have been identified so far. Finally, five obstacles have been selected for empirical test according to the expert's opinion. The findings of this study suggest that, the most important barriers are lack of: top-management commitment to quality, focus on customer, continuous improvement, quality management practice, and knowledge about quality cost. This study is unique in terms of investigating TQM obstacles in this sector. Therefore, this paper can contribute to meet an urgent need of successful implementation of TQM in Bangladesh and other developing countries in the world.
Dr. Pervaiz Iqbal , yasir latif
This study discusses quality practices in Pakistani Petrochemical sector to understand TQM practices and their implementation in Pakistan. It helps to understand the role of leadership, vision & plan statement, employee participation and education & training as important constructs of TQM. It shows how these constructs help to speed up the TQM implementation in petrochemical sector like other constructs of TQM and finally company moves towards quality approach. The responses of executives, managerial staff and workers were received using questionnaire and online surveys which are sent through Google Drive. Data of 106 respondents was taken in this study and analyzed by SPSS18. Study shows that Total Quality Management culture is less understood by employees, thus less adopted and implemented in Pakistan. Petrochemical companies fail to adopt the TQM philosophy and processes, hence reducing productivity and profits. This research paper is very helpful for executives for TQM implementation in petrochemical sector.
Hilma Raimona Zadry
2006, Total Quality Management & Business Excellence
Rajeswari Mandavi
2017, Dama International Journal of Researchers (DIJR), ISSN: 2343-6743, ISI Impact Factor: 1.018 Vol 2, Issue 11, November, 2017, Pages 93 - 103, Available @ www.damaacademia.com
The study assessed the factors that support effective implementation of total quality management principles at HFC. A combination of primary and secondary data was applied in this research. Primary data was collected from 73 employees of five purposely chosen HFC bank branches in Accra. Secondary data was collected from the bank's annual reports, academic journals and previous relevant published studies. Data analysis techniques such as descriptive statistics and regression analysis were conducted on the collected data. The statistical package for social scientists software was applied for the analysis. The findings revealed that HFC bank has followed six key quality strategies to improve its operational performance. These strategies are continuous improvement, benchmarking practices, business process re-engineering, ISO series, lean practices and six sigma practices. Out of these approaches, continuous improvement, business process re-engineering and ISO series respectively contributed tremendously to improved operational performance at HFC bank. The study has also demonstrated that the six strategies have ended up in contributing to operational performance to a very great extent as pointed out by 87% of the respondents. These results were further corroborated by the regression coefficient results which established a positive significant association between the individual TQM strategies and operational performance. Factors such as top management commitment, customer focus, continuous improvement, and employee involvement and employee empowerment were observed as major contributors to effective implementation of TQM practices in firms.
Narasimha Madireddy
Attia younis
Mildred Golden Pryor
Behrooz Gharleghi
Total Quality Management (TQM) is able to recognize the necessary techniques and tools in production process to reduce or eliminate the redundancy and increase the quality and efficiency. TQM in Iran started from 1993, when the automobile industry made an agreement with France (Peugeot Company) and Korea (KIA Company) based on ISO 9000 standard. As a result, the growth in automobile industry was impressive. According to this point, other industries and companies also realized the need of quality to achieve competitive advantage for entering into global market. Total quality management is one of the most vital strategies for achieving customer satisfaction and higher profit. Although total quality management is the important strategy in recent years, there has not been much consideration of applying TQM in Iran's metal industry. In order to find the determinants of TQM implementation in metal industry, fifty companies are selected as a sample and three managers of each were asked...
Medet Yolal
The quality of goods and services produced by a firm has been identified as the single most important factor affecting the performance of a business. Quality is defined as the features and characteristics of products and services' ability to satisfy stated or implied needs of both internal and external customers. The aim of the study is to analyze the current state of the service quality in small and medium sized hotel enterprises (SMHEs) and determine the perceptions of owner/managers related to the perceived role of employees in quality service provision. For the purpose of the study a total of 313 questionnaires were administered to the owner/managers of SMHEs. Study results show that most of the hotels have not invested in renovation and innovation for a longer period and almost all of them do not possess any quality assurance documentation. The study also reveals that the efforts to develop the quality of employees in these firms were not on a continuous and regular basis. Consequently, this diminishes the satisfaction levels of both the employees and the customers. The study concludes with insights to owner/managers in maintaining and sustaining a quality strategy in SMHEs.
Jagadeesh Raj
2006, The TQM Magazine
Anas SHOSHAN
In this study, a questionnaire survey was developed in order to investigate the application of TQM in Turkish construction industry and identify the critical success factors, barriers, and benefits of this application. The questionnaire was completed by 32 firms. The results of the study revealed that there are shortcomings in TQM application in Turkish construction industry especially in relation to top management commitment and leadership; the greatest benefit of TQM to the firms is "increased customer satisfaction".
Olivia Barcelona Nst
Sasmita Palo
2003, International Journal of Training and …
Total Quality Management (TQM) is a never ending process of improving work processes. It operates according to the premise that organisations cannot rest comfortably without continuously improving whatever is being done. There has to be a culture of continuous improvement and everyone in the organisation must strive towards it. This could be accomplished only through continuous training. The present study seeks to examine the role of training as well as measuring its effectiveness for successful implementation of TQM. For this purpose, data have been retrieved from a public sector enterprise manufacturing crude steel in India. The findings of the study are based purely on primary survey. Pearson's Correlation Coefficient with their significance levels have been used to measure the effectiveness of TQM training and the correlation between TQM training and selected factors. The authors have found that training creates awareness, builds employees' commitment to quality policy and strategy, facilitates teamwork, enhances performance standards, and bolsters the skills and abilities of employees. However, the organisation needs to focus more upon improving communication competencies, multiple skill development and customer value training. Successful TQM training in the organisation needs more budgetary allocation and commitment, support and enthusiasm of the top management.
Muhammad Aditya Taufiqurrahman Ma'ruf
S. Curkovic
The concept of Environmentally Responsible Manufacturing (ERM) is relatively new and it is not surprising to note the lack of theory-based, empirically validated constructs and measures. Such constructs and measures are critical to the development and growth of rigorous research in this area. This paper develops and assesses such constructs and measures. Drawn from an exhaustive review of both the quality and ERM-related fields, this study uses the constructs and measures drawn from the Total Quality Management area to develop ERM-related constructs and measures. These are then evaluated using data from a survey of 526 plant managers in the US automotive industry. The resulting models, constructs, and measures are then studied using confirmatory factor analysis and structural equation modeling. The results show the presence of an ERM framework and the presence of the underlying latent and manifest variables. The findings provide an important foundation to others interested in doing future research in this area.
yasir latif , Saif Rehman
Subsequent to its growth and exceptional achievements, Total Quality Management (TQM) needs to be implemented out of the Manufacturing industry to service organizations, like Private Banks. Study explores prospects of using Soft TQM and Hard TQM in service oriented organizations and investigates how helpful it can be for growth and development of service focused organizations like private banking sector and sees how TQM can help these Banks to excel in their Organizational Performance. These organizations have been employing various methods to develop this sector, increase its capability to get better place in global market and increase investment in this sector. However, till to date far less work is done to control quality to get better results in this sector. Through quantitative research with 5 point Likert's scale and Baron and Kenny's model of moderation, this study will try to demonstrate that the Soft TQM along with Hard TQM can give enormous growth to the service sector by increasing the customer orientation and will be helpful to attain competitive edge. The research has examined the moderating effect of Hard TQM on the relationship of Soft TQM and Organization performance; it is notable from this research that the magnitude of this relationship has increased from 0.401 to 0.421. These results indicate that the use of Hard TQM in the Service oriented Organization like banking sector leads to increase the relationship of Soft TQM and Organizational Performance and gives more power to these organizations to control their quality and thrive on international level.
Carlos J F Cândido
2020, Total Quality Management & Business Excellence
The purpose of this study is to assess whether companies conduct preparations, such as managing culture, before starting to implement an ISO 9001 Quality Management System (QMS). Based on a literature review, the paper develops a model of firm preparation for ISO 9001 certification and several research hypotheses. The survey research method adopted consists of data collection through questionnaires – sent to hotels of four and five stars, in Portugal, in two different moments (2012 and 2014) – and of a longitudinal data analysis based on non-parametric statistical tests. Results show that the majority of companies conduct preparations before starting to implement an ISO 9001 QMS. However, most companies do not assess their initial situation, nor do they plan for the preparations. One of the significant implications from this research is that a more coherent and integrated approach in ISO 9001 preparation is required. Other implications for practice and for research are also noted. This is the first study, as far as the authors are aware of, that addresses the topic of planning for the preparations that a company can make before starting to implement an ISO 9001 QMS. ____________________________________________________________________________________ LINK FOR FREE ACESS TO PUBLISHED VERSION: https://www.tandfonline.com/eprint/S8XPh6PIGrmqNsxExy3K/full?target=10.1080/14783363.2017.1404428
Benjamin Ehigie
2005, Management Decision
Dr Abdussalam Shibani
2010, International Journal of Project …
Xiande Zhao
2004, Journal of Operations Management
2007, International Journal of Quality and Standards
Angappa Gunasekaran
1997, Journal of Quality Management
Frank Dewhurst
1998, The Tqm Magazine
Alen Mujčinović , Aleksandra Nikolic
The aim of this study was to investigate the process of quality management establishment and efficiency of quality systems (QS), and to determine whether there are differences in the motives and the process of establishing QS in the investigated companies. During the study, it is used the "case study method". Data for the case study were obtained from semi-structured interview. These results indicate that there are differences in the motives and the process of QS establishing in two companies investigated. Also, the results indicate the importance of QS development, focusing on the most important benefits of introduced system. To make the system more efficient and enable the realization of these benefits it is necessary to pay particular attention to the critical success factors, especially to top management commitment and high level of employees involvement. Otherwise, just as the research showed, the implemented QS will not provide the expected contribution to the company performance improvement and may create resentment among the workers, which eventually may again lead to "the emergence of non-quality".
ABSTRACT The following manuscript has been completed to understand what current literature exists in the areas of quality and reliability assurance and its effects on an organisation's brand image. The literature has been drawn from a wide spectrum of published academic and applied business sources. This review identified a number of variables deemed to be important for the successful demonstration of the quality and reliability of an organisation.
Islam Sharaf
The main purpose of this study is to explore the cost of quality implementation, the motivation to implement it, and its effect on Malaysian manufacturing firms. A mail survey using a structured questionnaire was used to gather data. The population of the study covers manufacturing firms located in Penang that were listed on the investPenang website [Invest-in-Penang Berhad. (2008). InvestPenang directory. Retrieved November 2, 2008, from http://investpenang.gov.my/biz_dir.php] and in the Federation of Malaysian Manufacturers [(2007). FMM Directory 2007: Malaysian industries (38th ed.). Author] directory. Quality managers and finance managers were selected as key informants because they were deemed to be knowledgeable about the practice of cost of quality. The results show that the implementation of quality costs plays an important role among manufacturing firms, particularly in Penang, as the implementation has helped to reduce customer complaints, rework, warranty expenditure, failure costs, and total quality costs as well as improving the sales volume. The findings suggest that implementation improves firm performance; as such more companies should look at the implementation of cost of quality as a viable alternative to improve their bottom lines. This study adds to the literature by providing a background to the current status of cost of quality implementation in the Malaysian manufacturing sector.
T. C. E. Cheng
2009, Production and Operations Management
Ravi Behara
2001, International Journal of Quality & Reliability Management
Ammar Zwain
This study aimed to explore empirically the relationship between the core elements of Total Quality Management (TQM) and knowledge sharing as perceived by academic leadership in Iraqi higher education institutions (HEIs). The study was based on a survey design and time horizon was cross-sectional with least researcher's interference. Considering the domain of this study, the survey was carried out in 64 colleges selected randomly from four public universities in Iraq, which adopted quality improvement practices. The final number of participates for this study was 40 colleges. The study hypotheses were tested using correlation and multivariate analyses. The results supported all hypotheses posited for the study, suggesting that HEIs can benefit from TQM core elements. The correlation analysis indicated that all core elements of TQM have significant correlations with knowledge sharing. Regression analyses indicated significantly positive relationships among the study's constructs. Furthermore, statistical analysis also indicated that the TQM core elements should be implemented holistically rather than individually. In conclusion, this study provided insight and further understanding of the effect of TQM core elements on knowledge sharing, and therefore, allows practitioners to get in depth knowledge about the impact of TQM core elements in HEIs context.
John F Dalrymple
Crosby explains the benefits of determining from the operators on the shop floor "what the problem really is" (1979). Taking the time and effort to listen to the people doing the job can lead to valuable insights. Under the sub-heading of 'Error-Cause Removal', Crosby highlights a number of difficulties relating to communication between the shop-floor operators and management The phrase, 'Quality is Free' (Crosby, 1979), refers to the costs which can be saved on quality improvement whilst covering the costs of making the improvements. This paper seeks to illustrate some of the issues which emerged from a longitudinal study in a manufacturing environment. Key findings have been selected to illustrate the changes made throughout the study and the main conclusions of the research. These include: evidence of a growing awareness of the importance of the "customer", internal as well external (Schonberger, 1990); the study showed that changes made had im...
Farhad Sanjarifard
Nowadays, within a globalized market and increase need to remain competitive, organizations and their stakeholders need to excel along all dimensions in performance (Neely et al., 2002). Several managerial system models like quality management systems (QMSs) are used for improving performance and promoting productivity in organizations. The decision after planning, designing and implementing each of these performance models for organization performance evaluation and measurement is the fact that shows to what extent the organization has achieved pre-designed strategies and goals. Simultaneously, this new system has been effective in improving organizational performance. At this stage, performance measurement (PM) is one of the principal functions of organizations. However, existing performance measurement systems (PMSs) hold weak points, specifically in the QMS. The accuracy of the outcomes achieved through QMS will be objected to hesitation. So PMSs are considered as a means to gain competitive advantages and continuously react and adapt to external changes (Cocca and Alberti, 2008). According to Kennerley and Neely (2002), organizations need to have systematic processes in assessing and monitoring their PMS. Garengo and Bernardi (2007) state that the lack of resource and managerial expertise becomes a main criterion continuously excelling in the market and indeed organizations have to be extremely flexible and reactive to market changes. A strong concentration of literature has been mainly on large enterprises and lacks suitability of its application on SMEs (Cassell et al., 2001). Similarly, performance measurement (PM) is less discussed in SMEs (Garengo and Bernardi, 2007) and been confirmed by the gap between theory and practice observed by numerous authors in SME (Hudson et al., 2001, Sousa et al., 2006, Cocca and Alberti, 2008)
S. Curkovic , Robert Sroufe
2008, Journal of Operations Management
Abate Teffera
We're Hiring!
Help Center
Find new research papers in:
Health Sciences
Earth Sciences
Cognitive Science
Mathematics
Computer Science
Academia ©2023