Don't miss out on having your company listed on the world's only case study discovery platform for B2B business software & services. Contact us today for pricing options to add your case studies to the B2B solutions & services platform.
Our team will be in touch soon!
There was an error, please try again.
Validate yourself and get unlimited access to all NN XXXX Case Studies
Unlock with Linkedin
Unlock with Email
Please use your business email address to validate yourself and access this Case Study
www.8x8.com
Read about company
217 8x8 Case Studies
Small Business
Airlines/Aviation
Architecture & Planning
Automotive and Industrial Automation
Aviation & Aerospace
Building Materials
Business Supplies and Equipment
Civil Engineering
Computer Hardware
Computer Networking and Security
Computer Software
Construction
Consumer Electronics
Consumer Goods
Consumer Services
Education Management
Electrical/Electronic Manufacturing
Entertainment
Events Services
Facilities Services
Financial Services
Food & Beverages
Glass, Ceramics, & Concrete
Government Administration
Health, Wellness and Fitness
Higher Education
Hospital & Health Care
Hospitality
Human Resources
Individual & Family Services
Information Technology and Services
International Trade and Development
Investment Banking
Law Practice
Legal Services
Leisure, Travel & Tourism
Logistics and Supply Chain
Media production
Medical Devices
Medical Practice
Medical Services
Museums and Institutions
Nonprofit Organization
Nonprofit Organization Management
Oil & Energy
Outsourcing/Offshoring
Packaging and Containers
Paper & Forest Products
Primary/Secondary Education
Public Relations and Communications
Real Estate
Religious Institutions
Restaurants
Semiconductors
Sports and Sporting Goods
Staffing and Recruiting
Telecommunication
Telecommunications
Transportation
Transportation/Trucking/Railroad
Venture Capital & Private Equity
Read 217 Case Studies from real 8x8 users sharing their business challenges and results after using 8x8 software.
8x8, Inc. is a leading provider of cloud phone, meeting, collaboration and contact center solutions with over a million business users worldwide. 8x8 helps enterprises engage at the speed of employee and customer expectations by putting the collective intelligence of the organization in the hands of every employee.
back to top
CaseStudies.com provides B2B prospects with 770,334+ validated case studies, success stories, & customer stories that will help buyers make better software purchasing decisions.
Terms & Conditions
Software Categories
Services Categories
All Companies
Vendor Sign-up
About CaseStudies.com
Vendor Log in
8x8 Case Study | Conversational AI
Previous Case Study
Next Case Study
Create Account
Case Studies
CASE STUDY BY POPPIN
8x8 is growing quickly — in fact, they'll be moving into a brand new space within a year.
In the meantime, they needed to outfit their current office with flexible, sturdy furniture that will stand up to fast growth and a big move.
Source furniture designed for high-growth offices
Create flexible breakout spaces for every team
Sit-to-stand solutions for developers and engineers
The Solution
Series A Desks assemble + un-assembly without tools
Modular Lounge Furniture that can be reconfigured in a new space
Standing collaboration tables + Series L sit-to-stand personal desks
Download PDF
Series L Corner Desk , Mini Stow File Cabinet
Series L Double Desk , Stow File Cabinet , Privacy Panel
You don't need California sunshine to bring the outside in! Invest in a few high-impact plants to improve the air quality and overall well-being of your office.
The Executive Office
Our Series L Adjustable Height Corner Desk gives executives more space on the desktop for extra storage and quick one-on-ones. Pro Trip: A Mini Stow File Cabinet lets you bring the desk low with plenty of clearance.
The Personal Workspace
8x8 employees turned our Series L Adjustable Height Double Desk for 2 into a flexible workspace — when they're working together on a spring, they take the Privacy Panels down to create a collaborative table. When the spring is over, they simply replace the panels to give everyone the personal space and quiet they need.
Our Take Note Coffee Table is ideal for 8x8's brainstorming efforts — the included notepad allows the team to draw out their big ideas
Breakout Space
Each pod of desks is flanked by a Block Party Lounge to create a casual space for brainstorms or quiet work. Block Party's modular design is specifically constructed to mix, match, and rearrange as the needs of the team or office change.
Working with Poppin was great — I couldn't have done it without our rep! Our engineers love their Series L desks so much, we're filling our next office with standing desks, too.
Linsay Martino, Director of Facilities
Series L Double Desk , Max Task Chair , Stow File Cabinet , Privacy Panel , Mini Stow File Cabinet , Desk Accessories
Shop the Solution
See how the Poppin Furniture Collection can work for you.
More Case Studies
See how people work with Poppin.
YOUBE wanted creative, workspace solutions for their coworking space—and Poppin was there to help with furniture that met their clients' needs.
Industrious
Industrious worked with Poppin to create an inspirational space that provided enterprise-level companies the option to make a beautiful office suite their own.
As a provider of turnkey workspaces, Congregate needed a furniture partner they could trust to outfit their clients' offices.
When Jun Group moved into their new office, they had to make a choice—bring their existing office furniture with them, or start fresh.
Remove Product?
Let's stay in touch..
Sign up for sneak peeks of new products, exclusive sales, and work happy inspiration.
I have read and agree to the Privacy Policy.
8x8 Video Meetings review
Free unlimited video conferencing.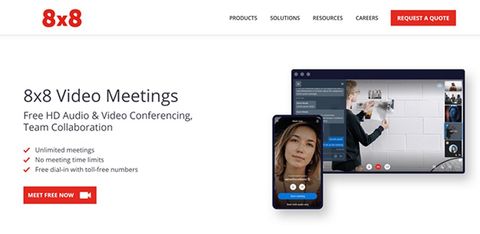 TechRadar Verdict
8x8 Video Meetings is a good free video conferencing service that doesn't put limits on your meetings. We liked the calendar integrations and didn't feel like the software missed any key features.
Free unlimited video meetings
Simple browser extensions and calendar plugins
No survey tools, even in paid version
Limited security details and technical support
Why you can trust TechRadar We spend hours testing every product or service we review, so you can be sure you're buying the best. Find out more about how we test.
8x8 Video Meetings offers a free platform for video conferencing . The software doesn't impose time limits on your free meetings and includes helpful calendar plugins. If you need closed captioning or transcription, a paid plan is impressively inexpensive. Our 8x8 video conferencing review will cover everything you need to know to decide if this software is right for you.
Plans and pricing
8x8 Video Meetings is free to use for the vast majority of people. There are no limits on how many meetings you can host or join for free, and no time limits on your meetings.
8x8 does offer a paid plan for $9.99 per user per month. The main thing you get with this is speech-to-text technology, which enables real-time closed captioning and produces transcripts for your meetings. A paid plan also comes with 60 days of cloud storage for meeting recordings.
Features and utilities
For a free software, 8x8 Video Meetings has an impressive array of features. The one that most users will turn to immediately is calendar app integration. 8x8 has custom browser extensions for Chrome and Firefox and plugins for Google Calendar and Office 365, any of which you can use to quickly schedule meetings and invite participants.
Within meetings, you can easily share your screen, chat with other participants, or raise your hand to signal that you have a question or want a chance to speak up. You can also record any meeting or create a live stream, even without a paid subscription. The only advanced feature that 8x8 Video Meetings was missing was an in-meeting survey function, although we haven't seen this functionality for free in any video conferencing software.
Getting started with 8x8 Video Meetings is extremely simple. Just create an account with your email or login with Google. You'll be prompted to install the 8x8 browser extension, which enables you to integrate with Google Calendar or Office 365.
One minor layout option that makes setup slightly less seamless is that administration settings open in a separate window from the rest of the platform. This isn't a huge deal, but it makes it a little more difficult to add other employees from the same business to your account. It's also worth noting that 8x8 doesn't include an address book.
Interface and performance
8x8's video conferencing interface is entirely browser-based and it's fairly streamlined. When you log into your account, a window will show you your upcoming scheduled meetings and provide links to easily access them when the time comes.
You can also start your own meeting at any time. The platform enables you to copy the meeting information, including the URL and dial-in number, with a single click to send to others. For business meetings, it's also helpful that you can opt to start with your audio and video on or off when entering a meeting.
The video quality in 8x8 is good, but not the best we've seen. It's noteworthy that in the age of 4K video, this platform only supports HD resolution. That said, we appreciated that you can choose from three lower-resolution video settings within a meeting to save on bandwidth when necessary.
8x8 is powered by Jitsi.org open-source video conferencing, with third-party verified security as standard. In other words, the platform has been closely scrutinized by the Jitsi developer community and prides itself on strong levels of privacy and security for all users - free and paid.
The platform also offers end-to-end encryption, randomized meeting names and password protection to preserve the privacy of participants.
The platform hasn't suffered from the same code flaw that has previously allowed unauthorized access into meetings on platforms like Zoom and RingCentral . But, it also doesn't support two-factor authentication and browser extensions are notoriously unsecure.
8x8 claims to offer 24/7 technical support by phone, email, and live chat. But, we had a hard time finding any contact information for the support team. We ended up calling the sales team number in order to get connected. In addition, we found that 8x8's documentation center doesn't include any information about 8x8 Video Meetings specifically.
The competition
If the idea of video conferencing for free appeals to you, it's worth taking a look at Lifesize . Like 8x8 Video Meetings, this platform lets you host an unlimited number of meetings for free with no time limits. In addition, it integrates with not only calendar apps but also productivity tools like Slack and Microsoft Teams . Just beware that upgrading to a paid plan with Lifesize can be very pricey.
Final verdict
If you're looking for a free video conferencing solution, 8x8 Video Meetings is a great choice. The integrations with Google Calendar and Office 365 are easy to use. Plus, the video quality is reliably good enough for professional use and having the option to record any meeting and share your screen is also helpful. We especially like the fact that you're not missing out on key features with a free plan, since upgrading mostly serves to unlock speech-to-text for transcription . The only minor complaint we have is that we'd like to see more details about the platform's security and better support.
You can sign up for 8x8 Video Meetings here .
We've featured the best productivity suites .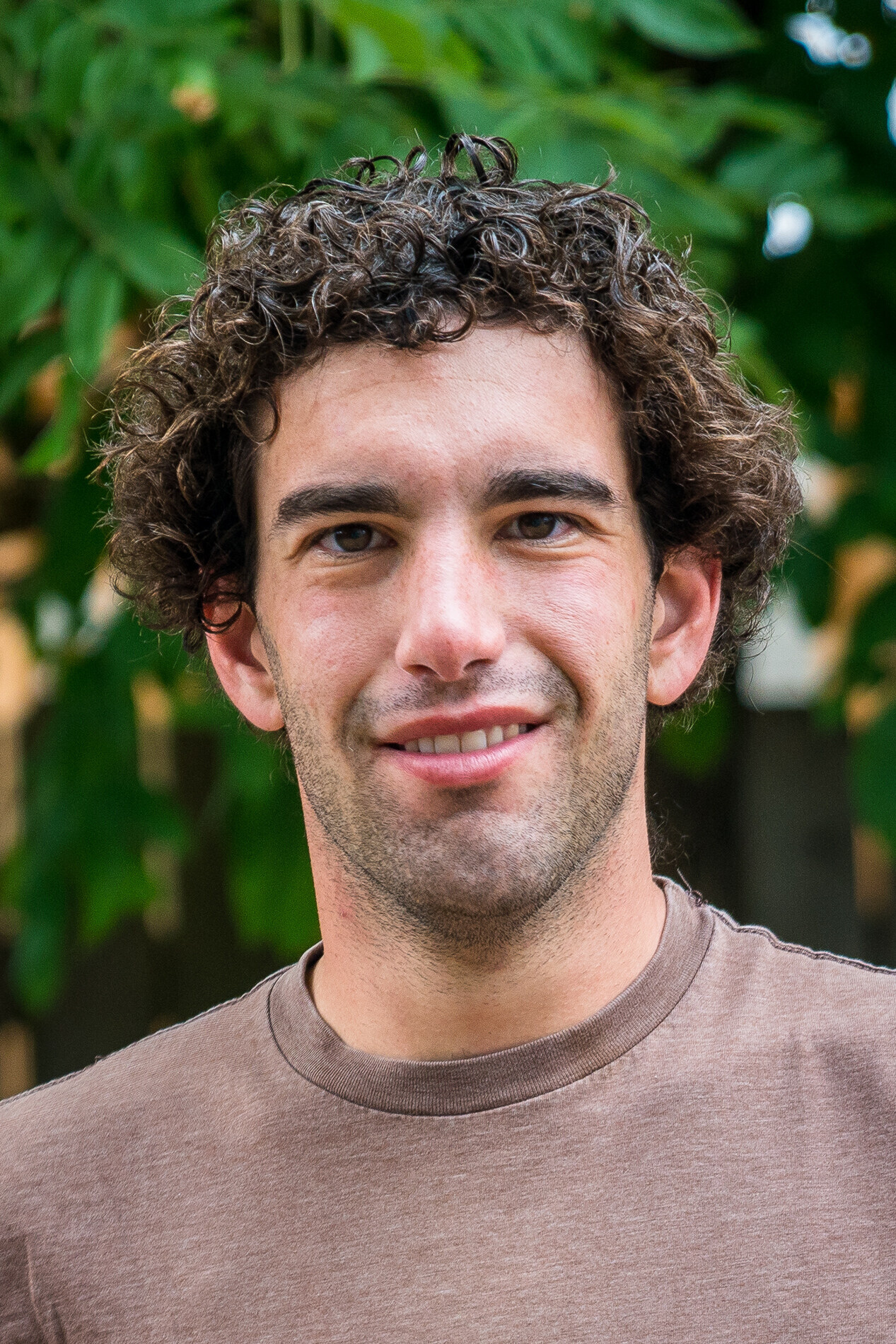 Michael Graw is a freelance journalist and photographer based in Bellingham, Washington. His interests span a wide range from business technology to finance to creative media, with a focus on new technology and emerging trends. Michael's work has been published in TechRadar, Tom's Guide, Business Insider, Fast Company, Salon, and Harvard Business Review.
iTop Private Browser
iTop DualSafe Password Manager
Get 30% off my favorite iPhone accessory maker's entire range right now
Most Popular
By Allisa James November 11, 2023
By Mark Pickavance November 11, 2023
By Catherine Lewis November 10, 2023
By Allisa James November 10, 2023
By Michelle Rae Uy November 10, 2023
By Tom Bedford November 09, 2023
By Alastair Jennings November 09, 2023
By Simon Lucas November 09, 2023
By Lauren Scott November 09, 2023
By Rhys Wood November 09, 2023
Office Technology | Editorial Review
8×8 Review: Features & Alternatives for 2023
Published December 29, 2022
Published Dec 29, 2022

REVIEWED BY: Corey McCraw

WRITTEN BY: Marianne De Guzman
This article is part of a larger series on VoIP .
1 8x8 Review: At a Glance
2 Deciding Factors
3 Alternatives
5 General Features
6 Niche Features
7 Customer Service
8 Ease of Use
9 Expert Score
10 How We Evaluated 8x8
11 Bottom Line
8×8 is a cloud communications platform that combines voice, video, chat, contact center, and analytics into a single application. In this 8×8 review, it got a perfect score in general features and customer service, thanks to its complete unified communications features and 24/7 availability in support channels. However, it scored lower in ease of use and pricing due to the slight learning curve and lack of a free plan and volume discounts.
8×8 Review: At a Glance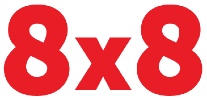 What We Liked
Unmetered international calling to 14 or 48 countries on X series plans
Mix and match plans for different user requirements
Up to 500 video meeting participants
Robust security features and compliance policies
What's Missing
Limited features in the base plan
No volume-based discounts
Lacks toll-free minutes
Limited team collaboration features like task management
When to Use 8x8
International calling : Its unmetered calls to 14 or 48 countries makes it our top voice over internet protocol (VoIP) service for overseas calling.
IVR system : 8×8 offers a contact center platform with basic & intelligent IVR solutions
Call management : 8×8's upper-tier packages include basic contact center features like call monitoring and supervisor analytics
Compliance requirements : 8×8 maintains various industry-leading security and compliance certifications set by regulatory agencies
When to Use an Alternative
Third-party integrations: 8×8 has 60 integrations, far less than the 200+ offered by RingCentral. Read about it in our RingCentral review .
Virtual phone system: Check out Grasshopper if you don't need all the extra features offered by 8×8. Learn more in our Grasshopper review .
Metered subscription: If you don't need the high cost of an unlimited calling plan, try Phone.com, which offers affordable metered subscriptions. Read our Phone.com review for more details.
Visit 8×8
8×8 Deciding Factors
8×8 is a business phone system that ranks high for its scalability, mobility, and multinational support. It is best for small teams wanting an affordable business phone system, midsized businesses needing a contact center solution, and companies with high international call volumes. With its 8×8 Work App, distributed teams can share files, join video meetings, and collaborate from anywhere.
8×8 Alternatives
While 8×8 meets a wide variety of business communication needs, subscriptions don't come with toll-free minutes and upper-tier plans could be too expensive for small teams. Consider the providers below, or read our full list of the best 8×8 alternatives .
8×8 offers three plans for business communications and three options to add contact center features. For this review, we'll focus on its business communications packages. If you're interested in its contact center offerings, head on to our 8×8 contact center review .
8x8 Pricing
8×8 pricing got a slightly low score due to the lack of a free plan and volume discounts. Still, it offers a very affordable base plan that starts at $15 per user, monthly. All plans include unlimited domestic calling, voicemail, team messaging, and video meetings.
Plans can be mixed and matched based on the needs of your users. Lower tiers are suitable for small business VoIP services , while higher-priced tiers include unmetered international calling and contact center features.
8×8 Features
8×8 is packed with robust features that enable teams to communicate and collaborate on multiple channels. It includes a business phone system, video conferencing tools, team chat, analytics, and contact center features. Integrations and embeddable application programming interfaces (APIs) allow users to build third-party connectivity.
8×8 received a perfect score for this category as it offers all the standard VoIP features for routing callers, transferring calls, and handling high call volumes. Users also have access to unified communication capabilities, such as video conferencing, screen sharing, team messaging, and cloud recordings. With the 8×8 Work app installed, users get a unified experience for both mobile and desktop.
Here are some telephony features offered by 8×8:
Auto-attendant
Call recording
Hot desking
Call waiting
Call queuing
Call transfer
Niche Features
We gave 8×8 a score of 4.38 out of 5 for its niche features because most of its inclusions are locked in expensive plans. Users must upgrade to the X4 plan to get unlimited calls to 48 countries, while the IVR system requires a contact center license. However, a plan upgrade is still worth the money if you need advanced features for handling call volumes, analyzing call data, and integrating with business software.
Click on each feature below to learn more about 8×8's top niche offerings:
Advanced Analytics
8×8 offers a variety of summaries, detailed reports, and dashboards. Each delivers insights critical to maintaining consistent service, predicting call volumes, and improving agent performance. For example, Conversation IQ transcribes voice conversations and tracks keywords and phrases to understand customers' sentiments and measure employee empathy. An online portal helps supervisors get instant visibility about internal and external call activities.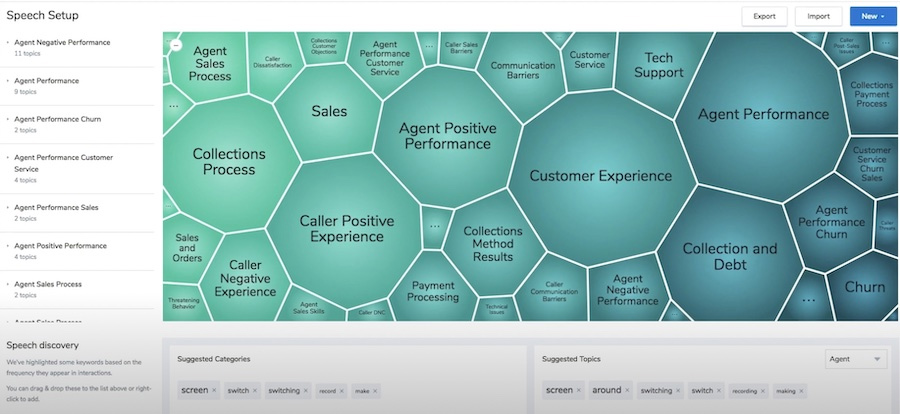 8×8 Speech Analytics transcribes speech into text and analyzes it based on different topics, such as caller/agent positive performance. (Source: 8×8 )
8x8 Frontdesk
8×8 Frontdesk is a desktop application designed for receptionists and operators to help manage calls, voicemails, and chat sessions and route calls to the appropriate contacts within the company. Its full-screen operator panel offers a complete view of the company-wide directory, including access to multiple call handling capabilities. This allows you to facilitate faster call connection during high volumes of calls.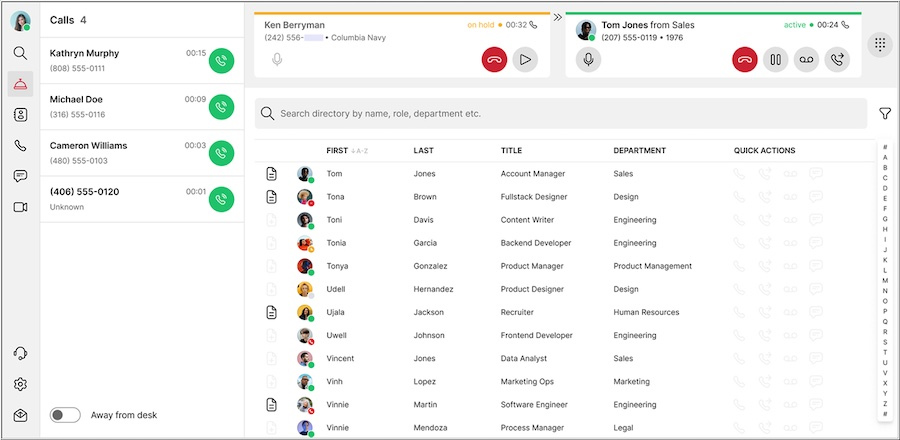 8×8 Frontdesk is optimized for high-volume call handling to enable phone receptionists easily route multiple incoming calls to the appropriate contacts. (Source: 8×8 )
Integrations
8×8 integrates with 60 third-party applications, including customer relationship management (CRM), productivity, security, and workforce management platforms. If you want to incorporate 8×8's communication services into your workflows, 8×8 offers a developer hub that includes API references and guides.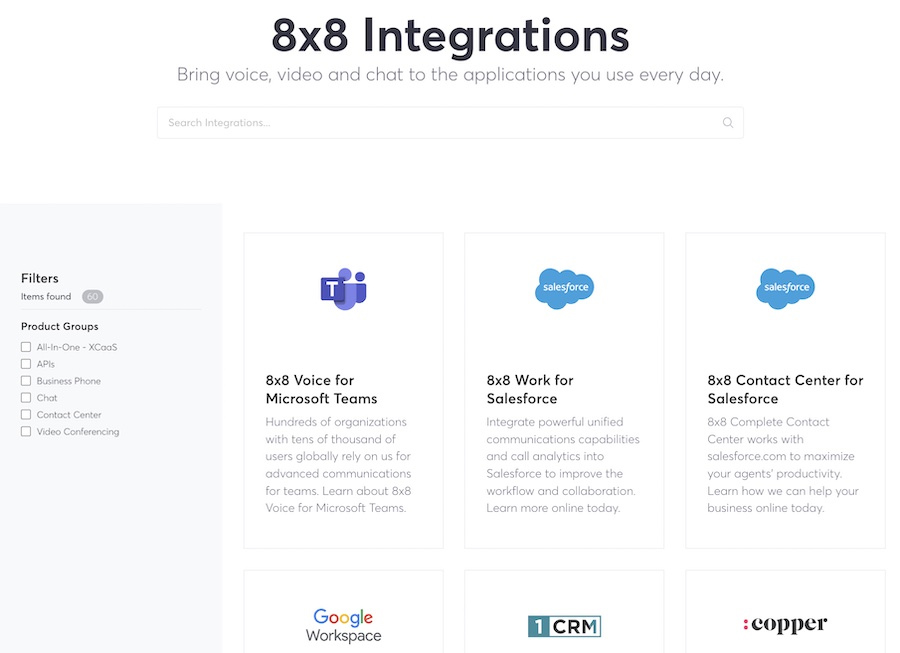 8×8 integrates with popular business applications, such as Salesforce, Google Workspace, and Microsoft Teams. (Source: 8×8 )
Unfortunately, 8×8 Express only connects to Google and Microsoft calendars to set up and invite participants from your calendar. Plus, you'll need an X series subscription for out-of-the-box integrations with other platforms.
8×8 stands out for its customer service because it offers 24/7 availability for all its support channels, including phone, live chat, or email. There is also a service portal where users can fill in a case form to submit a support request. If you want to seek answers on your own, 8×8 has a comprehensive knowledge base powered by an AI-powered virtual assistant called Otto.

8×8 has a dedicated service portal where clients can submit support requests, monitor active cases, and view resolved issues. (Source: 8×8 )
We gave 8×8 a score of 2.63 out of 5 for its ease of use, as most users faced a slight learning curve when navigating its platform. Some have difficulties setting up voicemail, while others have to contact technical support to determine where things are. Although 8×8 is fast and easy to set up, training and technical knowledge are still required to utilize its capabilities fully.
For our expert score, 8×8 earned 3 out of 5 because there are still areas that need improvements, such as ease of use, volume-based discounts, and the number of integrations available. Despite these limitations, many users appreciate 8×8's offerings as it offers great value for money. They particularly like its omnichannel platform, call routing capabilities, and data security features.
Gartner : 4.5 out of 5 based on 205 reviews
GetApp : 4 out of 5 based on 246 reviews
TrustRadius : 8.3 out of 10 based on 474 reviews
How We Evaluated 8×8
To write this 8×8 review, we considered six critical factors: pricing, general features, niche features, customer service, ease of use, and expert score. Click on the tabs below to see how we evaluated 8×8 against other unified communications platforms.
20% of Overall Score
Cost is an essential consideration for businesses with budget constraints. With that in mind, we looked for the availability of a free plan and volume-based discounts. Although 8×8 lacks these offerings, it received an extra point for offering annual discounts, a base plan that costs $30 or less, and a second-level plan that costs less than $60.
25% of Overall Score
For unified communications as a service (UCaaS) providers, we looked at features that are essential to users. These include unlimited calls to the US and Canada, video/audio conferencing, and a mobile app. We awarded 8×8 a perfect score for this category for providing all these requirements.
We looked at advanced features that make 8×8 stand out from other providers. We checked for features like integrations, overseas calling, and international numbers. 8×8 almost got a perfect score for this category, but it doesn't have an IVR system for its business communication plans.
10% of Overall Score
We checked 8×8's ability to provide timely and adequate customer support. 8×8 received a perfect score for offering 24/7 service hours, live chat, voice channel, and email support.
We tested the system and looked at online reviews to evaluate 8×8's ease of use. We read users' feedback about its interface and analyzed the technical skill required to set up and operate its platform.
15% of Overall Score
We investigated 8×8 reviews on credible software sites to see how popular it is to other users and what they think about its ease of use. We also added our expert opinion on essential features and value for money.
Bottom Line
8×8 provides a robust unified communications platform that enables users to keep in touch via chat, voice, or video. It also comes with advanced analytics capabilities to enable companies to analyze the full spectrum of their customer interactions. Plus, the unlimited international calling in X series plans makes it one of the best providers for businesses with a global market. Sign up for a 30-day free trial to see if it's a good fit for your business.
About the Author

Find Marianne On LinkedIn
Marianne De Guzman
Marianne is a staff writer focusing on business phone systems, contact center solutions, VoIP, and video conferencing tools. She started her career as a freelance content writer, producing hundreds of content for global clients in Singapore, the UK, and the US. From there, she built her expertise in writing about communications technology.
Was this article helpful?
Join Fit Small Business
Sign up to receive more well-researched small business articles and topics in your inbox, personalized for you. Select the newsletters you're interested in below.